Roast some salmon and asparagus, buzz up some green goddess dip, and you're well on your way to the springiest bowls you've ever eaten. You'll love the garlic, lemon, & fresh herb flavors in this light, yet hearty, bowl.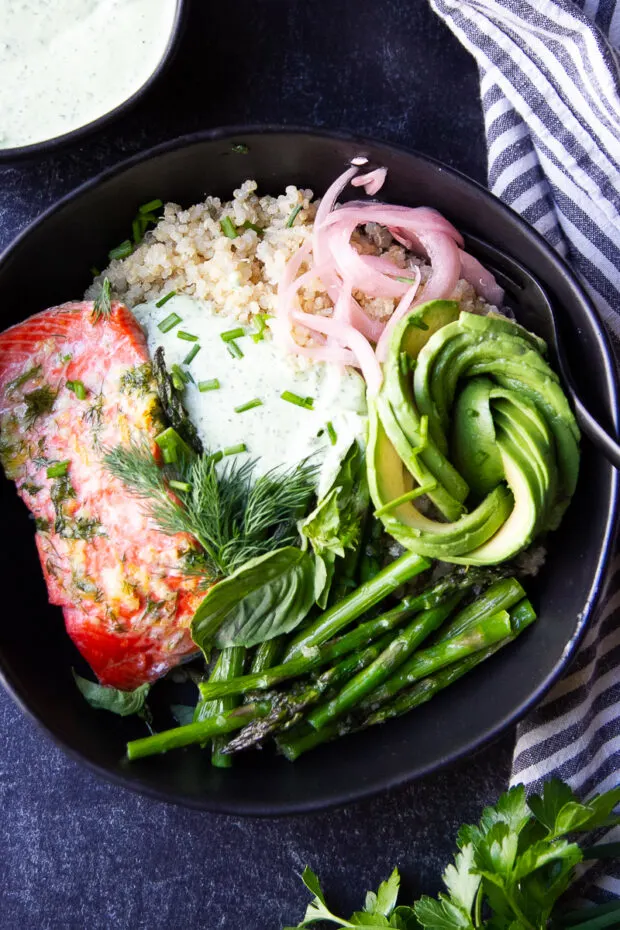 Roast some salmon and asparagus, buzz up some green goddess dip, and you're well on your way to the springiest bowls you've ever eaten. You'll love the garlic, lemon, & fresh herb flavors in this light, yet hearty, bowl.
These gorgeous, brightly colored bowls might be my favorite recipe of the season. (Sorry other recipes, but it's true.)
I've been on a salmon run lately (ha) and I still have another one to share with you next weekend.
It usually takes a few test runs before I get a recipe ready for you guys, and consequently there is a lot of ONE thing that's sitting around for a while. In this case — roasted salmon and asparagus and green goddess dip.
Most of the time we're all sick of whatever is stacked high in leftover containers, but in this case? Nope.
Well, Steve and I weren't sick of it. My kids might think otherwise.
Let me walk you through the components of these bowls. It looks like it's a lot of work, but it really isn't. There are only EIGHT ingredients for the entire bowl.
It's also an EXCELLENT choice for a meal prep session!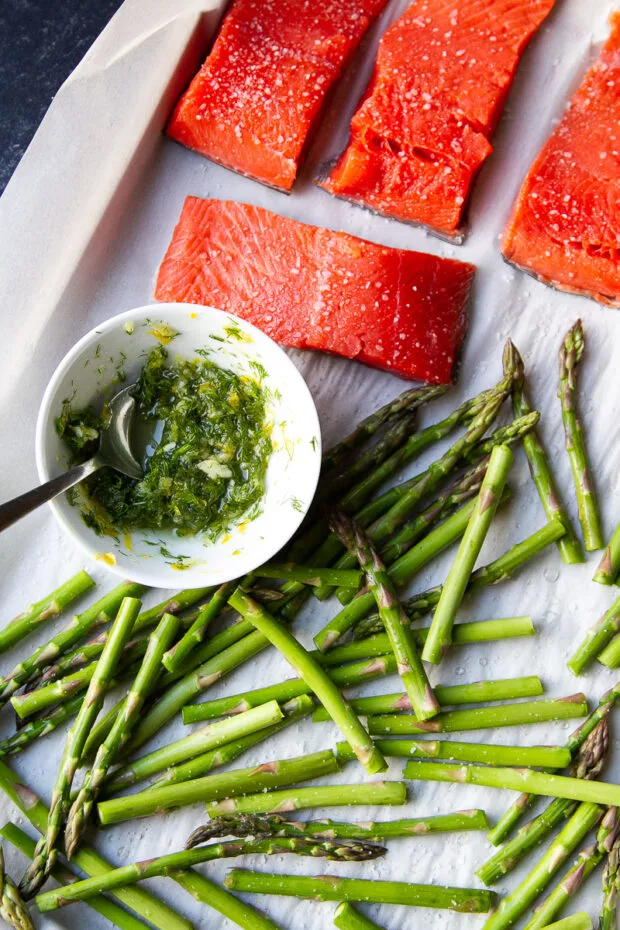 Roasted Salmon and Asparagus
That little herby mixture that goes over the salmon? *swoon*
It's a mixture of fresh garlic, fresh herbs, a little oil and some lemon zest that gets spooned over the salmon fillets and tossed in the asparagus.
I love that the salmon and asparagus are roasted together in a large rimmed baking sheet. You could use another type of vegetable here, but make sure it'll be cooked well in about 8-10 minutes cook time under a broiler.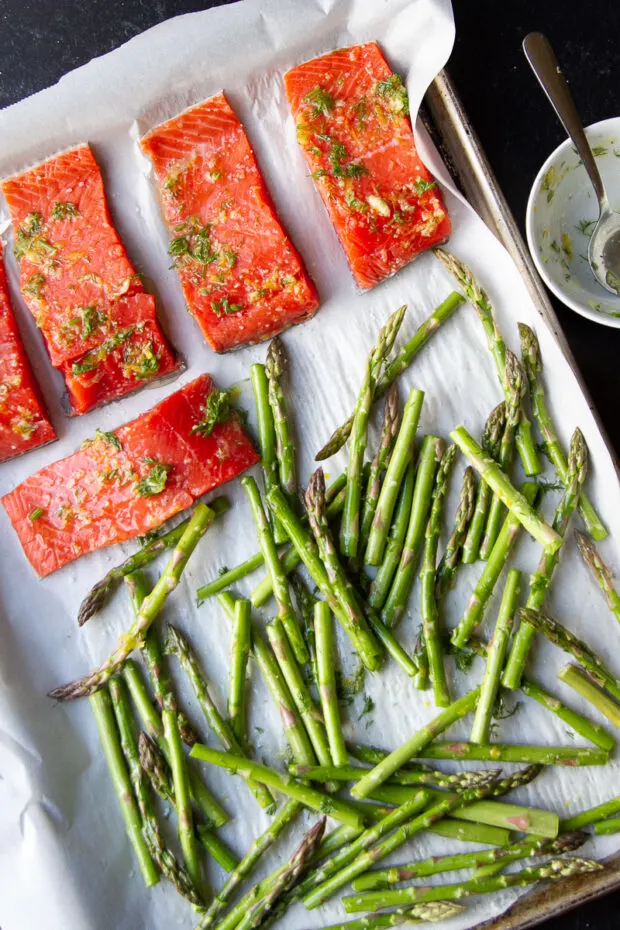 Wild salmon or farmed salmon?
You can use whatever salmon you like that fits in your budget for this salmon asparagus recipe whether it's wild, farmed, fresh, or frozen.
I used frozen wild salmon fillets for this recipe and it worked beautifully.
Easy Green Goddess Dip
Honestly, this dip should be its own blog post because it's insanely good and would be great with in a lot of different ways!
For this dip you'll only need a few ingredients:
Greek yogurt
Mayonnaise
Garlic
Lemon juice
Fresh herbs
Anchovy paste (more on this below)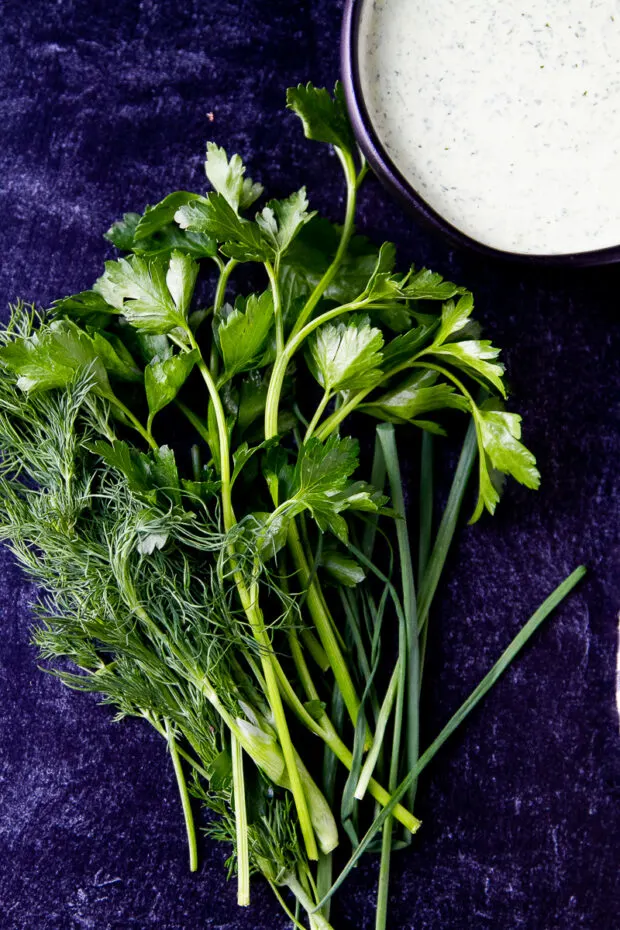 I used a Greek yogurt base for this dip to add some extra protein, and because I'm not a fan when dips taste extra mayo-y.
If you have a food processor, just buzz it up that way. This dip is loose enough that it would probably work in a countertop blender, too. You could also use an immersion blender in a really big cup or mason jar!
What if I don't have a food processor or a blender?
Mince the herbs and garlic as finely as you can and whisk everything together in a bowl or a large mason jar.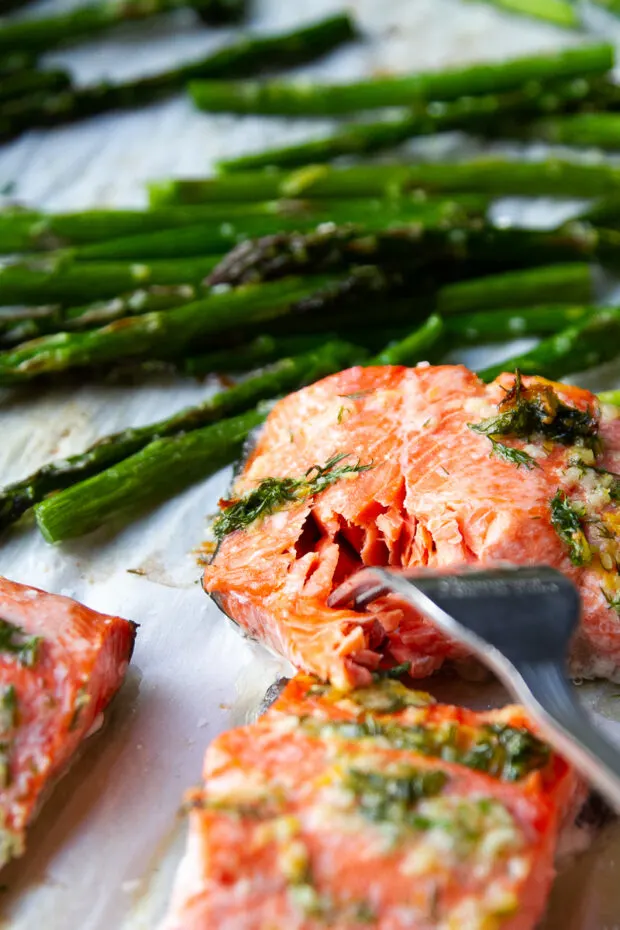 Substitute for anchovy paste
Can I try to convince you to get some first? Anchovy paste adds a deep, salty umami flavor.
It doesn't taste fishy unless you squirt some into your mouth and eat it plain. (But you wouldn't do that, right?)
I like to use it in homemade Caesar dressing or when sauteeing vegetabes, like in my Magical Sauteed Green Beans recipe.
You can find it in most grocery stores near the canned fish or buy anchovy paste online.
OK, if you still don't want to use it, you can use an equal amount of Worcestershire instead.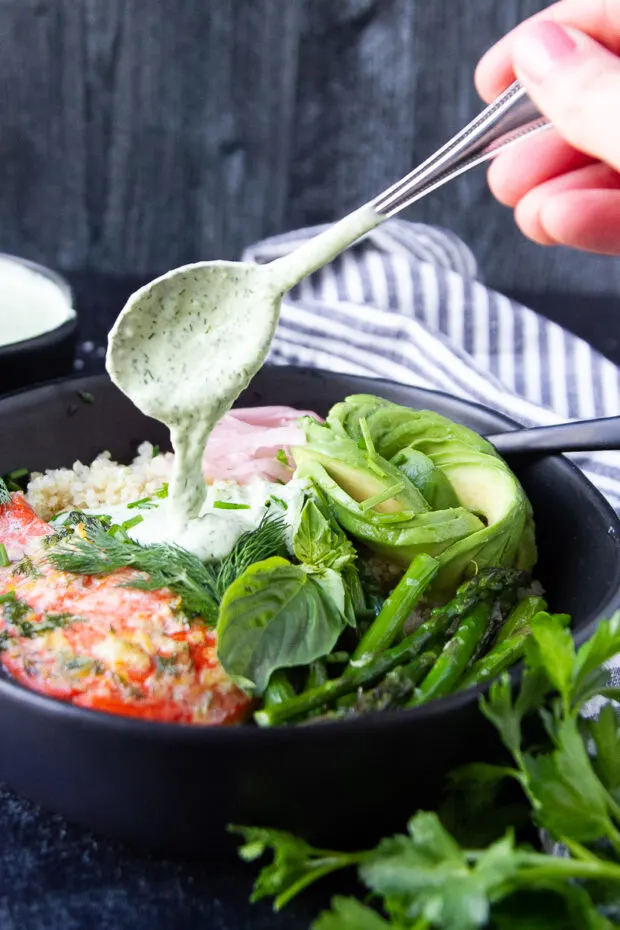 Assembling the salmon and asparagus green goddess bowls
First, choose your base! Quinoa is my favorite for these (is that too 2012?), but you can use any cooked grain or even salad greens as your base.
Add your salmon & asparagus, some avocado, then top with a drizzle of that obscenly good green goddess dip. Sprinkle on some leftover fresh herbs or some fresh lemon juice if you like as well.
Beautiful, right? Never too beautful to eat though. It was one of our favorite dinner recipes lately!
If you like this delicious baked salmon and asparagus recipe you might like one of these other easy salmon recipes
More salmon recipes on Perry's Plate
Garlic Butter Salmon Sheet Pan Meal
Sweet Chipotle Salmon with Hot Honey Glaze
Creamy Garlic & Dill Roasted Salmon
5-Ingredient Harissa Roasted Salmon
---
If you make one of my recipes, be sure to post it on social media and tag me at @perrysplate or #perrysplate so I can send you some love!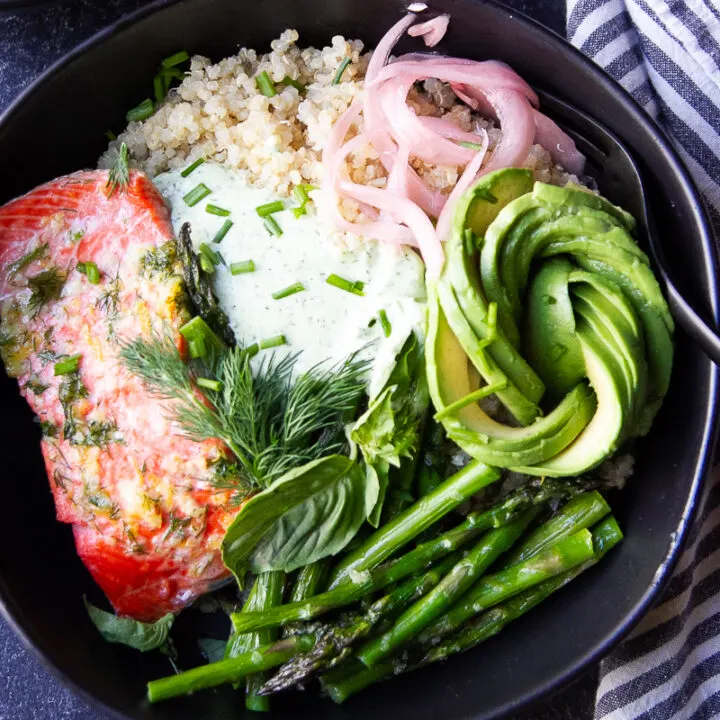 Salmon and Asparagus Green Goddess Bowl
Roast some salmon and asparagus, buzz up some green goddess dip, and you're well on your way to the springiest bowls you've ever eaten. You'll love the garlic, lemon, & fresh herb flavors in this light, yet hearty, bowl.
Ingredients
1 1/2 pounds salmon fillets
8 ounces asparagus
Kosher salt
1/4 + 2 Tablespoons avocado oil, divided
1 1/2 cups loosely packed chopped fresh herbs (dill, chives, parsley, basil), divided
3 garlic cloves, divided
1 lemon
1/2 teaspoon anchovy paste (see note)
1/2 cup plain Greek yogurt
1/4 cup mayonnaise
Fixings for bowls (see note)
Instructions
If you plan on serving the salmon and asparagus over rice or quinoa, get that started first.
Move oven rack to the highest position, about 5-6 inches from the top of the oven and turn your broiler on high.
Line a large rimmed baking sheet with parchment paper. Place the salmon fillets and asparagus on the pan and sprinkle everything generously with salt.
In a small bowl, combine 2 Tablespoons avocado oil, 2 Tablespoons fresh herbs, 1 finely minced or grated garlic clove, and the zest from the lemon.
Spread about 1/2 teaspoon of the mixture over each salmon fillet, then pour the rest over the asparagus, using your hands to toss it around to coat it evenly. Place the pan under the broiler for 8-10 minutes or until the salmon is just barely cooked and flakes easily.
Meanwhile, in the work bowl of a food processor combine 1/4 cup avocado oil, the rest of the herbs, 2 cloves of garlic, the juice from the lemon (about 3 Tablespoons), and the anchovy paste. Pulse until minced finely, scraping down the sides a couple of times.
Add the yogurt, mayo, and about 1/8 teaspoon of salt and blend for about 30 seconds until well mixed. Taste, and add a little more salt if you think it needs it. Transfer it to a lidded container to store chilled until ready to use.
Assemble the bowls by adding your cooked grains or salad greens to each bowl along with some salmon, asparagus and a drizzle of the green goddess dip. I loved adding avocado, pickled onions, and addiitonal fresh herbs to my bowl.
Notes
Anchovy paste gives the dip a deep, salty umami flavor -- it's also a key ingredient in caesar dressing. You can find it in most grocery stores or online. If you don't have this you can use the same amount of Worcestershire or an extra pinch or two of salt instead.
If you'd rather use all mayo or all yogurt in this dressing, go ahead.
If you don't have a food processor, you can mince the herbs and garlic as finely as you can and then stir the rest together by hand.
These bowls are great over rice, quinoa, or salad greens! I loved adding some avocado and my PIckled Red Onions to my bowl. You can add any fresh veg you like -- cherry tomatoes, microgreens, diced bell peppers, etc.
Recommended Products
As an Amazon Associate and member of other affiliate programs, I earn from qualifying purchases.
Nutrition Information
Yield

6
Serving Size

1
Amount Per Serving
Calories

364
Total Fat

26g
Saturated Fat

4g
Trans Fat

0g
Unsaturated Fat

20g
Cholesterol

76mg
Sodium

218mg
Carbohydrates

4g
Fiber

1g
Sugar

2g
Protein

28g
The information shown is an estimate provided by an online nutrition calculator. It should not be considered a substitute for a professional nutritionist's advice.