Warm Pear Buckle with Tangerine Cream
I know it's January, and many of you are desperately trying to keep your healthy eating resolutions. Please don't hate me. I've got a few decadent recipes that I tried out during my December baking frenzy, and between Christmas preparation and preparing to move out of state, these gems didn't get posted.
So, I totally understand if you want to avoid my blog for a week or so. Really.
Let's talk about buckles. Before I made this I didn't even know what a buckle was. Buckles are part of the fruit-pastry dessert family (think: crips, cobblers, etc.) After searching online to see the differences among the different types of desserts, I'm still not sure what a buckle is. According to the sources I read, this dessert is more like a pandowdy. I like that. It's more fun to say.
Pandowdy. Pandowdy. Pandowdy.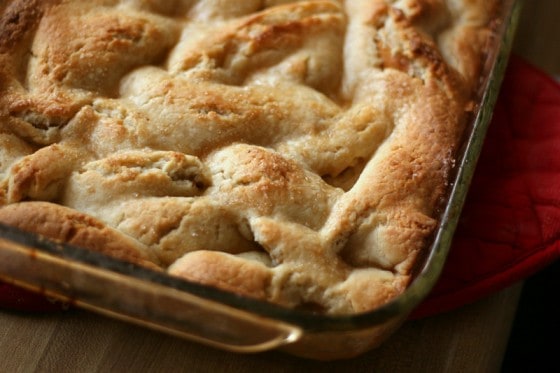 What this really reminded me of was a dessert version of a chicken pot pie. Instead of chicken filling, it's got pears in a ginger-y sauce, and instead of pie crust, it has a softer version of a sugar cookie on top that "buckles" around the fruit as it bakes.
I made this for my husband's graduation lunch. Well. . . dessert, after we had this soup and this soup. This dessert made me wonder why I don't make fruit desserts more often. We loved it, and I especially loved the tangerine cream that topped it. Since tangerines and pears are still in season (for the most part), it's really a rockstar fall/winter dessert recipe.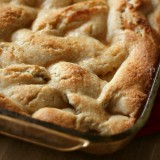 Warm Pear Buckle with Tangerine Cream
Ingredients:
For the buckle:
1 2/3 cups flour
1/2 cup powdered sugar
1/4 tsp nutmeg
1 cup (2 sticks) unsalted butter, room temperature
1 8-ounce package cream cheese, room temperature
1 cup sugar, divided, plus additional (for sprinkling)
2 tsp vanilla extract
3 pounds firm but ripe Comice or Anjou pears, peeled, quartered, cored, and cut into 1/2-inch slices
1 1/2 T cornstarch
1 1/2 tsp ground ginger
For the Tangerine Cream:
1 cup chilled whipping cream
2 T fresh tangerine juice
2 T sugar
1 tsp finely grated tangerine peel
Directions:
To prepare the buckle:
Whisk the first 3 ingredients together in a medium bowl. In a separate (larger) bowl, beat together butter, cream cheese, 1/3 cup of the powdered sugar, and vanilla until smooth. Add dry ingredients to butter mixture; fold in just to blend. (Don't over mix.) Form dough into a ball and flatten into a disk. Wrap in plastic wrap and chill for 2 hours. TIP: The dough can be made a day ahead. Keep chilled.
Preheat oven to 400 degrees F. Mix pears, cornstarch, ginger, and 2/3 cup sugar in a large bowl. Pour into a 9x13x2 baking dish.
Working quickly, roll out chilled dough on a lightly floured surface to 1/4-inch thickness. Use a sharp knife, cut out a 10x14 inch rectangle (slightly larger than the baking dish). Place measured dough on top of pears, tucking in overhanging edges. (Dough will shrink slightly, so don't worry if it seems a bit big.) Cut a few 1-inch slits on the top and sprinkle with sugar. Place on a rimmed baking sheet (in case it bubbles over a bit. . . mine didn't, but I was lucky.)
Bake until golden brown and bubbling, about 40-50 minutes. It may take up to an hour. Watch the center of the dough to make sure it cooks all the way through. Cool 15 minutes before diving in. Serve with Tangerine Cream.
Discard remaining dough or throw it on a pan and bake it in the oven. Makes pretty good cookies. :)
To prepare the cream:
Place all ingredients in a large bowl. Beat until peaks form. Chill until ready to use. (Don't make this too far ahead of time -- a few hours tops.)
Nat's Notes:
1. The original recipe suggested dividing the filling and dough among 8 1-cup ramekins. If you do that, divide the dough in half before chilling so it's easier to work with and cut circles a 1/2-inch larger than the ramekins. Bake at the same temperature for about 30 minutes.
2. This recipe was featured in Bon Appetit, and was adapted from a dessert served at Ford's Filling Station in Culver City, CA.
adapted slightly from Bon Appetit October 2010