A Whole Lot of Unexpectedness
This is what we all feel like doing after the past week and a half. I wish my kids would do this more often. I don't think daily, five-hour naps is an unreasonable expectation.
As promised, a little report about our whirlwind week…
The Love Story
A couple weeks ago Grandpa Dean was diagnosed with Pulmonary Fibrosis or "farmer's lung" after a few months of breathing difficulty. Basically, the air sacs in the lungs begin to harden with scar tissue, preventing the absorption of oxygen. The disease was in its last stages with no form of treatment and Dean passed away a few days later.
Dean wasn't my grandpa, but has known my grandma since high school. While Dean was away in the Army, my grandma met and married my grandpa. Dean returned from his service and married someone else. In the early 90s my grandpa died in a tractor accident and within a year, Dean's wife died of cancer. About a year later, they reconnected and decided to get married. I think it's so sweet that they were reunited after 40 years and were able to comfort and love each other after the losses they suffered. He's been a part of our family for a long time, he loved my grandmother very much, and he'll surely be missed.
I really felt like I should be at the funeral, and I wanted to see my grandma since I hadn't seen her very much in the past few years. Steve couldn't take any time off of work, so I packed up the girls, and we made the 10-hour trip to Idaho ourselves. Thank goodness for DVD players, snacks, and audiobooks.
Some Eats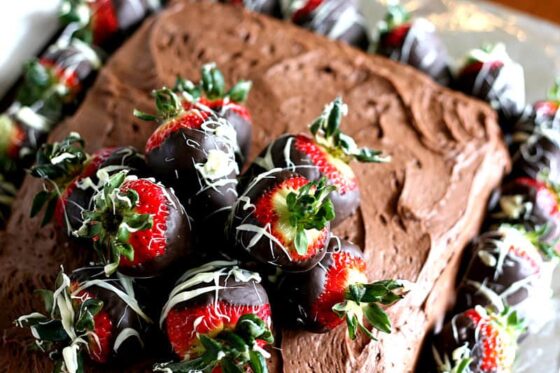 I made this cake for a church function a couple of days before our trip. It's my favorite chocolate cake recipe and comes from my grandma that I spoke about above. If you've read my blog for a while, you know that I prefer to decorate cakes with things that are edible. I'm not a fan of fondant and spending lots of time on things that no one eats later.
I got to make two cakes in a week! While we were at my parents' house my mom celebrated her birthday. She asked for a coconut cake, so that's what I gave her. It was nice to whip one of those up again. It's a fantastic cake.
I saw this sitting on the counter one day and burst out laughing. There are no words.
Speaking of gross things that happened on our trip. . .
The Vomit
This one threw up in the bed she shared with her sister. Then again two days later while we were waiting for a table at Johnny Carino's. While sitting on my lap.
This one had a fever the second day of our trip and a few sniffles. She was also very distressed about having "pizza" in her bed and throw up on her sparkly shoes.
As for me… We postponed our trip home due to weather. Then the night before we were to leave, I was up half the night with the stomach bug I probably caught from my little one. The next day I packed the car, grabbed a 2-liter bottle of 7-up, some saltines and hit the road. After many prayers, many hours, and many movies later we arrived back home. I made the 10-hour trip while quasi-nauseous and without getting sleepy — a miracle in itself.
When we got home on Tuesday I jumped into my new church assignment as Primary President which I was sustained to while I was out of town. (If you're not familiar with LDS church assignments, I, with three other women, am in charge of the children's organization of our congregation. A pretty time-consuming, yet very rewarding responsibility.) AND I had to prepare a talk for yesterday because they asked Steve and I speak.
Oh yeah, the little one had the runs all week because of the molars she's getting (I think. It might be a bug.)
And did I mention the big one was up several times last night barfing? I have to give her props, though. She made it to the bathroom every time. Hopefully this nasty little bug has made its final round.
Needless to say I've had a lot to do since I've been back. I unpacked Saturday, and just barely finished laundry yesterday. I may clean out the car today, but not likely.
I wish this handsome guy would do it.
I should mention that he finally got his chiropractic license for Nevada!
It happened to be the same week he broke his nose playing church basketball.
We're a high-adventure group these days.
Stay tuned for a real post. About food. Because this is a food blog, afterall.