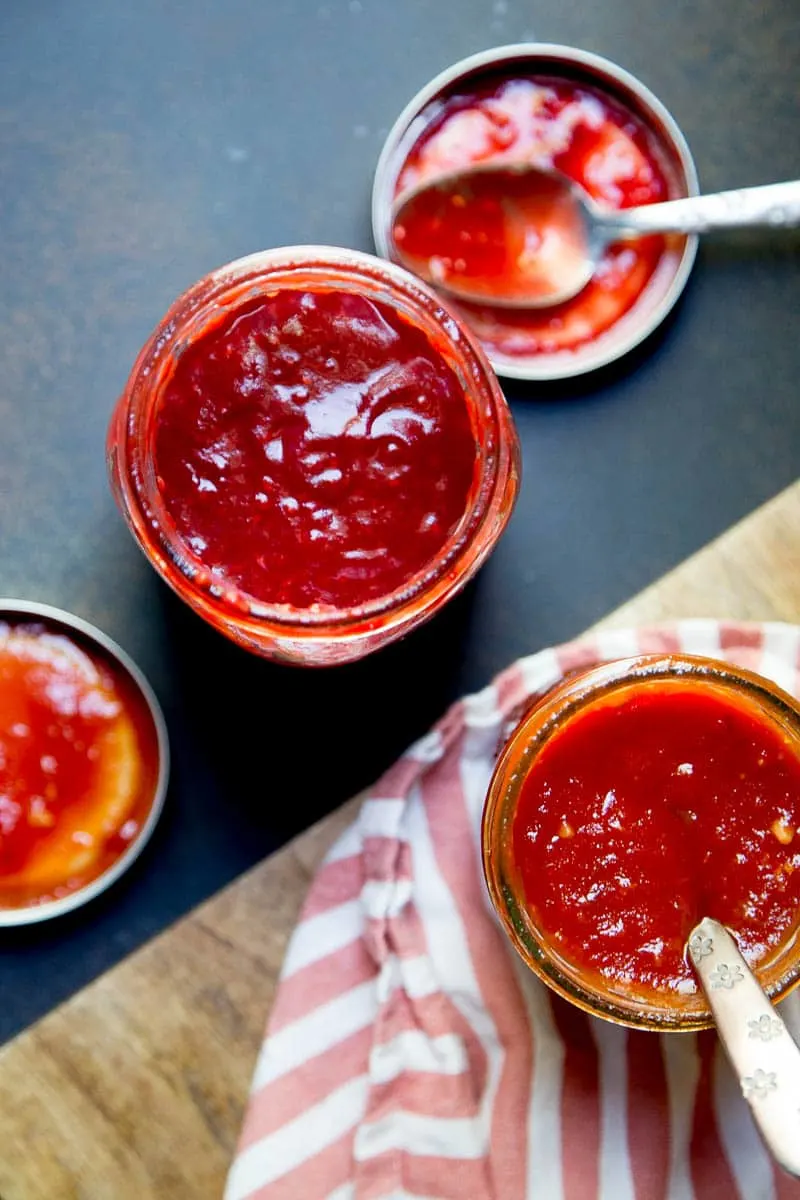 Today is Steve's birthday. The big 4-0, people.
Steve's the kind of guy who embraces stuff like that. I embrace it, too . . . on him. I like how his hair is on its way to be salt and peppery just like his dad's. He's lucky to have a full, thick head of it, too.
On me? Erm. I'm getting a few of those hairs too. Mostly around my ears, underneath, so it's not as noticeable. Sometimes I'm all "Oh, I'll totally age gracefully. I've earned those hairs!" Then I see a new cluster, and I grab my tweezers and start plucking.
Anyway, Steve. I really love that guy. He's so patient with me, too. Like when we're at a restaurant, and I jump on my phone to jot down some notes about what I'm eating so I can replicate it when I get home.
That's how the next couple of recipes came to be. Well, indirectly — out of a desire to recreate a pizza we had at Regina Pizzeria in Boston last year. It may have been one of the best pizzas I've had in my life, topped with BBQ pulled pork, green chiles, caramelized onions, smoked mozzarella, and pepperjack cheese.
I KNOW.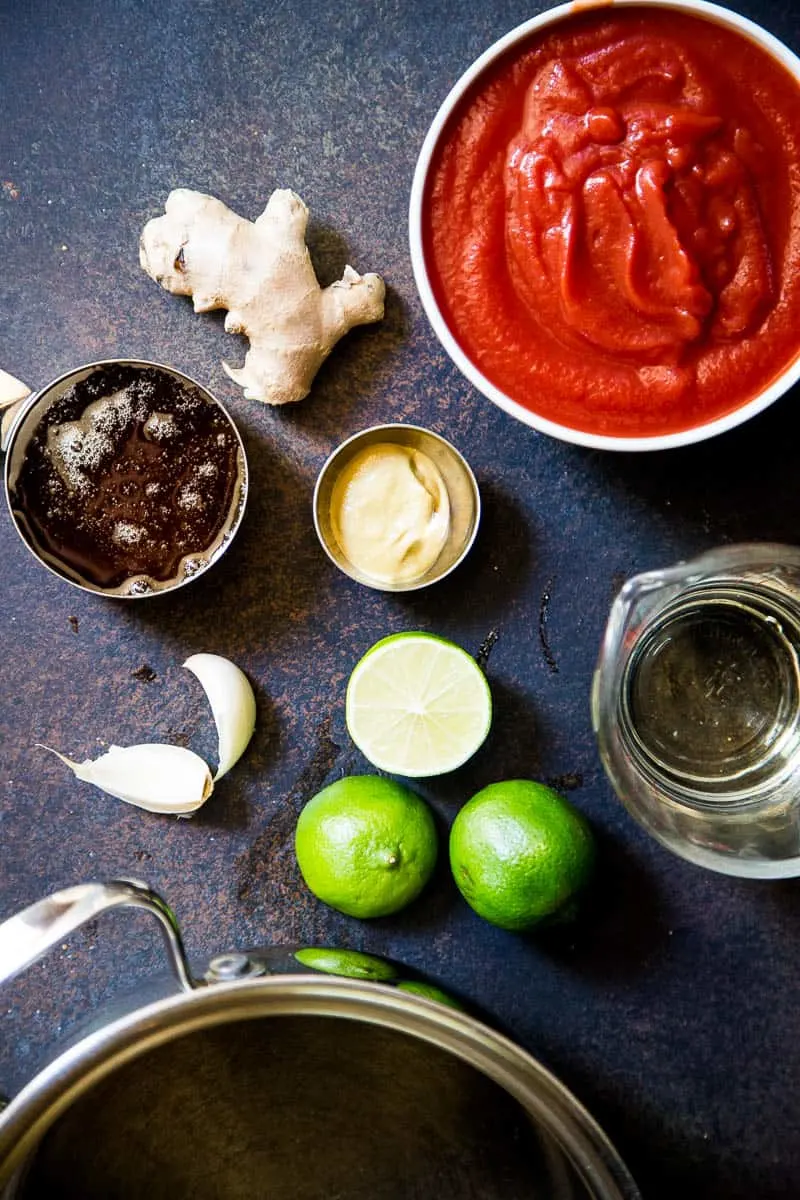 To make that pizza I needed some leftover pulled pork. And then I realized I even though I've made over 2 dozen pulled meat recipes for my cookbooks, I've NEVER made a basic pulled pork recipe for my blog! Sad, right?
And I also realized I had made a few fun barbecue sauce recipes for my books as well, but I only have ONE on my blog — Balsamic BBQ Sauce. (Honestly, it was my favorite for a LONG time and still my g0-to if I need a basic sauce.)
And because nothing can ever be simple with me and food, I decided I wanted to try out a couple of recipes.
First, I made a Honey Lime Ginger BBQ Sauce (ingredients above). I really liked this one. It isn't too tangy or sweet, but it has a distinct lime flavor and the ginger turns it in a slight Asian direction.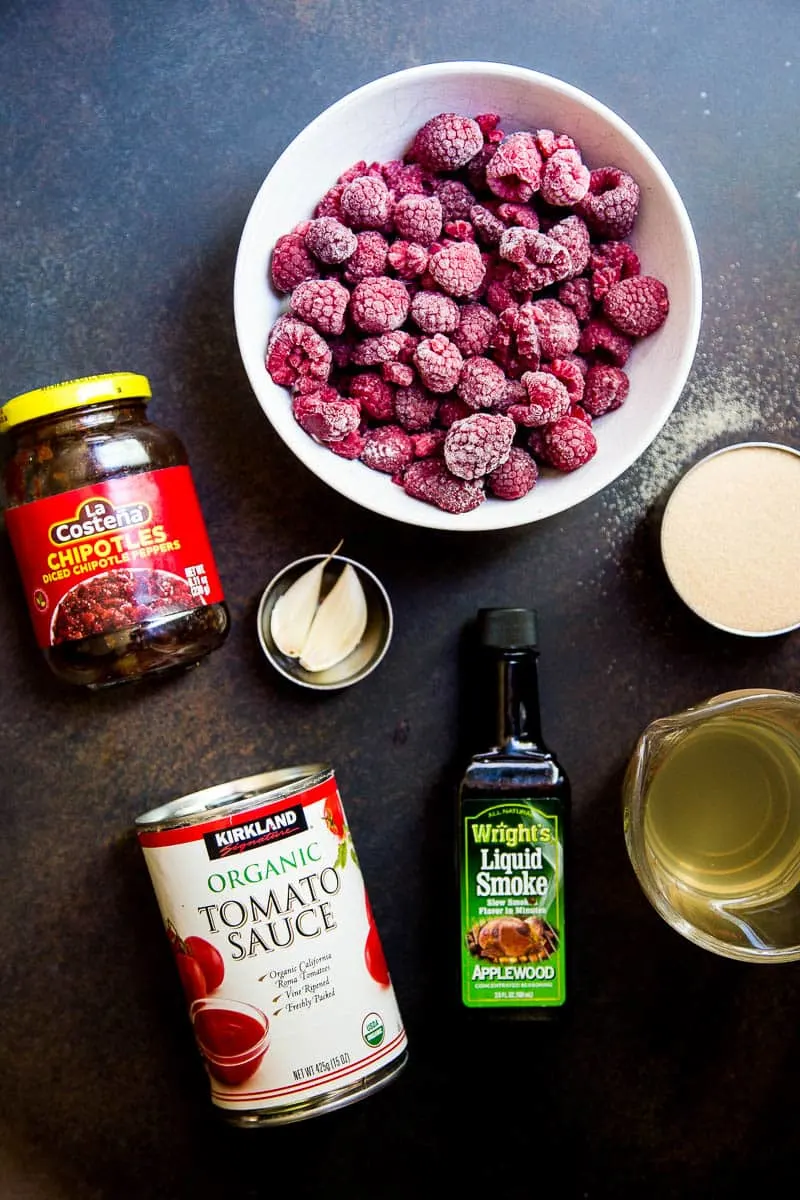 I also wanted to do a Raspberry Chipotle BBQ Sauce, similar to the Blackberry Chipotle BBQ Sauce in one of my books, but make it keto-friendly.
Both have a tomato sauce & vinegar base and come together really quickly. (Like all of the BBQ sauces I've made from scratch.) You literally just dump everything in a saucepan and let it simmer for about 15 minutes. That's it.
The raspberry chipotle sauce has a little liquid smoke to give it a smokier bite. And if you can find pre-diced chipotle peppers, it'll change your life. (Don't ask me where I bought these because I don't remember.)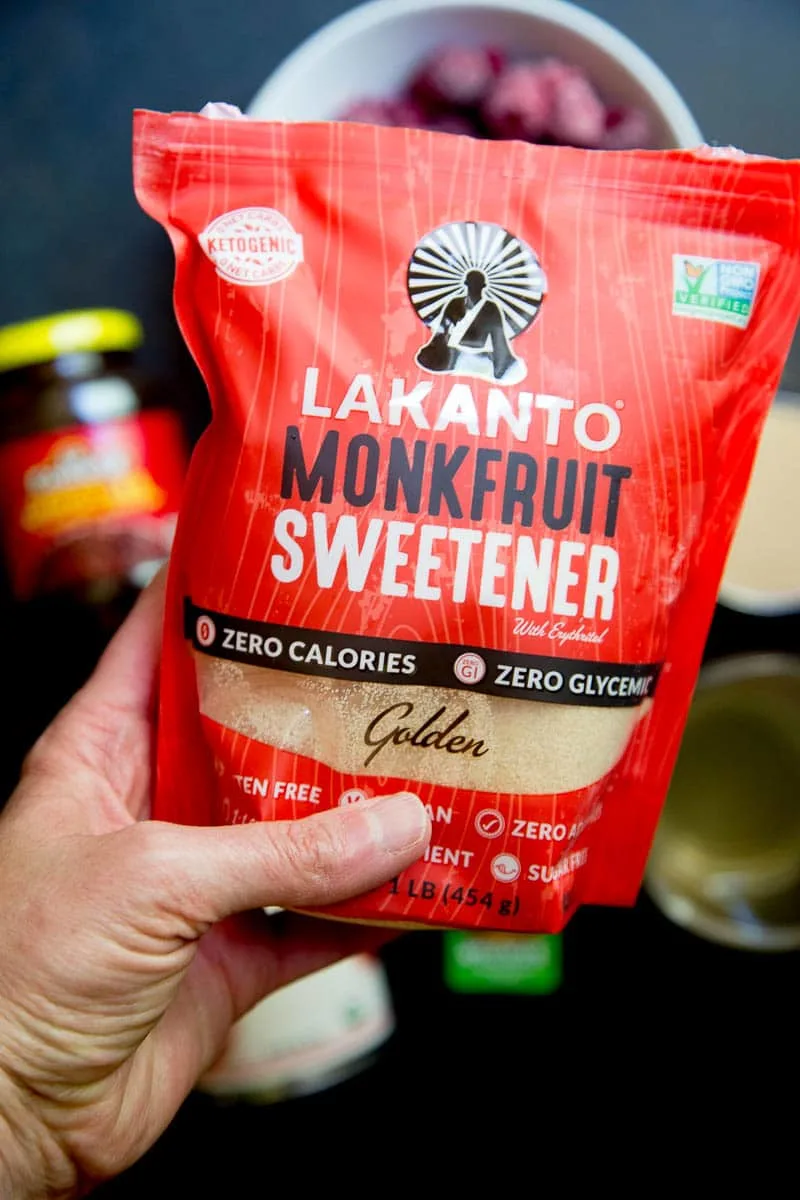 I REALLY love Lakanto monk fruit sweetener. I buy it at Costco or through Thrive Market. It's also popping up more and more in nicer or healthy-focused grocery stores. It measures 1:1 with cane sugar and has zero net carbs.
I used this "Golden" version which has a bit of a brown sugar taste. It's super good — especially for BBQ sauce.4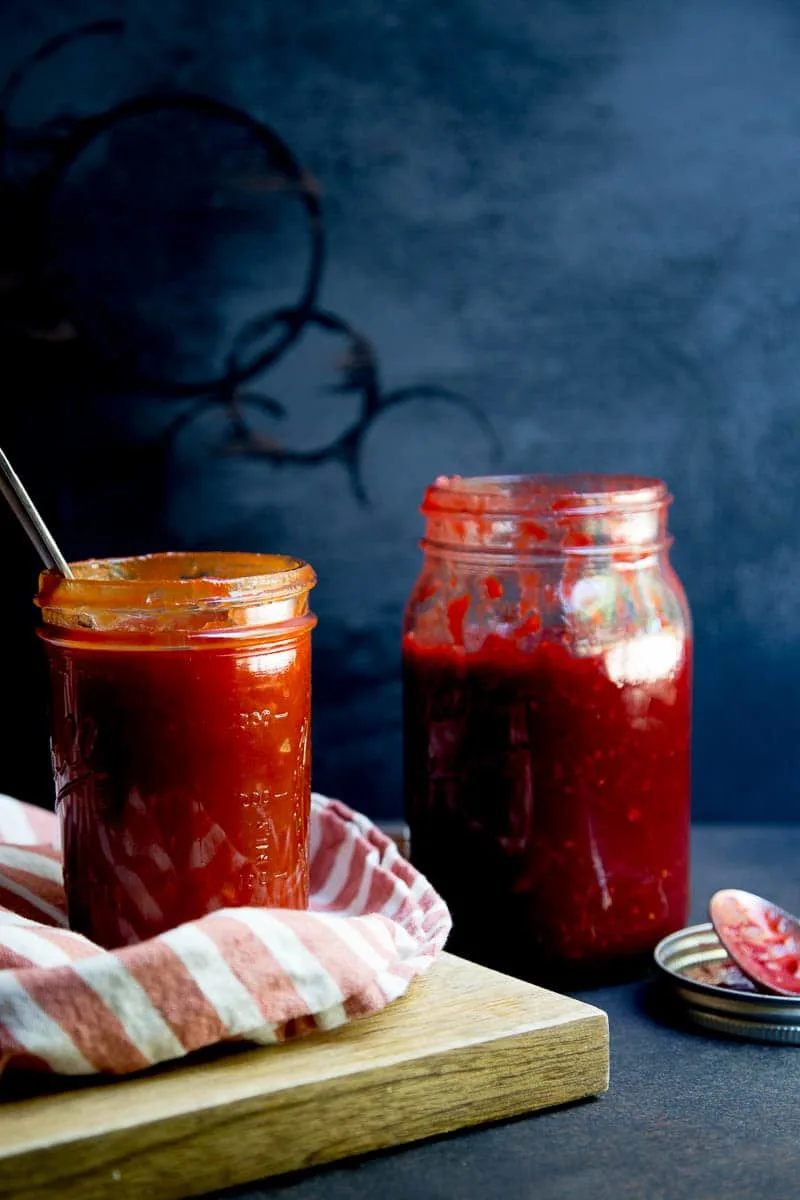 Adapting These BBQ Sauces to Different Diets
KETO: You can totally use the Lakanto sweetener I mentioned above in both of these recipes. (Although it takes the "honey" out of the first one.) You could also use regular erythritol or Swerve (which is erythritol-based, but has a better flavor than straight erythritol.
PALEO: if you're not into this whole low-carb business, just use honey in both. Or coconut sugar which is really good in BBQ sauce because it has a total brown sugar vibe.
WHOLE30: Swap out the sweeteners for some Date Paste. Date Paste is just blended up dates that have been soaked for a bit. EASY. Don't use Date Paste to make treats or anything. That's a Whole30 no-no. You can use it to sweeten things like BBQ sauce, take the edge off of a too-acidic vinaigrette, or any other sauce that needs a hint of sweet.
I love both of these sauces. I don't like BBQ sauce that's super sweet, so if you're a sweet BBQ kind of person, you may want to bump up the sweetener.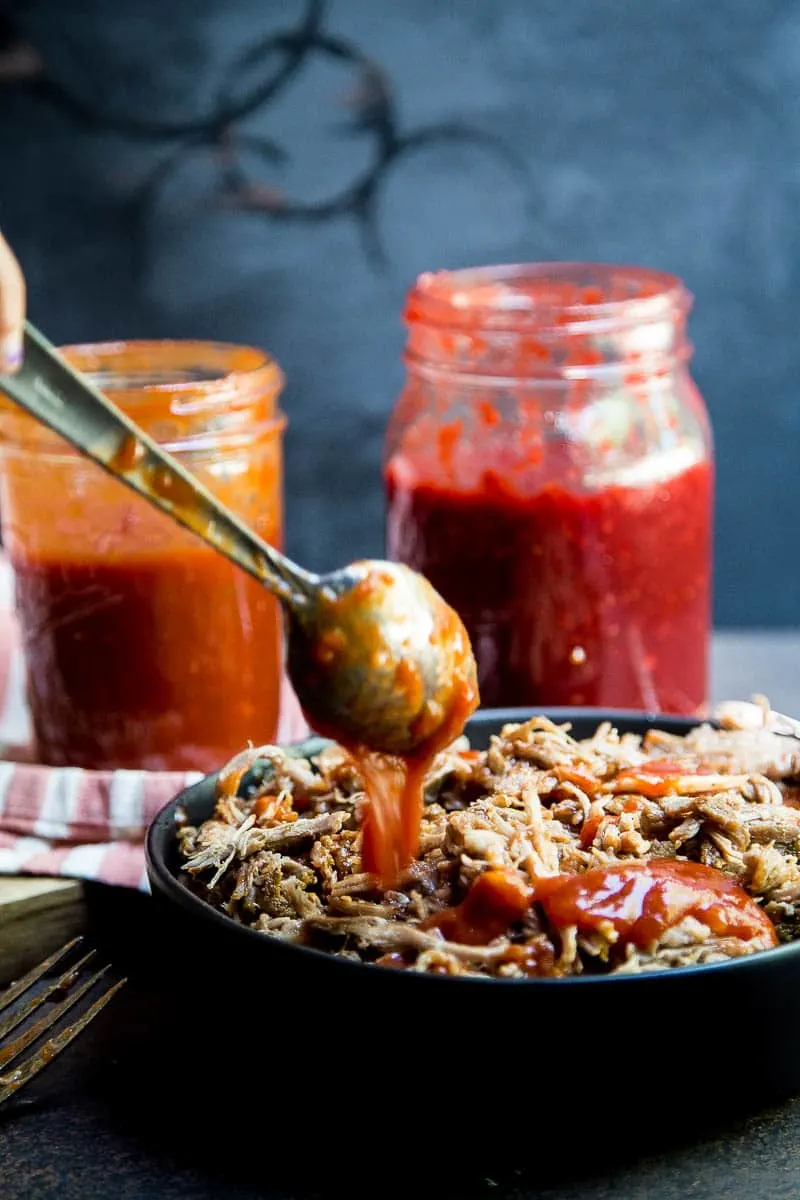 Later this week I'll have a great Instant Pot BBQ Pulled Pork recipe for you! You can also use these sauces on pulled chicken or beef, on grilled chicken or steak, meatloaf, or anywhere else you'd use BBQ sauce.
OH. And did you know that BBQ sauce lasts a LONG time in the fridge? (We're talking weeks. Maybe months.)
It's also the secret ingredient that I put in my favorite fast & easy chili recipe — Hearty Winter Chili. (Not to undermine the BEST Slow Cooker Steak Chili Ever. It's just good for those nights where I don't plan ahead, and I want chili in under an hours. You get me, right?)
If you try these, let me know what you think!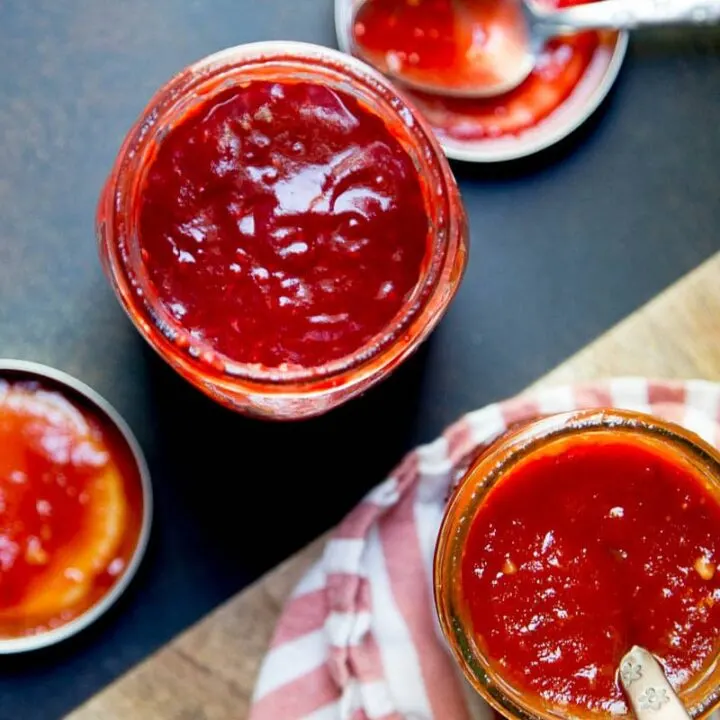 Honey-Lime Ginger BBQ Sauce
This BBQ Sauce has a kick of citrusy lime and a bite of ginger -- like it's about to venture into Asian territory. It's quick to make and versatile. We loved it on BBQ Pulled Pork, but it would be great brushed over grilled chicken as well.
Ingredients
1 15-ounce can of tomato sauce
1/2 cup rice vinegar
1/2 cup honey
2 teaspoons minced garlic
2 teaspoons finely grated ginger (using a Microplane grater, if you have one)
Zest and juice from 1 juicy lime
1 teaspoon Dijon mustard
3/4 teaspoon sea salt
Instructions
Put all of the ingredients into a medium skillet and let it simmer for about 15 minutes or until the flavors have combined and it has thickened slightly.
Taste, and add additional sweetener, lime juice, or salt as you see fit.
Notes
1. To make this recipe low-carb, swap out the honey for a low-carb granulated sweetener. Net carbs become 3 carbs per 1/4 cup of sauce.

2. Make it Whole30 compliant by using Date Paste instead of honey.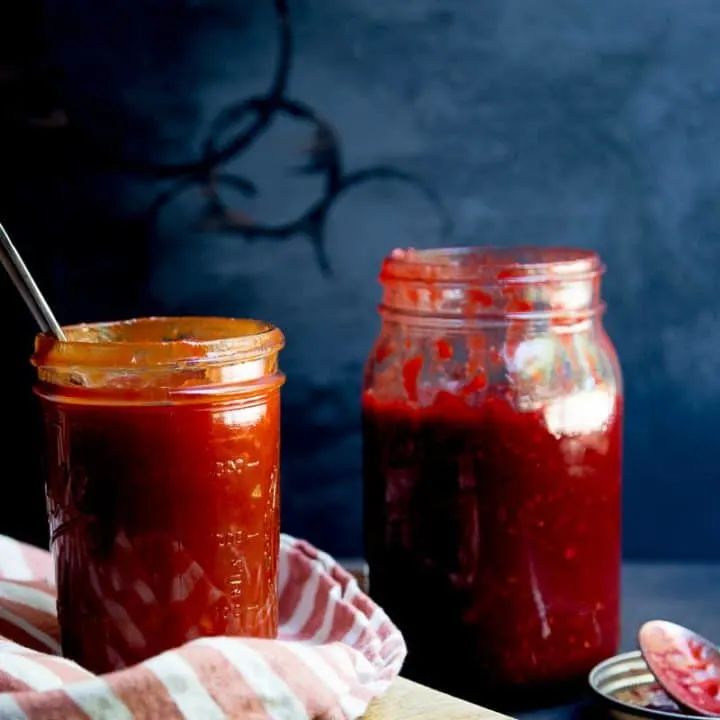 Raspberry Chipotle BBQ Sauce
I love the fruity flavor of raspberries mixed with spicy chipotles. It's a steller combination -- especially when you put the sauce on pulled pork or beef! Or grilled chicken. It's great on everything, really.
Ingredients
1 15 ounce can of tomato sauce
10-ounce bag of frozen raspberries
1/2 cup red wine vinegar
1/2 cup low-carb granulated sweetener
2 teaspoons diced chipotle peppers, from a can of chipotles in adobo sauce
2 teaspoons minced garlic
1 teaspoon sea salt
1/2 teaspoon liquid smoke
Instructions
Put all of the ingredients into a medium saucepan and let it simmer for 15-20 minutes until raspberries have cooked down and the flavors have incorporated together.
You may use the sauce immediately. You could also blend it if you'd like it smoother or strain the seeds out if they bother you. The sauce won't be as thick if you strain the seeds, though.
Notes
1. There are 3.3 net carbs in 1/4 cup of this sauce.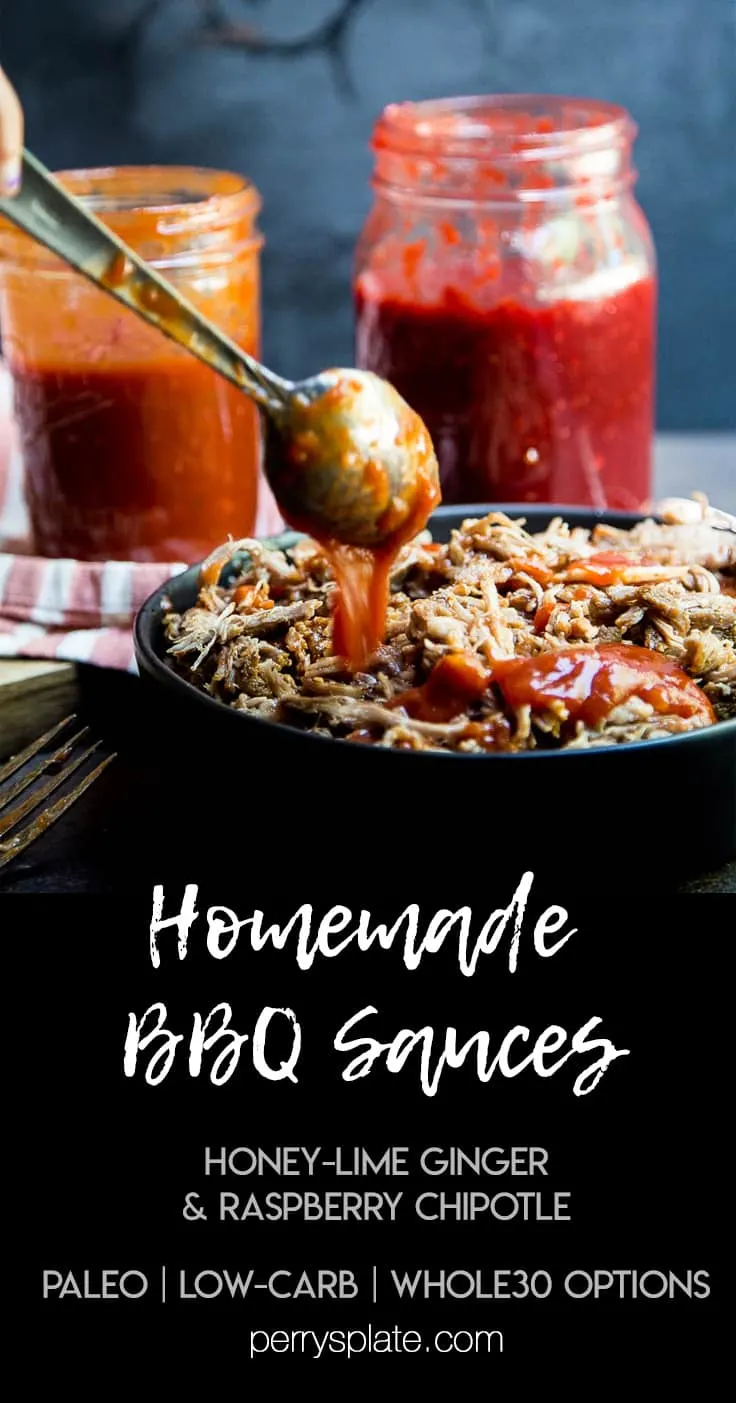 Disclosure: This post may contain affiliate links. Purchases made by using these links don't cost you any extra and helps to keep my content free.