These Whole30-friendly meal plans are for six dinner recipes and a dessert thrown in for fun! All of these recipes are paleo friendly, seasonal, and most can be easily adapted to be Keto/Low-Carb.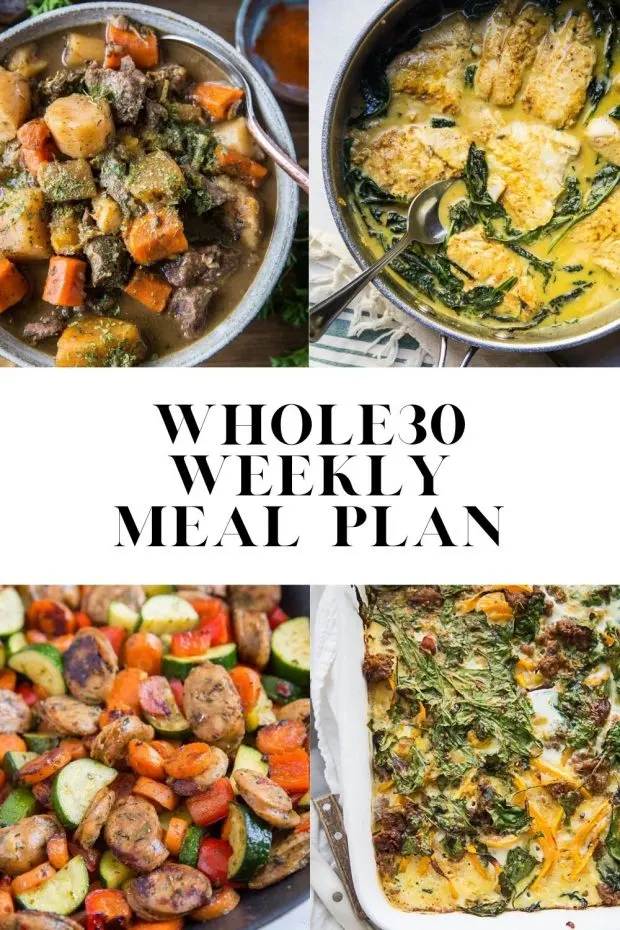 Happy New Year!!
Whether you're a goal-setter or not, you have to admit that January feels like a fresh start. New planners, new calendars, new year.
I'm always craving fresh, healthy food in January after nose-diving in cheese, cookies, and chocolate during the holidays. Oy.
January is also when a LOT of people do a round of Whole30. I've done a round of Whole30 in January and it starts the year off well!
This week Julia and I have a veggie-loaded line up of WHOLE30 FRIENDLY RECIPES for you with fun, fresh flavors.
As usual, you can find a printable grocery list at the end of this post.
Enjoy your fresh start! Hopefully 2021 has some great things in store. And if it doesn't? Well, we always have tasty food, right?
xoxo
Natalie
---
Sunday
SPIRALIZED BUTTERNUT SQUASH BREAKFAST BAKE — Grab some pre-spiralized butternut (or sweet potatoes) and whip this up for a tasty dinner. BONUS: You'll have breakfast prepped for the week!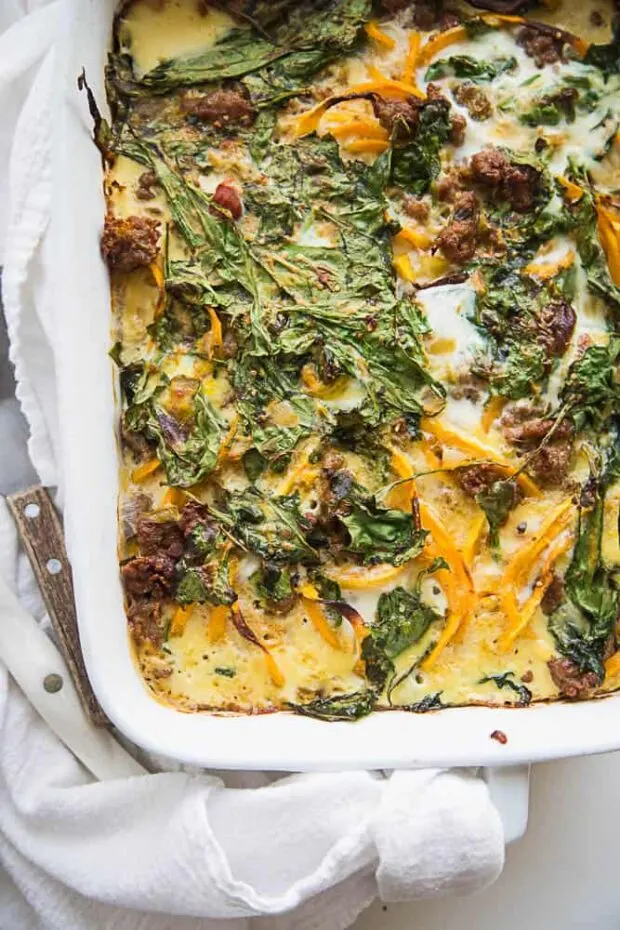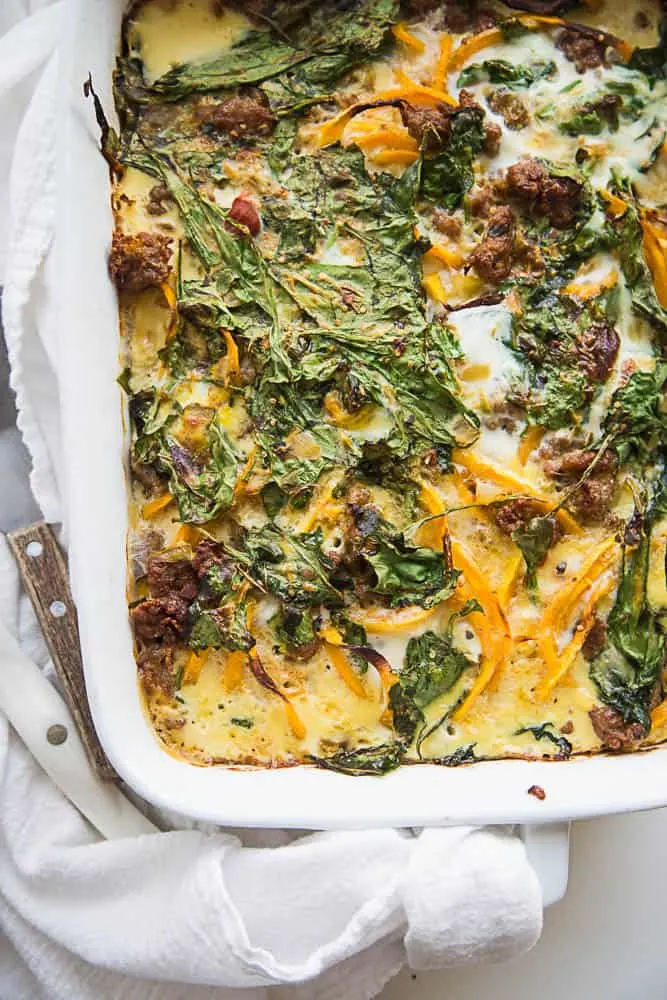 Special Diet Note: Paleo as-is. Watch sausage ingredients to make it Whole30 friendly. If you have trouble finding Whole30 compliant breakfast sausage, try making your own! Homemade Chicken Breakfast Sausage.
Prep Ahead: Buy pre-spiralized butternut squash to save time. Can be assembled the day before and baked the next day. (It's a great make-ahead breakfast for the rest of the week, too!)
Substitutions: Use sweet potatoes for butternut squash if you like. You can also use a different type of salsa — just make sure it's blended and a thinner consistency like salsa verde.
Monday
INSTANT POT BEEF STEW – Easy beef stew made in the pressure cooker! Nightshade-free, too!
Special Diet Note: This recipe is AIP, whole30, and paleo.
Prep Ahead: No advance prep is necessary!
Substitutions: To make recipe low-carb, you can use fewer carrots and parsnips and/or replace them with cauliflower
Tuesday
CREAMY PALEO MUSHROOM SOUP – You'd never know this creamy blended soup with SO MUCH mushroom flavor is dairy-free! Serve it without the cheese crisps if you're doing a round of Whole30.
Special Diet Note: This recipe is paleo as-is and Whole30 friendly without the cheese crisps.
Prep Ahead: The bacon can be cooked and the vegetables roasted ahead of time.
Substitutions: Use another 8 oz of mushrooms (baby bellas or some other flavor to add variety) in place of the dried mushrooms if you like. Roast them alongside the others.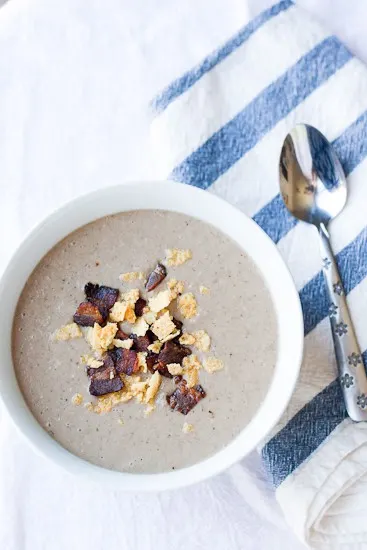 Wednesday
SESAME GINGER CASHEW CHICKEN — Sesame ginger cashew chicken with broccoli is a marvelously flavorful dinner recipe that takes no more than 40 minutes to make from start-to-finish!
Special Diet Note: Recipe is paleo & Whole30 friendly
Prep Ahead: Recipe comes together quickly – no advance prep needed.
Substitutions: Omit the garlic to make the recipe Low-FODMAP. To make recipe AIP, omit the cashews and sesame seeds and replace the sesame oil with avocado oil. Make is Keto by swapping soy sauce or liquid aminos for the coconut aminos
Thursday
QUICK THAI FISH CURRY — A light, yet filling dinner on the table in under 30 minutes!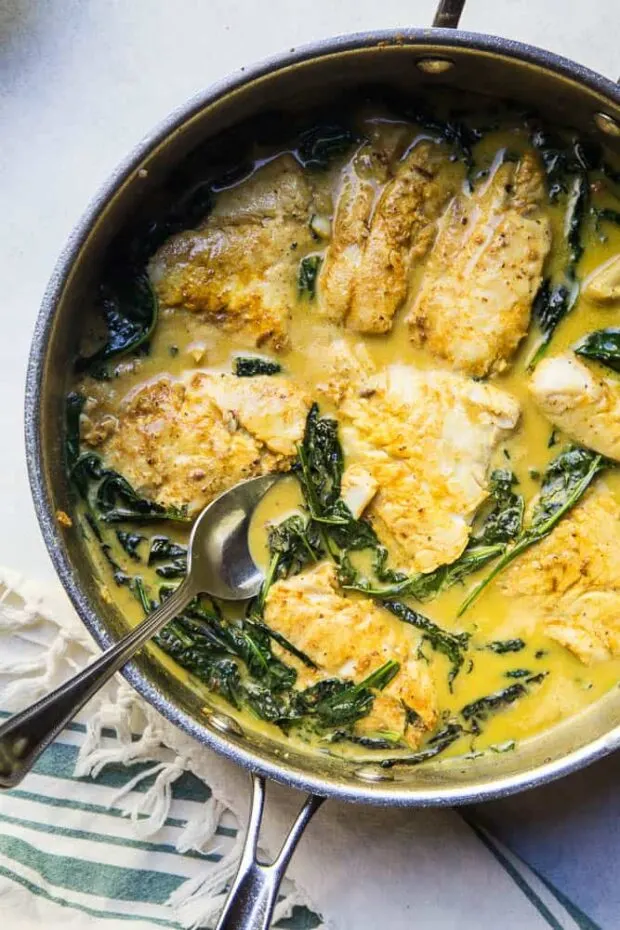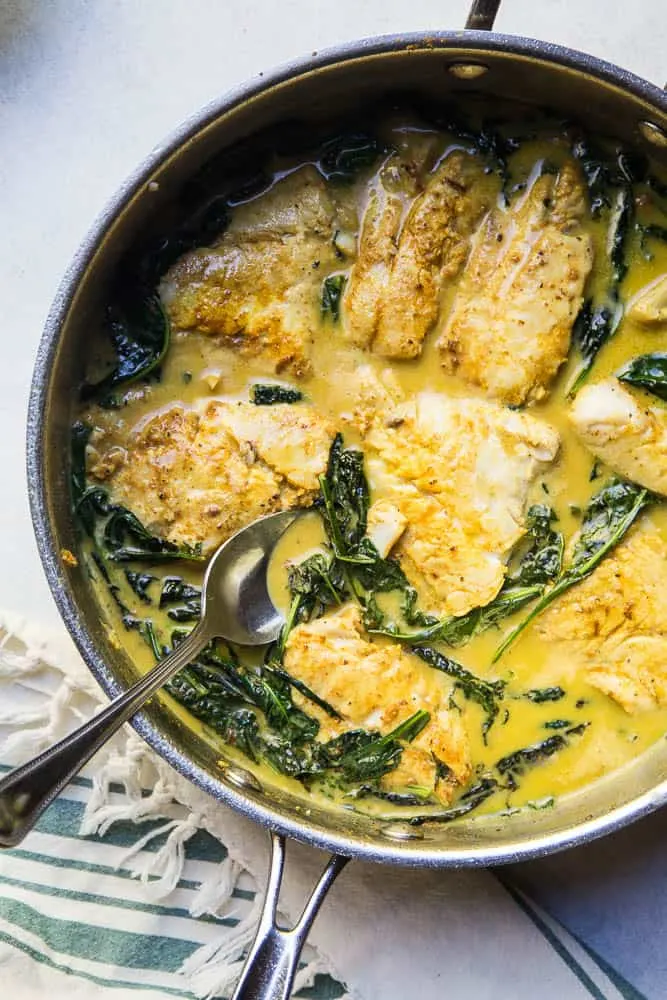 Special Diet Note: Watch the ingredients on the fish sauce and hot sauce for non-Whole30 ingredients. The Thai Spice Blend is Whole30 friendly, but if you'd rather use Thai curry paste, Thai Kitchen brand is compliant.
Prep Ahead: No need to prep ahead — it comes together really quickly! Although, if you're wanting to use the Thai spice blend, throw that together beforehand to save you a few minutes.
Substitutions: Serve with cauliflower rice instead of coconut rice to make it Whole30 friendly.
Friday
20-Minute Vegetable & Sausage Skillet — This quick skillet meal is your ticket to a super easy and nutritious dinner! Choose your sausage and vegetables based on your preference to change it up and keep it fresh!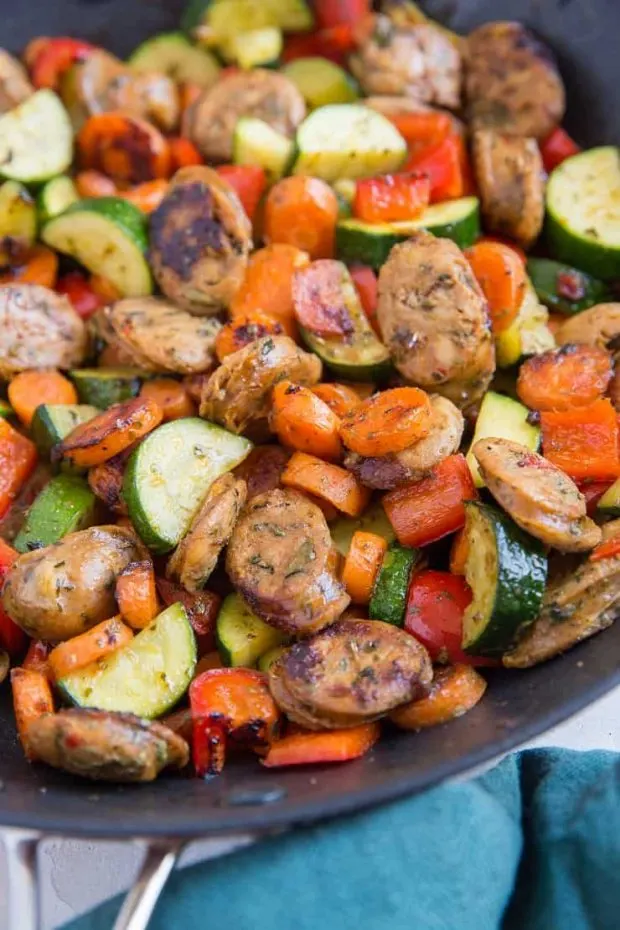 Special Diet Note: Recipe is whole30, paleo, and keto. Aidell's Chicken & Apple sausage is a popular Whole30 compliant sausage and would be great in this recipe!
Prep Ahead: This recipe comes together quickly, and no advance prep is needed!
Substitutions: Read the label to be sure there's no sugar in the sausage.
Dessert
PALEO PROTEIN BROWNIE BITES — If you're doing a round of Whole30, tuck these away for later — they're a great, filling little treat that seem much more indulgent than they really are.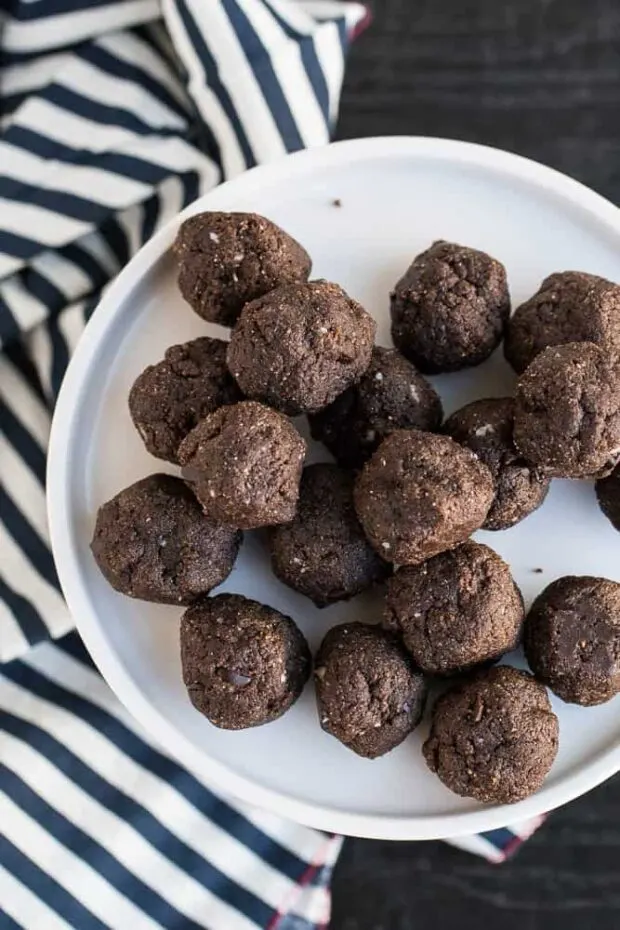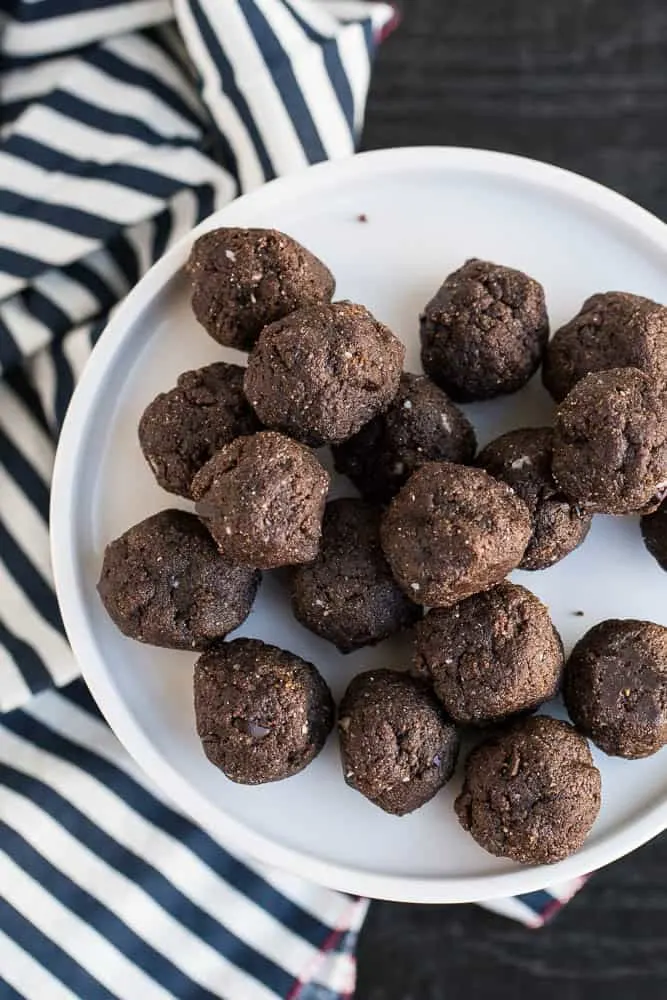 Special Diet Note: These are paleo friendly (if you use paleo-friendly protein powder) and a great little treat for after your Whole30 is finished!
Prep Ahead: Nothing to prep ahead of time. They come together quickly!
Substitutions: Omit the protein powder if you like. If the mixture seems too wet, add more almond flour until you get the right consistency.
Grocery List
Click HERE to download a handy printable grocery list!