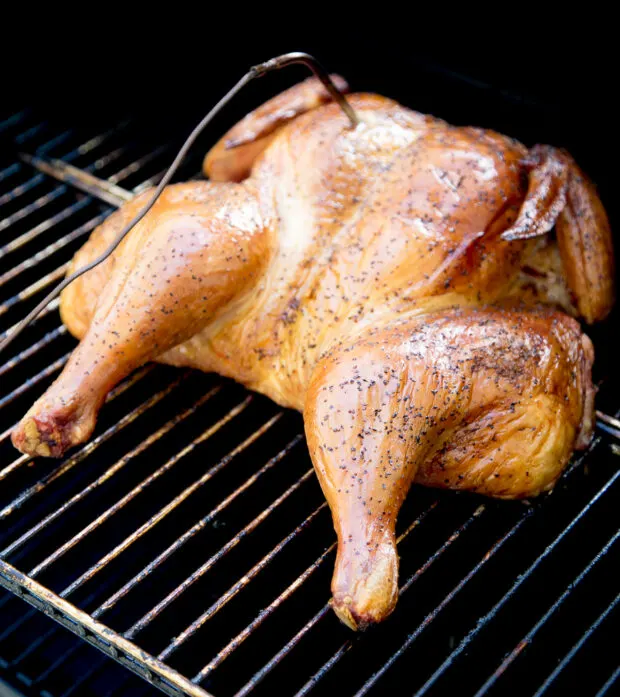 Smoked whole chicken has been my favorite thing to make in my pellet grill/smoker since we purchased it over the summer.
If you have a smoker/grill combo like a Traeger or a CampChef (We got the CampChef!) then you've GOT to try this recipe.
(By the way, this post isn't sponsored, but if you're looking for a pellet grill/smoker, this link will get you $100 off of a CampChef Woodwind. We got the Woodwind Wifi 24 with a flat top sidekick and a pizza oven. Best decision we made all year.)
My chicken smoking philosophy is like my chicken roasting philosophy — the simpler the better.
I like doing fancy things sometimes, but 95% of the time I just want to get the best flavor out of a chicken with the least amount of effort.
If you've tried my How to Roast a Chicken (the easy way) recipe, this is very similar.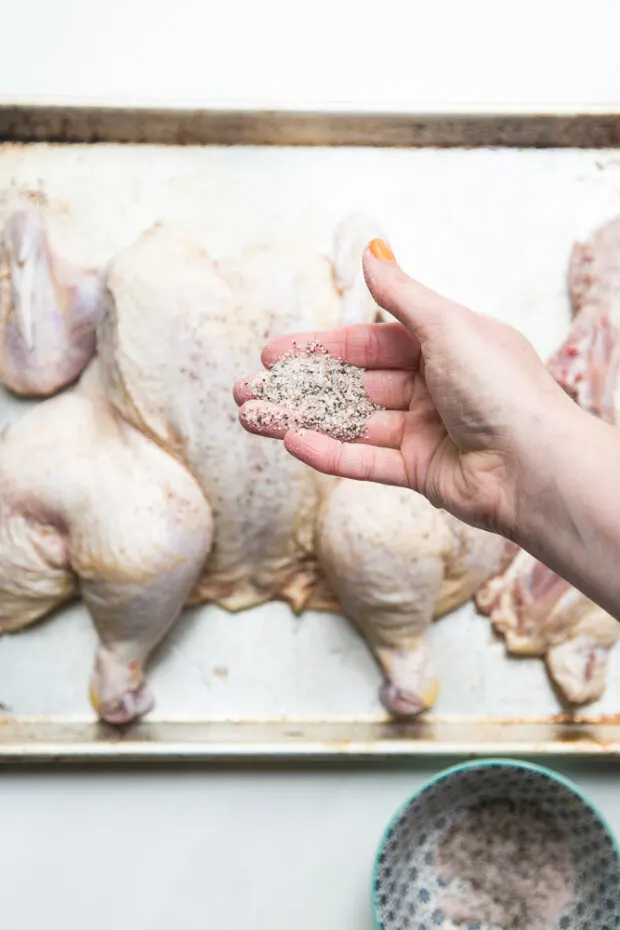 What kind of rub is good for a smoked whole chicken?
I go super minimalist here and just use salt and pepper. That's it.
I like to make the chicken + smoke flavors shine so I keep the seasonings minimal.
If you have a seasoning blend you like to use on chicken, feel free to try it here!
TIP: The best way to get a lot of flavor into the chicken is to let it sit with the seasonings for several hours before you cook it. I've found this to be more important than the actual seasonings you use. This works for roasted chickens and also for turkeys. It's similar to dry-brining.
Do you have to spatchcock or butterfly the chicken before you smoke it?
Nope!
I like to do it sometimes because it helps the chicken smoke faster and more evenly (especially when you're strictly grilling), but using a pellet grill/smoker will help you cook things more evenly overall.
I'm working on a How to Spatchcock a Chicken post (link coming shortly!) so check that out if you've never done it before.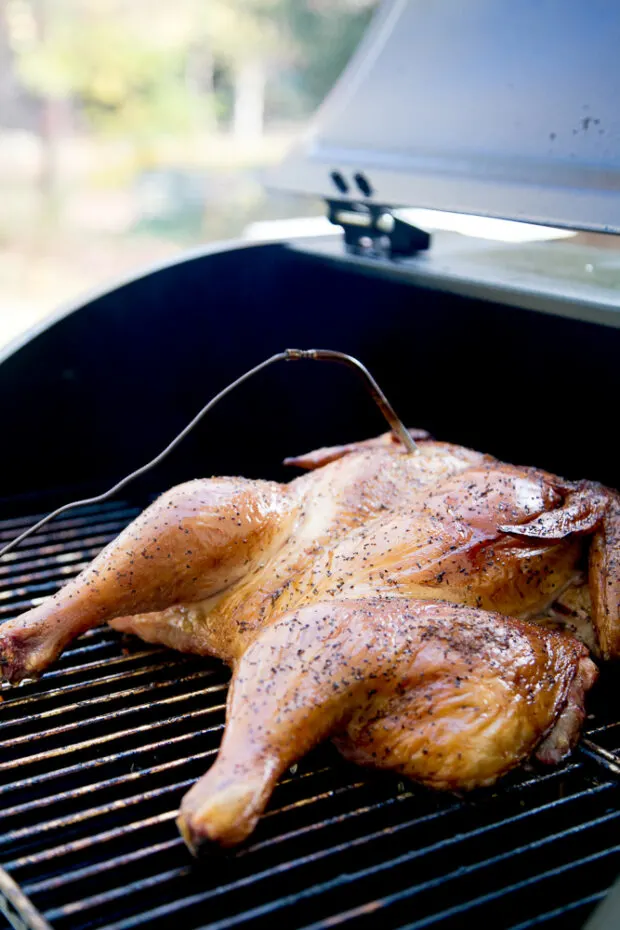 What kind of pellets are good for smoked whole chicken?
I like to use applewood.
If you want a stronger smoky flavor, try using hickory or a blend. I like CampChef's pellets the best and use their Competition blend quite often.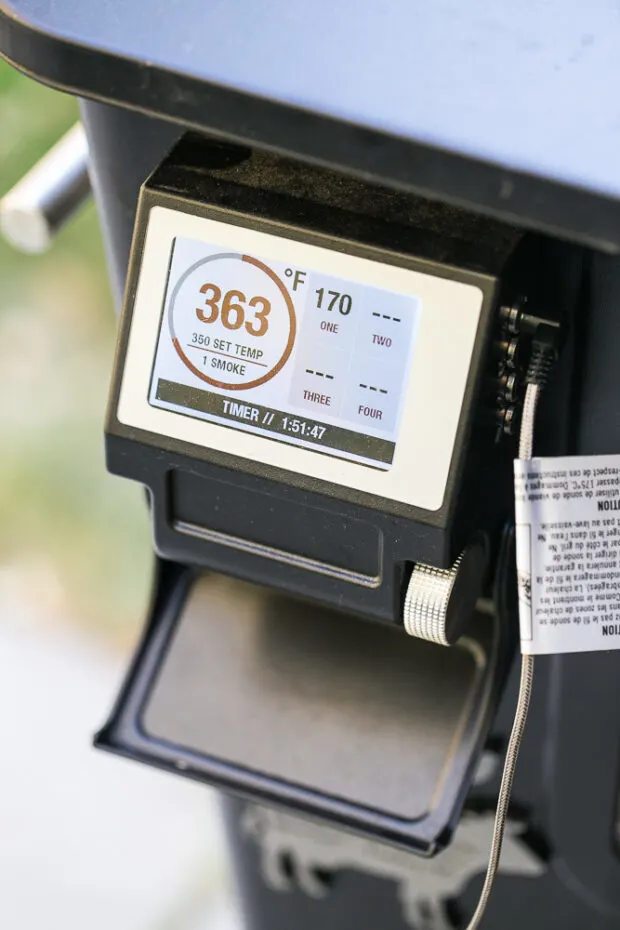 How long to smoke a whole chicken?
The way I do it takes roughly 2 hours. So not terribly long. And not as big of a commitment as smoking a brisket.
I start off by smoking it for an hour at a lower temperature (lower temperatures have more smoke output). And then finished it off at a higher temp.
You could tinker with the smoking times, too, if you wanted to let it smoke longer at that lower temp.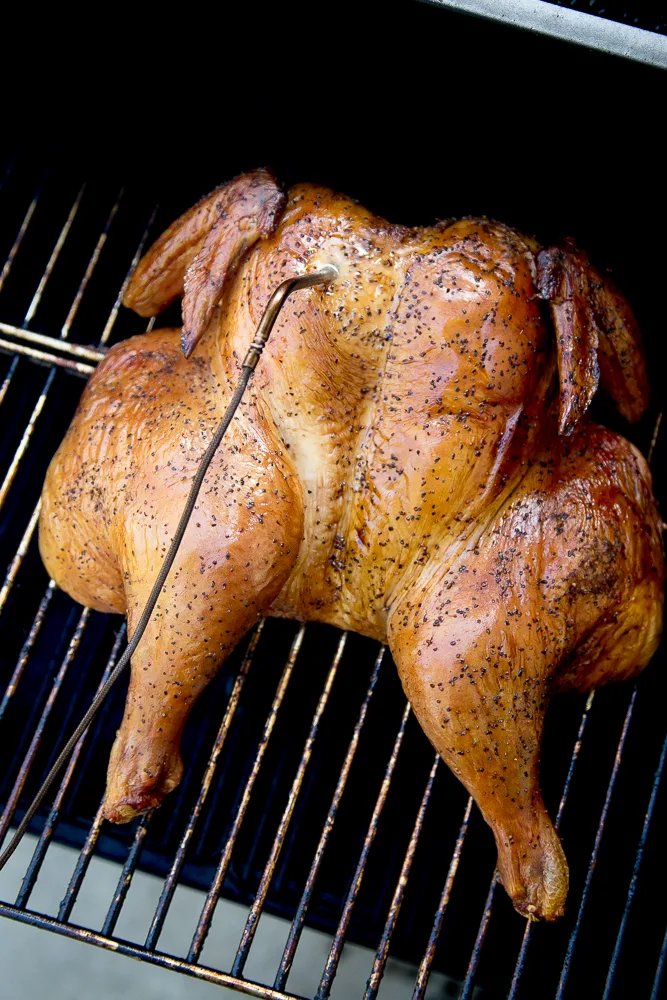 See how evenly this smoked whole chicken has browned? I'm blown away at how gorgeous they come out of our smoker. Much better than our mediocre oven for sure.
If you have any other questions about smoking a chicken, leave a comment below and I'd be happy to help!
Can I use this recipe to smoke a turkey?
YES! Absolutely.
I'd allow for a longer time for the turkey to sit in the fridge to dry out — probably 24-48 hours.
The smoking times would be longer as well and would vary depending on the size of your turkey. Plan for 30-40 minutes per pound at 220F.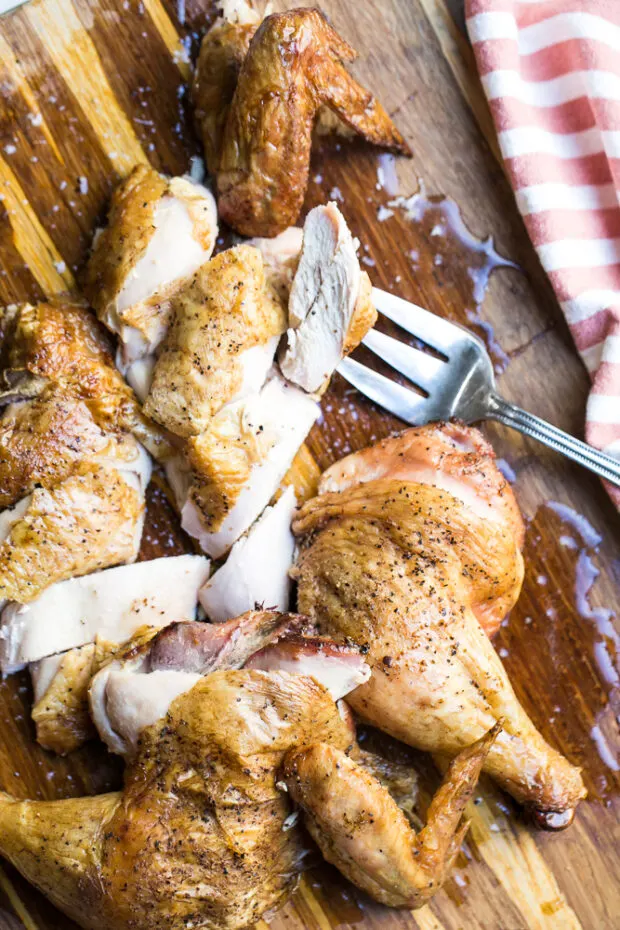 More Whole Chicken Recipes on Perry's Plate
If you'd rather stick to oven roasting, check out my tutorial on How to Roast a Chicken the Easy Way.
Have some leftover chicken? Make The Best Instant Pot Chicken Soup! Smoked chicken is super tasty in chicken soup.
Once you've cleaned those bones, don't throw them out! Here's my favorite way to make homemade chicken bone broth: Instant Pot Chicken Bone Broth.
---
If you make one of my recipes, be sure to post it on social media and tag me at @perrysplate or #perrysplate so I can send you some love!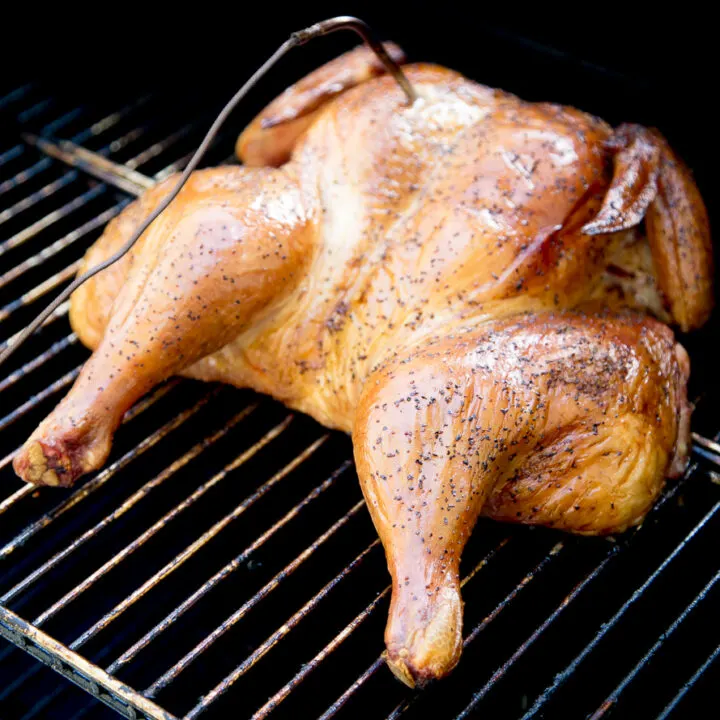 Smoked Whole Chicken
Smoked Whole Chickens are SO tasty. Smoking them in a pellet grill/smoker has been a game changer for us. Loads of flavor and always juicy and falling off the bones!
It may seem like this recipe takes forever, but most of that time is non-active. The overnight rest in the fridge before you smoke it helps the chicken to absorb all of the seasoning and allows the skin to dry out so it's nice and crispy when you cook it. It's worth planning ahead!
Ingredients
1 3-5 pound whole chicken
1 Tablespoon Kosher salt or coarse sea salt
1 teaspoon coarsely ground black pepper
Instructions
The day before (or early morning the day of) you plan to smoke the chicken, prep it for the fridge. Combine the salt and pepper in a small bowl and set it next to your work area.
Place the chicken on a large rimmed sheet pan or baking dish. Remove any packaging from the chicken any organs or the little white bag from inside the chicken cavity.
If you choose to spatchcock the chicken (cut out the back bone so it lays flat), do this now. Rub ALL of the salt and pepper mixture all over the outside of the chicken.
Place the chicken UNCOVERED in the fridge for at least 8 and up to 24 hours before cooking.
When it's time to cook, remove the chicken from the fridge and let it sit on your kitchen counter until your smoker has preheated. Preheat it to 220 degrees F and high smoke (if you have that option).
Insert a thermometer into your chicken into the thickest part of the breast area, but don't stick it clear down to the bone. Attach the thermometer to your smoker.
Smoke the chicken for an hour at 220, covered. Then turn the temperature up to 350 degrees and continue to cook the chicken until the thermometer read out says 160-165 degrees F. This should take anywhere from 45-75 minutes depending on the size of your chicken and how well your smoker holds the temperature. Spatchcocking a chicken will help it cook faster, too.
Transfer your chicken to a large cutting board and let it rest for at least 10-15 minutes before slicing it -- otherwise the juices will run out all over and the chicken will be more dry.
Carve up the chicken how you like and serve immediately.
This post contains affiliate links. Any purchase made by using these links won't cost you any extra and helps keeps my content free.