The Pumpkin Recipe Round-Up
I thought of calling this a CSA Wednesday post, but 99% of the time I use canned pumpkin in recipes instead of fresh. I have a hard time getting the consistency right when I cook it down myself. Plus canned pumpkin is pretty much the bomb. We've yet to receive pumpkins in our CSA box, though, but I hear they're coming!
My husband carved this little guy according to my 2-year-old's specifications on Monday night. When he was finished he turned it around to her and said, "How does it look?"
Ivy says, "It looks awful."
That's not something she would typically say, so after I figured out why, I responded with, "That's because it's on you, dear."
Ivy turned around with a big grin on her face. Mom understood. And Dad's feelings (hopefully) weren't hurt.
(Bonus points for who can tell me where that conversation came from!)
On to the food, yes?
Most of my favorite pumpkin recipes are either breakfast or dessert recipes, but I've recently added a savory soup to the mix. Did you catch the Pumpkin-Coconut Chowder with Shrimp last week?
I also included a recipe for Homemade Pumpkin Pie Spice and the most flavorful Toasted Pumpkin Seeds I've ever eaten.
Just in time, too. What are your plans for Halloween?
Don't hate me for saying this, but I'm not much of a Halloween person. I don't mind dressing up if I have a decent costume, but I'm not into all the parties, creepy treats, and decorations (unless they can double as "fall" decor and I can use them through Thanksgiving).
Party pooper, I know. I do love pumpkin though, so it's not so bad, right?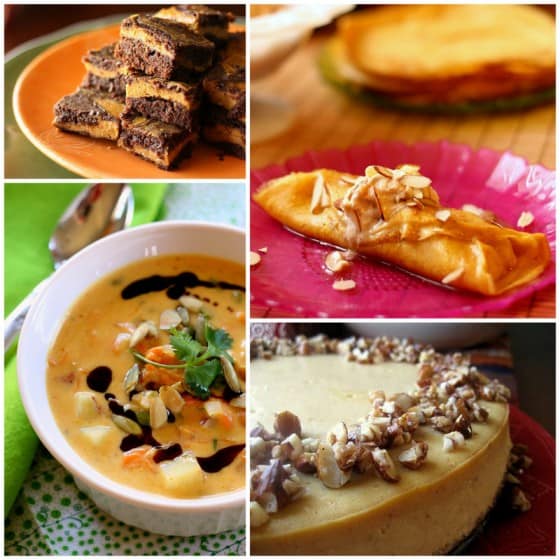 Pictured: Pumpkin Cheesecake Swirl Brownies, Pumpkin Crepes with Gingered Pears, White Chocolate Pumpkin Cheesecake, Pumpkin-Coconut Chowder with Shrimp.
Breakfast/Brunch
Pumpkin Crepes with Gingered Pears and Spiced Mascarpone
Desserts
Pumpkin Whoopie Pies
Pumpkin Cheesecake Swirl Brownies
White Chocolate Pumpkin Cheesecake
Pumpkin Cake with Butterscotch Filling
Cinnamon-Swirl Pumpkin Rolls
Pumpkin Pie Shakes
Savory (Hopefully this list will grow!)
Pumpkin-Coconut Chowder with Shrimp
Other Tidbits