Loaded Roasted Chile Guacamole
Hey, there.
Baby's due in a little over a week, and all I've wanted to do lately is sit on the couch with a big bowl of something. What that "something" is changes by the hour. Sometimes it's watermelon. Or fresh pineapple. Or ice cream. Or THIS guacamole and a big bag of chips.
I heart guacamole a whole bunch. I love both my classic version and my lazy version. When I tried this chunky, loaded, full of chile & lime version, I knew it wasn't going to last long when the rest of the family started eating on it.
(We all heart guac.)
Totally should have stashed this one in the back of the fridge for an afternoon "snack" the next day.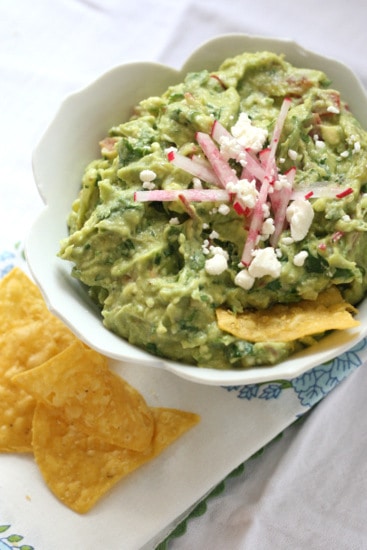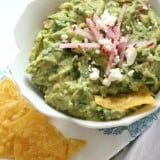 Loaded Roasted Chile Guacamole
Ingredients:
3 fresh New Mexico, Anaheim, or poblano chiles
1 medium lime
3 medium ripe avocadoes, pitted and peeled
3 green onions, chopped
1/3 cup chopped fresh cilantro
1/4 tsp ground cumin
salt
1/2 cup medium-diced fresh tomato
2 radishes, slivered
2-3 T crumbled feta cheese
chips or vegetables, for serving
Directions:
Roast chiles under an oven broiler, on a grill, or directly on a gas burner. Turn occasionally until outside of pepper is covered in black, charred spots. This should take 8-10 minutes. When chiles are roasted, place in a bowl, cover, and set aside to steam for a few minutes. When cool enough to handle, peel, seed, and chop the chiles. (The skin should be easy to remove if you make sure to let them steam.)
Zest and juice the lime into a medium bowl. Add avocado and coarsely mash. Stir in the scallions, cilantro, cumin, and salt. Season to taste with salt and lime juice. Fold in the tomatoes and roasted chiles.
Transfer to a serving bowl and top with slivered radishes and feta.
adapted lightly from Cookfresh 2012 (Fine Cooking Magazine special publication)