The Perrys in May (via Instagram)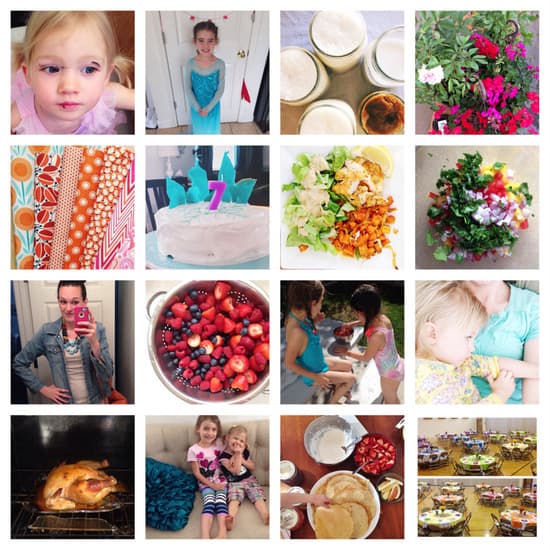 All photos are from my personal and public Instagram accounts. You can find my public account here! –> Perry's Plate on Instagram (perrysplate)
1. My baby discovered that a Sharpie works really well as eyeliner.
2. My biggest girl desperately wanted an Elsa dress for her birthday. Because you can only buy them on eBay these days for $100+, I decided to make her one. I'm not a seasoned seamstress, and this was my first experience making an item of clothing. And, of course, I chose the most difficult fabrics to work with. I think I had angels helping me. She loves it. And I'm incredibly relieved.
3. Our little Blendtec turned over 2000 blends! It's been such a champ. I've been making almond milk weekly and recently started making date paste again. (Post coming soon! And no, I don't have a post on making almond milk — I just use this post — Oh She Glows: My Favourite Homemade Almond Milk. I do have a post for making homemade coconut milk, which is very similar.)
4. We took a couple of weekends and gave our front yard a makeover! I'm so excited to have a pretty porch and peonies I can't contain myself. I hope I don't kill them.
5. Speaking of sewing, I've caught the quilting bug. That's not something I ever thought I would do, but here we are. I may have spend as much on fabric this month as I did on food. Ok, not quite. But close. And I've started stalking quilters on Instagram.
6. My oldest turned seven. I'm trying not to dwell too much on that. When I started blogging she was only 9 months old. It blows my mind. She told me exactly what she wanted for her birthday cake — Peppermint Layer Cake with marshmallow frosting, blue "ice", and a "surprise" inside. My kids have been pouring over Amanda Rettke's book, Surprise Inside Cakes and planning out their birthday cakes for the next decade. Because I had to tackle an Elsa dress and we were recovering from a stomach bug that week, I made polka dots. Sort of.
7. We fell off the paleo wagon pretty hard one week (OK, maybe it was two) so I've recommitted to planning better, eating out less, and making our at-home meals cleaner. We've had some awesome dinners lately. And I'm really loving this Homemade Thai Spice Blend I just posted!
8. Speaking of awesome dinners, I'm on a fish taco kick lately. We had these chipotle fish tacos the other day with mango salsa that were the BOMB. I just need to step up and make paleo tortillas now. *sigh*
9. Hey, look! I got dressed!
10. I've started shooting recipes for Clean Eating Magazine again! You'll find some of my photos in the upcoming July/Aug issue!
11. First watermelon of the season. You'd think I had just given them a bowl of skittles.
12. A stomach bug tackled a few of us to the ground. Baby got the brunt of it, unfortunately. (As did mom, who had to clean up all the messes.)
13. Public Service Announcement: Do not pour cool water into a screaming hot Pyrex pan.
14. "Mom, take our picture on the couch!" Well, OK, but only if the baby sticks her finger up her nose.
15. We ate a lot of crepes. I haven't found a paleo recipe that I like, so we make Gluten-Free Crepes.
16. As if we didn't have enough going on this month, I was in charge of table decorations for a church activity for 8-11- old-girls. About 150 of them. The theme was "You are the artist: paint the world with love." I had been working on this for a couple of months. And how could I say no? There are rainbows involved.
All photos are from my personal and public Instagram accounts. You can find my public account here! –> Perry's Plate on Instagram (perrysplate)
Disclaimer: This post contains an Amazon.com affiliate link. Purchases made by using these links don't cost you any extra and allows me to sponsor more giveaways and replace things like sticky camera lenses.