Here's the soup that I made with the leftover
Slow Cooker Chipotle Shredded Beef
. It tastes like a southwest version of beef vegetable soup, but instead of chewy beef cubes, it has shreds of melt-in-your-mouth steak.
Feel free to add any vegetables you have on hand. I had potatoes and carrots, so that's what I used. I think some greens like kale or Swiss chard would also work well in this.This soup is seriously so good.
I froze some of my leftovers just so I could quickly make this soup again in a few weeks. Speaking of quick — this one is under 30 minutes. Hooray!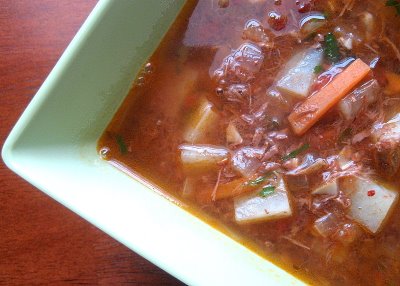 Chipotle Steak and Potato Soup
Use leftover Shredded Chipotle Slow Cooker Beef and whip this soup up in no time!
Ingredients
2 Tablespoons avocado oil
1/2 cup chopped onion
1 clove garlic, minced
1/2 cup matchstick carrots
Salt and pepper
1/2 teaspoon cumin
1/2 - 1 teaspoon minced chipotle pepper
1 14-ounce can beef broth
1 14-ounce can chicken broth
1 large baking potato cut into 1/2-inch cubes (about 2-3 cups)
1 1/2 cup leftover shredded chipotle beef (see link within post)
1/4 cup chopped cilantro
Shredded pepper jack cheese and sour cream (optional)
Instructions
Drizzle the oil in the bottom of a large sauce pan and heat to medium-high heat. Add onion, garlic, and carrots; add a pinch of salt and pepper. Saute vegetables until tender and onions begin to brown a little. Add cumin and chipotle pepper; cook and stir for about a minute. Add beef broth, chicken broth, potatoes, and beef. Bring to a boil. Reduce heat and simmer for 10-15 minutes or until potatoes are cooked through and flavors have combined. Garnish with cilantro, shredded cheese, and sour cream. Serves 4.
Notes
Nat's Notes:
1. I used both chicken and beef broths because I had some leftover chicken broth I needed to use up in the fridge. You could use all beef or all chicken broth if you like. I think that using some chicken broth keeps it from getting too rich, but it might also be really good that way. Let me know if you try it like that.