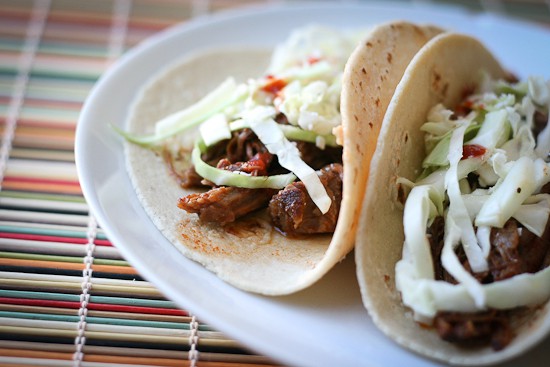 What would your last meal on earth be? If you could have anything you wanted?
I've given this a lot of thought, because, you know, thinking about weightier matters makes my head hurt. So do football games, which is why I would totally (not) watch the Super Bowl for the food.
Not having more than four consecutive hours of sleep in almost eight months doesn't help, either.
My meal of choice? Unfortunately my answer changes with whatever I happen to be craving. Or the seasons.
Authentic street tacos are high on the list, though. Drippy, tender, shredded beef would be second only to batter-fried fish.
After a few attempts, I'm sure I created THE knock-off of that drippy, tender, shredded beef found in taqueria tacos. (If you don't live in a place that has taquerias, I suggest you find an area with a large Hispanic population, stat.)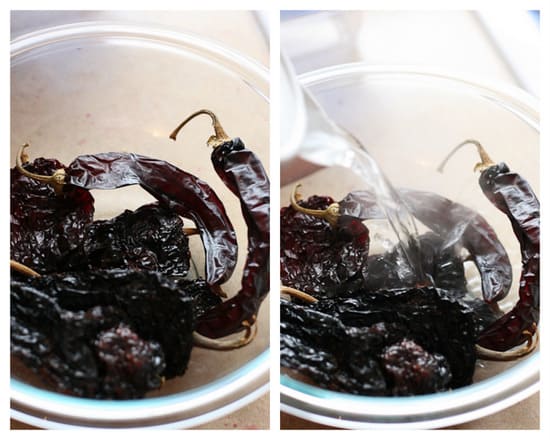 This recipe isn't a quickie, though. For that reason, I make a LOT and freeze some of it. For the base I use these slightly menacing-looking dried chiles you see in the latin food section of the grocery store. I used to be scared of them until I made the best Chicken Tortillas Soup ever. That soup has become one of our staples, and I keep these chiles in the pantry all the time now.
First they need to be soaked so they blend easier. Put them in a bowl and cover with hot water.
I put another bowl on top so they stay submerged.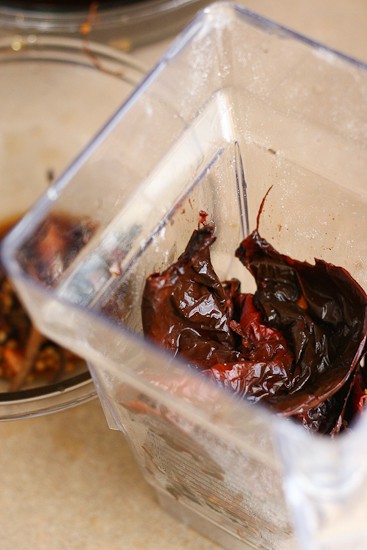 After a few hours, I pull them out, pull the stems off, and get most of the seeds out. The chiles go into the blender. . .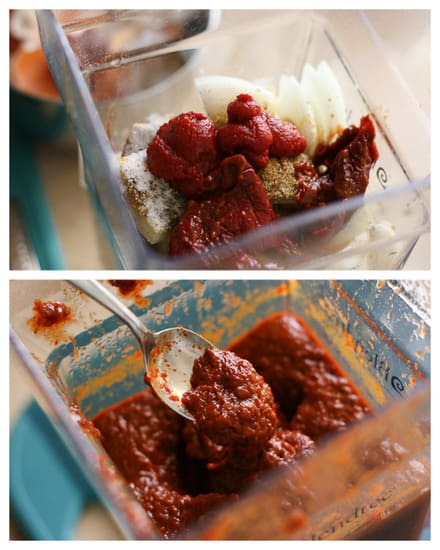 . . .along with a bunch of other stuff, and become a really concentrated chile/enchilada paste type of thing.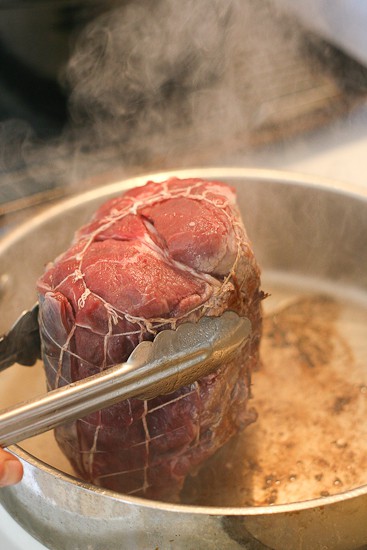 Sear the roast. For this recipe I used two roasts that were roughly 2 pounds each.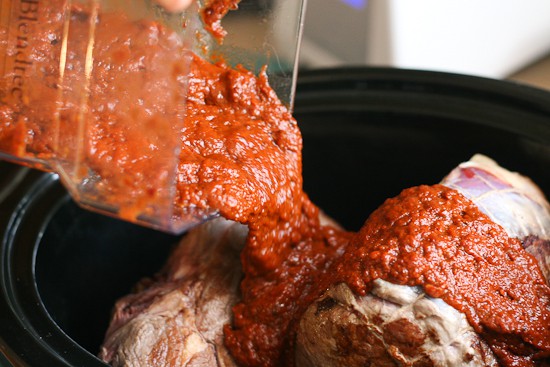 Put the roasts in your big slow cooker. (Not the medium or the small one. Just admit you have three of them.)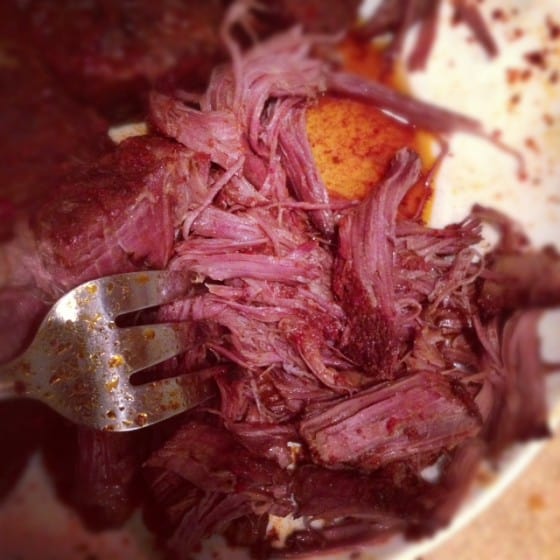 Eight hours later it's dark and the lighting in your kitchen is kind of cruddy, so you use your phone to take a picture so it looks all yellow-ish and hipster like you did it on purpose. Oh, and the meat falls apart, too.
Separate the meat from the juices (strained, preferably).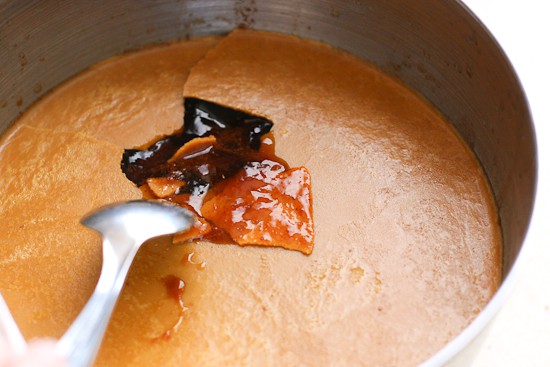 In the morning the juices will look something like this…. a gelatinous, beefy substance covered in orange wax. Mmm. Just toss the "wax" aka fat, unless you want to keep it around to cook with. The juices will become runny again once heated. If it's gelatinous like this, it means its full of things that are actually really good for you. (If you started out with good meat, that is.)
And that juicy stuff you've got in that bowl? Pretty much the best enchilada sauce ever. You can use it for lots of things. I made another version of those Stacked Roasted Vegetable Enchiladas with the shredded meat and sauce. And lots of spinach. Wowza, it was good.
You could also make traditional enchiladas. Or nachos. Or those salads packed with all kinds of stuff that I totally crave from a place that rhymes with Rafe Cio that we don't have in Reno. *Sad face*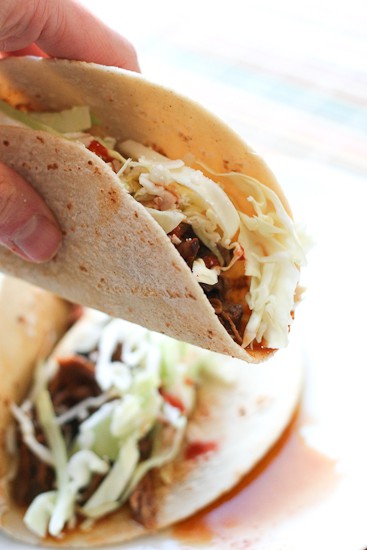 Or tacos. Throw some of the meat into a skillet with a few spoonfuls of that sauce and you're set. For the entire football game. Or for life.
Or. . . for whatever that comes after that. It'll sustain you.
Beef
Copycat Chipotle Barbacoa Beef mimics the delicious shredded beef served at chipotle! The recipe includes instructions for Instant Pot & Crock Pot!
Shredded Chipotle Beef is a slightly different from this barbacoa recipe with lots of chipotle flavor.
Instant Pot Green Chile Shredded Beef is a good home for a large jar of Hatch green chiles.
Chicken
Instant Pot Green Chile Shredded Chicken — if you want to try a chicken version!
The Best Instant Pot Shredded Chicken for Tacos is another shredded chicken recipe that only has a few ingredients and comes together so quickly!
---
If you make this recipe, be sure to post it to social media and tag me at @perrysplate or #perrysplate so I can send you some love!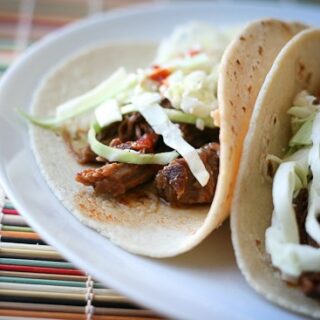 Taqueria-Style Shredded Beef
Yield:
Enough shredded meat to fill three quart-sized freezer bags
This recipe takes a little time, but you end up with a giant pot of the most flavorful, authentic-tasting taco beef you've ever had! It also freezes well for tacos down the road.
Ingredients
3-4 dried pasilla peppers
2 guajillo peppers
1 medium onion, peeled and roughly chopped
3 cloves garlic, peeled and halved
Juice from one lime (about 2-3 Tablespoons)
2 chipotle peppers, from a can of chipotles in adobo sauce (I seeded mine)
2 Tablespoons tomato paste
1 Tablespoon ground coriander
1 Tablespoon ground cumin
1 Tablespoon salt
1 Tablespoon honey
1 teaspoon oregano
3-5 pounds of beef (large roasts work best, any cut)
Instructions
Heat a skillet to medium heat and add the dried chiles. Toast for a minute or so until they become fragrant. Don't let them burn. Transfer to a bowl and pour boiling water over them. Add another bowl on top of the chiles to keep them submerged. Let them soak for at least 30 minutes, up to a few hours.
Drain chiles (reserving the liquid), remove stems and most of the seeds, and place them in the blender with the remaining ingredients (except the beef). Blend until smooth. Add some of the chile-soaking liquid if necessary. Set aside.
Unwrap your beef and do whatever you need to do to get it ready for the pan (trimming, etc.) Heat a cast-iron or stainless steel skillet with 2-3 Tablespoons of heat-safe oil (like coconut or grapeseed) over high heat. The oil should be shimmering and there should be very faint wisps of smoke. Place the beef in the skillet (you should hear some crazy sizzling or your pan isn't hot enough) and let it sit there for a minute or two. Turn the meat to sear on all sides. It should be crusty brown in spots.
Transfer seared meat to a 6-quart slow cooker. Pour blended sauce over top. Cover and cook on low for at least 8 hours.
When the meat is tender, remove roasts from the cooker and shred the meat. Set aside to cool for a few minutes.
Strain the liquid in the cooker, discarding all the slimy stuff. Pour strained liquid into a bowl and set aside to cool.
When the meat and sauce are both cooled off, cover and chill. You can use the meat right away if you like, but the sauce needs time to cool so you can remove the fat from the top. It's lots easier that way. (And you end up with the best enchilada sauce on the planet!)
If you want to serve the meat and sauce together, put some meat in a skillet with a few spoonfuls of sauce and cook until the meat has softened and everything's all saucy and happy.