Hi! This recipe has been updated and reposted! You can find a paleo/Whole30 version right here:
---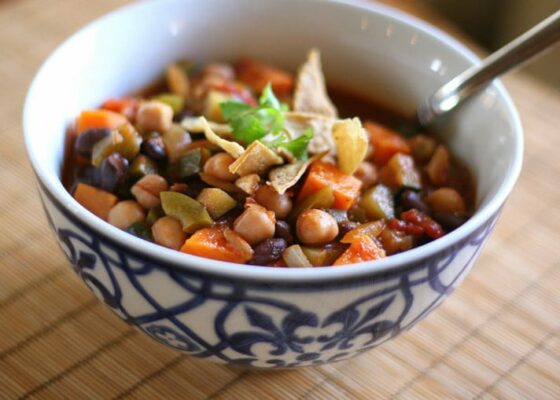 I love it when things just fall into place by themselves. One day I glanced at the sweet potatoes cuddled up in their basket and suddenly wanted to make some kind of vegetarian chili with them. I swear it was the next day when Kate left me a comment, and I wandered over to her blog.
(Because, you know, I stalk you if I've never seen you here before. Everyone does that, right? . . . . right?)
I scrolled down her lovely blog and saw this recipe. Fate! I almost had everything to make it, so I just improvised a little and threw in some leftover grilled zucchini from the veggie quesadillas we had for lunch and some chickpeas instead of kidneys. I loved this chili, and thought the cinnamon measurement was spot-on. (Some sweet potato or pumpkin chilis I've tried have way too much cinnamon and/or pumpkin pie spice. I don't want my chili to taste like pie.)
The cocoa powder was a nice touch, too, as it adds depth of flavor. It doesn't taste like chocolate chili, don't worry. I use cocoa in my taco seasoning, and I love it.
I loved it, and my family happily slurped it right up. Mission accomplished.
I noticed another vegetarian chili-type soup you'll love — check out the Enchilada Chowder over at Vegetarian Mama!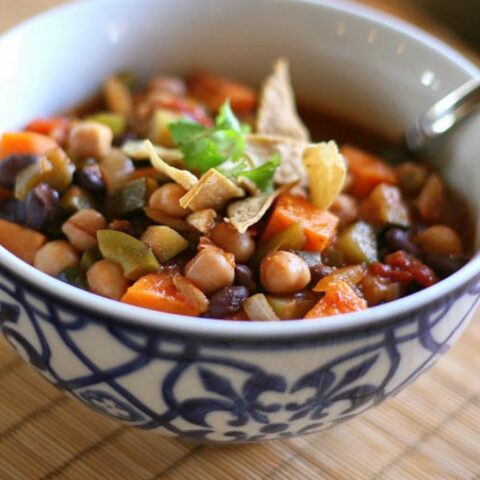 Vegetarian Sweet Potato Chili
Who says vegetarian chili is unsatisfying? Clearly they've never had this version!
Ingredients
1 medium red onion, chopped
1 green bell pepper, chopped
1 red bell pepper, chopped
1 medium sweet potato, peeled and cut into 1⁄2-inch pieces
4 garlic cloves, chopped, or 1 heaping tablespoon of minced garlic
1 tablespoon chili powder
1 teaspoon ground cumin
1 teaspoon cayenne pepper (I only used 1/4 tsp because I have little ones)
2 teaspoons unsweetened cocoa powder
1/4 teaspoon ground cinnamon
ground sea salt and black pepper
1 28-ounce can diced tomatoes, including the liquid
1 can black beans, rinsed and drained
1 can kidney beans, rinsed and drained
1 cup vegetable broth
sour cream, shredded cheese, chopped fresh cilantro, and/or tortilla chips for garnish
Instructions
In a 4 to 6 quart Dutch oven or stockpot, sautée the chopped vegetables in one to two tablespoon of heat-safe oil on medium-high heat, stirring occasionally.
Once the onions start turning translucent, reduce heat to medium-low. Add all of the spices and canned ingredients, and stir.
Cover and let it simmer, stirring occasionally, for about 2 hours. Ladle into bowls and add garnishes. Serves 4-6.
Notes
Nat's Note: This is a very adaptable recipe. I didn't have everything on hand, so I subbed a zucchini for one of the peppers, chickpeas for the kidney beans, and chicken broth.