My favorite part about this hearty, vegetarian quinoa salad is the sweet dressing made from lemon-infused oil! The whole thing is so light and fresh.

I only have a few short weeks before I can no longer justify eating what I want, whenever I want. (Usually that doesn't include quinoa salad.)
Bummer. *Sigh*
Given the choice, I may choose this particular quinoa salad over most of the indulging things I've been eating lately. This little one has wanted to nurse every waking moment of her days, and consequently my appetite is rather beast-like. I told Steve yesterday that I'd keep the baby fed if he'd keep me fed. Our grocery bill may just go up a smidgen.
That doesn't mean I need to give in to every 9PM Nutella-on-ice-cream craving. I need to reign in my cravings and get ready for my July paleo cleanse (Which, by the way, means I'll simply be eating strictly paleo. Not restricting calories or fat because I'll be nursing.), so I'm gathering some healthier options, like this refreshing summer quinoa salad!
This one is similar to this Lemon Quinoa Salad, but has a sweet-ish dressing and a few other ingredients that turn it into a completely different salad.
And it's totally sun-safe. No nasty, warm mayo to fear!
If you like this, salad, try one of my other sun-safe salads!
More Potluck Salad Recipes on Perry's Plate
Grilled Vegetable & Rotisserie Chicken Salad — A mixture of grilled and fresh vegetables mixed with easy rotisserie chicken & tossed in a light lemon vinaigrette.
Grilled Vegetable Potluck Salad with Avocado Ranch — Similar to the one above, this one has grilled vegetables, but includes some tasty grilled chicken sausage and a creamy avocado ranch dressing!
Mango Cucumber Rice Salad — A rice-based salad with cool, refreshing bits of cucumber and mango!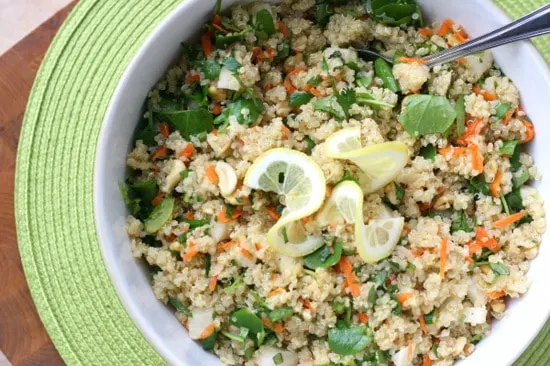 ---
SaveSave
If you make one of my recipes, be sure to post it on social media and tag me at @perrysplate or #perrysplate so I can send you some love!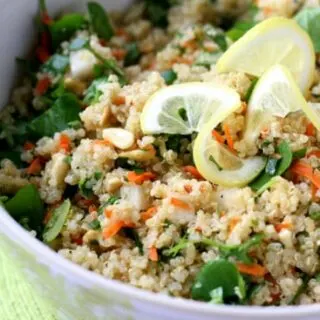 Sweet Lemon-Herb Quinoa Salad
My favorite part about this hearty, vegetarian quinoa salad is the sweet dressing made from lemon-infused oil! The whole thing is so light and fresh.
Ingredients
2 lemons
1/4 cup avocado or other neutral-tasting oil
1 1/2 cups uncooked quinoa
2 Tablespoons rice wine vinegar
2 teaspoons honey
salt & freshly ground pepper
1 whole shallot, thinly sliced (or 1/4 of a medium red onion)
1 medium carrot, shredded
1 cup diced cucumber
1 cup diced jicama
1/2 cup raw cashews (or peanuts, if you prefer)
1/2 cup fresh cilantro, chopped
1/2 cup fresh mint, chopped
1/2 cup fresh basil, chopped
1 bunch watercress, tough stems removed, leaves torn (or a couple handfuls of baby spinach)
Instructions
Remove 2 wide strips of the zest of 1 lemon with a vegetable peeler. Combine 1 strip of zest with oil in a small saucepan over medium heat and cook until the edges of the zest turn slightly golden, about 5 minutes. Let the lemon oil cool. (That's what you have now -- lemon oil. Cool, huh?)
Meanwhile, cook the quinoa as directed on the package, adding the remaining lemon zest strip to the water.
Transfer quinoa to a large bowl, discarding the zest, and fluff with a fork. Let cool to room temperature.
Meanwhile, make the dressing by juicing both lemons into a medium bowl. Whisk in the vinegar, brown sugar, 1 1/4 tsp salt, and 1/2 tsp pepper. Keep whisking until sugar dissolves.
Discard the zest from the cooled lemon oil, then whisk the oil into the dressing. Add the shallots and let it marinate for 15 minutes.
Add the carrot, cucumber, jicama, nuts, cilantro, mint, basil and watercress/spinach to the bowl with the rice. Add the dressing and gently toss.
This post may contain affiliate links. Any purchases made by using these links won't cost you any extra and helps keep my content free. These links may be Amazon links as I am part of the Amazon Associate Program.
SaveSaveSaveSave
SaveSave
SaveSave
SaveSave