I love the creaminess in this Garlic-Almond Soup and the fresh swirl of basil pesto!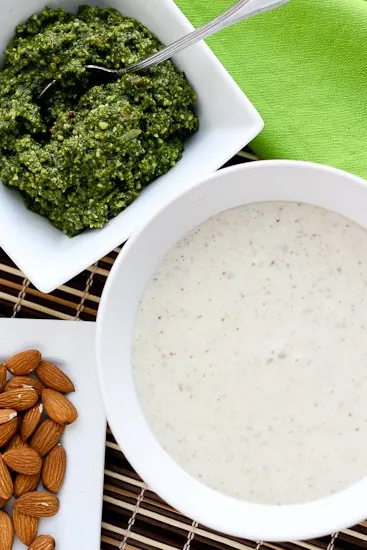 One of my favorite things about blogging is you. I love your comments, your questions, your stories, your encouragement, and I love it when you share recipes with me.
You're just plain awesome.
One of my newly found foodie friends, Rebecca, shared a recipe with me on Facebook one day for garlic soup with pesto. I've never made garlic soup, despite my husband's fondness for garlic. I figured it was about dang time.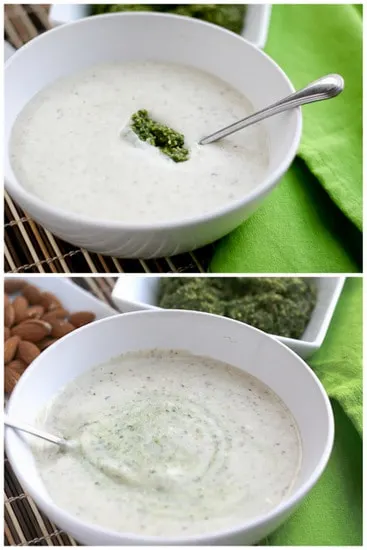 Plus, a recipe that calls for a whole bulb of chopped garlic (that isn't roasted) was bound to get my attention.
After eating it you're bound to get a lot of attention, although, not necessarily the good kind. It may chase away the sickies, too, since garlic is a natural antimicrobial.
I replaced some of the potato in the original recipe with a cup of almonds, and buzzed it all up in my blender. The result was so thick and creamy! We could hardly believe the soup was gluten and dairy free oops, I mean dairy free if you swap the butter for coconut or grapeseed oil and leave the Parm out of the pesto. Pardon me, but I seem to be losing my mind. (Thanks for the correction, Rebecca!)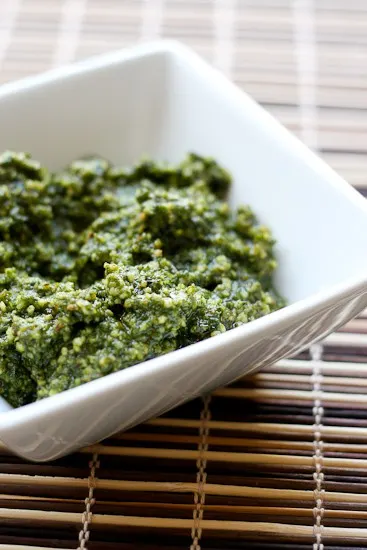 The pesto is what makes it shine, though, so don't get lazy and leave it out. You could also use store-bought pesto if you don't want to make it from scratch. (See? I compromise with you. Sometimes.)
It would also be good with Dill Pesto or Cilantro Pesto! Both of those can easily be made dairy-free, too.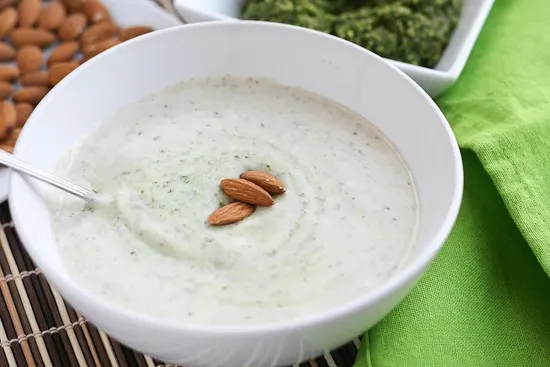 ---
If you make one of my recipes, be sure to post it on social media and tag me at @perrysplate or #perrysplate so I can send you some love!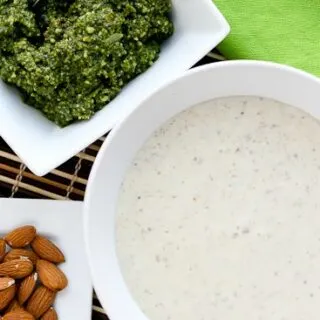 Garlic-Almond Soup with Basil-Almond Pesto
Garlic seems like an extreme main ingredient for a soup, but trust me -- an entire bulb of garlic is not too much for this! I love how creamy and rich this soup is, but doesn't leave you feeling heavy. The pesto is a MUST, too, and really makes this soup suitable for company.
Ingredients
For the Soup
4 Tablespoons ghee or grass-fed butter
1 medium onion, chopped
1 large shallot, chopped
3 celery stalks, chopped
1 bulb of garlic (not a clove, but the whole bulb), peeled and chopped
1 bay leaf
salt
pepper
1 medium russet potato (or 2-3 red potatoes)
1 cup whole almonds
1 quart chicken or vegetable stock
For the Pesto
3 cups basil leaves
1/2 cup slivered or sliced almonds
2 cloves garlic, halved
1/4 cup grated Parmesan cheese (optional)
about 1/4 cup extra-virgin olive oil
1/2 teaspoon salt, more if necessary
Instructions
Start the soup by melting the butter in a large saucepan. Add the onion, shallot, celery, garlic, and bay leaf and cook gently (don't let it brown) until soft, about 10 minutes. Discard bay leaf, season with salt and pepper and add potato, stock, and almonds. Simmer until potato is soft (about 10-15 minutes).
While the soup is cooking, make the pesto. Place the basil, almonds, and garlic in your food processor and pulse until uniformly chopped, scraping the sides, if necessary. Add parmesan cheese; pulse a couple of times to mix. While the processor is running, add the olive oil in a steady stream. You only need enough oil to bring the mixture together into a paste, so 1/4 cup should do it.
When the soup is finished, use an immersion blender (or regular blender) to blend it as smooth as you can get it, then pass through a coarse strainer. If you have a "power blender" like a Vita-Mix or a Blendtec, simply blend in batches until it's smooth and return soup to the pot. No need for straining.
If the soup is too thick to your liking, add a bit more chicken stock (if you have it) or water. Ladle the soup into bowls and serve with a dollop of pesto.
Notes
Nat's Note: The amount of garlic in the soup was OK with my little ones, but the raw garlic in the pesto was a bit strong for them, so I only added a little to their soup. Otherwise they loved it!
This post may contain affiliate links. Any purchases made by using these links won't cost you any extra and helps keep my content free. These links may be Amazon links as I am part of the Amazon Associate Program.