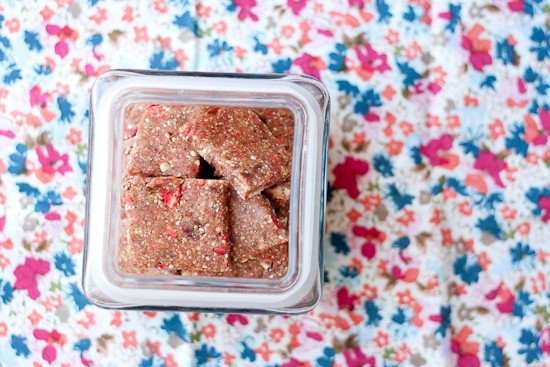 You're going to wonder if all we eat around here is homemade Larabars.
Homemade Larabar-type snacks are pretty popular with the kids. Especially these strawberry ones. I may make them the week before Valentine's Day as a healthy alternative when the candy starts rolling in.
I wanted to make a strawberry "Larabar", but fresh fruit is too wet. Dried fruit is sometimes OK, but dried fruit usually has a lot of extra sugar.
That's why I used freeze-dried strawberries. You can use any type of freeze-dried fruit in these — strawberry just happens to be our favorite. I found some at Trader Joe's, but I know that many emergency preparedness companies sell them to add to your long-term food storage.
I should really buy these in bulk. Having Larabars around when the zombies attack might be a good thing.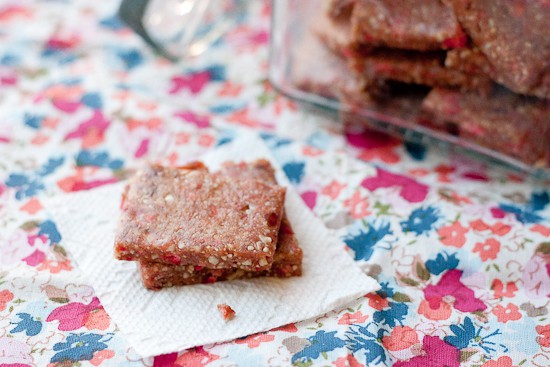 By the way, they don't really have cream. I find that when I use cashews in things like this it gives them a "creamy" flavor without adding dairy. I'm sneaky like that.
these are looking pretty good to you, you might like the Chocolate-Hazelnut bars I recently posted or the Chocolate Chip Cookie Dough Larabars! (Those are MY favorite.) I also have a Blueberry Muffin version headed your way!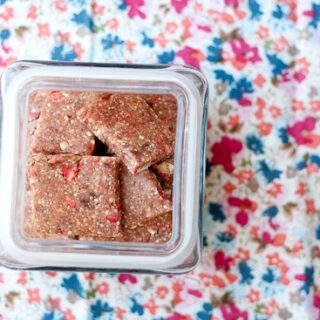 Homemade Strawberry Cream "Larabars"
Freeze-dried strawberries give these Larabar-type snacks an intense strawberry flavor without making them mushy!
Ingredients
1 1/2 cup cashews
1/2 cup almonds
1 cup freeze-dried strawberries, crushed
1/4 teaspoon vanilla extract
12 medjool dates, pitted and ripped in half
pinch of sea salt
Instructions
Line a small rimmed baking sheet with plastic wrap.
Place nuts in the work bowl of a food processor. Pulse until finely chopped. Add crushed berries, vanilla, dates, and salt. Pulse until everything is finely chopped and thoroughly incorporated.
Transfer mixture to prepared baking sheet and roll it out to about 1/4-inch thickness. (Or whatever thickness you like.) Using a glass or a small rolling pin helps the tops to be smooth and uniform. Use a pizza cutter or pastry wheel to cut them into squares. Transfer squares to an airtight container and store at room temperature for at least a week.