These little homemade "Larabar-like" things are lifesavers.
They're lifesavers because when I have that 3PM hankering for something sweet, I usually have my hand in the chocolate chip bag.
(I didn't make that up.)
If I have these or the Homemade Chocolate Chip Cookie Dough Energy Bars sitting on my counter, I reach for them instead. And because they're packed with healthy fat and protein, they keep me satisfied for longer than 15 minutes. AND they take less than 20 minutes to make. Maybe even 15.
It's scary how many chocolate chips you'll eat if you have your hand in the bag every 15 minutes.
I'm not even sure I should call them Larabars because Larabar doesn't make a chocolate hazelnut flavored bar. As far as I know, anyway.
Are you wondering if these taste at all like Nutella? Well, they taste like Homemade Nutella, if that helps. A fresher, not-so-cloyingly-sweet version of Nutella. With crunch.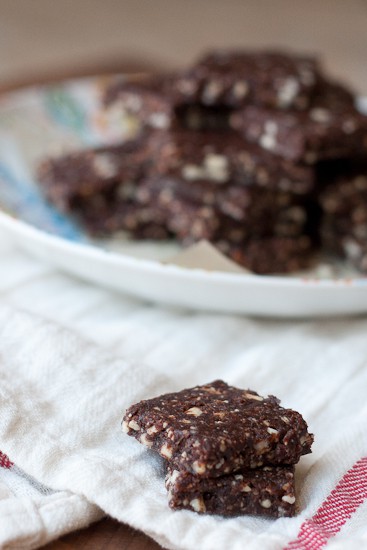 Try the other Larabar-style energy bars on my site!
Chocolate Chip Cookie Dough Energy Bars
If you're flexible with your grain and dairy consumption and are feeling more indulgent, try these Homemade Protein Bars from Nicole at Gluten-Free on a Shoestring!
These No Bake Chocolate Coconut Bars at Beaming Baker look amazing, too! Kind of like a paleo version of a Mounds bar. Mmm.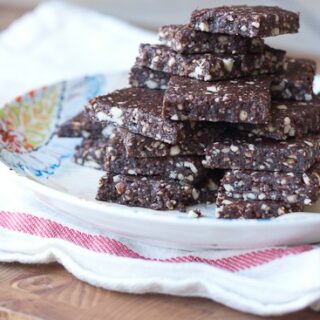 Chocolate Hazelnut Energy Bars (Homemade Larabars)
These Chocolate Hazelnut Energy Bars are a decadent, yet healthy, protein-packed snack and are similar to Larabar-type bars.
Ingredients
1 cup cashews
1 cup hazelnuts
12 dates, pitted and ripped in half
3 Tablespoons cocoa powder
1/4 teaspoon vanilla
pinch of sea salt
Instructions
Line a small rimmed sheet pan with plastic wrap and set aside.
Place cashews and hazelnuts in a food processor and pulse until coarsely chopped. Add dates, cocoa, vanilla, and salt. Continue to pulse until everything is finely chopped and thoroughly combined.
Spread mixture out onto prepared sheet pan, and roll out to desired thickness. (I roll mine out to 1/4-inch.)
Slice into squares with a knife or a pizza/pastry cutter. Break apart and store in an airtight container at room temperature. They should stay moist for several days.
SaveSave
SaveSave
SaveSave
SaveSave