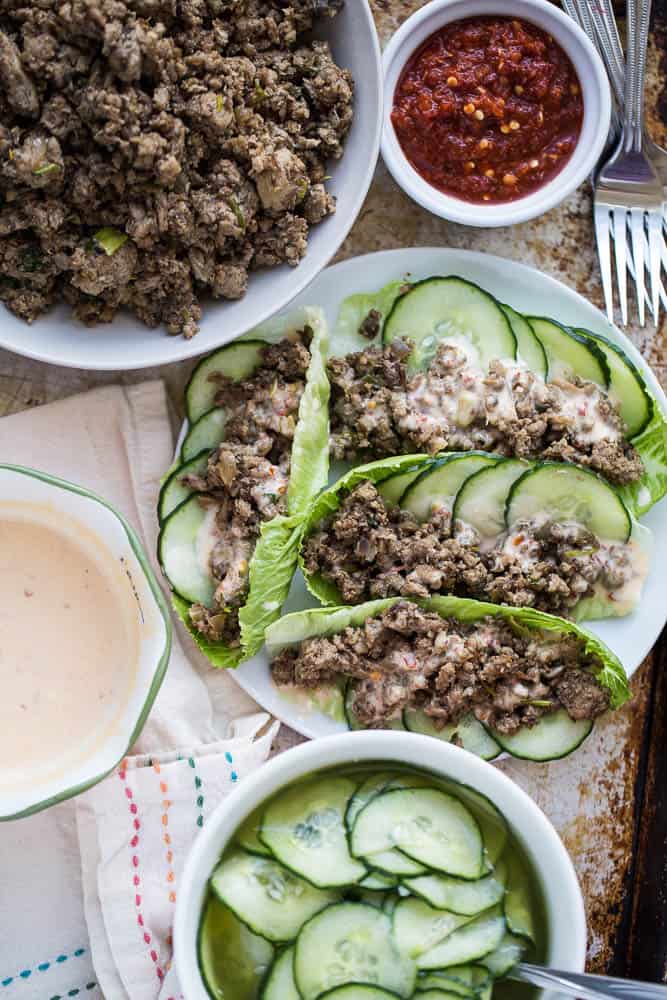 Get excited — I've got a lot of fresh, summery recipes to share with you — that don't require an oven. So, lettuce wraps. Yay!
Is it getting hot where you are?
It's been in the high 80s this week which is rapidly approaching my comfort threshold. I'm a hot-weather wimp. I admit it. I'm really grateful that it's not ridiculously hot where we live — except in the middle of the summer. When it's supposed to be.
Despite having a great A/C, the downstairs tends to heat up when I use the oven in the summer, so I avoid it when I can.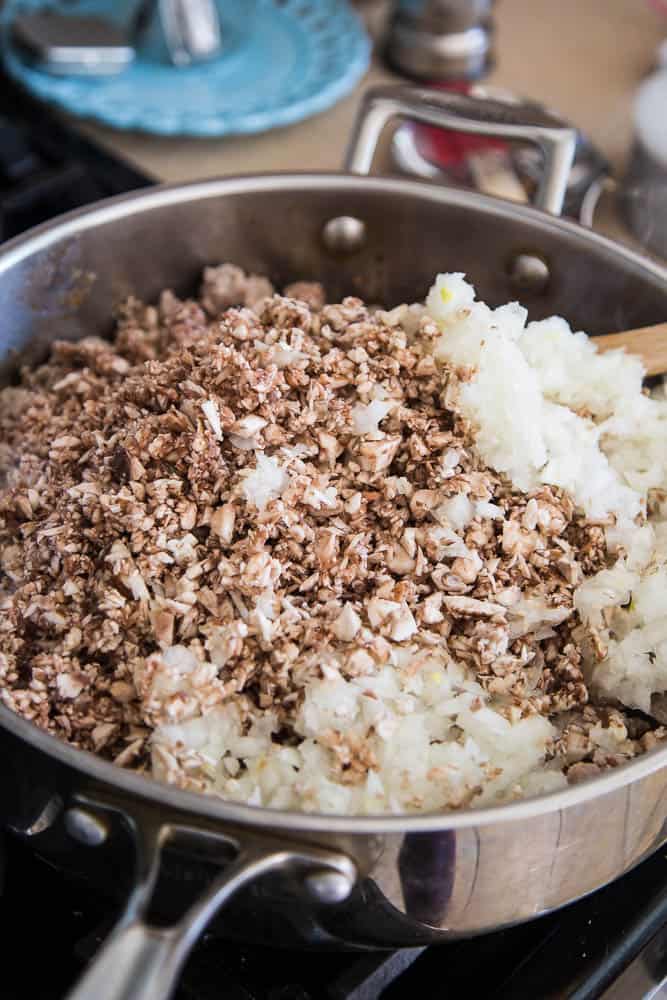 Lettuce wraps are a summertime staple for me. I could eat them every day — much to the chagrin of my kids who tolerate them occasionally.
My favorite part about this particular lettuce wrap is that I sneaked mushrooms into the meat mixture and my kids didn't even know. Sneaking mushrooms is kind of a thing I do. Just for kicks — like in this Paleo Creamy Mushroom Soup aka "Bacon Soup" — which is what my kids call it.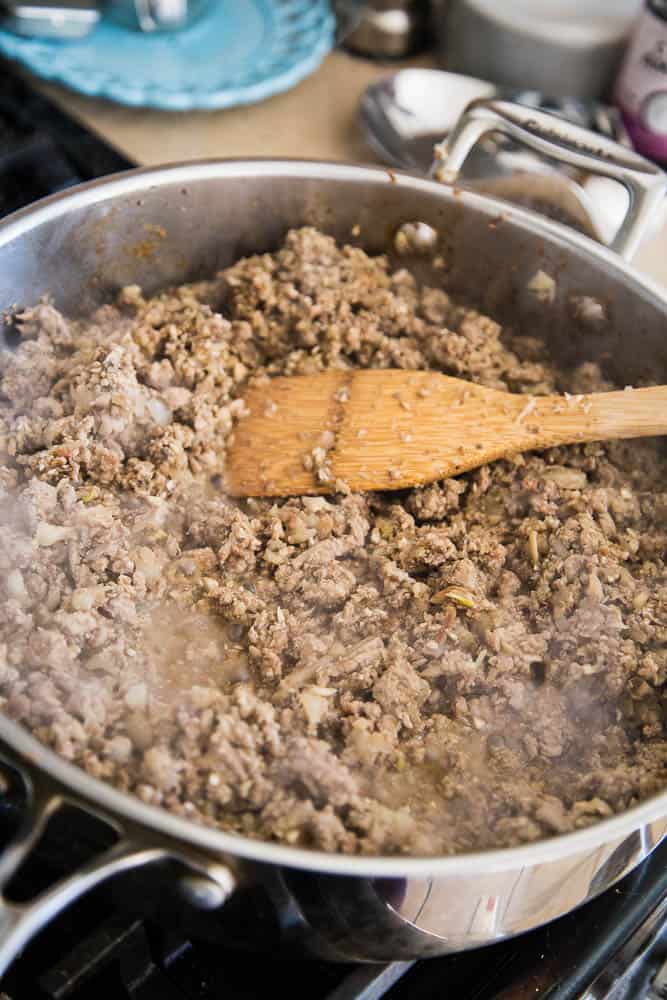 Once it all cooks down you can barely even tell the difference. No one said a word about it and I silently giggled to myself.
It's also nice to do this to stretch the meat a little further. I'm always looking to do that because pastured/grass-fed meat isn't cheap. Luckily I can get pork and beef really easily from a local university ranch, but it's still $6/pound for ground meat.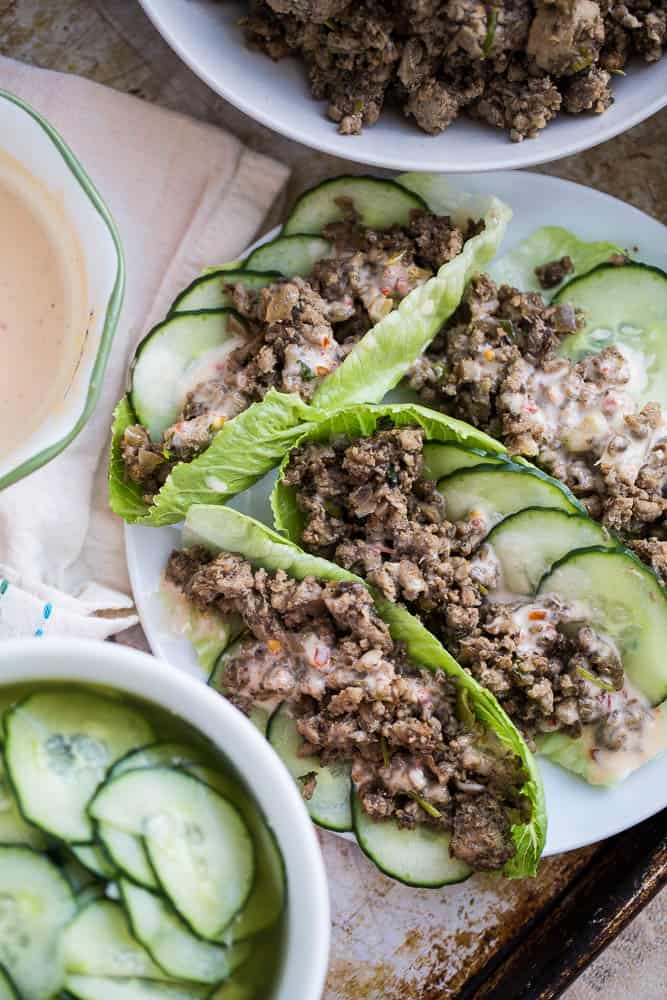 These are hearty and filling, but light at the same time. I love that I was able to incorporate some Marinated Cucumbers to these. You can use plain sliced cukes if you want, but I love that extra little vinegary kick.
I added these at the last minute when I saw some leftovers sitting in the fridge — SUCH a good decision. In case you get any ideas about my recipe writing process being super sophisticated and glamorous, I'll let you know that a lot of the food and flavor pairings have to do with some kind of leftovers sitting in my fridge that need to be used.
I know, it totally takes the magic out of it, right? Sometimes I do come up with great ideas solely in my head, but most of the time I'm just cleaning out the fridge.
One more thing — don't leave off that aioli. That right there is the icing on the…. lettuce wrap. Um, that sounds gross. But you know what I meant.
More Asian-inspired One-pan recipes
Here are a few of our favorite Asian-inspired recipes made in just one skillet or pot!
A family favorite — Egg Roll in a Bowl with Sriracha Mayo is easy to throw together and has all of the tasty flavors of Chinese egg rolls!
Thai Green Curry Zoodles with Shrimp & Broccoli is a knock off of one of my favorite meals from Noodles & Co. It's a great meal for hot summer days, too.
Easy Paleo Pad Thai is another meal on our "favorite dinner list". And another meal made in under 30 minutes!
Paleo Thai Shrimp & Vegetable Skillet is very similar to these egg roll bowls — but with a Thai flair.
Mango Chicken Curry is an oldie, but such a great recipe for a quick weeknight dinner.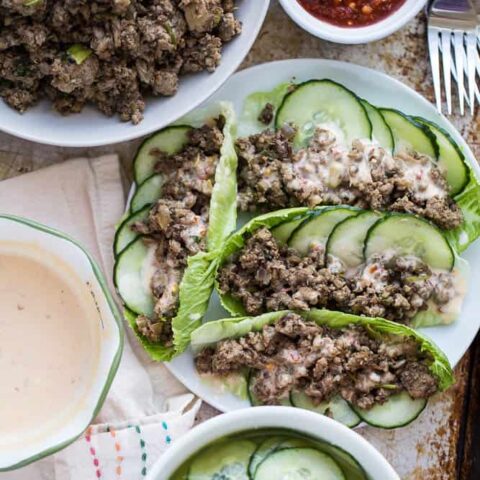 Asian Pork and Mushroom Lettuce Wraps
Ingredients
For the filling
1 Tablespoon avocado oil
1 Tablespoon toasted sesame oil
2 - 2 1/2 pound ground pork
1 large sweet onion, peeled and quartered
8 whole garlic cloves (or 2 Tablespoons minced)
2-inch piece of fresh ginger, quartered
24 ounces brown mushrooms, halved
1/2 teaspoon sea salt
1/4 teaspoon freshly ground black pepper
generous pinch of crushed red pepper flakes
1/4 cup coconut aminos
1/4 cup rice vinegar
3-4 green onions, thinly sliced
For the chili mayo
1/2 cup paleo-friendly mayonnaise
1 Tablespoon freshly squeezed lime juice
1 Tablespoon rice vinegar
1 Tablespoon sambal oelek or Asian garlic chili sauce
pinch of sea salt
For serving
1 recipe, Marinated Cucumbers
3 heads of baby Romaine lettuce
Instructions
Pour the avocado and sesame oils into a very large skillet. Heat over medium-high heat. Add the pork and cook, stirring occasionally, breaking up the meat, until the meat is cooked through and begins to brown, about 10 minutes.
While the pork is cooking, place the quartered onion, garlic, and ginger in the work bowl of a food processor. Pulse until finely minced. Transfer the mixture to a large bowl.
Use the food processor to chop the mushrooms, too, working in batches. Don't fill the work bowl higher than the center of the blade or they won't chop evenly. Transfer the chopped mushrooms to the bowl with the onion mixture.
When the pork has crispy brown spots, add the onion-mushroom mixture to the pan along with the salt, pepper, and crushed red pepper flakes. Cook, stirring occasionally, until the mushrooms and onions have cooked down quite a bit and the moisture has cooked off, about 8-10 minutes.
Meanwhile, combine the ingredients for the aioli and chill until ready to use.
Add the coconut aminos and rice vinegar to the pork mixture and stir to combine. Cook for another 2-3 minutes until the liquid is gone. Stir in the green onions. Taste, and add more salt, if necessary.
Assemble the lettuce wraps by putting a few marinated cucumbers into a lettuce leave. Top with a couple spoonfuls of the pork mixture and a drizzle of aioli.
Notes
Nat's Notes:

1. You can make the Marinated Cucumbers and Chili-Lime Aioli up to 5 days in advance.

2. If you aren't picky about soy, you can use 3 Tablespoons tamari or gluten-free soy sauce in place of the coconut aminos.