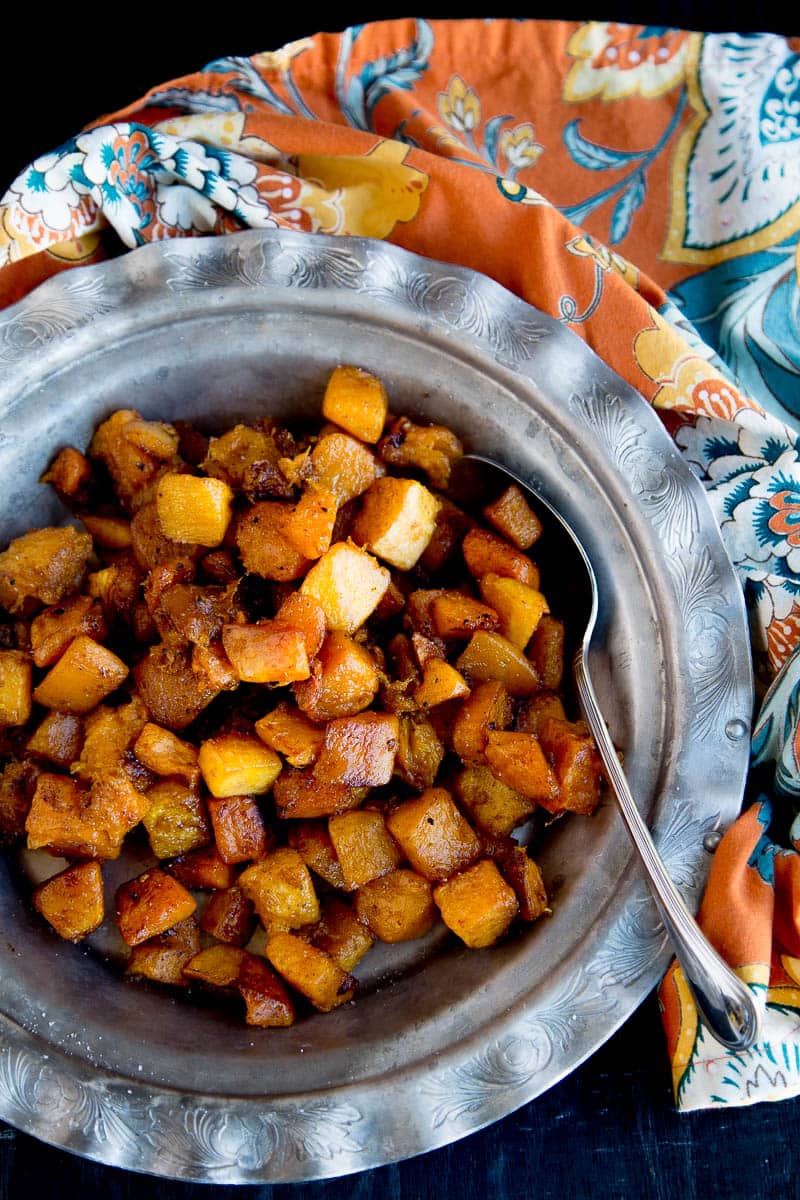 I wasn't joking when I told you I was going to #chaiallthethings this season. Have you made my Homemade Chai Spice Blend yet? How about that Chai-Spiced Golden Milk? (SO GOOD. It tastes like Christmas!) Well, I didn't think roasted butternut squash could get any better with savory flavors (my favorite!) . . .
. . . until I drizzled some maple syrup and sprinkled some chai spice on it. Holy moly, people. I ate half of this pan for lunch one day. The maple helped make this sticky, caramelized coating on the squash. It was practically candy — even though you only use a tablespoon for the whole pan.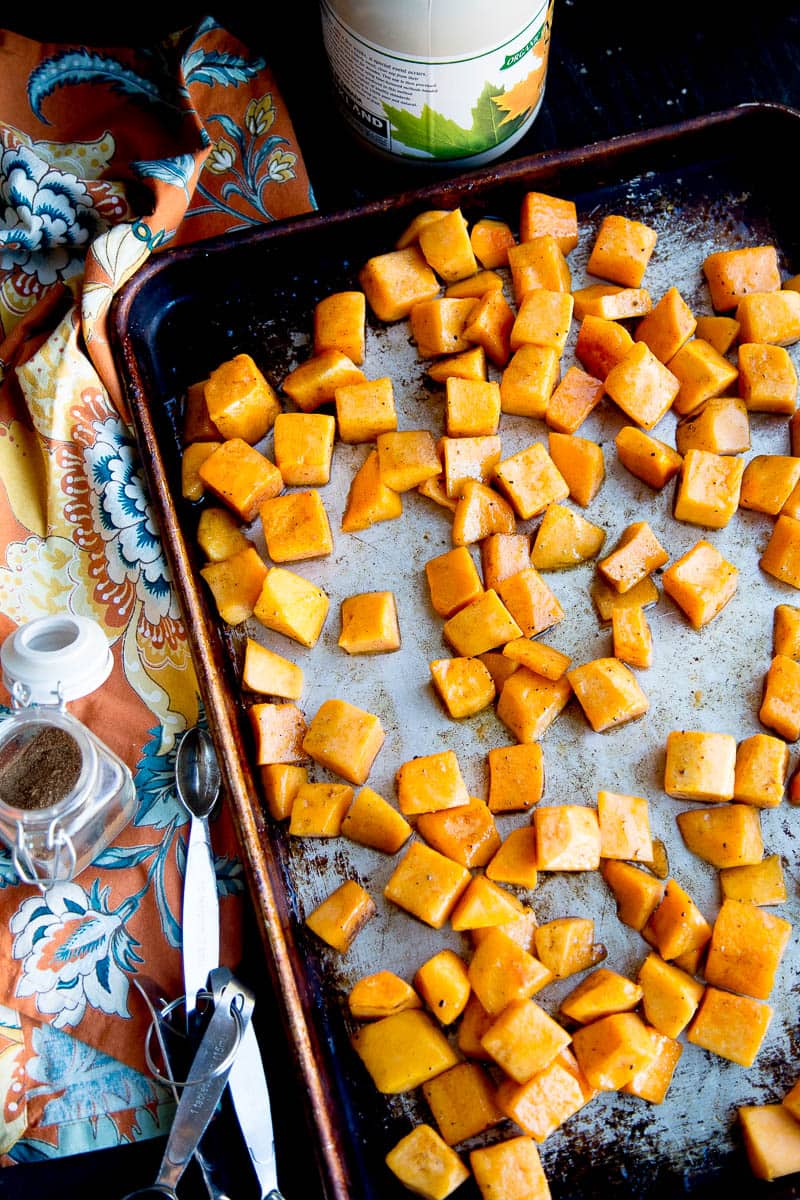 I think this would be such an easy, beautiful addition to your Thanksgiving or Christmas dinner! Roasted butternut squash is so versatile, and this sweetened version with those exotic spices would blend well with a traditional turkey or side of beef.
And putting some cranberry sauce next to it wouldn't be a horrible idea.
Also, I highly recommend buying pre-cubed squash to save you some frustration. Because dismantling a butternut squash isn't super fun.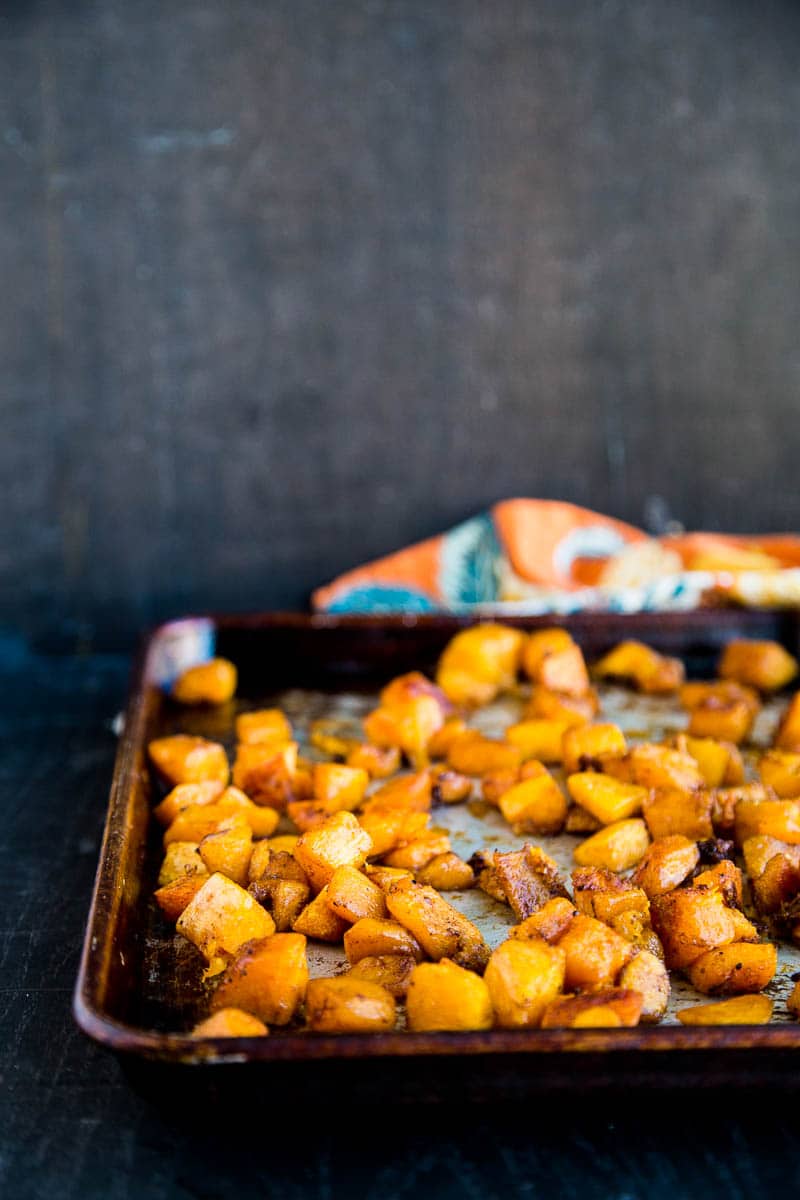 More Healthy Thanksgiving Recipes
Dry Brine Turkey with Orange-Rosemary Herb Butter
Instant Pot Cauliflower Puree with Rosemary & Garlic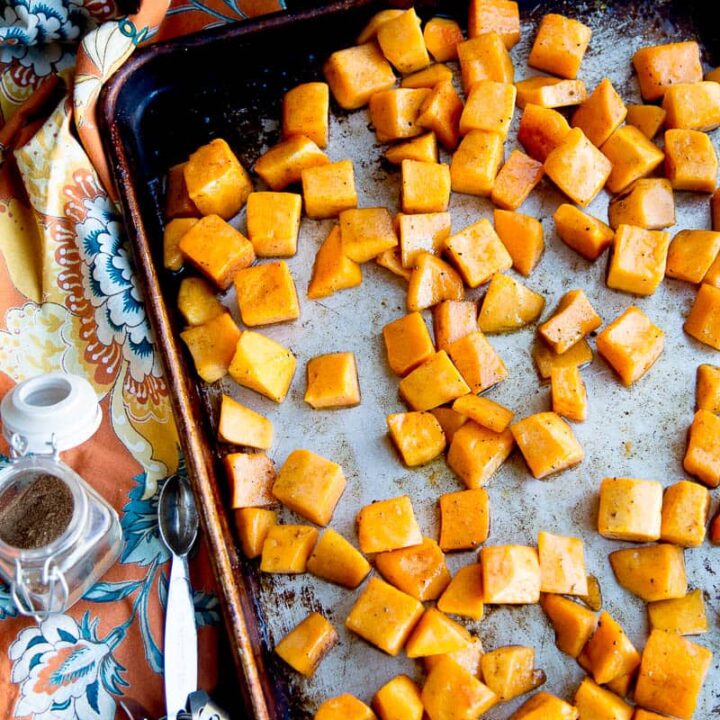 Chai Maple Roasted Butternut Squash
Yield:
Serves 6-8 as a side
I'm usually a savory squash girl, but making roasted butternut squash with maple and my homemade chai spice was the best decision I made this Thanksgiving!
Ingredients
2 pounds butternut squash cubes
2 Tablespoons avocado oil
1 Tablespoon pure maple syrup
1 teaspoon Homemade Chai Spice Blend
Generous pinch sea salt
Instructions
Preheat the oven to 425 degrees F.
Put the squash cubes on a large rimmed baking sheet. Add the oil, maple syrup, chai spice and salt. Toss everything around until evenly coated. Spread the squash out evenly on the pan.
Roast for 25-30 minutes, tossing everything around a couple of times during cooking, until the squash is tender and is golden brown in spots.
Serve.

SaveSave
SaveSave
SaveSave
SaveSave
SaveSave
SaveSave