As a reformed squash hater, it still amazes me how excited I get about zucchini and other kinds of summer squash. Shredding zucchini is kind of cliche, but I think it's the simplicity of this recipe that makes it so great.
I also like using extra zucchini in this Thai Shrimp Curry I posted last week. It's a great home for about 4 cups of squash!
I'm still reeling at how great that recipe was. Know what I did with the leftover curry paste? I sauteed a dab with a giant handful of spinach. Then put it over a fried egg. For breakfast. *swoon*
Don't worry, this one is good as well. I love it because it's pure zucchini, and I get to use my anchovy paste. You don't have to use anchovies or anchovy paste, but it gives the dish a deep, salty flavor. Without a fishy taste. (Despite how it smells. It's magical — kind of like fish sauce.)
The trick to making this is getting as much water out of the zucchini as possible. Lots of water = mushy zucchini. You'll never get the caramelized bits if you don't get the water out. Oh, and make sure to wash your kitchen towel soon after you do this. I've got a white one with a giant green stain in the middle.
Completely worth it, though.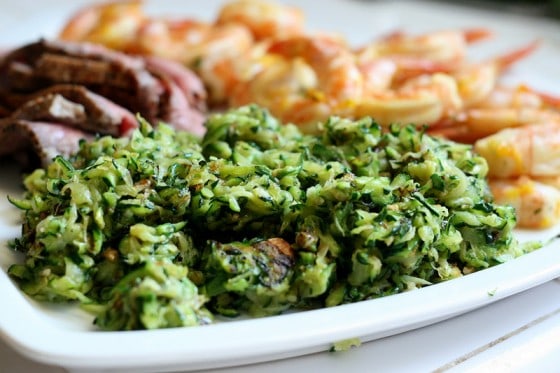 SaveSave
SaveSave
SaveSave
SaveSave
---
If you make this recipe and enjoy it, let me know! Share it on social media and tag me so I can send you some love –> @perrysplate or #perrysplate.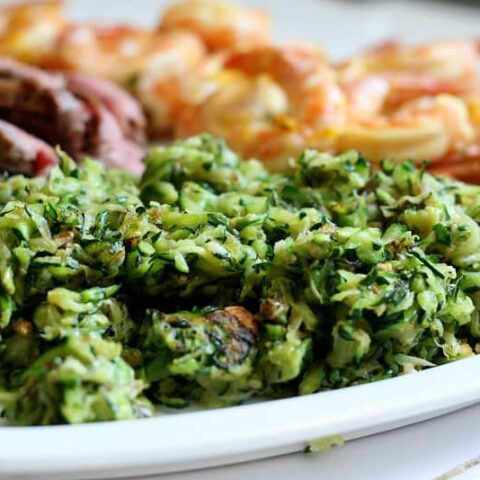 Spicy Sauteed Shredded Zucchini with Anchovies
This is such a simple, easy recipe to use up excess zucchini! Anchovies (or anchovy paste) adds such a delicious salty depth. It doesn't taste fishy at all.
Ingredients
1 1/2 pounds zucchini (about 3 medium), trimmed
Salt
3 Tablespoons avocado or coconut oil
3 medium garlic cloves, minced or pressed (about 1 T)
2 medium anchovy fillets, rinsed and minced (or 1/2 tsp anchovy paste)
1/4 teaspoon crushed red pepper flakes
Ground black pepper
Instructions
Shred the zucchini with the large holes of a box grater or in a food processor with the shredding disk.
Toss the zucchini with 1 tsp salt and let it drain in a fine-mesh strainer in the sink (or over another bowl) for 10 minutes.
Transfer the zucchini (in batches, if possible) to a clean kitchen towel and squeeze out the extra liquid. Seriously, squeeze until your hands hurt. Try to get as much water out of the zucchini as possible. It helps to squeeze it in smaller batches.
Heat the oil in a large nonstick skillet over medium-high heat. Add the garlic, anchovy, and red pepper flakes and cook, mashing the anchovies into the oil, about 30 seconds.
Add the zucchini and cook, stirring occasionally until tender. It should take about 7 minutes.
Add a few pinches of black pepper, taste, and adjust the seasonings according to your tastes. Serve immediately.
Notes
Nat's Notes:
1. Because I cook for little eaters, I only added a pinch of red pepper flakes.