Egg Curry. Yes, I'm serious.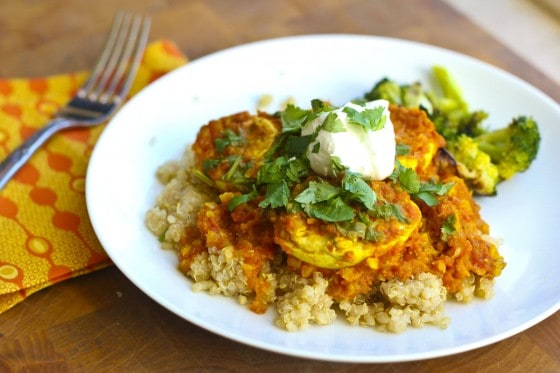 Well, that was a first. Egg Curry, go figure.
I don't think I've ever started dinner prep by boiling a dozen eggs.
Easter prep, yes. Dinner, no.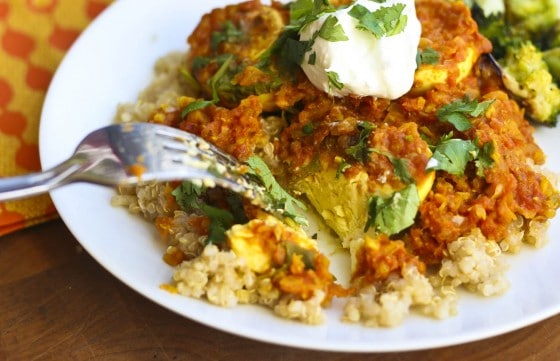 Because we're particular about the types of meat we buy, eating only organic, grass-fed/free-range meat can get expensive. Thus, we eat less meat. Luckily a dozen high-quality eggs is much cheaper and can fill you up as easily.
For a few days.
This recipe made a lot of food, and I was surprised at how much I liked it. It fed all of us at dinner, provided my lunch yesterday, and there are still two servings left in the fridge. Curry happens to be one of those things that is just as good, if not better, after it sits for a day or so. Just make sure you make extra quinoa! (Or rice. Or flatbread.)
This recipe comes from my favorite Indian cookbook, Easy Indian Cooking by Suneeta Vaswani. That book is also the home of Sindhi Chicken Curry and Baked Fish with Yogurt Sauce…. both of which used to be on my blog. During the change-over I've noticed a lot of older recipes have gone MIA. If you run across any broken links or missing posts, please let me know!
Don't worry, I'm on it!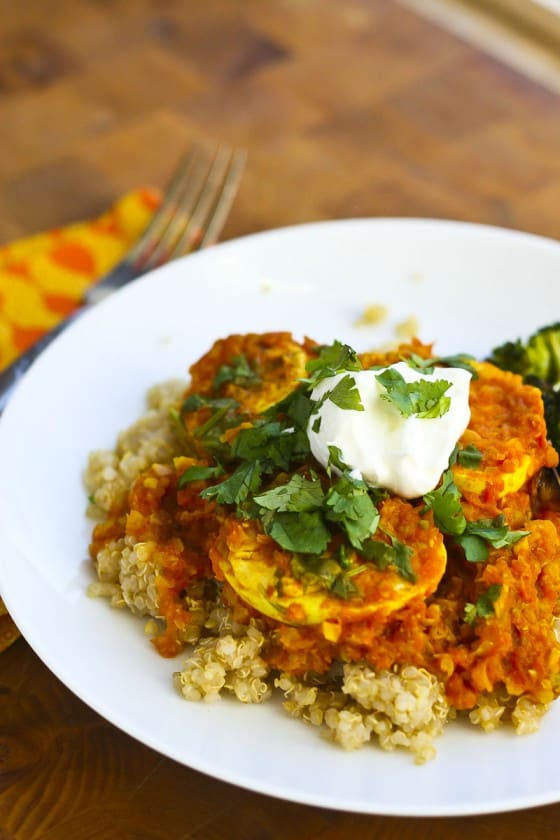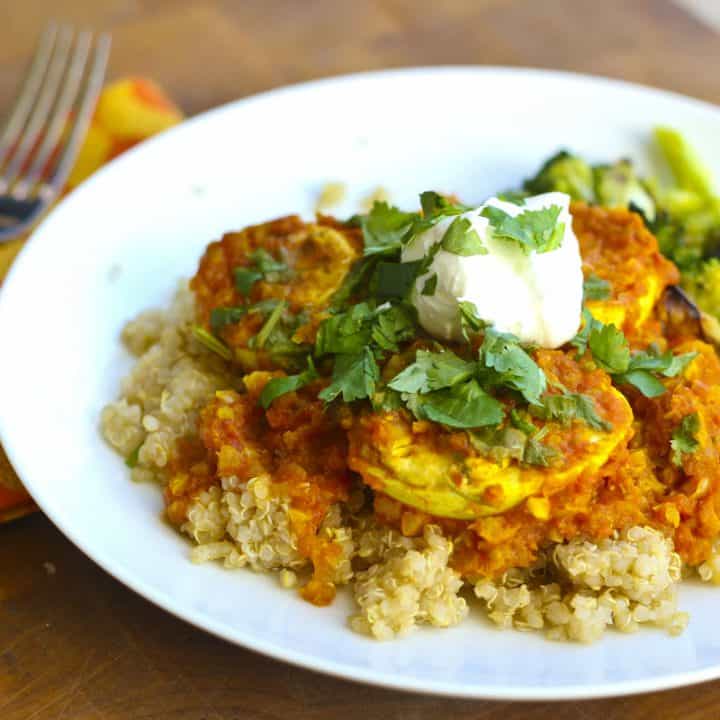 Egg Curry
Yield: 6-8 servings
Additional Time: 1 hour
Total Time: 1 hour
Egg Curry is a unique vegetarian take on Indian curry. And a great home for all of those Easter eggs after the big hunt is over.
Ingredients
2 Tablespoons coconut oil, or other heat-safe oil
2 cups finely chopped onions (1 large or 2 medium)
1 Tablespoon minced peeled ginger
1 Tablespoon minced peeled garlic
1 Tablespoon minced green chilies (fresh or canned)
1 1/2 Tablespoons ground coriander
3/4 teaspoon turmeric
1/4 teaspoon cayenne pepper (more if you want it spicier)
1/2 teaspoon ground cumin
1 28-ounce can tomatoes, pureed with liquid
1 1/2 teaspoons salt, or to taste
10-12 hard-boiled eggs, peeled and halved
1/2 teaspoon garam masala
Juice of 1 lemon or lime
1/4 cup chopped fresh cilantro
Instructions
Heat oil in a large, wide saucepan over medium-high heat.
Add onions and cook until they begin to brown, 4-6 minutes. Reduce heat to medium and continue cooking until browned, 8-10 minutes.
Stir in ginger, garlic, and chilies; cook for 2 more minutes. Stir in coriander, turmeric, cayenne, and cumin. Cook for 2-3 more minutes, stirring continuously.
Pour in pureed tomatoes and salt. Mix well. Reduce heat to low, cover and simmer, stirring occasionally, until gravy is thickened, 8-10 minutes.
Place halved eggs, cut-side up, in a single layer in the pan. Spoon sauce on top of eggs and simmer, uncovered, for 5 more minutes.
Remove from heat. Sprinkle with garam masala and lime juice. Cover and let it stand for 5 minutes.
Garnish with cilantro and serve with hot rice, quinoa, or flatbread.
Notes
Nat's Note: I found that using a full dozen eggs made the eggs-to-sauce ratio a bit high. Next time I would use fewer eggs or increase the amount of tomatoes to increase sauciness.
Save
Save
SaveSave