Egg Curry is an easy, meatless Indian-style curry! Creamy hard cooked eggs simmered in a lovely spiced tomato gravy makes a comforting vegetarian meal any night of the week.
Yes, Egg Curry. If you're not familiar with it, it may seem unusual, but hear me out.
It's easy to make with ingredients you can find anywhere. PLUS it's meatless.
It reminds me of an Indian version of shakshuka — if you'd had that before. (Basically eggs cooked in a spiced tomato sauce.)
Steve and I are huge fans of Indian food — ever since our early days of marriage during college when we'd splurge on Indian dinners for our anniversaries.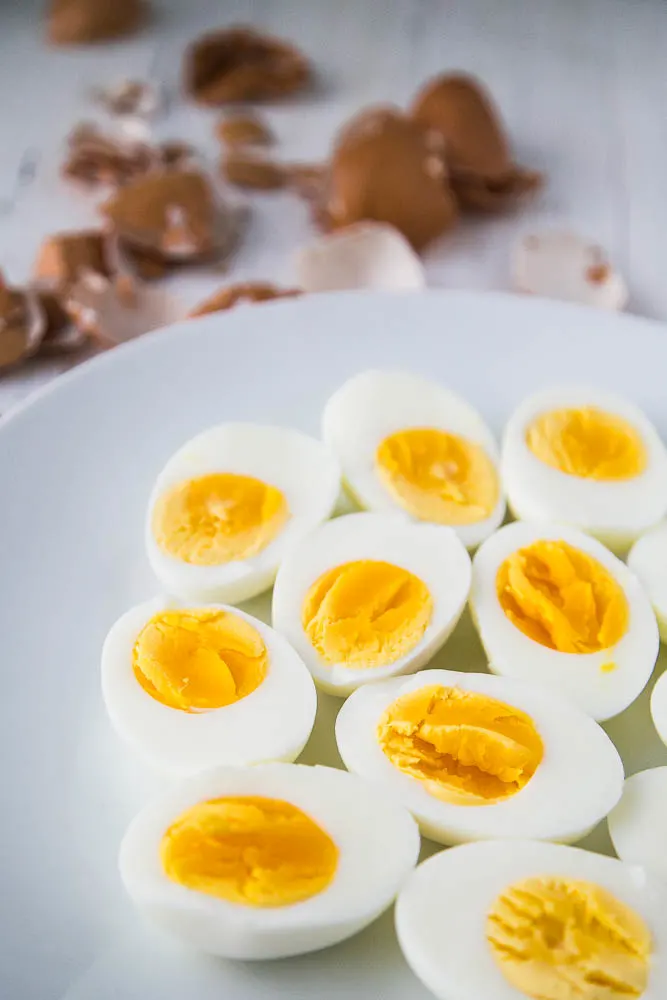 How to make Egg Curry
First, boil your eggs.
Like I said, this is a great use for leftover hard-boiled, eggs, but boiling fresh ones is easy — especially in an Instant Pot.
I cook 6-7 eggs for 4 min at high pressure in my Instant Pot, release the steam immediately, and put them in an ice bath.
I like to cook them just BARELY underdone so they stay soft in the curry. No one likes chalky, overdone eggs. Ew.
This is a great step to do ahead of time, too.
Brown those onions
The more color you get on those onions, the more sweetness you'll add to the curry. It's worth the effort, I promise.
Caramelizing onions never ceases to amaze me. It's one of nature's best magic tricks.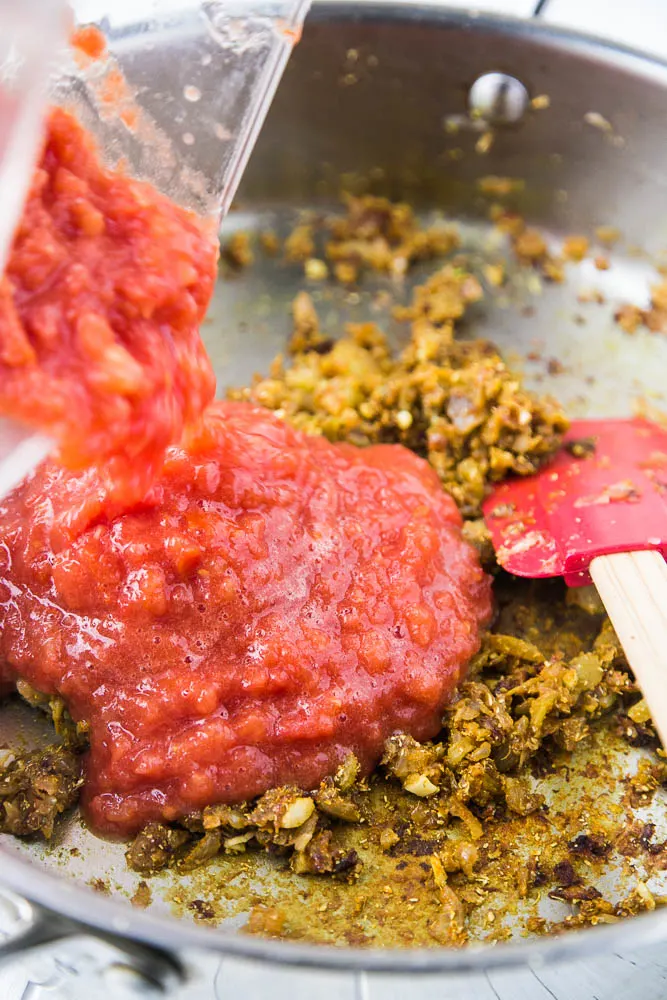 Add the spices.
One technique that frequently appears in Indian recipes is "blooming" the spices in hot oil. Letting the spices simmer in the pan makes their flavors more robust. Don't skip this step either!
Blend and add the tomatoes
Instead of using tomato sauce, this recipe uses a big can of tomatoes that is blended up. I wouldn't recommend using tomato sauce or your sauce won't have the same consistency and may have a stronger "tomato-y" flavor.
Adding the tomatoes like this will also help to deglaze your pan in case some of those spices have started to stick. They'll loosen up quickly with a quick stir.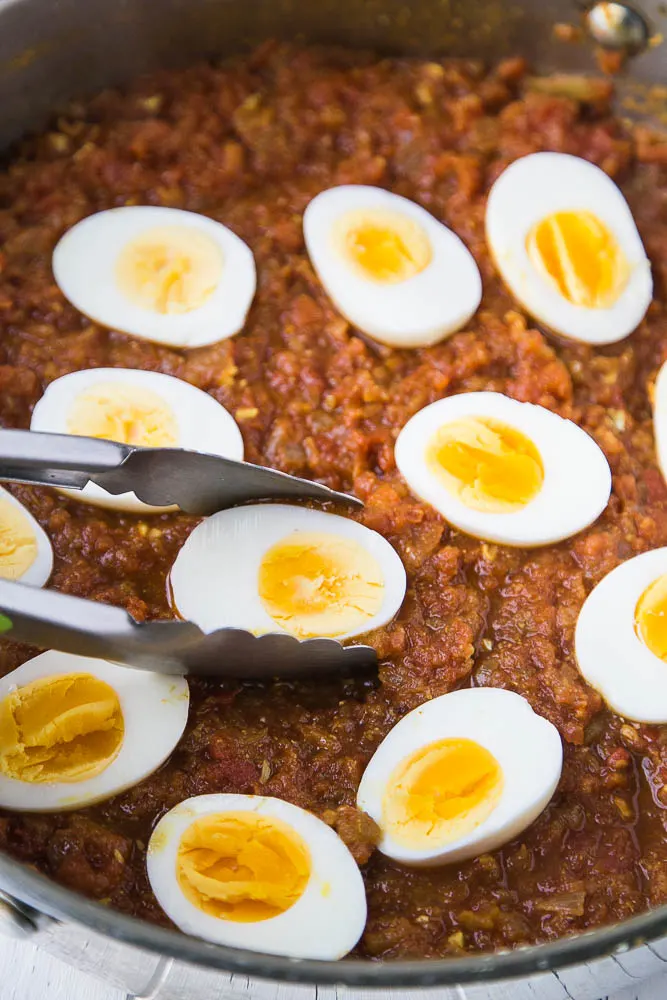 Nestle the eggs into the sauce cut-side up
I feel like this is self explanatory.
It also reminds me of high school when we'd go to a diner at 10:30 PM, order mozzarella sticks and pretend they're in a hot tub party together.
Wait, you didn't do this?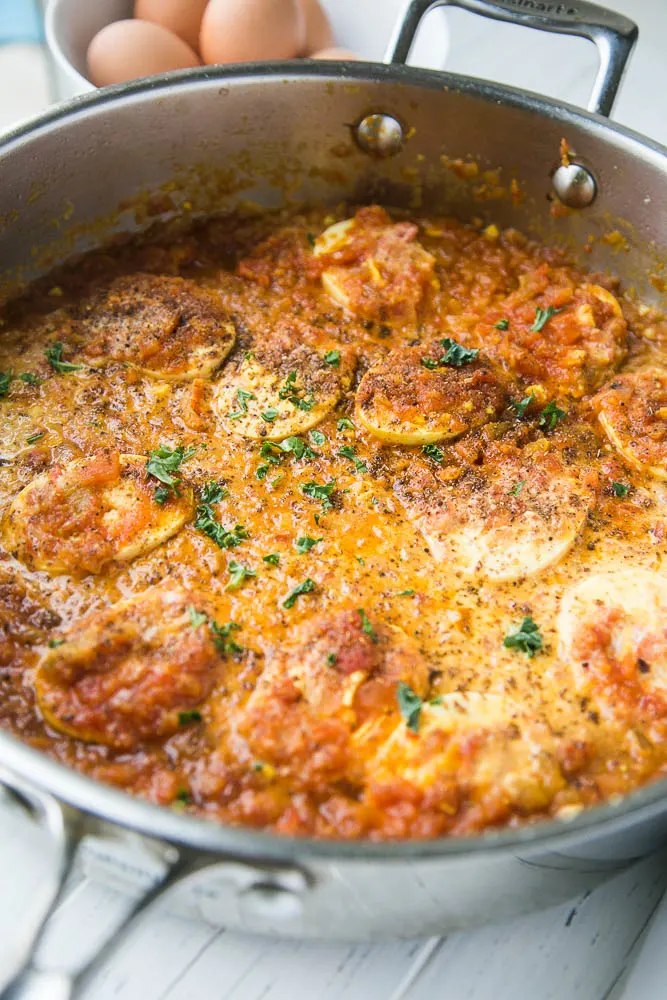 Add the exciting things
Like a drizzle of coconut milk, a sprinkle of garam masala, some lime juice, and a showering of cilantro. *drool*
Want to know a secret? That's actually finely chopped kale, not cilantro. When I was literally photographing this recipe, I went to grab the cilantro AND FOUND NONE IN THE FRIDGE.
So, I improvised. I don't recommend using kale, though, unless you're also in a pinch while photographing egg curry.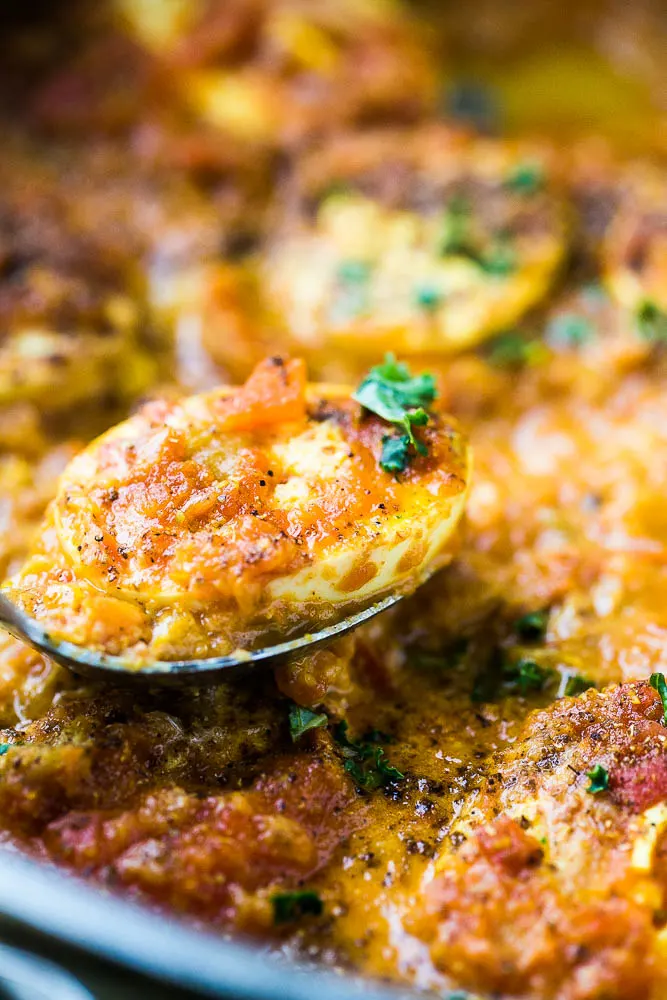 And serve! That's it!
Any questions? I usually get asked these questions, so I'll answer them right here for you.
What is garam masala?
Garam masala is a popular spice blend in Indian cooking. It used to be hard to find, but now you can pick it up in most grocery stores.
It's similar to curry powder, but it has more baking spices (cinnamon, clove, nutmeg) and no turmeric.
It's easy to make your own, too! I use this recipe right here. I included directions for using whole spices AND pre-ground in the recipe notes.
Why do you add garam masala at the end?
In a lot of authentic Indian recipes I've come across, the garam masala is sprinkled on at the end to add a sharper flavor. It's more potent than curry powder, too.
You don't always have to add it at the end. Sometimes it's added throughout cooking, but be careful not to scorch it.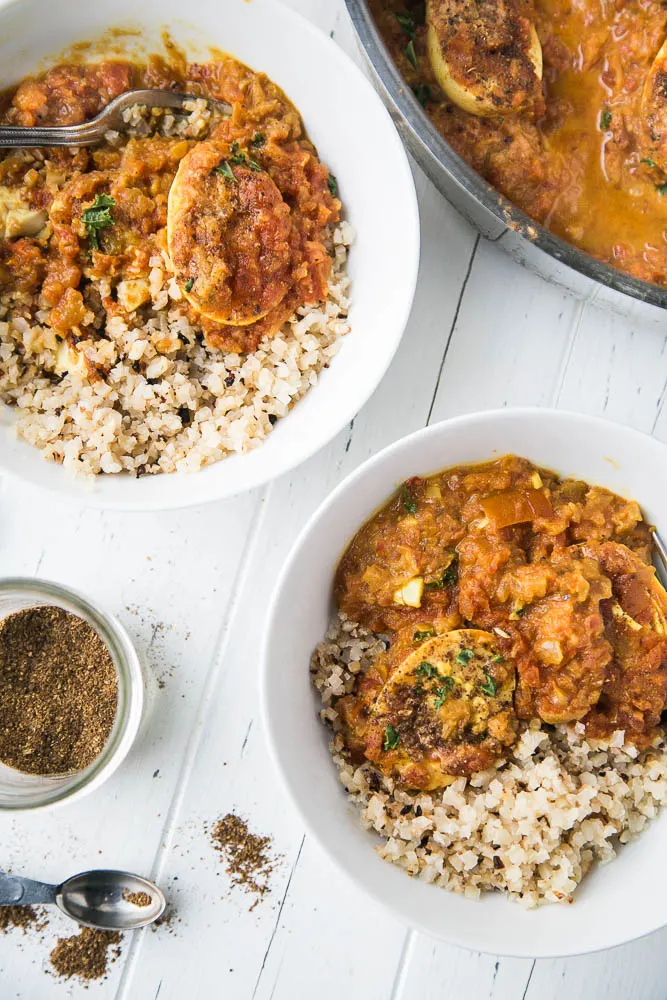 Can I swap out the eggs for something else?
Sure! If egg curry isn't your thing, then use chopped chicken, fish, or a can of chickpeas to keep it meatless. The curry sauce itself is pretty versatile.
If you use chicken or fish, sear them at the beginning, remove them from the pan, then add them back in at the end after the sauce is finished cooking.
Can I make Egg Curry ahead of time?
Yes! Curry (like chili and other heavily-spiced dishes) are sometimes better after a day or two. This easy egg curry reheats well and is just as delicious eaten later.
If you're looking for a freezer meal, try freezing jars of the curry sauce and then reheating it with some fresh hard-cooked eggs.
What to serve with Egg Curry?
Roasted Cauliflower Rice is my favorite (as shown in the pics). I buy the frozen riced cauliflower at Costco and throw it on a pan in the oven. Easy peasy.
Steamed jasmine rice
Quinoa
Flatbread, like naan
With some Curry Roasted Cauliflower if you're avoiding grains
More curry recipes on Perry's Plate
I've got a few more Indian-style recipes on my site that our family loves!
---
If you make one of my recipes, be sure to post it on social media and tag me at @perrysplate or #perrysplate so I can send you some love!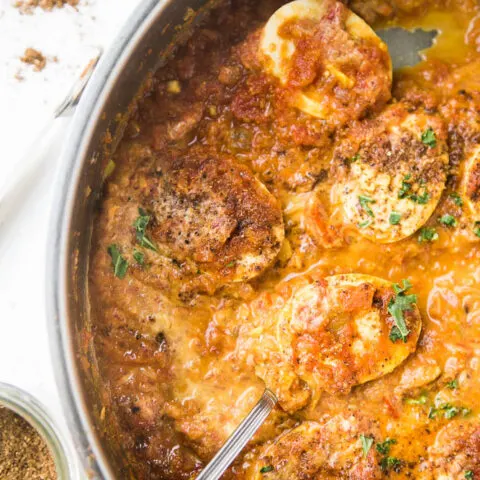 Easy Egg Curry
Egg Curry is an easy, meatless Indian-style curry! Creamy hard cooked eggs simmered in a lovely spiced tomato gravy makes a comforting vegetarian meal any night of the week.
Ingredients
2 Tablespoons coconut oil, or other heat-safe oil
1 large onion, diced
1 Tablespoon minced peeled ginger
1 Tablespoon minced peeled garlic
1 Tablespoon minced green chilies (fresh or canned)
1 1/2 Tablespoons ground coriander
3/4 teaspoon turmeric
1/4 teaspoon cayenne pepper (more if you want it spicier)
1/2 teaspoon ground cumin
1 28-ounce can tomatoes, pureed with liquid
1 1/2 teaspoons salt, or to taste
6-7 hard-boiled eggs, peeled and halved
1 cup full-fat coconut milk
1/2 teaspoon garam masala
Juice of 1 lemon or lime
1/4 cup chopped fresh cilantro
Your choice of side (cauli rice, jasmine rice, quinoa, flatbread)
Instructions
Heat oil in a large, wide skillet or saucepan over medium-high heat.
Add onions and cook until they begin to brown, 4-6 minutes. Reduce heat to medium and continue cooking until browned, 8-10 minutes.
Stir in ginger, garlic, and chilies; cook for 2 more minutes. Stir in coriander, turmeric, cayenne, and cumin. Cook for 2-3 more minutes, stirring continuously. If the mixture is getting too hot or sticking/scorching, add 1/4 cup of water and stir things around.
Puree the tomatoes (with juices) in a blender, then pour it in to the pan. Add salt and mix well. Reduce heat to low, cover and simmer, stirring occasionally, 8-10 minutes.
Place halved eggs, cut-side up, in a single layer in the pan. Spoon sauce on top of eggs and simmer, uncovered, for 5 more minutes.
Drizzle the coconut milk over the curry and shake the pan a little to spread it around.
Remove from heat. Sprinkle with garam masala and lime juice. Cover and let it stand for 5 minutes.
Garnish with cilantro and serve with cauliflower rice, quinoa, or flatbread.
Notes
You may use a fresh serrano chile, a small jalapeno, or a Tablespoon of diced green chiles in this. If you'd like it spicier, leave the seeds in or add some sriracha or crushed red pepper flakes as a garnish.
This recipe is lightly adapted from Easy Indian Cooking by Suneeta Vaswani
Recommended Products
As an Amazon Associate and member of other affiliate programs, I earn from qualifying purchases.
Nutrition Information
Yield

6
Serving Size

1.5 cups curry
Amount Per Serving
Calories

272
Total Fat

22g
Saturated Fat

13g
Trans Fat

0g
Unsaturated Fat

7g
Cholesterol

218mg
Sodium

761mg
Carbohydrates

12g
Fiber

4g
Sugar

6g
Protein

10g
The information shown is an estimate provided by an online nutrition calculator. It should not be considered a substitute for a professional nutritionist's advice.
This post may contain affiliate links. Any purchases made by using these links won't cost you any extra and helps keep my content free. These links may be Amazon links as I am part of the Amazon Associate Program.