These Paleo-friendly meal plans are for six dinner recipes and a dessert thrown in for fun! All of these recipes are paleo friendly, seasonal, and most can be easily adapted to be Keto/Low-Carb or Whole30 friendly.
Hey friends!
Thanksgiving is almost upon us!
This month we've got more cozy, seasonal recipes to get you through the month until the big day.
I even included a paleo-friendly pumpkin recipe you could make for Thanksgiving!
Enjoy all the coziness of the month!
Natalie
---
Sunday
CLAM CHOWDER WITH BACON — This clam chowder recipe is based on my Southern grandma's recipe. I made a few tweaks to make it gluten-free and even dairy-free, if you like! Bacon wasn't originally part of her recipe, but I think she'd approve. I also included instructions for stove top, Instant Pot & slow cooker.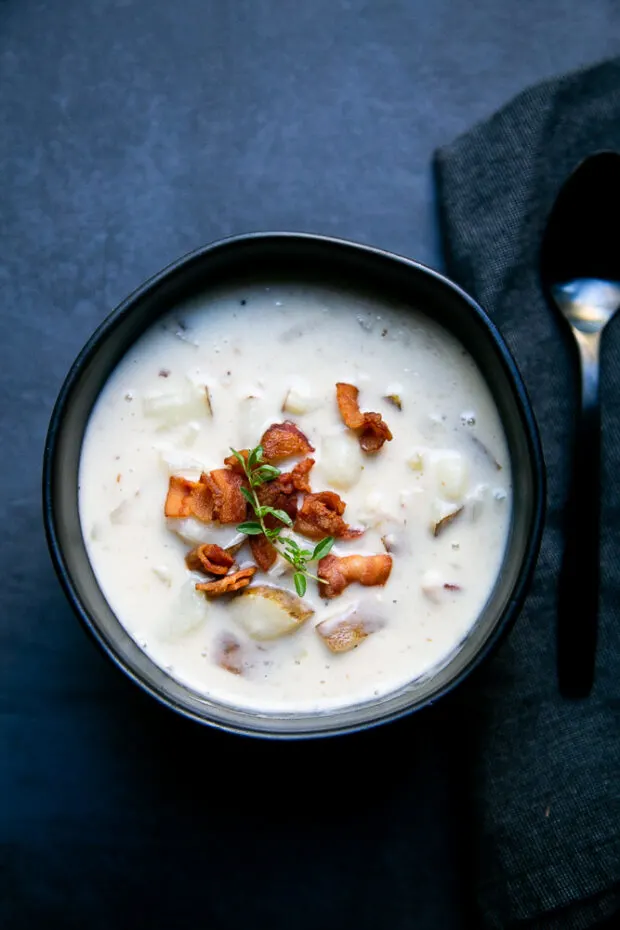 Special Diet Note: Recipe is paleo with dairy-free adaptations in recipe notes.
Prep Ahead: Cook the bacon ahead of time if you like, and reserve some of the bacon drippings for making the soup.
Substitutions: Feel free to substitute turnips or white sweet potatoes for the white potatoes if you're avoiding nightshades.
Monday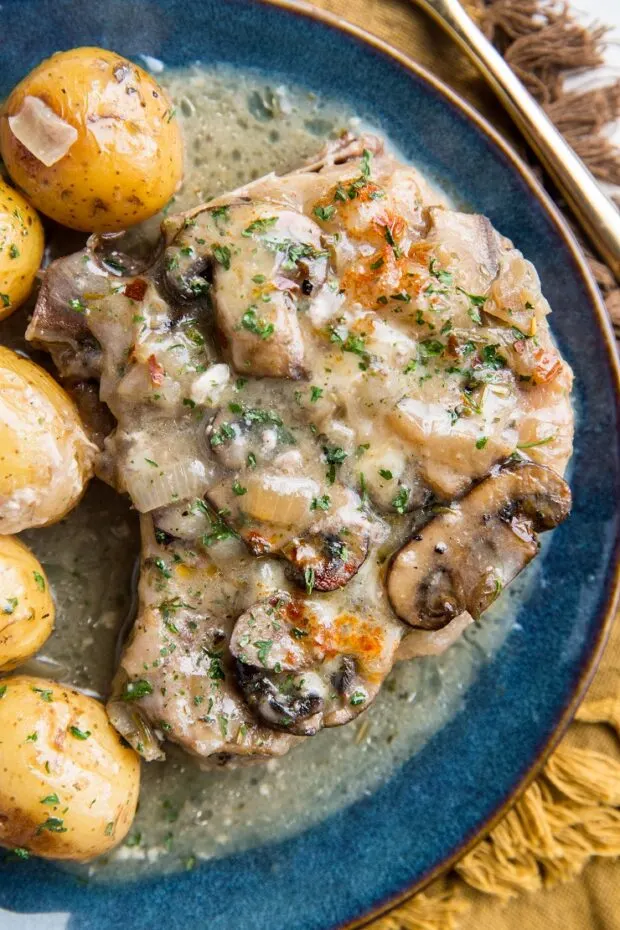 CREAMY CROCK POT PORK CHOPS — Creamy Crock Pot Pork Chops with Potatoes and Mushrooms is hearty comfort food at its finest! Full of caramelized onion and garlic flavors with the most delightful creamy mushroom sauce, this amazing slow cooker pork chop recipe is one for the history books.
Special Diet Note: This recipe is paleo and whole30 compliant. Make it low-carb or keto by omitting the potatoes and subbing for a side of vegetables.
Prep Ahead: This is a make ahead meal, so no advance prep is necessary.
Substitutions: Use half & half instead of coconut milk if you do dairy.
Tuesday
THAI CHICKEN SHEET PAN DINNER – A sheet pan dinner is your best friend — especially on the weeknights. This sheet pan BFF has chicken & veggies that cook up in a super easy Thai-inspired marinade. You can serve it as is (Paleo/Keto/Whole30 friendly!) or with some freshly steamed Jasmine rice.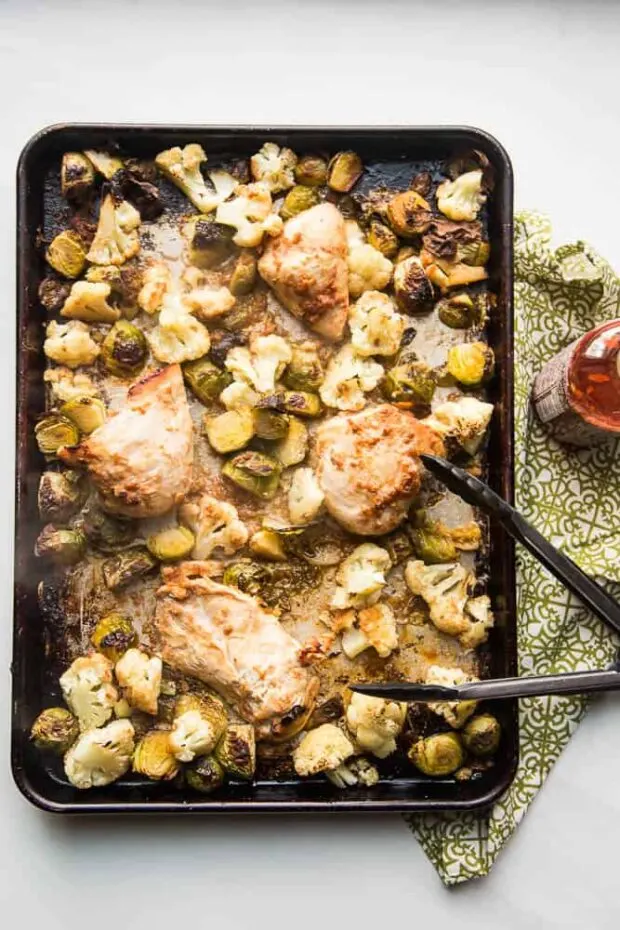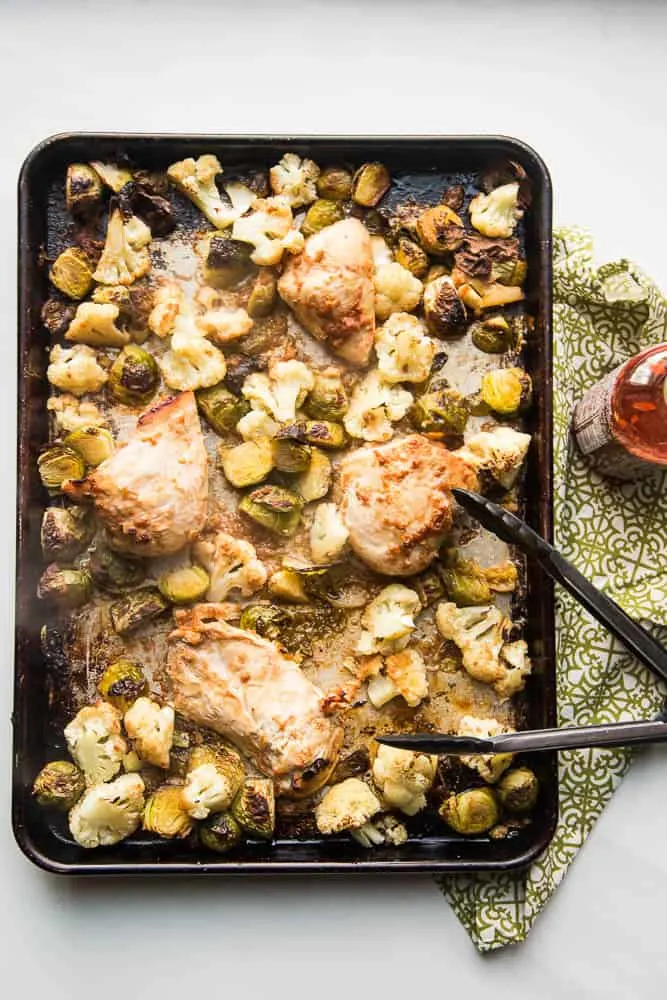 Special Diet Note: Recipe is paleo. It's also Whole30 friendly if you use sugar-free fish sauce and compliant sriracha/sambal sauce.
Prep Ahead: You can trim the Brussels & make the cauliflower florets ahead of time if you like.
Substitutions: Use any quick roasting vegetables that you like here. Sweet potatoes, summer squash, or fresh green beans would also be good options.
Wednesday
GROUND BEEF AND CABBAGE SOUP — Ground Beef and Cabbage Soup is an incredibly simple soup recipe, ideal for those looking for a belly-pleasing meal without much effort!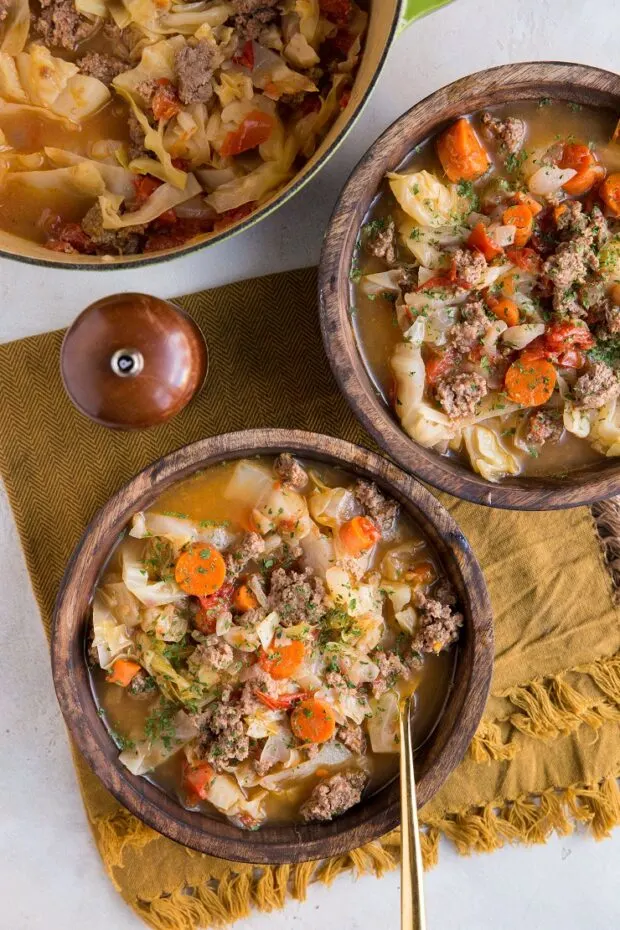 Special Diet Note: This soup recipe is paleo, whole30 and low-carb/keto.
Prep Ahead: No advance prep is needed, as the soup comes together quickly!
Substitutions: Add in your favorite veggies such as broccoli, cauliflower, etc. Swap out the ground beef for ground turkey or chicken.
Thursday
SPAGHETTI SQUASH WITH ROASTED MUSHROOMS & GARLIC SAUCE — I love easy meals like this, especially around the holidays! It's nice that it's meatless, too. It's rather hard to find hearty, protein-rich meals that are also paleo/keto/Whole30 friendly.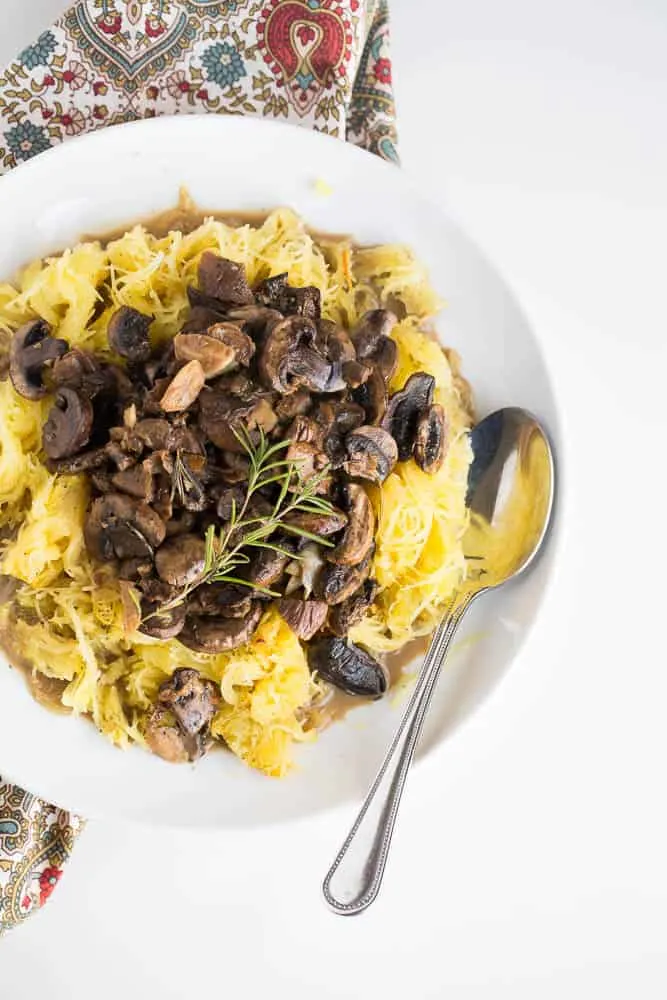 Special Diet Note: Recipe is paleo, Whole30 friendly, and meatless.
Prep Ahead: This goes quickly, so no need to prep ahead of time.
Substitutions: Add some leftover meat if you need to add more protein to this meal.
Friday
CREAMY PESTO CHICKEN — Creamy Pesto Chicken with sun-dried tomatoes is a rich and flavorful meal keeping weeknight eating delicious and fun. Dairy-free, gluten-free, keto, paleo and whole30! Serve it up with your choice of side dishes for a complete meal.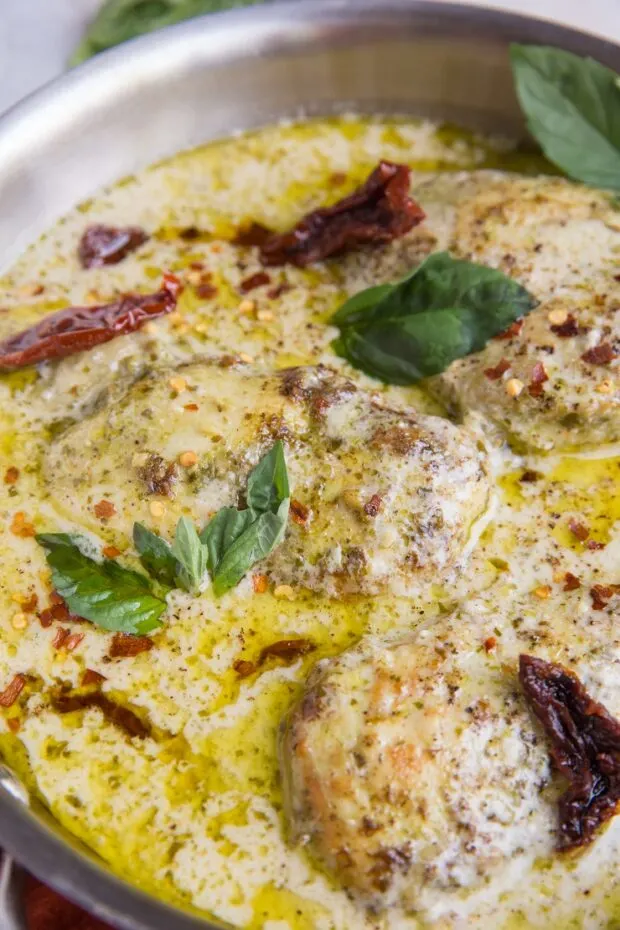 Special Diet Note: This creamy chicken recipe is paleo, whole30, keto, dairy-free and gluten-free! Serve it up with your choice of side dishes, such as steamed rice and sauteed or roasted vegetables.
Prep Ahead: You can roast the squash ahead of time or buy pre-cutNo advance prep is needed as the whole recipe takes right around 30 minutes to make.
Substitutions: Swap the coconut milk for half & half + a couple tablespoons of gluten-free flour for thickening if you do dairy. If you make the swap just be sure you don't allow the mixture to come to a full boil.
Dessert
CRUSTLESS PUMPKIN PIE CUPS FOR INSTANT POT — The biggest setback in making a paleo, low-carb, or keto pumpkin pie is the crust. So, let's ditch the crust and make some crustless pumpkin pie cups! The toasted marshmallow topping makes it extra special.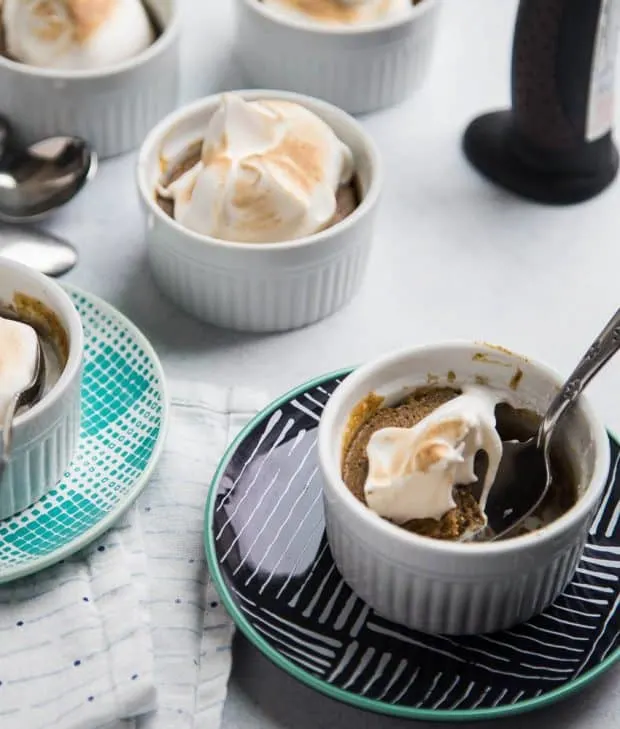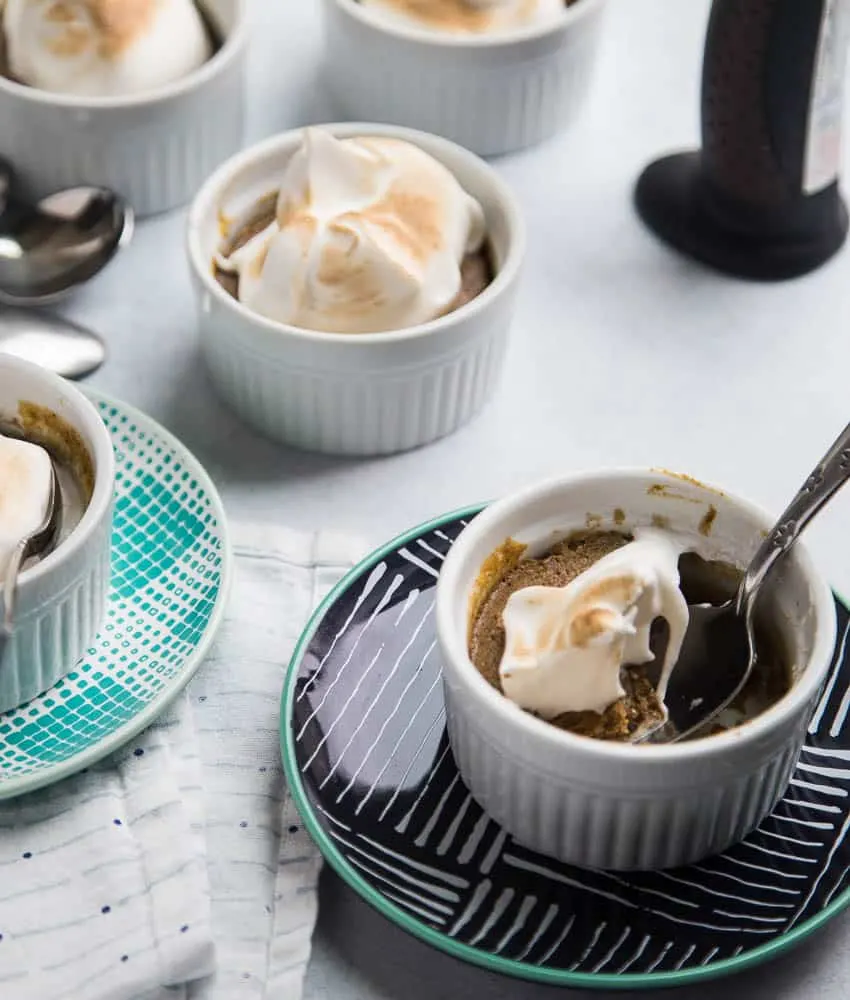 Special Diet Note: Recipe is paleo & low-carb if you use a low-carb sweetener.is a keto option within the recipe post.
Prep Ahead: The custard cups can be made a few days in advance and chilled until ready to top with the marshmallow cream.
Substitutions: If you use a different sweetener, make sure it's a granulated sweetener. Liquid sweeteners will throw off the texture of the custard and the topping.
Grocery List
Click HERE to download a handy printable grocery list!