This easy, Thai-inspired sheet pan meal has chicken & veggies that cook up in a super easy citrusy marinade. You can serve it as is (Paleo/Keto/Whole30 friendly!) or with some freshly steamed Jasmine rice.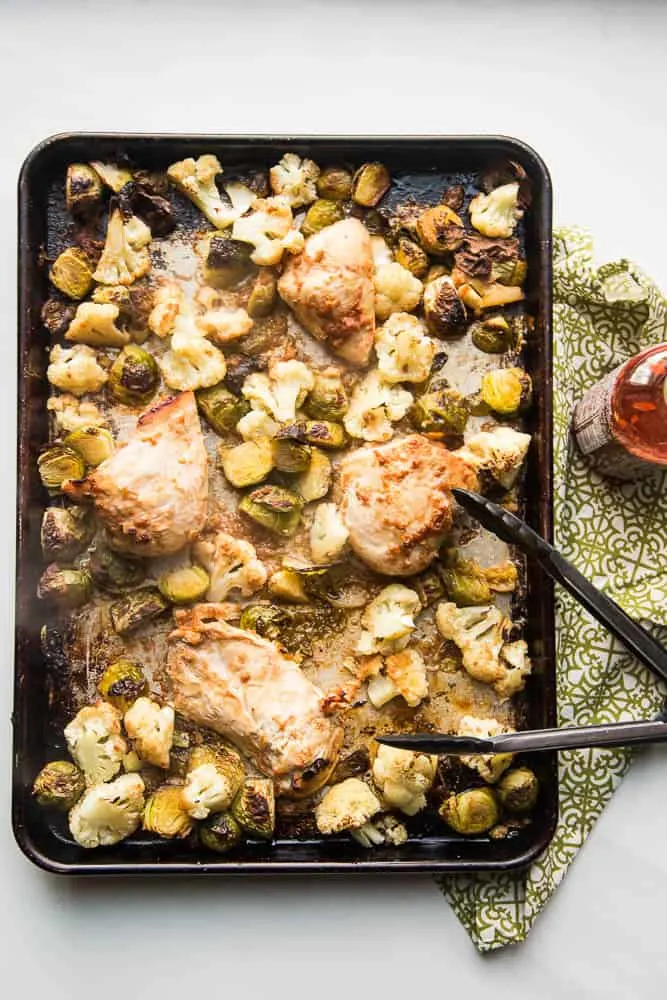 Sheet pan dinners are the best. And so are sheet pans. I love my gnarly old pans. They remind me of how much I fell in love with roasted vegetables 10+ years ago — especially roasted Brussels sprouts. It was a total game changer for me, and I've been obsessed with roasting vegetables ever since.
And those dark marks on my pans give them character — like battle scars. I'm 100% sure my grandma thinks they're gross because she kept trying to give me some of hers. She has, like, a dozen, so I took a couple nice, shiny silver ones to save for baking.
My most favorite pans are these Nordic Ware Aluminum Half Sheet Pans. Don't buy Martha Stewart's pans. They scratch REALLY easily and feel flimsier than the Nordic Ware ones.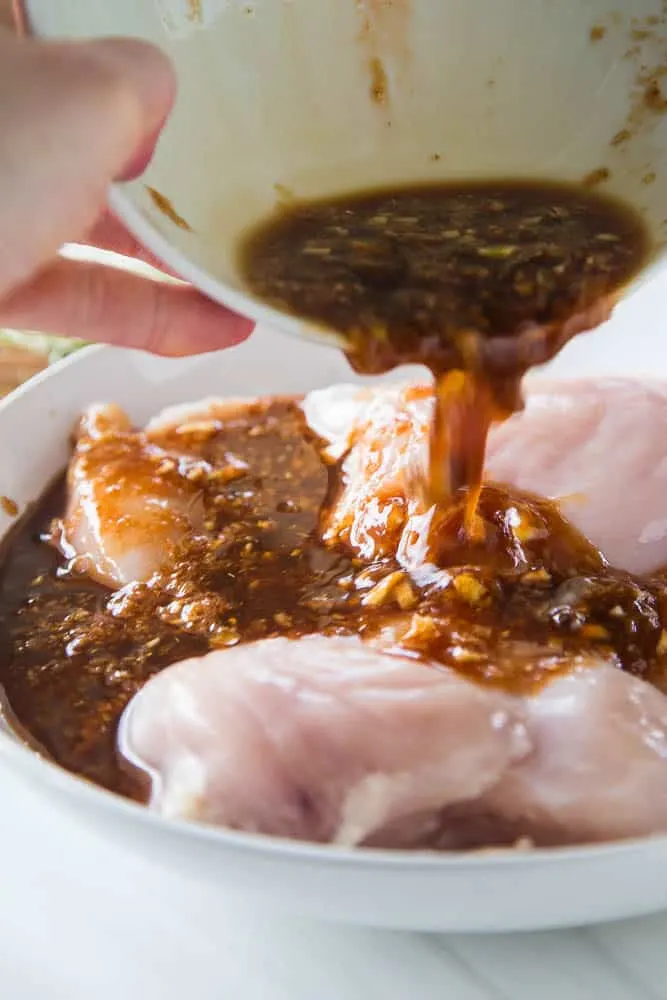 OK, let's talk about this sheet pan dinner. When it was roasting in the oven, my kids kept asking me if we were having Pad Thai. It's understandable, considering the marinade for this recipe is just a tweaked version of the sauce I use in my Easy Paleo Pad Thai recipe.
The marinade only has a few ingredients and comes together really quickly. You can throw it together in the morning or even the night before you plan on eating. Not only does it flavor the chicken, but it gets tossed on the vegetables before roasting.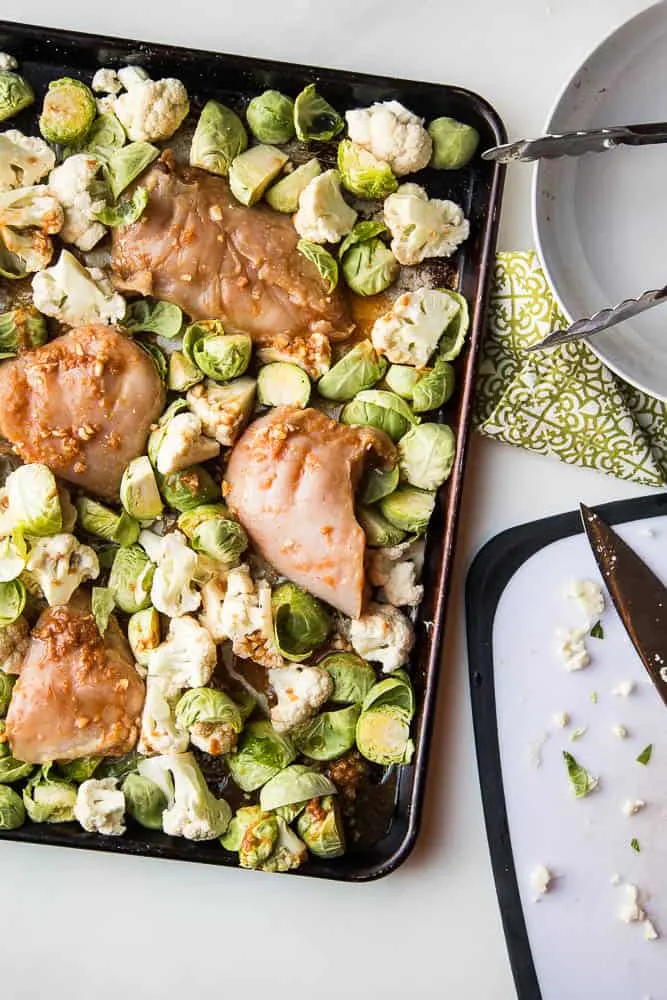 Side note: I think I was a little heavy handed with the sriracha in the marinade this last time because my kids all complained that it was too spicy. #wimps. You can add as much or as little sriracha as you like. Or omit it completely and add it to your own bowl later.
The first time I made this, I used a little pork tenderloin from our pork share (which tend to be much smaller than regular tenderloins). I'm not a huge pork lover, but that tenderloin may have been the best I've ever eaten. Truly. So if you're wanting to change things up, swap out the chicken for a pork tenderloin.
Another thing worth mentioning is that this was the first time ALL of my kids loved the roasted Brussels. They used to love these Crispy Roasted Shredded Brussels Sprouts, but their preferences tend to be in flux. Constantly. By the way, that Brussels sprout recipe I linked to is one of the most popular recipes on my site. It's worth checking out.
If Brussels (or cauliflower) isn't your thing, swap out the vegetables for ones you like. Just make sure they'll be OK roasting for about 30-35 minutes. Root vegetables and potatoes cut into 1-inch chunks would work well. I'd avoid broccoli and asparagus here, unless you want to pull them from the pan early while the chicken finishes.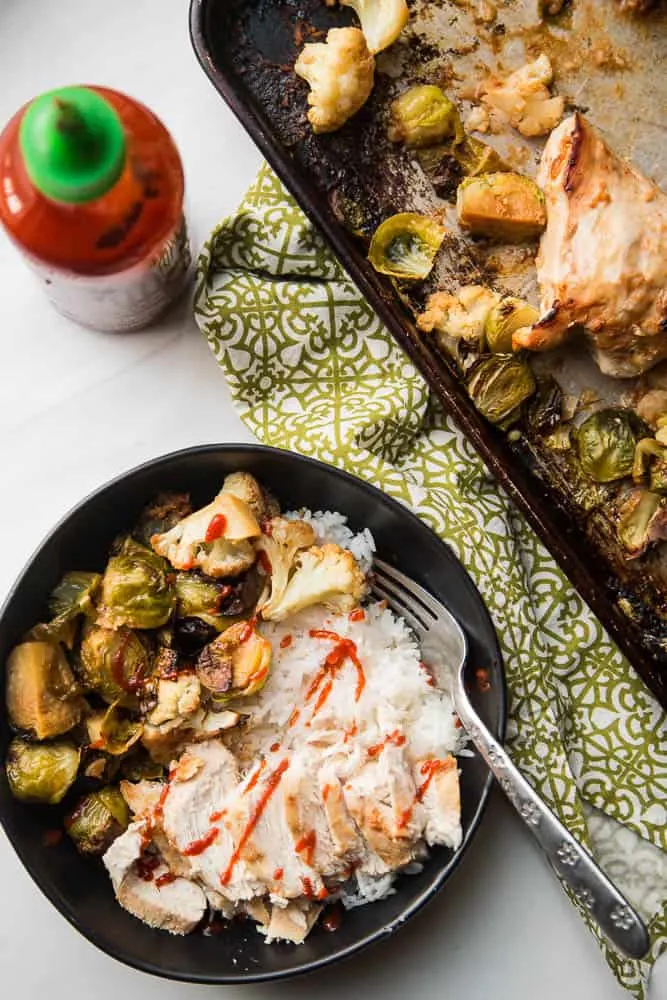 We ate ours with some Jasmine rice, but you could totally eat this as is. You may need some extra vegetables if you're feeding more than 4 people though. I'd recommend adding a second sheet pan and reserving some of the marinade to pour over the extra veg. (Then rotating them halfway through cooking, so everything roasts evenly.)
Putting a lot more vegetables on the sheet pan with the chicken will prevent the vegetables from getting nice and toasty. They'll be cooked for sure, but probably more mushy and steamed. (Ew.)
Without the rice, this recipe is also low-carb/Keto and Whole30 compliant! (Just check the labels on your hot sauce) If you have a hard time finding coconut aminos or don't want to use it, you can substitute 2 Tablespoons of soy sauce in place of the coconut aminos (soy sauce is more potent).
More Thai-Inspired Recipes on Perry's Plate
I've got over a dozen easy Thai-inspired recipes in the Thai section of my recipe index, but here are a few of my faves:
Paleo Thai Grilled Chicken & "Peanut" Sauce
Instant Pot Shredded Red Curry Chicken & Slaw
Thai Roasted Sweet Potatoes with Coconut and Lime
More Easy Sheet Pan Meals on Perry's Plate
Hawaiian BBQ Chicken Sheet Pan Meal
Quick Sausage & Veggie Sheet Pan Meal
Garlic Butter Salmon Sheet Pan Meal
Baked Pesto Chicken & Vegetables
---
If you make one of my recipes, be sure to post it on social media and tag me at @perrysplate or #perrysplate so I can send you some love!
Thai Chicken Sheet Pan Dinner
This easy, Thai-inspired sheet pan meal has chicken & veggies that cook up in a super easy citrusy marinade. You can serve it as is (Paleo/Keto/Whole30 friendly!) or with some freshly steamed Jasmine rice.
Ingredients
1 1/2 pounds boneless skinless chicken breasts or thighs
1/4 cup coconut aminos
2 Tablespoons fish sauce
1 Tablespoon minced ginger (or Microplane grated)
Juice from 1 lime (1-2 Tablespoons)
2 teaspoons minced or grated garlic
1-3 teaspoons sriracha, sambal oelek, or another Asian-style hot sauce (optional, to taste)
1 pound Brussels sprouts, trimmed and halved
1 small head of cauliflower, cut into 2-inch florets
2 Tablespoons avocado oil
Pinch of salt
Steamed rice and additional sriracha sauce for serving (optional)
Instructions
If you're using chicken breasts and they are very large, cut them in half. Place the chicken in a shallow bowl or a gallon-sized zip top bag.
In a small bowl whisk together the fish sauce, coconut aminos, ginger, lime juice, garlic and sriracha. Pour the marinade over the chicken, turning the chicken with a pair of tongs to coat well. Cover (if you're using a dish) and chill for at least 4 hours up to 24 hours.
Preheat the oven to 425 degrees F.
Pull the chicken out of the marinade (keep the marinade!) and put it on a large rimmed baking sheet. Arrange the Brussels sprouts and cauliflower around the chicken. Pour the marinade over the vegetables and drizzle the avocado oil over everything in the pan. Sprinkle everything with a pinch of salt, too. Toss the vegetables around a bit, to coat them in the marinade and oil.
Roast on a lower oven rack for 30-35 minutes, flipping the vegetables and chicken around once or twice during cooking. Roast until vegetables are caramelized and browned and the chicken is cooked through.
Slice the chicken and serve with vegetables and rice with a drizzle of sriracha.
Disclosure: This post contains Amazon affiliate links. Purchases made by using these links don't cost you any extra and helps to keep my content free.