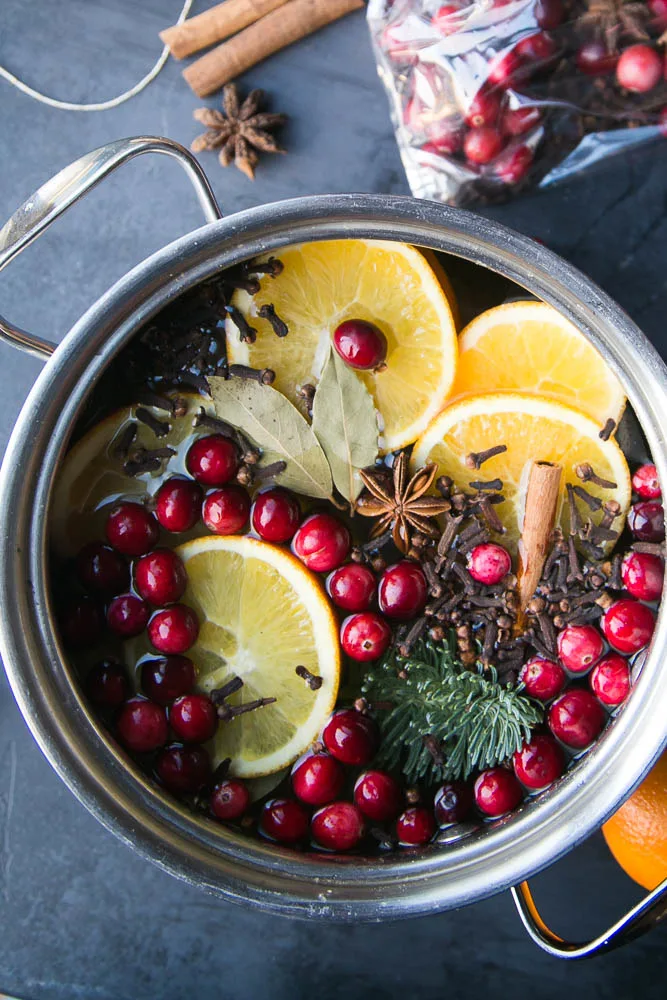 Judging from the magical Christmas smells coming out of this simmering pot and filling our house, I'd say this post is long overdue.
What's a simmer pot?
Simmer pots are sometimes called stovetop potpourri. Basically it's a simmering pot of citrus, spices, and other things to make your house smell amazeballs. An all-natural (I hate that word, but it's appropriate here) air freshener!
We made simmer pot kits as neighbor gifts about five years ago and again last year for our neighbors and patients at our office and they were a HUGE success!
I'm always on the hunt for easy gifts to give to neighbors, teachers, and friends that aren't a plate of cookies. Homemade sugar scrub is another homemade non-treat gift that I like to make. (I even have holiday sugar scrubs! Have you seen them?)
Don't get me wrong — I love me some Christmas cookies, but sometimes plate after plate of goodies is a little much.
That's why simmer pots are such a great gift! They're useful, consumable, and it's easy to put them together.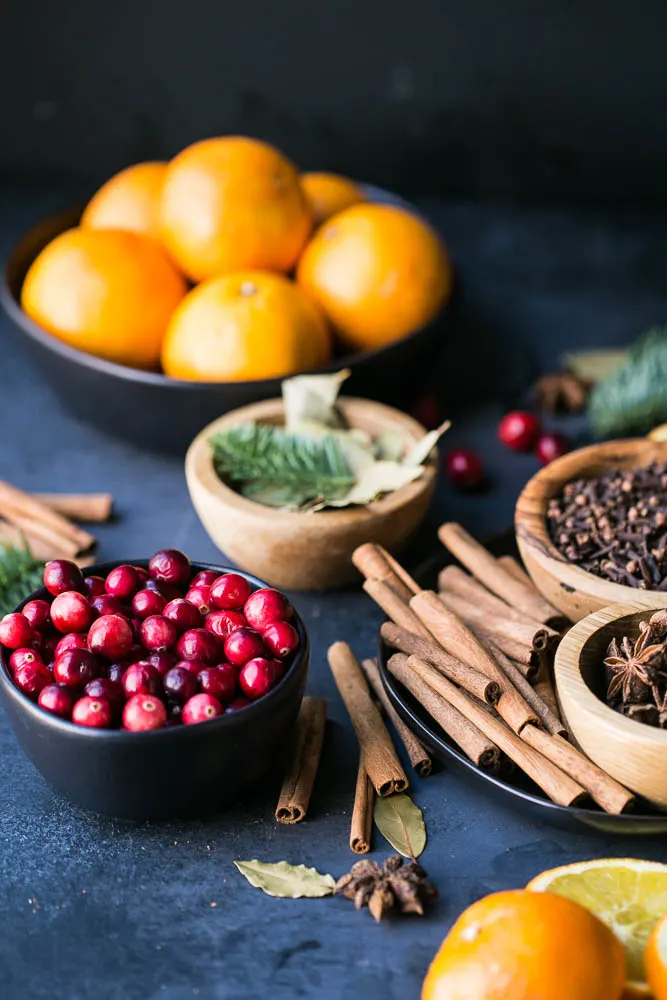 What's in a simmer pot kit?
To get the best aroma out of a simmer pot kit, I like to add at least one thing from each of these groups:
Citrus
My go-t0 is a navel orange. They're easy to find, inexpensive, and I love the combination of orange with the cranberries. You could use lemons, limes, or even grapefruit. Grapefruit are a little large, so half of a grapefruit ought to do.
Cranberries
Cranberries are all over this time of year, they last a few weeks in the refrigerator, and they're the more gorgeous shade of red! They really make your simmer pot kit beautiful and add such a beautiful scent. I don't think there's any substitution for cranberries.
Whole Spices
Most of the time I use cinnamon sticks and whole cloves. Star anise are a beautiful, fun addition with their star shaped pods, too. Whole spices are best purchased in bulk departments of grocery stores or online. I wouldn't buy the little jars if you plan on taking a dozen of these kits to your neighbors. If you're in a pinch, you could also use ground spices.
Herbs/Woodsy things
Bay leaves, rosemary sprigs, or pine cuttings add a nice, woodsy scent to the simmer pot blend.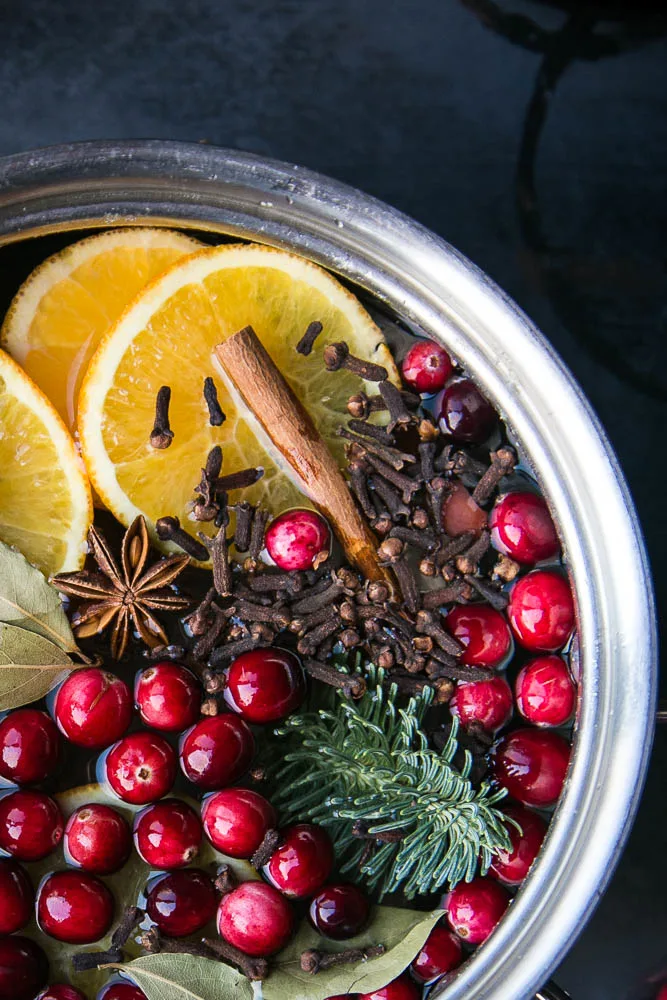 Isn't it pretty floating in the pot like that?
Well, in about 20 minutes it's not quite as pretty, so enjoy that part at the beginning. Ha.
How long can I use a simmer pot?
Realistically, you could use it for about a week. Just add water when the level gets low, and turn it off at night when you go to bed.
If you don't want to keep a burner on all day, try using your slow cooker! You'll need to continue to add water to that as well. Keep the lid halfway on the pot so you don't lose water too quickly.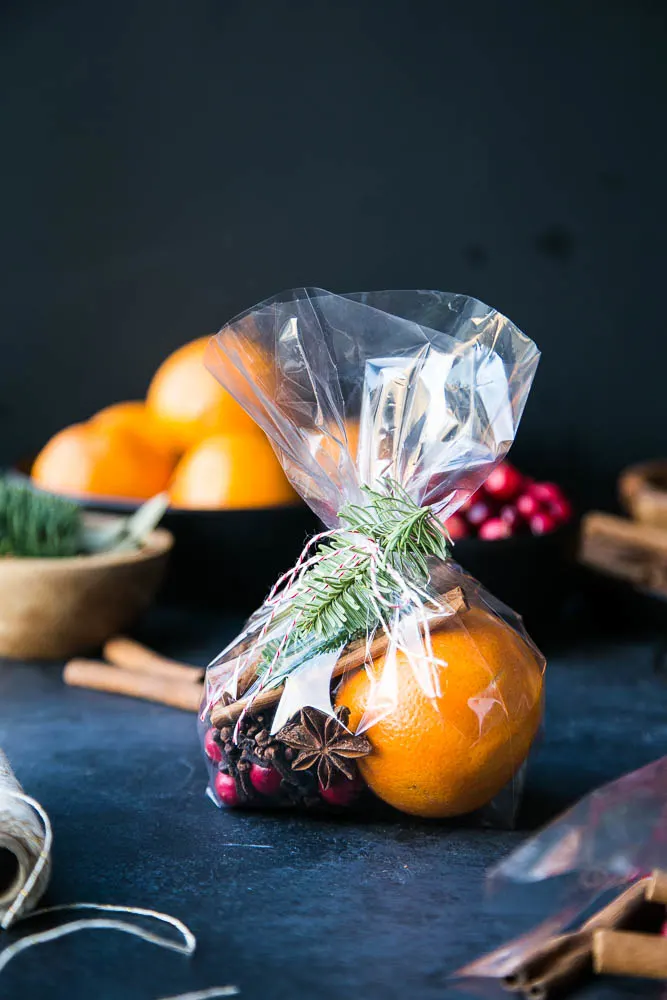 How to Assemble Simmer Pot Kits
I use simple clear cellophane bags like the ones sold at craft stores. Try to find ones that have a gusset in the bottom or open up wider or else you won't be able to get your orange in there. The ones I used above are 4″x9″ gusseted (flat bottom) cellophane bags and I linked to them in the bottom of the recipe card, too.
There isn't a method of packaging them, really. Just put all of the ingredients in with a little note telling your friends what to do with it and tie it up with a tag!
Click HERE for a little printable of the note I included the last time I made them. Nothing fancy, but it's one less thing you'll have to do!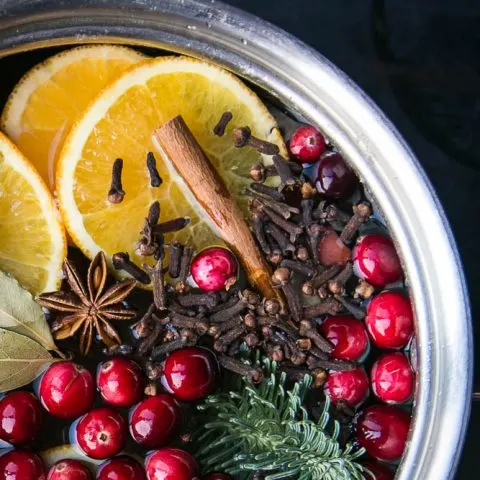 How to Make Simmer Pots (Stovetop Potpourri)
Yield:
Makes 1 simmer pot
Simmer pot kits (or stovetop potpourri) have been one of our favorite neighbor gift over the last several years! Everyone loves the way their home smells when it's simmering away on the stove! I included instructions for 10 simmer pot kits in the instructions, too.
Ingredients
1 small or medium navel orange
1/2 cup fresh cranberries
3 cinnamon sticks
2 Tablespoons whole cloves
3 bay leaves or a pine or rosemary sprig
1 whole star anise (optional)
Instructions
Slice the orange into 4-5 rounds and put them, along with the rest of the ingredients into a medium sauce pan with 6 cups of water.
Bring to a boil, then simmer on low for as long as you like, adding water when needed.
To make the kits, put all of the ingredients (leaving the orange whole) in a clear, cellophane bag and tie the top with a piece of twine or ribbon.
Notes
Nat's Notes:
You could realistically keep this going for several days, turning the stove off at night and back on the next morning. Or use your slow cooker if you don't like the idea of leaving your stove turned on for prolonged periods.
The measurements here are loosey-goosey. Feel free to use more or less of any ingredient to your liking. This is simply the combination we liked best.
INGREDIENTS FOR 10 SIMMER POT KITS:
10 navel oranges
5 cups fresh cranberries (about 18 ounces)
30 cinnamon sticks
1 1/4 cup whole cloves
30 bay leaves
10 whole star anise
Recommended Products
As an Amazon Associate and member of other affiliate programs, I earn from qualifying purchases.