Cinn-a-Bun Cheesecake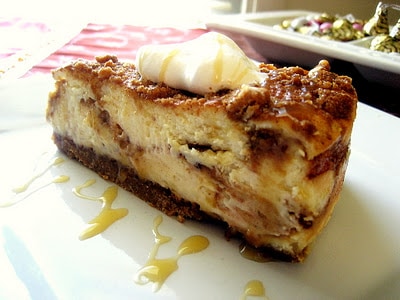 There are no words in the English language to describe how good this cheesecake is. It's so good that I don't even have an excuse in my head when I eat it. "Oh, it's Valentine's Day" or "Oh, I worked out this morning" don't even enter my head. I don't care. It's that good. And that's why I tried to pawn off pieces to the neighbors — so I don't give myself a stomach ache.
Here's a shot of the back. Oh, baby.
Now without further adieu . . .
Cinn-a-bun Cheesecake

Ingredients:

Crust:
1 1/2 c finely crushed Mother's Iced Oatmeal cookies or any spice cookie
1/4 c butter, melted
2 T brown sugar

Filling:
3 8-oz packages cream cheese, softened
1 c sugar
1/2 c sour cream or whipping cream
4 eggs
2 tsp vanilla
1/4 c flour
1 c coarsely chopped cookies (same kind as above)
1 c raisins (optional)
1/4 c butterscotch or caramel sundae topping
1 tsp cinnamon mixed with 1/4 c sugar

Directions:

Preheat oven to 325. Place a pan of water on the bottom rack.

For crust, mix cookie crumbs, butter and brown sugar and press into the bottom of an 8-inch springform pan. Spray the sides of the pan with non-stick cooking spray.

For filling, blend cream cheese, sugar and sour cream until smooth, scraping bottom and sides of bowl, about 3-4 minutes. Stir in eggs, vanilla and flour and blend well, 2-3 minutes.

Spoon 1/3 of filling into pan and top with half of each chopped cookies and raisins. Drizzle on some butterscotch topping. Dust on some cinnamon sugar mixture. Pour on another 1/3 of cream cheese mixture and other layers. Add last bit of cream cheese filling and finish top of cake with cookies and cinnamon sugar.

Bake 50-55 minutes or until cheesecake is set about 2 inches from the side and wiggles slightly in the center. Turn oven off, leave door open and let cheesecake cool until you can take it out of the oven without oven mitts. Leave cheesecake on the counter until it's room temperature, then refrigerate overnight.

Serve with whipped cream and butterscotch topping.

Nat's Notes:
1. I used light cream cheese and sour cream, although I think all hopes of improving the calorie count were already lost.
2. I didn't add raisins because I don't like 'em.

adapted from A Passion for Baking by Marcy Goldman