Chevy's Fresh Salsa
UPDATE 8.31.10
:
Revised and reposted recipe here
.Every day during my girls' naptimes a battle goes on inside my head:"Nat, you
really
need to pick up all the stuff off the floor in your bedroom. No wonder you sprained your ankle.""Whatever, you sprained it taking out the garbage.
Outside
. Your blog is backed up by about 6 recipes! Go work on that!"
"You can't be serious. How is blogging more important than folding the laundry that's been in the dryer for 5 days? Or scrubbing off the 'artwork' Sophie did on her play table? Or (gasp) actually vacuuming the upstairs for once?"
And on. And on. I've done reasonably well juggling both, but lately (with said ankle needing attention), the chores have been piling uncomfortably high. Why am I telling you this? Because this will be the last post for about a week so I can get my living quarters under control.
It's a good one, though. Just in time for all of your Mexican parties tomorrow. (Do any of you actually celebrate Cinco de Mayo?) This salsa knocks the pants off of most I've tried, and I think it tastes almost exactly like Chevy's. It has a distinct smoky flavor that comes from grilling the tomatoes and peppers, and also from the liquid smoke. I love liquid smoke.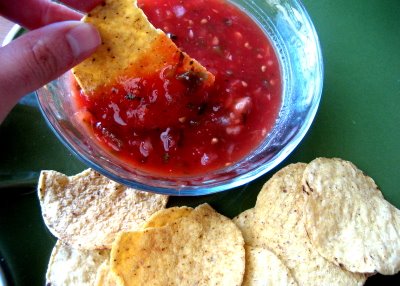 Chevy's Fresh Salsa

Ingredients:

6 medium tomatoes
6-8 jalapenos (use more if small, fewer if large)
1/4 med Spanish onion (or yellow)
2 cloves garlic
2 T chopped fresh cilantro
2 T white vinegar
2 tsp salt
1 1/2 tsp liquid mesquite smoke

Directions:

Preheat BBQ (or stovetop grill pan like I used) on high. Remove stems from tomatoes, then rub some oil over each. Leave stems on jalapenos and rub oil on them, too.

Place tomatoes on grill when it's hot. After about 10 minutes, add all jalapenos. In about 10 minutes, turn the tomatoes and peppers. When almost all of the surface of the peppers are black, remove them from the grill. The tomatoes will turn partially black, but when the skin begins to come off they are done. Remove from grill and allow veggies to cool.

Remove skin from tomatoes and place in a food processor. Pinch the stem end from each pepper, remove any skin that has burned, and place into food processor with tomatoes.

Add remaining ingredients and puree on high for 5-10 seconds. Chill for several hours or overnight before serving. Makes about 2 cups.

Nat's Notes:
1. I found this a hair on the smoky side. I'd start with a half teaspoon of liquid smoke and add more from there. I think 1 tsp would be perfect.
2. I scraped most of the seeds from the jalapenos and it was still quite spicy.

from Top Secret Restaurant Recipes 2 by Todd Wilbur