Homemade Salsa Verde is super easy to make and you can use it in SO many ways. It even freezes well, too!
I was almost giddy when we got a pile of sweet peppers in our CSA box a couple of weeks ago. Especially the lighter green one that looked like a pirate hook. Farm-fresh produce has so much more personality than commercially grown!
I think they've got tomatillos planted at the farm as well, but I was antsy and ran to the store to get some. I'd had a salsa verde craving for a while and couldn't wait any longer.
If you've never tried tomatillos, you definitely should. They look like little green tomatoes wrapped in a papery husk and have a tart, citrusy flavor. I'm not a fan of eating them raw, but after a good roasting, they make a fantastic salsa.
I love bell peppers. Raw, roasted, whatever. My two-year-old recently informed me that she doesn't like peppers when they're cooked. Blast.
Sometimes she does though, depending on what day it is. She told me on Sunday that she likes them on Tuesdays. Is it just me or is 2 a little young to be so fickle?
AND…
Here's a simple salsa verde recipe for you. If you don't want to turn your oven on, feel free to grill the tomatillos and the peppers outside!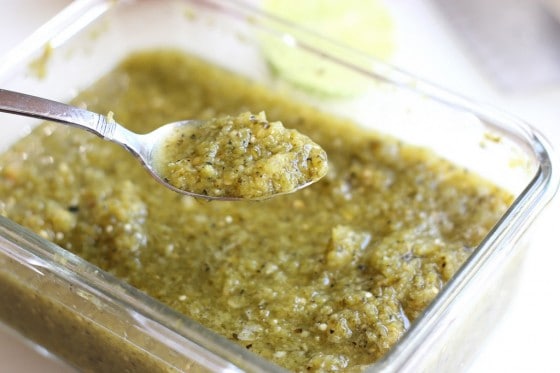 If this batch is too big for you to eat, the salsa freezes really well!
SaveSave
If you make one of my recipes, be sure to post it on social media and tag me at @perrysplate or #perrysplate so I can send you some love!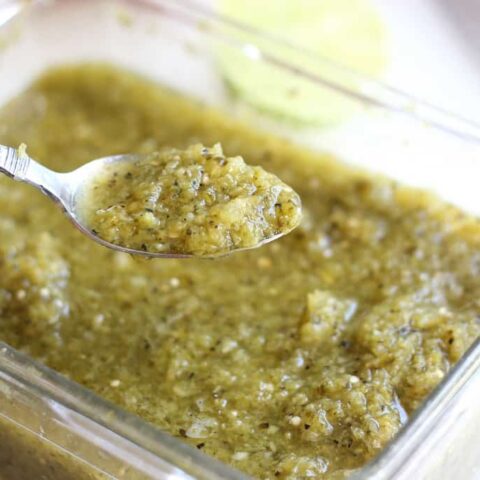 Simple Salsa Verde
Store bought salsa verde is pretty great, but I love the freshness from home-roasted tomatillos!
Ingredients
1 1/2 - 2 lbs fresh tomatillos, husks removed
2-3 poblano peppers or jalapeno peppers, halved and seeded (optional)
3 whole garlic cloves, peeled
2 Tablespoons avocado oil
1/2 cup chopped onion
1 Tablespoon fresh lime juice
1 cup chopped fresh cilantro
salt and pepper to taste
Instructions
Preheat oven to 425 degrees F.
Rinse tomatillos to remove their sticky coating and place them on a rimmed sheet pan with the pepper halves (if using) and the whole garlic cloves. Drizzle with the oil, tossing to coat, and roast for about 30 minutes until the tomatillos and peppers have black spots.
Remove the blackened skin from the peppers and transfer roasted vegetables and any juices from the pan to a blender of food processor. Pulse until chunky.
Add onion, lime juice, cilantro and puree until smooth. Add salt and pepper to taste.
Notes
Nat's Notes:
1. If you don't want it too spicy, reduce the number of peppers you add and remove all of the seeds. If you want it more spicy, leave more seeds.
2. You can also grill the vegetables instead of roasting them. Just put the garlic cloves in a wad of foil so they don't feel left out.
This post may contain affiliate links. Any purchases made by using these links won't cost you any extra and helps keep my content free. These links may be Amazon links as I am part of the Amazon Associate Program.