Grilled Veggie Quesadillas
I've posted a lot of heavy things lately. And with Thanksgiving around the corner, there are many heavy things to come, so I decided to post something light today. (Also because we had a mini-Thanksgiving dinner last night with some friends. I got a free turkey at the grocery store and it wouldn't fit in my freezer. . . so I
had
to roast it. I figured it was a good time to make my favorite stuffing because I'm probably not going to get any on Thanksgiving. Now I'm happy as can be because I have T-day leftovers in my fridge.)I think I've told you before that I have a crush on quesadillas. It's one of my favorite things to make from mismatched bits of stuff out of the fridge. This time I had a zucchini, a yellow squash, and a red bell pepper that were almost past their prime. I grilled them up on my trusty
grill pan
, who I also have a crush on, and grilled the whole quesadilla. I'm pretty sure that was the first time I'd done that.
I loved how the tortilla (the uncooked ones at Costco. Man, I have a lot of crushes.) got real crunchy on the grill. It helped to put a heavy cast-iron pan on the quesadillas as it cooked so everything would meld together well. I threw together a mexi-ranch type sauce to add some flavor, which was the perfect touch.My husband, who isn't picky, but hard to
really
impress told me they were "excellent". I can't remember the last time he used that word to describe something I made. That's huge for him. And for me. Usually he just nods his head a lot while he's eating.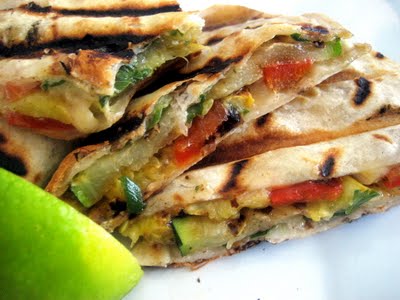 Grilled Veggie Quesadillas

Ingredients:

2 zucchini, sliced diagonally into 1/4-inch slices
1 yellow squash, sliced diagonally into 1/4-inch slices
1 red bell pepper, seeded and quartered
4 tortillas
your favorite quesadilla cheese (we like pepper jack)
extra chopped green onions and cilantro for garnish

for the sauce:
1/3 c sour cream
1/2 Roma tomato, minced
1 tsp vinegar (plain white or white wine)
2 T prepared Ranch dressing
dash cumin
dash paprika
dash hot sauce
2 T chopped green onions
2 T chopped cilantro
1 T milk

Directions:

Preheat grill to medium-high heat and brush vegetables with oil. Grill vegetables until nice grill marks appear and they're softened and cooked through. Slice red peppers into strips. Set vegetables aside. (Leave grill on.)

Meanwhile, combine all ingredients for sauce in a small bowl. Set aside.

To assemble the quesadillas, place a tortilla on the grill. Spread a couple spoonfuls of sauce over half the tortilla, followed by a couple pieces of zucchini, yellow squash, and bell pepper strips. Sprinkle some cheese over top and fold tortilla in half. Place something heavy, like a cast-iron skillet, on top of the quesadilla, if desired. (It helps it to smush together and seal, but not necessary.) Grill for 2-3 minutes, until golden brown and cheese begins to melt. Flip over and cook another 1-2 minutes on the other side until cheese is melted.

Repeat with remaining tortillas, sauce, and filling. Garnish with extra green onions, cilantro, sour cream, and salsa, if desired.

Makes 4 quesadillas or 8 1/2-quesadilla appetizers.

Nat's Notes:
1. You can also do this in a skillet. Vegetables, too.