Almond Joy Cookies
This recipe comes from the "Desperation" section of
a cookbook
— a section full of cookies that you could make if you're desperate for cookies, but lack key ingredients. Like flour. Or eggs. Or butter. Say, if you're missing all three, you could still make these!
I've never gotten along with parchment paper very well. I really think it hates me. I ended up tossing the paper and greasing the pan for the next batch and they came off just fine. Psh. Fussy parchment anyway. . .Despite having 2/3 of the cookies end up in a crumpled heap, I'd say these were a success. They taste a lot like an Almond Joy, which was the idea. :) Plus they're gluten-free! I love adding gluten-free baked goods to my recipe collection.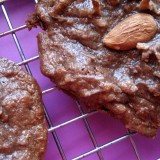 Almond Joy Cookies
Ingredients:
2 ounces (2 squares) unsweetened chocolate, finely chopped
1 15-oz can sweetened condensed milk
7 oz sweetened flaked coconut
1/2 cup finely chopped almonds (or almond meal), plus about 24 whole almonds
Directions:
Preheat oven to 350 degrees F.
Melt the chocolate in the microwave or on top of a double broiler. Combine the chocolate with the rest of the ingredients (minus the whole almonds) in a large bowl and stir. Drop by heaping tablespoonfuls onto well-greased baking sheets, leaving 3 inches between each cookie. Place a single almond on top of each cookie.
Bake until set, 12-15 minutes. Let cookies stand for 5 minutes, then carefully remove them with a metal spatula to a wire rack to finish cooling. Store at room temperature. Makes 24 cookies.
from Mom's Big Book of Cookies by Lauren Chattman