Lazy Guacamole
I don't get St. Patrick's Day. I'm not Irish or Catholic, so the origin means very little to me, and I also don't drink, so there's no appeal to alcohol. And wearing green in fear of getting pinched? More of a grade-school excuse to torture each other, I think.I could get into making green food, though. So here's my "it's St. Patrick's Day so I feel like I should post something green" recipe. Yes, I'm lazy, but that's sort of the theme of this post.
I have absolutely no idea how many times I've made guacamole – especially lately. My 15-month-old is really petite for her age, despite eating quite well (sometimes more than her big sister). Her doctor recommended that we really crank up her fat & calorie intake for the next month to see if that helps before we do any blood tests. Consequently I've had a heavy hand with the cream, cheese, butter, and olive oil lately*, particularly in her food. She also likes avocados, so I've started buying them at Costco. We eat at least one (sometimes 3) a day.Most of the time they get made into guac. But because I don't always have everything on hand for
my favorite guacamole recipe
, (or because I'm lazy) I've started making it the lazy way. There are only three things in this:
1. An avocado
2. Paula Deen's House Seasoning (a blend of salt, pepper, and garlic powder that I keep on hand all the time. You could use them separately, but that would be a lot more work. This is lazy guac, remember?)
3. Peperoncini juice (you know, the peppers they stick on the Olive Garden Salads)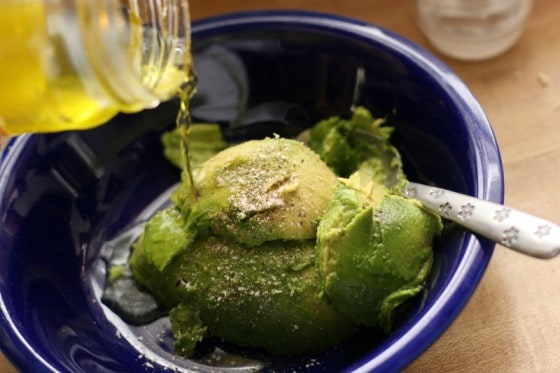 Peperoncini juice? I know, a strange addition. I was out of limes one day, and I searched for a substitute and tried the juice from the peperoncini jar. The acidity brightened the flavor and kept the avocados from turning brown, just like lime juice would. Plus the juice gave it a hint of heat.I love it. I love that it's fast and easy and that the only cutting required is to open the avocado. And peperoncinis last a lo-o-o-ong time in the fridge — like pickles.
So I'm always ready to be lazy.
Lazy Guacamole

Ingredients:

1 avocado
Paula Deen's House Seasoning, to taste
1-3 T peperoncini juice, to taste

Directions:

Remove peel and pit from the avocado and place the rest in a bowl. Sprinkle on the seasoning and splash on the juice. Mash with a fork.

Nat's Notes:
1. You can find the seasoning in the Homemade Staples section in the index. If you don't have the seasoning, simply use pinches of salt, pepper, and garlic powder.
*If you're wondering if that has an effect on the waistlines of the rest of the family, it doesn't. Eating smaller portions of rich food (with natural sources of fat) won't make you gain weight. The French have been eating that way forever and they're not fat like Americans.