Beso's Tortilla Soup
I really don't think the blogosphere needs another tortilla soup recipe. Heck, I've posted similar recipes already, but this one was different. (Doesn't everyone say that?) I had an epiphany as I was making this. I'll tell you about it in a sec.
First I wanted to mention that this recipe came from Beso Restaurant, owned by Eva Longoria-Parker. This is actually her recipe that was printed in a recent issue of Food Network magazine. Does the fact that this soup came from the mind of a Desperate Housewife make it more appealing? Just curious.
here are probably a lot of other, easier ways to make tortilla soup. But if you're a cooking-from-scratch junkie, then you'll like this a lot.
See those dried chiles down there? I see them all the time in the grocery store and they usually frighten me. They're slightly menacing looking, and I never knew what to do with them. Until I saw this recipe.
Ancho chiles are actually dried poblano (or pasilla) peppers. After soaking them in hot water to soften them, they get made into a kind of chile paste.
As the soup started coming together and after I added the chile paste to the broth, I had my "ah-ha" moment. Tortilla soup usually has chile powder . . . made from chiles. . . that were probably whole at some point in their lives. And chile paste I had just made was probably none other than. . .
reconstituted chile powder. Talk about cooking from scratch!
After the solids are strained out (That seemed a little wasteful to me, but I got over it. You could also puree the whole thing together after removing the non-edibles, but then it wouldn't be brothy.) you're left with this wicked-tasting broth that's basically a bare canvas for customizing your own tortilla soup.
After the broth was finished, I added a few quick-cooking add-ins (notes in the recipe), and topped it with some Southwest Cabbage Slaw — my new favorite topping.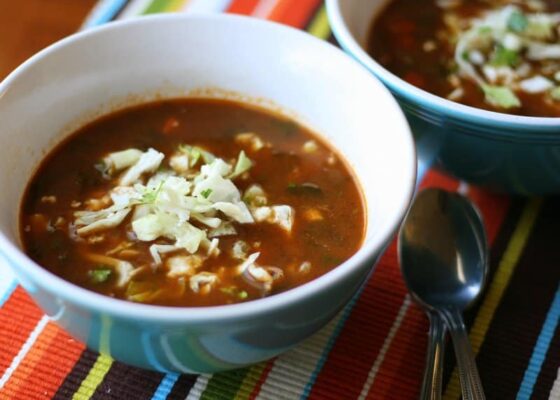 Tortilla Soup

Ingredients:

3 dried mulato or ancho chile peppers

1 tablespoon extra-virgin olive oil

1 onion, sliced

3 cloves garlic, smashed

1 28-ounce can plum tomatoes

1 tablespoon coriander seeds (or roughly 2 tsp ground coriander)
1 teaspoon ground cumin
8 cups low-sodium chicken broth

2 bay leaves

4 sprigs fresh thyme
Kosher salt

1 to 2 grilled chicken breasts, sliced

3/4 to 1 cup crumbled queso fresco

1 avocado, diced

Fresh cilantro

4 corn tortillas, cut into strips and fried
 (or crushed tortilla chips)
1 to 2 tablespoons sour cream

Directions:

Place dried chiles in a bowl, cover with hot water and soak until soft, about 20 minutes. Drain the chiles, pull out the stems and most of the seeds and transfer to a blender (or food processor) and process to make a smooth-ish puree.



Heat the olive oil in a large pot over medium heat, then add the onion and garlic and cook until the onion is translucent. Add the tomatoes with their juice, 1/4 cup chile puree, the coriander seeds and cumin and cook about 5 minutes. Add the broth, bay leaves and thyme and bring to a boil, then reduce to a simmer and cook about 

30 minutes.

Strain the broth through a medium-mesh strainer into another pot, discarding the solids. Season with salt.

 Place a small amount of chicken, queso fresco, avocado, cilantro, fried tortilla strips and sour cream in each bowl, then pour about 1 cup hot broth around the garnishes.

Nat's Notes:
1. Alternately, you could put the strained broth back into the pot and add whatever quick-cooking add-ins (like beans, frozen vegetables, chopped spinach, etc.) you like and let it simmer for few more minutes. This is a great base to customize your own soup!

2. In the photos above, I topped it with some Southwest Cabbage Slaw instead of tortilla chips. That stuff is so versatile. I put it on a lot of things!

courtesy of Beso Restaurant for Food Network Magazine