Avocado Bacon Parmesan Salad with Tangy Avocado Dressing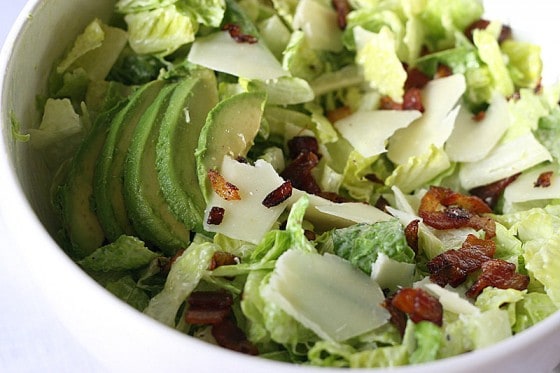 I know I just posted a bunch of salads, but I think this one deserved some attention on its own. I think it's clear that I really like bacon. I also really like avocados. Guacamole, thanks to my dad, was one of my first solid foods. I've loved it since before I had teeth, but it's only been in the last few years that I've liked avocados on their own. Avocados and bacon are a rockstar combination. One of my absolute favorites.
And let me tell you about this dressing – it's creamy and has a splash of apple cider vinegar. It looks rather bland, but put a bit on your tongue and you'll immediately notice its spunk. Kind of like pop rocks. Without the popping. Or the corn syrup. (OK, bad comparison.)
We liked this salad so much (even the kids) that I made it twice in 2 weeks. That's love. Speaking of love, one of my most favorite friends came to visit for the weekend and we've been having a blast. I love old friends.
Even more than bacon.
Happy Memorial Day!
Avocado Bacon Parmesan Salad with Tangy Avocado Dressing

Yield: 4 Main Dish or 6 Side Dish Servings

Ingredients:

For the salad:
1 avocado, peeled, pitted, and sliced
6 ounces of bacon, cooked and crumbled
1/3 cup fresh Parmesan or Romano cheese shavings
12 ounces of salad greens

For the dressing:
1/2 of an avocado, peeled, pitted and cut into large chunks
1 green onion, sliced
3 T sour cream
3 T mayonnaise or plain yogurt
1 T apple cider vinegar
1 T agave nectar
1 tsp Dijon mustard
salt and pepper, to taste

Directions:

To prepare the dressing, place all dressing ingredients into a small food processor and blend until smooth. Adjust salt and pepper as needed.

Toss dressing with salad greens and top with avocado slices, bacon crumbles, and cheese shavings.

Nat's Notes:
1. This dressing makes enough for two salads. If you want to use it up all at once, double the salad ingredients. If not, keep it in an airtight container in the fridge for 2-3 days