Zuni Cafe Roasted Chicken + 7 Ways to Use Shredded Chicken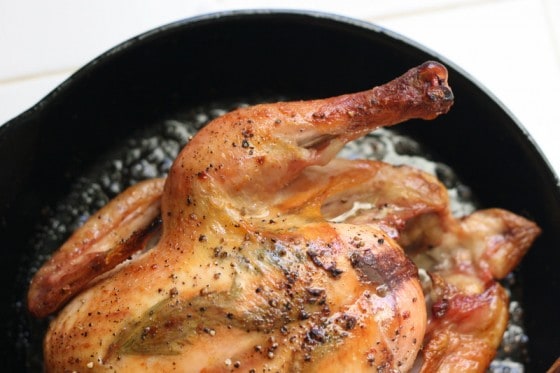 Yes. Another roasted chicken. After the Roasted Chicken & Potatoes with Garlic, Lemon & Rosemary, the Roasted Chipotle Chicken, and the Rosemary Apple Chicken, plus experiments with brining, there's only one thing that I haven't done yet — photograph step-by-step whole chicken prep. I either need to grow another set of arms to hold my camera or have my husband help me.
I'd rather have another set of arms (for other reasons as well), but I may recruit Hubs. He's not a bad photographer. He's actually taken a class.
So what makes this roasted chicken recipe special? The technique, I think. The whole cooking process takes place in an oven-safe skillet. A little on the stove, but mostly in the oven. Plus it's fast… like 45 minutes.
And the skin gets nice and crispy. I'm so not a chicken skin eater, but I almost ate it this time.
It's also adapted from the Zuni Cafe Cookbook
. The Zuni Cafe is a famous, fancy-pants restaurant in San Francisco. I really wanted to go while we were living in the Bay Area, but alas… living on student loans & GI bill doesn't really leave room for $100 dinner dates.
Our little family gets by just eating half of a roasted chicken and the rest is saved for another night. (That won't last long, though. It seems our little ones are pretty carnivorous.) If you've got leftover shredded chicken, throw it into one of these recipes….
BLT Chicken Salad with Warm Bacon Dressing
Chicken & Roasted Broccoli Salad with Goat Cheese
Island Glazed Pineapple and Shredded Chicken Sandwiches
Crispy Shredded Chicken Tacos
Balsamic Chicken Pasta with Fresh Cheese
Roasted Chicken Pot Pie (save some drippings, too!)
Southwestern Chicken and Barley Soup

Zuni Cafe Roasted Chicken

Ingredients:

1 chicken, 2¾- to 3½ pounds
4 sprigs fresh thyme, marjoram, rosemary or sage, about ½ inch long
¾ teaspoon salt
¾ to 1 teaspoon freshly cracked black pepper

Directions:

Prep the chicken: 1 to 3 days before serving

Remove and discard the lump of fat inside the chicken. Rinse the chicken and pat very dry inside and out.

Approaching from the edge of the cavity, slide a finger under the skin of each of the breasts, making 2 little pockets. Use the tip of your finger to gently loosen a pocket of skin on the outside of the thickest section of each thigh. Using your finger, shove an herb sprig into each of the 4 pockets.

Season the chicken liberally all over with salt and pepper. Sprinkle a little of the salt just inside the cavity, on the backbone, but don't otherwise worry about seasoning the inside. Twist and tuck the wing tips behind the shoulders. Cover loosely and refrigerate.

Prepare Oven and Pan: 45 minutes to 1 hour before serving

Preheat the oven to 475°F.

Choose a shallow flameproof roasting pan or dish barely larger than the chicken, or use a 10-inch skillet with an all-metal handle. Preheat the pan over medium heat. Wipe the chicken dry and set it breast side up in the pan. It should sizzle.

Place the chicken in the pan in the center of the oven and listen and watch for it to start browning within 20 minutes. If it doesn't, raise the temperature progressively until it does. The skin should blister, but if the chicken begins to char, or the fat is smoking, reduce temperature by 25 degrees.

After about 30 minutes, turn the bird over. Roast for another 10 to 20 minutes, depending on size.

Flip the chicken back over to recrisp the breast skin, another 5 to 10 minutes. Remove the chicken from the oven and turn off the heat. Lift the chicken from the roasting pan and set on a plate.

Carefully pour the clear fat from the roasting pan, leaving the lean drippings behind. Add about a tablespoon of water to the hot pan and swirl it.

Slash the stretched skin between the thighs and breasts of the chicken, then tilt the bird and plate over the roasting pan to drain the juice into the drippings. You can let it rest, covered, while you finish your side dishes. Allow to rest for at least 10-15 minutes, even if you have no other preparations to do.

Cut the chicken into pieces, spread on the warm platter.

adapted from the Zuni Cafe Cookbook via Tastespotting: The Blog