Slow Cooker Indian Beef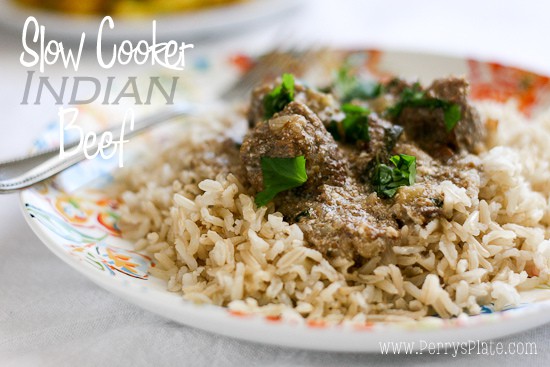 Things I love lately:
1. Instagram
I feel like I'm two years late to the greatest party ever, so I've been Instagramming my face off. Come find me. I'm perrysplate. (My naming creativity is astounding.)
2. My slow cooker(s)
I can completely justify having three slow cookers. And I know I'm not alone.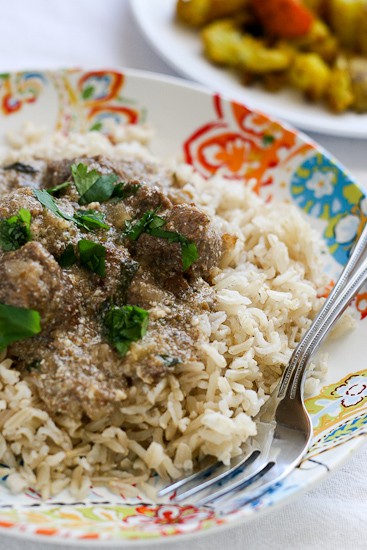 3. Beef
Thank goodness, because we have a ton of it. Almost literally.
4. Ethnic flavors
Ironically, Emeril Lagasse is the source of one of my most favorite Indian recipes to date. (Just as ironic as Giada providing my favorite BBQ sauce recipe.) I found this recipe in his book, Sizzling Skillets and Other One Pot Wonders, a book I reviewed last year.
This recipe calls for a lot of spices that most people don't keep on hand, like cardamom pods, garam masala, cinnamon sticks, and whole cloves. The only reason why I have all of these things is because I grind my own curry.
If you have an interest in making your own Indian dishes, I suggest buying these kinds of spices whole, in bulk at an ethnic grocery store (much cheaper and whole spices last a long time!) and an inexpensive spice/coffee grinder. Freshly ground spices are out of this world. I've started grinding all of my cumin now and keep it in a mason jar. The smell alone is so much richer and more fragrant than pre-ground.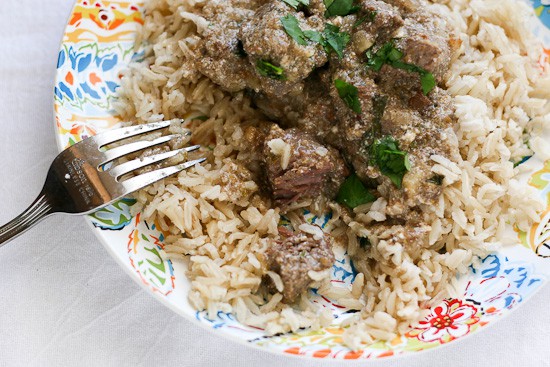 It's not the prettiest dish, but heavens… it has so much flavor, and slow cooking the beef makes it fall-apart tender. It made me want to dance around in a sari.
Pink, to be exact.
Slow Cooker Indian Beef

This recipe is slightly adapted from Emeril's spin on rogan josh, a dish traditionally made with lamb.

Yield: Serves 6 to 8

Prep Time: 40 minutes

Cook Time: 3 to 3 1/2 hours

Total Time: About 4 hours

Ingredients:

2 Tablespoons ground coriander
2 teaspoons ground cumin
1/2 teaspoon black pepper
1 Tablespoon plus 1/2 teaspoon salt
2-3 pounds beef stew meat or boneless chuck cut into 1 1/2-2 inch cubes (organic and grass-fed, if possible)
2 cups small-diced onion, divided (about 1 large onion)
2 Tablespoons peeled and minced fresh ginger
1/4 cup arrowroot powder (see note)
7 Tablespoons coconut oil or butter
1 or 2 seeded and chopped serrano or jalapeno chiles
One 3-inch cinnamon stick
1 bay leaf
6 cardamom pods
6 whole cloves
1/2 teaspoon garam masala (see note)
2 cups beef stock or broth
1 1/4 cups yogurt, preferably Greek style
2 Tablespoons chopped fresh mint leaves
2 Tablespoons chopped fresh cilantro leaves
Steamed basmati or jasmine rice, for serving
1/2 cup toasted sliced almonds, for garnish (optional)

Directions:

In a medium bowl, combine the coriander, cumin, black pepper, and 1 teaspoon of the salt. Add the beef, 1 cup of onion, and 1 tablespoon of minced ginger and toss to coat. Allow meat to marinate at room temperature for an hour. (Or marinate, chilled, for at least 4 hours.)

Place the arrowroot powder in another medium bowl. Remove the beef from the marinade and shake off most of the onion into the slow cooker as you transfer the beef to the arrowroot powder. Lightly dredge the beef in the powder, and place the remaining onion from the beef bowl into the slow cooker.

Heat 2 tablespoons of the oil in a large skillet over medium-high heat. (Medium heat if using butter.) Add the beef to the skillet in three batches, cooking, and turning occasionally, until well browned on all sides. The meat does not need to cook all the way through. Add 2 tablespoons of oil with each new batch of beef. Transfer beef to a paper towel-lined plate to drain. Transfer the browned beef to the slow cooker.

Wipe the pan clean with a paper towel, if needed. Add 1 1/2 teaspoons of oil to the skillet and heat over medium-high heat. Add the chiles, cinnamon stick, bay leaf, and remaining 1 tablespoon ginger; saute for 20 seconds, then add the remaining diced onion. Saute for 30 seconds, then transfer the spice-onion mixture to the slow cooker.

Add the remaining 1 1/2 teaspoons of oil to the pan along with the cardamom and cloves and saute until aromatic, about 30 seconds. Wrap the cardamom and cloves in a small piece of cheesecloth and secure like a pouch with a piece of kitchen twine. (See note) Add spice pouch, garam masala, beef stock, and the remaining 2 1/2 teaspoons salt to the slow cooker.

Cover the slow cooker and cook on high for 3 to 3 1/2 hours. Stir beef once halfway through cooking. During the last 10 minutes, stir in the yogurt. Right before serving, remove the bay leaf cinnamon stick, and pouch and stir in the herbs. Serve with rice and garnish with almonds if desired.

Nat's Notes:
1. The original recipe called for 1/2 cup of flour, but I used arrowroot powder in order for it to be gluten-free. You can also use 1/4 cup of cornstarch if you like.
2. Garam masala is an Indian spice blend. I've noticed it in the spice section of many grocery stores, but you can also make your own version. Google will find you a recipe.
3. I didn't have any cheesecloth, nor did I want to buy any. I happened to have a metal, mesh tea ball (for brewing loose teas), so I used that. You could probably use a small piece of thin fabric or try to fish out the pieces afterward. (I wouldn't recommend that, though. They'd be really hard to find.)

adapted lightly from Sizzling Skillets and Other One Pot Wonders by Emeril Lagasse