This tender shredded beef with Middle Eastern flavors goes perfectly with a cucumber-tomato salad, rice, and tzatziki. It's one of our family's most favorite meals! Make it in the slow cooker or Instant Pot.
Tender Slow Cooker Shredded Beef
This shredded beef recipe should be filed in your "cooking for a crowd" stash.
Prep time is quick and the ingredient list is short (if you have some Middle Eastern Seasoning made it's even quicker!)
There are a lot of you who have already tried this recipe. And loved it!
It's one of my favorite recipes from my second cookbook, The Big Book of Paleo Pressure Cooking
I casually call it "Greek beef" at our house because my kids don't know what gyros are.
Anyhow, they go bonkers when I make "Greek bowls" — this beef with some jasmine rice, tzaziki sauce, and either Marinated Cucumbers or the Cucumber Tomato Salad that I just posted last week.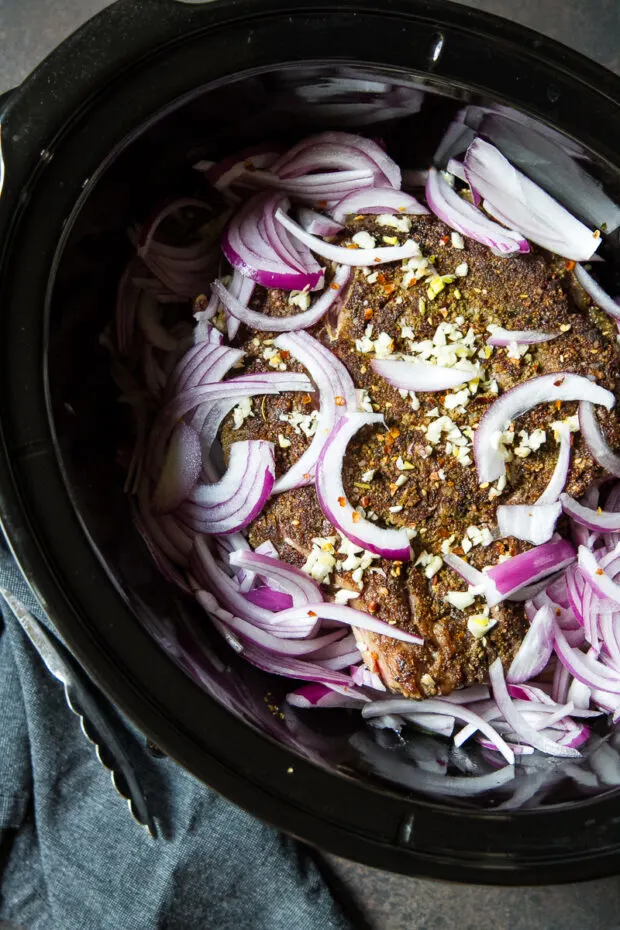 Make this delicious shredded beef in an Instant Pot or a slow cooker. I included both variations in the recipe notes!
Just cover the roast in the seasoning blend, sear it (optional), then throw it in the cooker with a sliced onion and some fresh garlic.
Then let the Crock Pot do its magic.
What kind of beef roast is best for Shredded Beef?
I like to use chuck roasts or round roasts. Round roasts are a little leaner, if that makes a difference to you.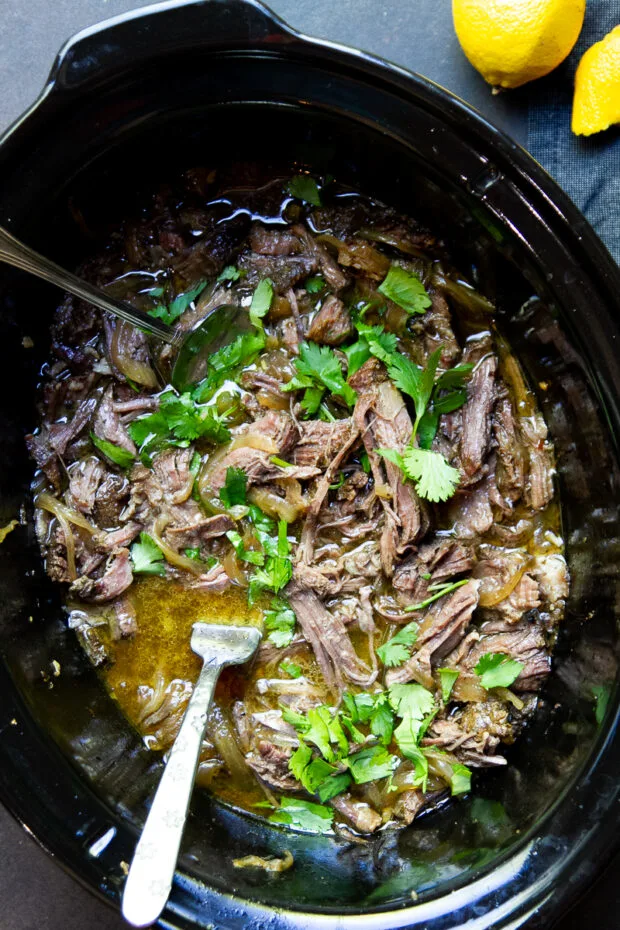 How long to cook this Beef Gyro Recipe in the crock pot?
For this recipe, I recommend a 3-4 pound beef roast. You'll want to cook it for at least 8 hours on low so it's easily shreddable.
Some roasts might take a little longer if they have more connective tissue, so leave yourself some extra time just in case. I've had roasts that take 9-10 hours — especially if they're on the larger side.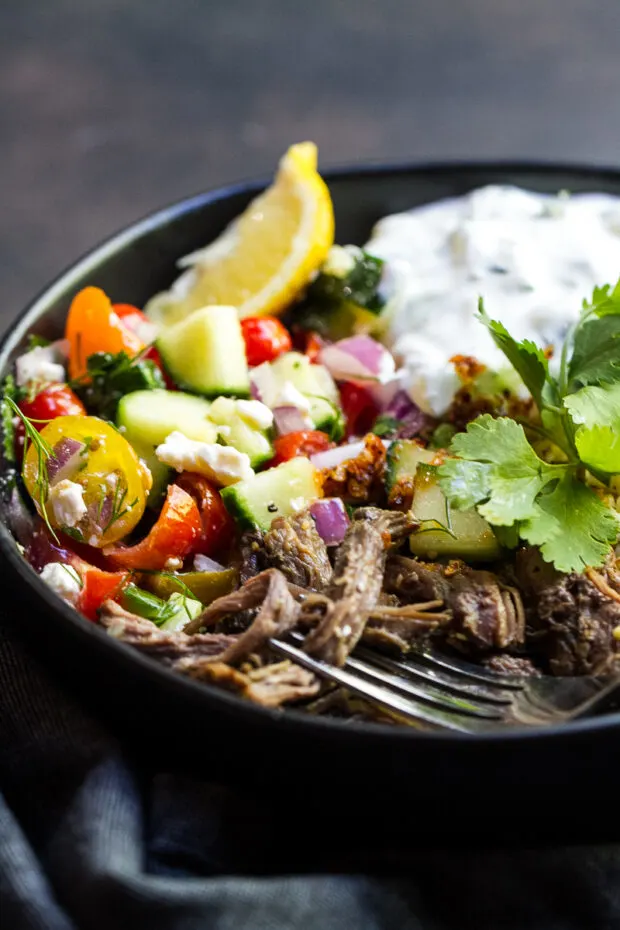 How to serve this Slow Cooker Shredded Beef
Here are a list of sides that would be great with this Middle Eastern flavored shredded beef. You could create some pretty fabulous bowls with these!
More Shredded Beef Recipes for Crock Pot or Instant Pot
Want more easy shredded beef recipes? Try one of these!
Chipotle Copycat Barbacoa Beef gives you a big pot of that tasty Chipotle Grill inspired barbacoa beef at home!
Instant Pot Shredded Beef with Green Chile is one of my favorites for taco nights! I love using 505 Southwestern Hatch Chiles.
Slow Cooker Indian Beef is a fun take on an Indian-style curry with the most delicious chunks of tender beef!
---
If you make one of my recipes, be sure to post it on social media and tag me at @perrysplate or #perrysplate so I can send you some love!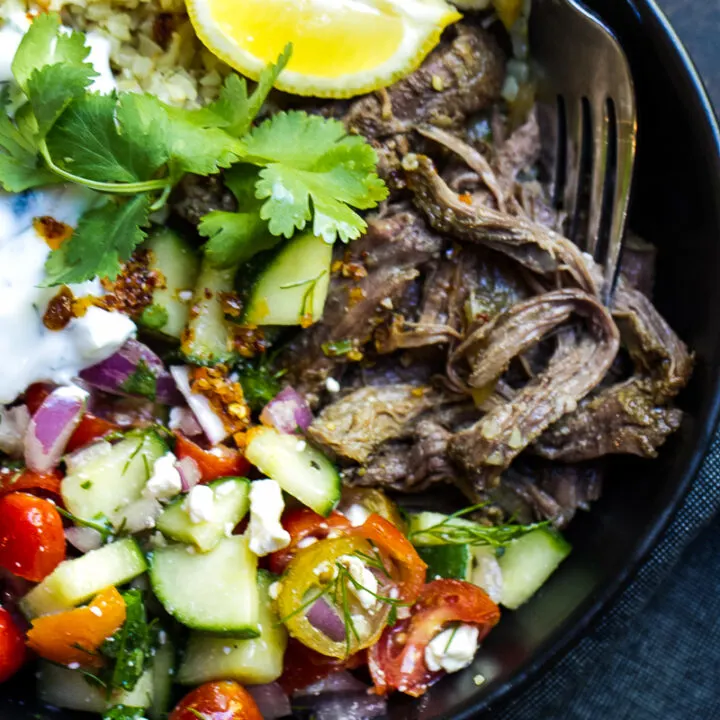 Gyro Inspired Shredded Beef Recipe
Total Time:
8 hours
15 minutes
This tender shredded beef with Middle Eastern flavors goes perfectly with a cucumber-tomato salad, rice, and tzatziki! Make it in the slow cooker or Instant Pot. If you'd like your beef similar to gyro meat in texture, try crisping it up in the oven after you shred it. (See recipe notes.)
Ingredients
3-4 pound beef roast
1 Tablespoon Kosher salt
3 Tablespoons avocado oil
1 cup beef or chicken broth
1 medium red onion, halved and sliced thinly
1 Tablespoon minced or finely grated garlic
Pinch crushed red pepper flakes
1 Tablespoon freshly squeezed lemon juice
1/2 cup fresh chopped cilantro (optional)
Instructions
Rub the salt and Middle Eastern Seasoning all over the roast.
Bring the avocado oil to high heat in a large stainless or cast iron pan. Add the roast. Let it sear for 3-4 minutes until it gets nice and deep golden brown. Flip it over and sear the other side.
Transfer the seared roast to your 4-7 quart slow cooker. Add the broth to the pan and scrape any stuck bits from the bottom. Pour the broth into the slow cooker alongside the roast.
Add the sliced red onion around the roast and sprinkle the garlic and crushed pepper flakes on the roast.
Cover and cook on low heat for 8-9 hours or until the roast shreds easily with two forks. I like to flip the roast after 6-ish hours, but that's optional.
Shred the roast, returning the shredded meat to the pot to soak up more of the cooking juices. Mmm. Sprinkle the lemon juice and fresh cilantro over the meat and serve.
INSTANT POT INSTRUCTIONS: Cut the roast into 3 pieces that are roughly the same size. Cover the meat with the salt and seasoning. Use the saute mode on your 6 or 8 qt cooker to sear the pieces of meat. Do them in 2 batches so you can get some good color on them. Add the broth, onion, garlic, and pepper flakes to the pot. Cover and seal. Cook at high pressure for 2 hours, letting the cooker release pressure naturally for at least 20 minutes -- preferabley until the steam release valve drops on its own. Shred the meat, return it to the pot, sprinkle on the lemon juice, and serve.
Notes
If you prefer not to make the Middle Eastern Seasoning, you can use something similar. Ras el Hanout seasoning or high quality Indian curry powder would also be great in this recipe.
I highly recommend serving this with my Cucumber Tomato Salad with Feta, some Roasted Cauliflower Rice (or jasmine rice), and Homemade Tzatziki. It makes a lot of food, but you'll have leftovers for dayzzzzz.
Recommended Products
As an Amazon Associate and member of other affiliate programs, I earn from qualifying purchases.