Salad Joe's (Sloppy Joe Salad)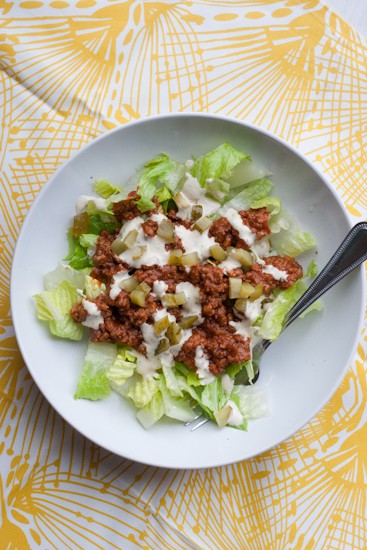 Earlier this year we were eating Sloppy Joe's at my parents house. I made my 2-year-old a plate and set it in front of her, but a few minutes later she started complaining.
"Want a Sloppy Joe!"
"You have a Sloppy Joe. See? It's right here."
"No! I want a Sloppy Joe!"
"Sweetie, this IS a Sloppy Joe."
"No! I don't want this," she said as she pulled off the top and bottom buns and handed them to me.
I realized, laughing, that we had been going so long without buns on our Sloppy Joe's that my youngest didn't remember life with buns. I wasn't sure whether to be a proud paleo mom or feel sorry for her. The older two, however, were in heaven with their spongy bread soaking up the Sloppy Joe sauce. Can you blame them?
Eating a Sloppy Joe with a lettuce cups became um… unnecessarily sloppy. Sometimes we put them on a bed of Sweet Potato Fries. (Hello, amazing.) And sometimes when I was craving something with more freshness I'd put it on a bed of lettuce, which later evolved into a full-blown salad topped with paleo Ranch and diced pickles.
And, if we're being honest here, shredded cheese.
My bestie's 4-year-old daughter calls them Salad Joe's. I really love that.
I included a recipe down there, but a couple of the components are existing recipes on my blog, so I'll give you those first with some adaptations…
Best. Sloppy Joe's. Ever. Yes, the name is a bit presumptuous, but I stand by it. The recipe does contain ketchup, so if you're super strict about refined sugar, just omit the ketchup and add a couple tablespoons of honey instead.
Homemade Buttermilk Ranch Mix To make the mix paleo, you'll have to omit the buttermilk powder. Since that powder is the bulk of the mix, I suggest making a larger batch (I usually times it by 8 and keep it in a pint mason jar). It's a little more potent that way, but because you're using less at a time it'll last a while. In order to make the dressing itself, you'll need some almond milk and mayo, which brings me to . . .
Homemade Mayonnaise This recipe uses extra-virgin-olive oil, but I've started using avocado oil instead for a more neutral flavor. If you're cool with dairy, you can also use Greek yogurt.
Salad Joe's (Sloppy Joe Salads)
Yield: Serves 6
Total Time: About 30 minutes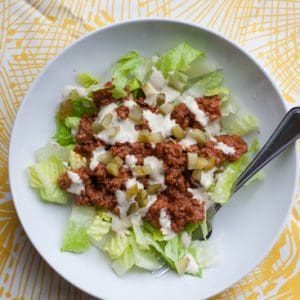 Ingredients:


1 batch of Best. Sloppy Joe's. Ever. (recipe link in post)


2-3 heads of Romaine, chopped


Paleo Ranch Dressing (recipe links in post)


diced pickles


Directions:


To assemble the salads, spoon some warm Sloppy Joe meat over a bed of Romaine lettuce and top with a drizzle of paleo ranch dressing and some diced pickles.


That's it. :)