Instant Pot Zuppa Toscana (an Olive Garden knock off) is a snap in a pressure cooker and one of our favorite family dinners. Paleo, Whole30, and Keto versions, too!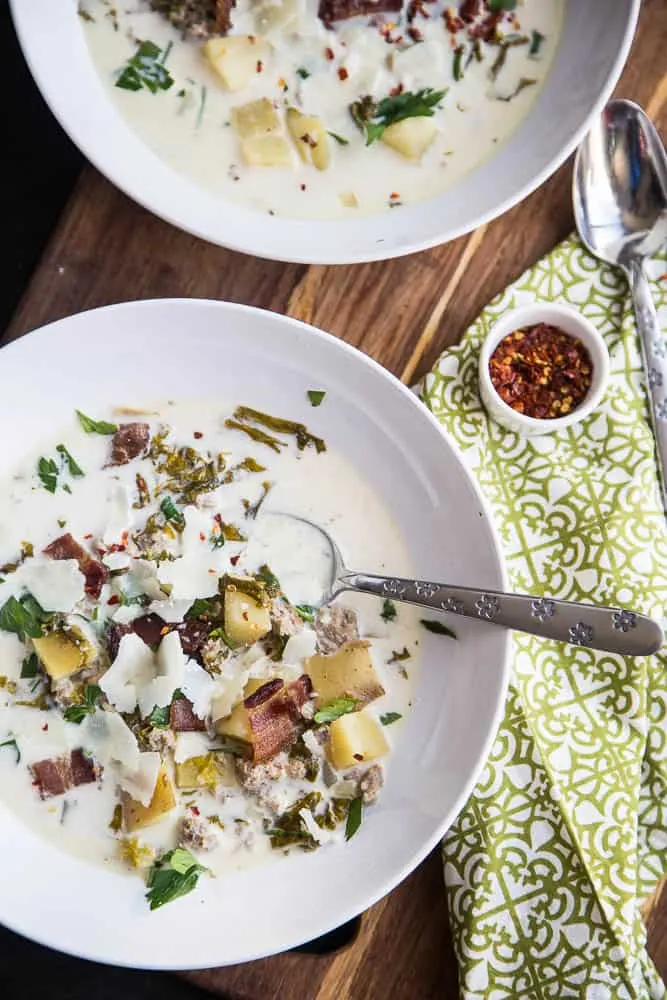 I'm so happy to have this Instant Pot Zuppa Toscana recipe up front again! I posted a stovetop version ages ago, and as I've been updating some of my old recipes and photos, I've had that one on my to-do list.
This is my copycat version of the famous Olive Garden zuppa toscana soup. Copycat recipes are some of my favorites to make. I feel so sneaky the first time I successfully hack a restaurant's recipe. Heh.
By the way, did you know it means "tuscan soup"? You probably did, huh?
The problem with making Zuppa Toscana is that it gets eaten REALLY quickly. It's a super delicious soup and It's one of our favorites — spicy Italian sausage, hearty kale, silky russet potatoes, and a creamy broth. *swoon* It's one of my favorite Instant Pot recipes, too.
Luckily using a pressure cooker makes it super easy to make this soup — just saute the spicy sausage, throw in the rest of the ingredients, and then after a few minutes at high pressure, you have the most delicious creamy soup.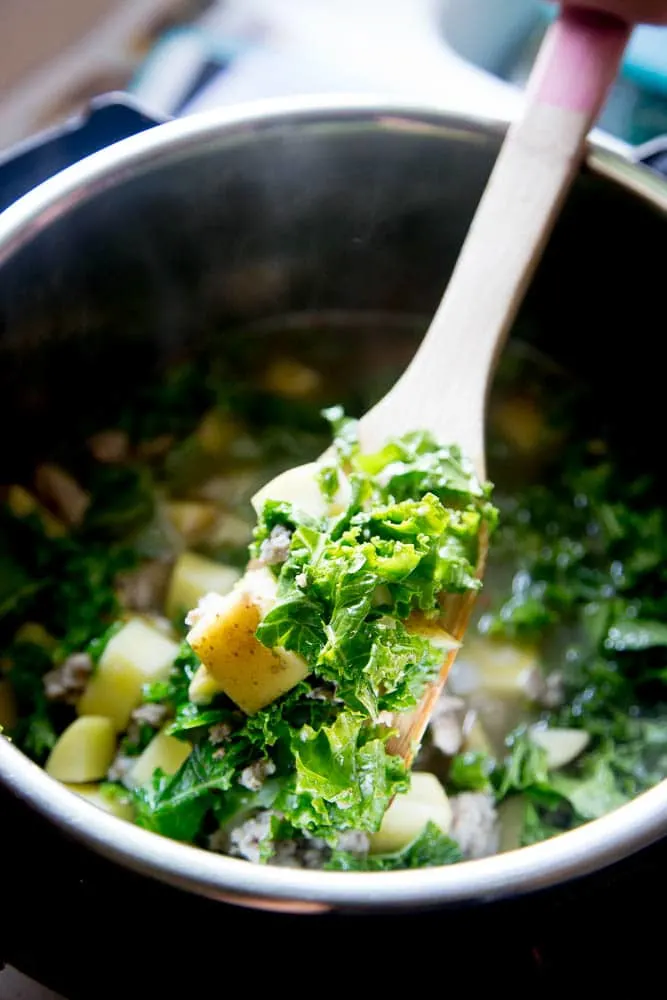 I bumped up the kale from the original recipe. It might look frightening when you're piling it into the pot, but like all greens, it cooks down a lot. Don't sweat. You can even use baby kale if you like which has a milder flavor.
And, yes, my kids eat kale. I told them a long time ago it helped them grow faster, and none of them have had any issues eating it. They'll even eat massaged kale salads. Sometimes.
No, they don't eat everything, and they do have their picky moments. I'm just calling kale a win and trying to get them to eat more things that are good for them.
It also helps when bacon bits and/or sausage is involved. So much flavor in this soup — it's a great way to mask greens.
Can I make Zuppa Toscana dairy-free?
Yes! if you don't want to use heavy cream, feel free to swap it out for some coconut milk or coconut cream.
I included adaptations for dairy-free, Whole30, and Keto in the recipe card instructions.
I tolerate dairy well, so I have no issues throwing a splash (*cough* a cup) of cream into a soup or showering the top with Parmesan cheese shavings. I love me some cheese, man.
Is Zuppa Toscana spicy?
You can make this soup as spicy as you like. If using hot Italian sausage makes you nervous, try sweet or mild Italian sausage instead and leave out the red pepper flakes. The creamy aspect of this soup tones it down as well.
I also like to use Italian chicken sausage over pork sausage because it's less greasy.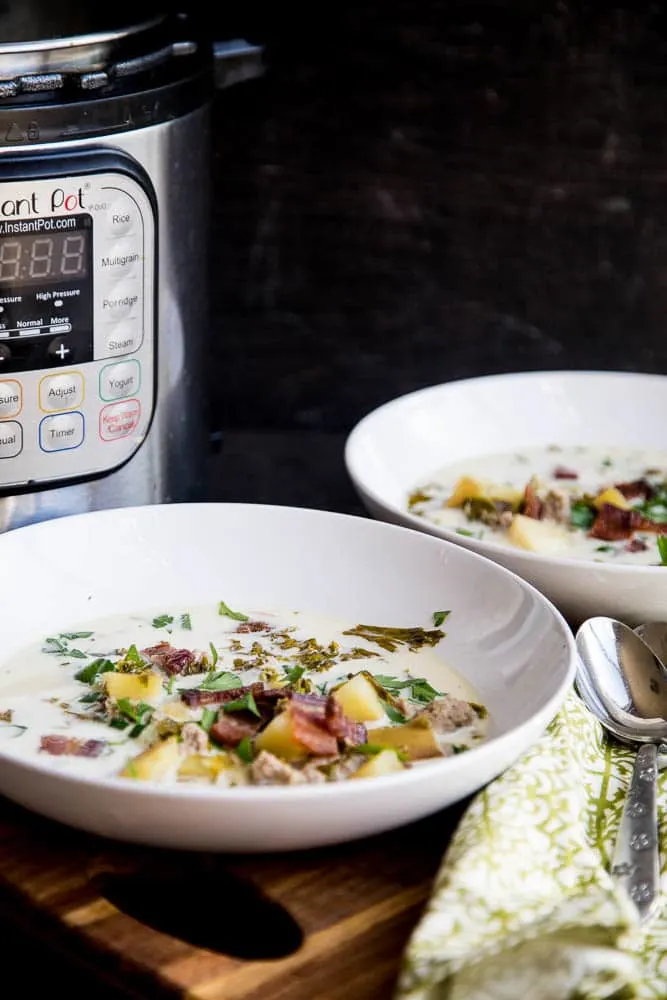 Can I use pre-cooked sausage instead of ground sausage?
Sure! I do this quite often. Just dice it up and saute it for a few minutes to get some color on it, then proceed with the recipe as is.
Can I make Zuppa Toscana in a slow cooker?
Absolutely! I added instructions in the recipe notes.
Can I use a quick pressure release for this soup?
For all soups, I recommend waiting 5-10 minutes and let the cooker do a natural pressure release before doing a quick release. This allows some of the pressure to subside so you don't have scalding soup flying out of the steam release valve. No one wants that.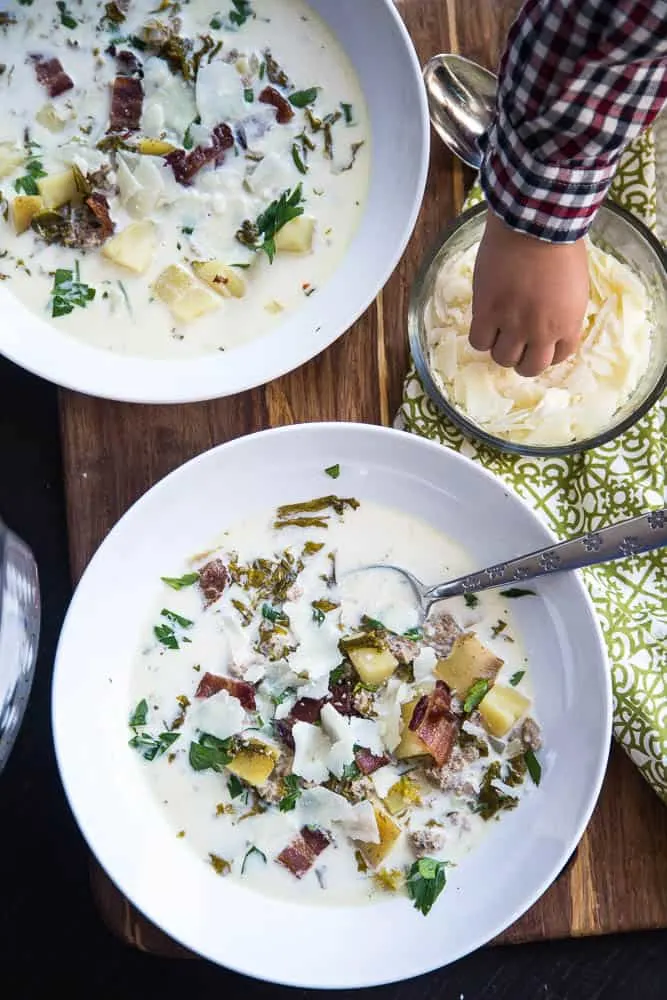 Another way to make this Italian soup even more delicious is to use homemade chicken stock or chicken broth. I have an Instant Pot version here: Instant Pot Chicken Bone Broth.
More Instant Pot Soup Recipes on Perry's Plate
If you like this Instant Pot Zuppa Toscana soup, try one of my other delicious Instant Pot soups!
Instant Pot Creamy Southwest Chicken Soup is a family favorite. It's a riff on The Best Instant Pot Chicken Soup with a tex-mex flair!
When I make Paleo Instant Pot Cheeseburger Soup I never have leftovers. Ever.
Another soup with southwest flavors is Instant Pot Chicken Tomatillo Soup. It's full of vegetables and totally delicious!
If you like a bit of heat, you MUST make my Instant Pot Buffalo Ranch Chicken Soup!
On the chili front, The Best Steak Chili for Instant Pot is a contest winner. Quite literally.
---
If you make one of my recipes, be sure to post it on social media and tag me at @perrysplate or #perrysplate so I can send you some love!
SaveSaveSaveSave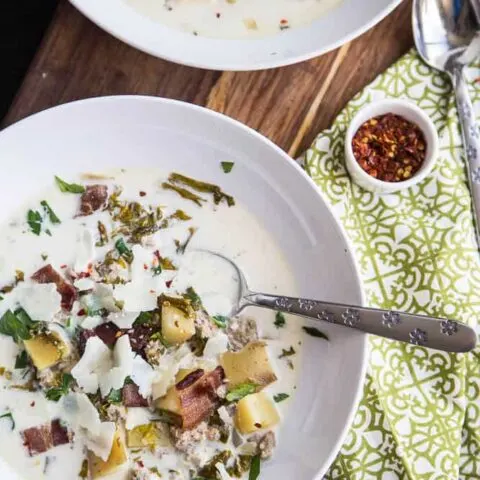 Zuppa Toscana (Instant Pot Version)
Zuppa Toscana (an Olive Garden knock off) is a snap in an Instant Pot and one of our favorite family dinners. Paleo, Whole30, and Keto versions, too!
Ingredients
1 Tablespoon avocado oil
1 pound uncooked bulk Italian sausage (sweet or spicy)
1 medium onion, chopped
4 cloves garlic, minced
1/4 teaspoon red pepper flakes (see note)
2 medium russet potatoes, peeled and cut into 1/2-inch cubes
1 bunch of fresh kale, stems removed and leaves cut into bite-sized pieces
1 1/2 quarts chicken broth
2 Tablespoons red wine vinegar
1 cup heavy cream or coconut milk
Salt and pepper to taste
Fresh, chopped parsley, shaved Parmesan, and crispy bacon, for garnish (if desired)
Instructions
Set your Instant Pot to the high Saute setting. When it has preheated, add the oil to the pot along with the sausage. Cook, breaking up the meat into little bits, for 10-15 minutes or until browned.
Add the onion, garlic, and red pepper flakes to the pot. Stir and cook for a minute or so. Add the potatoes, kale, broth, and vinegar. Give it a stir.
Change the setting to Soup and set it for 10 minutes. Attach the lid and turn the steam valve to "sealing". Let that Instant Pot work its magic. You could cook up some bacon at this point if you plan on using it as a garnish.
When the Instant Pot beeps, let it naturally release for 5 minutes, and then release the remainder of the steam manually (just turn the steam valve to "venting").
Remove the lid. Add the cream/coconut milk and about 1 teaspoon of sea salt. Give it a good stir and taste it, adding more salt or red wine vinegar if you feel it needs it.
Ladle into bowls and serve with garnishes.
SLOW COOKER ADAPTATION: Cook the sausage in a skillet on the stove, then transfer it to a 4 or 6 quart slow cooker. Add the onion, garlic, pepper flakes, potatoes, kale, broth, and vinegar. Give it a stir. Close the lid and cook it on low for 4-5 hours until the potatoes are cooked through. Stir in the cream/coconut milk. Taste, and add more salt or vinegar if necessary. Serve with garnishes.
STOVETOP ADAPTATION: Follow instructions 1-2 in a large pot on the stove. Bring the pot to a boil, then reduce the heat and simmer for 10-15 minutes or until the potatoes are cooked through. Pull the soup off the heat and add the cream/coconut milk. Taste, and add more salt or vinegar if you think it needs it. Serve with garnishes.
Notes
Nat's Notes:
1. For a strict Paleo/dairy-free/Whole30 version, use coconut milk and omit the Parmesan. You may also replace the potatoes with sweet potatoes or 3-4 cups of 1-inch cauliflower pieces.

2. For a Keto/low-carb version, replace the potatoes with 3-4 cups of 1-inch cauliflower pieces.
Recommended Products
As an Amazon Associate and member of other affiliate programs, I earn from qualifying purchases.
This post may contain affiliate links. Any purchases made by using these links won't cost you any extra and helps keep my content free. These links may be Amazon links as I am part of the Amazon Associate Program.