Grilled Malibu Chicken takes malibu chicken to another level! I love the sweet & spicy buttery glaze that get brushed on during cooking.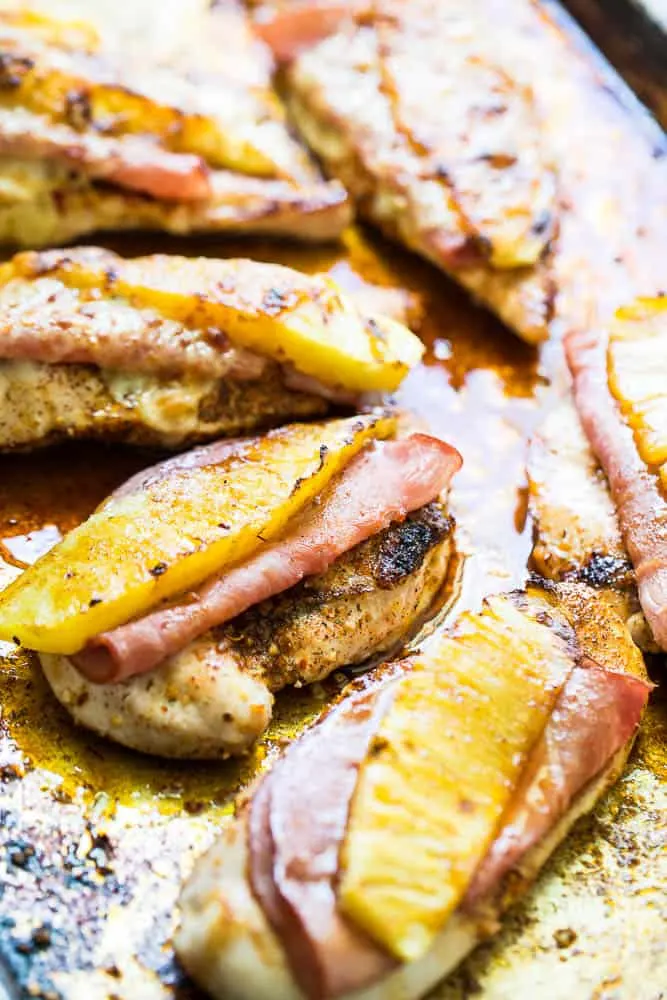 We had a couple of 20-year-old guys over for dinner the other night. (Dark suits, black name tags, riding bikes, seen them around?) I like having them over because they're sweet. And easy to please.
While we were eating, I asked them if they'd ever had Malibu Chicken.
"Yes, but not like THIS," one replied.
That was exactly my thought the first time I made this.
Grilling malibu chicken is unique, I think, but what makes it really special is the smoky-sweet sauce that gets spread all over it and between every layer (chicken, ham, cheese, and pineapple).
The sauce is mostly butter and pineapple juice with some other things thrown in to make it pop. The cheese is obviously optional and we like Swiss or pepper-jack cheese the best on these.
We used to go to Sizzler when I was a kid, and I'd always want their malibu chicken. Let me tell you, though… this is EONS better than their flavorless breaded patties (that probably came out of the freezer).
This is the kind of malibu chicken I want to eat for the rest of time.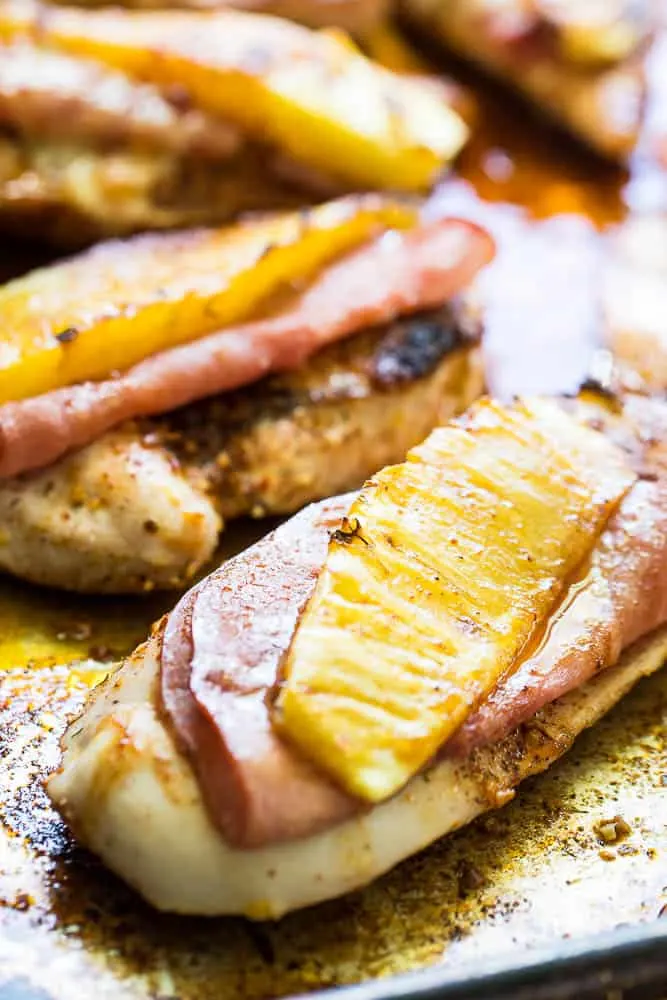 More Grilled Pineapple Recipes
Grilled Pineapple and Jalapeno Salsa
Southwest Sausage and Pineapple Skewers
SaveSave
---
If you make one of my recipes, be sure to post it on social media and tag me at @perrysplate or #perrysplate so I can send you some love!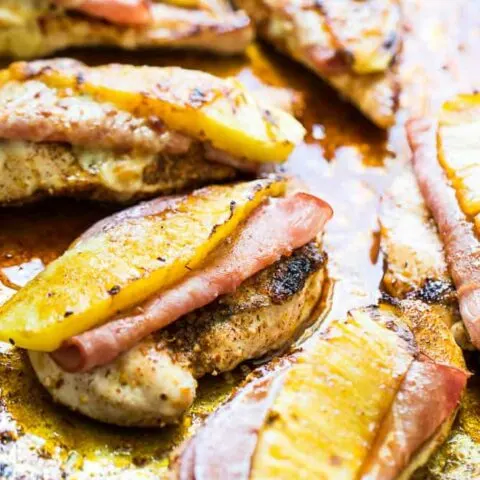 Grilled Malibu Chicken
Grilled Malibu Chicken takes malibu chicken to another level! I love the sweet & spicy buttery glaze that get brushed on during cooking.
Ingredients
6 boneless/skinless chicken breasts
2 Tablespoons BBQ seasoning (I used Montreal Steak Seasoning)
12 slices deli ham (thin)
6 slices canned pineapple
6 slices Swiss cheese
1/2 cup pineapple juice (from the can)
4 Tablespoons grassfed butter or ghee
1 Tablespoon plain yellow mustard
1 Tablespoon honey
1 Tablespoon molasses
2 teaspoons coconut aminos
1 teaspoon chili powder
Instructions
The original recipe suggested pounding the thicker parts of the breasts to make them more uniform in thickness, but I simply sliced through them horizontally to form two thin breasts out of each one. They cook faster this way, the meat goes farther, and it's more flavorful when you're using sauces or marinades. Season both sides of each breast with the BBQ seasoning, cover and refrigerate at least an hour.
Combine the butter, pineapple juice, mustard, honey, molasses, coconut aminos, and chili powder a medium mixing bowl and whisk until smooth, then set aside.
Prepare your grill for two-zone cooking (direct and indirect) at medium-high heat (about 400º). Or if that last sentence makes you panic, turn on your grill-pan to medium-high heat.
Quickly grill one side of each breast and each pineapple ring over direct heat until they are seared and have nice grill marks, about two minutes. Flip each breast and ring, brush with the sauce, and cook another two minutes.
Move the chicken to the indirect part of the grill (or a not-so-hot part of your pan) and brush the top of each with the sauce. Top each breast with two slices of ham and drizzle the ham with the sauce. Put a slice of cheese then a pineapple ring on each breast and drizzle yet again with the sauce. Continue cooking with the grill lid down (or in my case, a piece of aluminum foil. . . grill masters are rolling their eyes, I'm sure) until the internal temperature reaches 160º, about 10 minutes.
Serve with . . . another drizzle of sauce.
Side Dish Suggestions: We ate this with a green salad, roasted broccoli, and garlic bread. D-LISH.
Notes
Nat's Notes:

1. The first time I made this I used fresh pineapple. Instead of buying pineapple juice separately, I just pureed enough pineapple to make 1/2 cup for the sauce. It made it thicker, but still tasted great.

2. If you can't find coconut aminos you can use Worcestershire sauce.
This post may contain affiliate links. Any purchases made by using these links won't cost you any extra and helps keep my content free. These links may be Amazon links as I am part of the Amazon Associate Program.