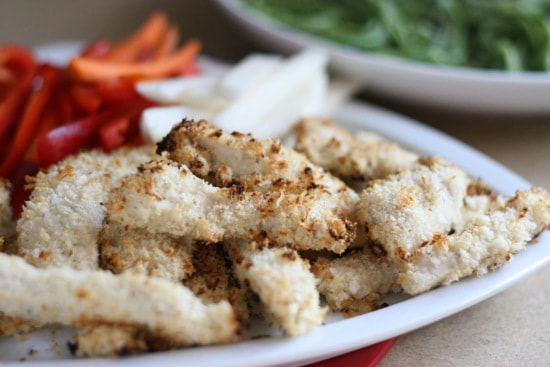 With all of the serious "Staying Whole" posts lately I feel like we haven't really . . . talked. What's going on with you? Have you started grilling yet? Are you antsy for SYTYCD to start? Are you ready to pull out a trampoline and kick-start your labor?
Oh wait, that's me.
Things are just peachy here. I'm about a month away from my due date, and I've officially decided to stop bending over to pick up stuff off the floor. Thank goodness for (somewhat) obedient children who haven't hit the lazy teenager stage yet or our floors would be a lot more cluttered than they are.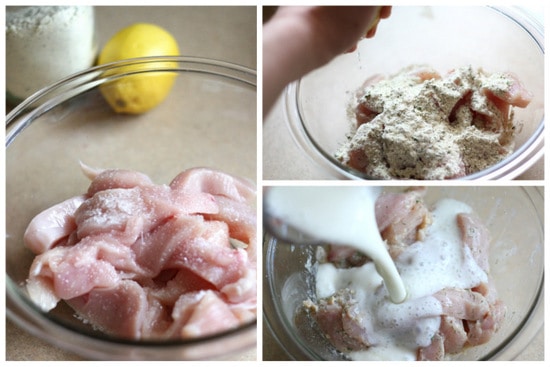 My girls are pretty patient with me. Especially when it comes to dinner, which is different almost every night. It's a blessing and curse, though. If I pull out leftovers more than once or if I make the same thing twice in three weeks suddenly they're "tired of eating that". (They would, however, eat pancakes or pizza for every single meal and never complain.)
Luckily they're good about trying new things (which happens most nights because there are only a few things I make over and over). Whether they actually eat it and like it is a different story. That's why I try to cater to them sometimes and make more "kid-friendly" food.
Like chicken strips. But unlike their processed-and-fried-in-nastiness counterparts, I tried to clean them up a bit.
This time I tossed them with some Homemade Buttermilk Dressing Mix and a cozy buttermilk marinade.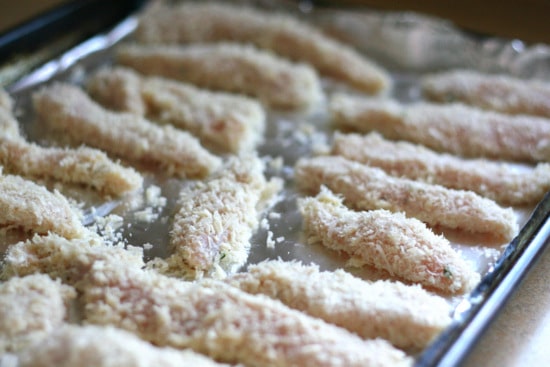 Then I dredged them in some fluffy panko bread crumbs and Parmesan cheese.
I served them with some Creamy Avocado & Spinach Pasta ("Green Noodles") and raw veggie sticks. Both girls kept saying how much they loved dinner. They inhaled all of it.
Steve and I liked them, too. They were so moist and had such a great flavor! We didn't even need dipping sauce, but they'd be great in honey mustard, Homemade Buttermilk Ranch Dip, or marinara sauce.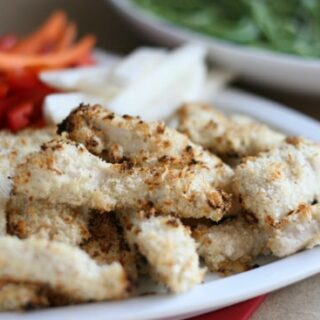 Parmesan-Ranch Chicken Strips
Additional Time:
25 minutes
Ingredients
2 large boneless, skinless chicken breasts (about 1.5 lbs) salt juice from 1 lemon (about 3 T) 2 Tablespoons dry Ranch dressing mix (see link to Homemade mix within post) 1/2 cup buttermilk 1 1/2 cups panko bread crumbs (whole grain would be better) 1/4 cup freshly grated Parmesan cheese
Instructions
Slice chicken breasts into 1/2-inch strips and place in a medium bowl. Sprinkle with a couple of generous pinches of salt and add lemon juice, dry Ranch mix, and buttermilk. Use your hands to toss chicken and ensure everything is coated evenly. Cover and chill for at least an hour.
Preheat oven to 425 degrees F. Line a large, rimmed baking sheet with aluminum foil (optional) and coat it with nonstick spray or a smear of oil.
In a shallow dish combine the bread crumbs, Parmesan, and a pinch of salt and pepper. Remove 2 or 3 chicken strips from the bowl, letting the excess buttermilk coating drip off. Dredge them in the breadcrumb mixture and lay them on the prepared baking sheet. Repeat with remaining chicken strips.
Bake for about 10 minutes or until they are no longer squishy to the touch. If you want them a little more brown on the top, broil them for the last minute or so of cooking. (Watch them close! Those breadcrumbs burn quickly.)