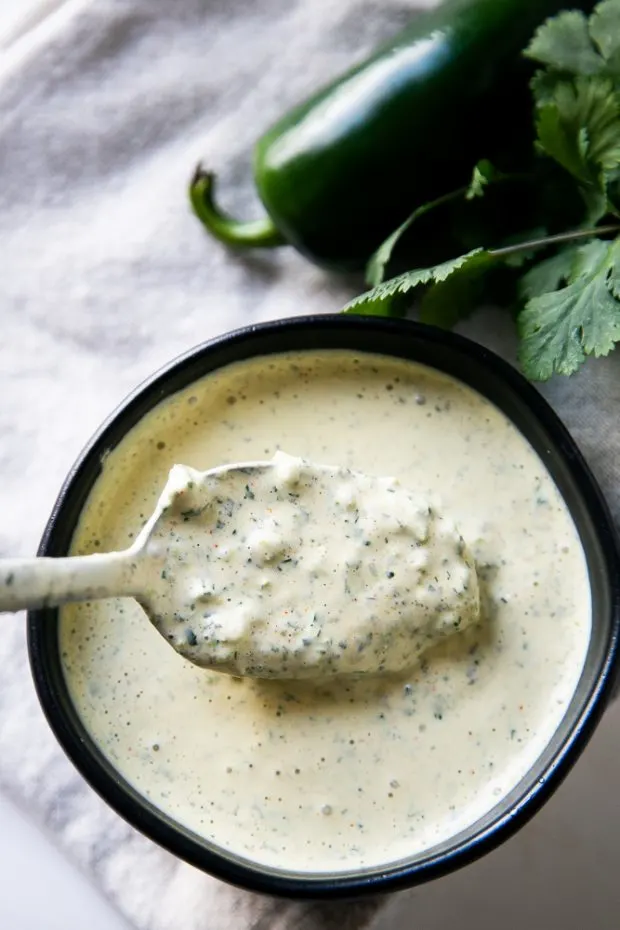 This Roasted Jalapeno Ranch dressing is made with my dairy-free Homemade Ranch Seasoning and easily made paleo!
Are you a ranch dressing remixer, too? I feel like I've made every Latin-inspired variation of paleo ranch I can come up with.
(And if you've been around here long, you'll know that I'm still a hard core ranch lover. Like, I put it on everything like I'm six.)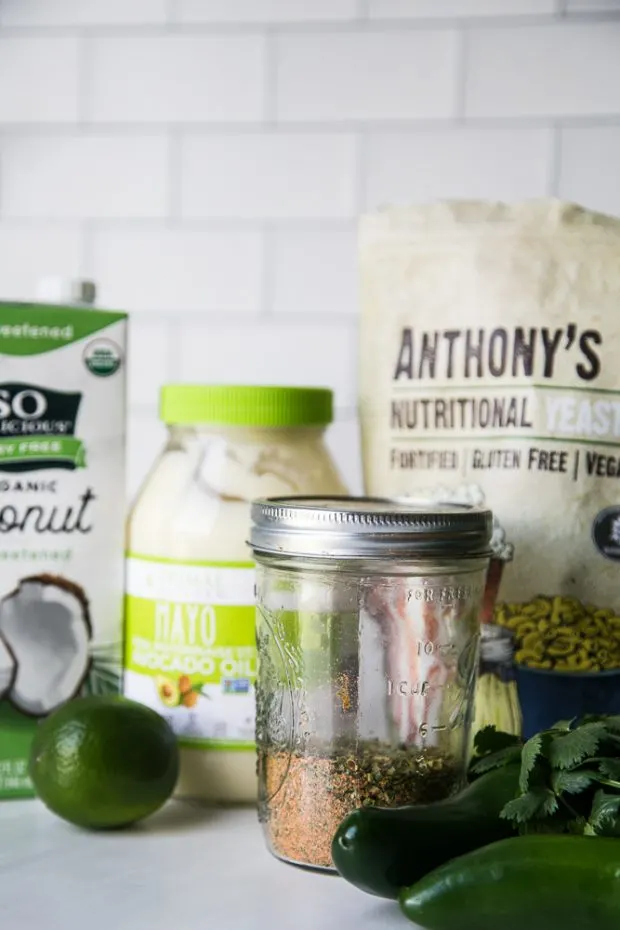 Jalapeno Ranch Ingredients
Avocado Oil Mayo (like Primal Kitchen)
Coconut drinking milk (as opposed to the thicker canned coconut milk)
Lime
Jalapenos
Cilantro
Nutritional Yeast (optional, but highly recommended)
Besides roasting the jalapenos (which is super easy) it's just a dump and blend situation.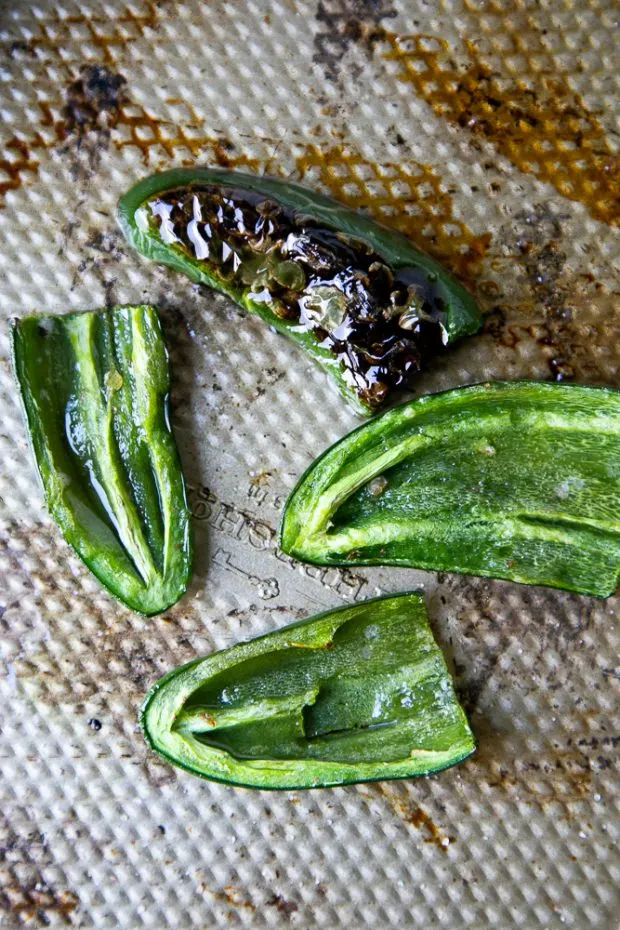 I like to clean the seeds out of my jalapenos so the dressing won't be too spicy, but you can leave them in if you'd like a bigger punch of heat.
By the way, roasting the jalapenos mellows them out, too.
If you're roasting other things (like other vegetables or salmon) you can toss them on the pan, too. I love cooking components for more than one dish at a time.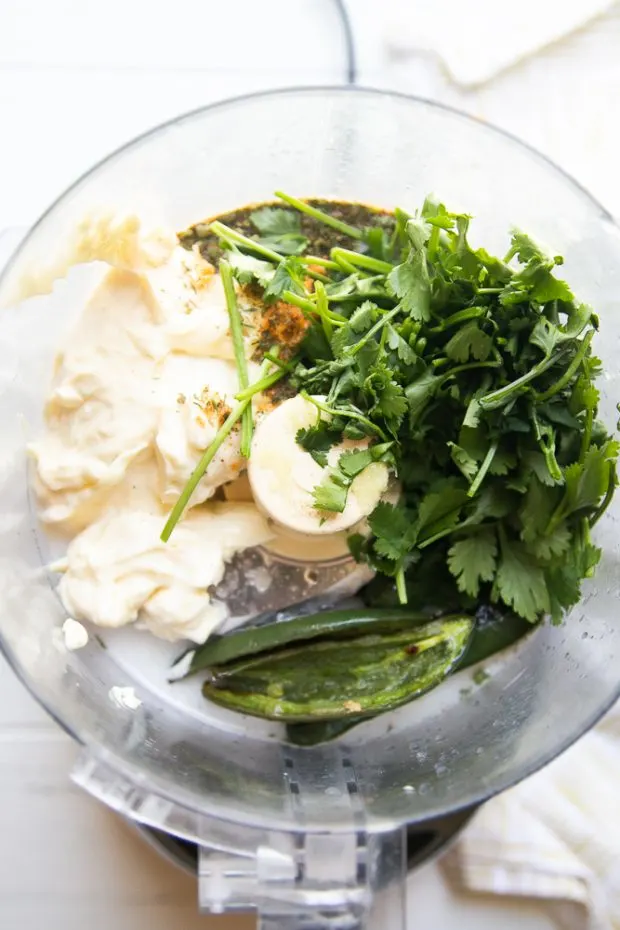 Once your jalapenos are finished roasting, just blend up all of your ingredients!
I use my food processor, but you can toss everything into a blender, too.
If you don't have either, just chop up the jalapeno and cilantro as finely as you can and whisk everything together in a bowl or a mason jar.
Jalapeno Ranch Add-Ins
Here are a few fun things you can add (or add a combination of them!)
Half of an avocado. You can never go wrong with this.
Roast other kinds of chilis! Anaheim & poblano chilies are especially good roasted.
A few shakes of hot sauce to give it some extra heat and flavor
A minced chipotle pepper or two would give it a nice, smoky flavor.
1/2 clove of fresh garlic
Zest the lime for extra limey-ness
If you're OK with dairy, replace the nutritional yeast with some Mexican Cotija cheese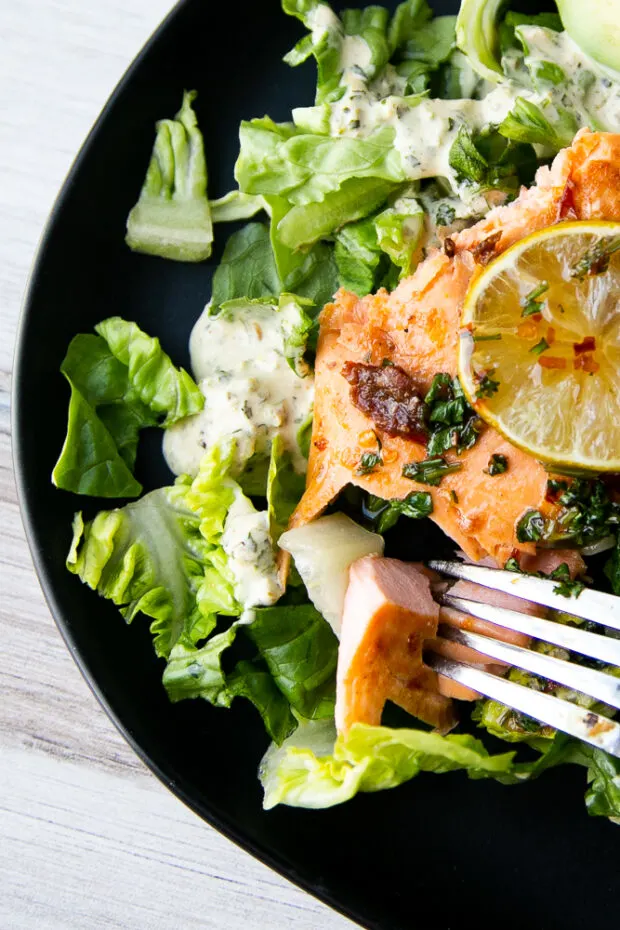 How long does Homemade Ranch last in the fridge?
If you're using commercially made mayonnaise, it will last 10-14 days.
If you're making your own mayonnaise, I'd keep it under a week unless you hatch chickens in your backyard and you're confident of their freshness and quality.
Ways to Use Jalapeno Ranch Dressing
To sum it up — head to my Latin/Tex-Mex section of my Recipe Index and put it on ALL THE THINGS.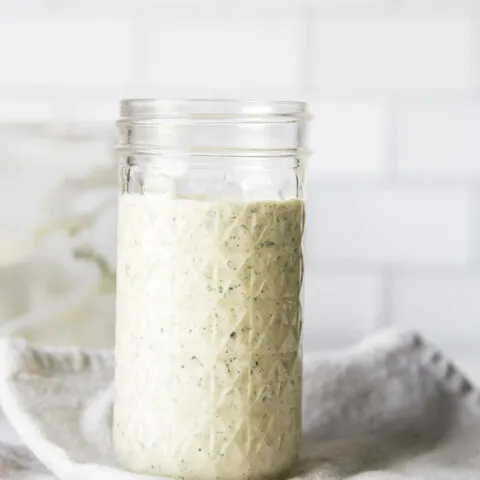 Roasted Jalapeno Ranch Dressing (Paleo)
Our favorite paleo ranch blended with charred, roasted jalapenos and fresh cilantro!
Ingredients
2 jalapenos, cut in half and seeded
1 Tablespoon avocado oil
1 lime
1/2 cup avocado oil mayonnaise
1/4 cup coconut or almond milk
1/2 bunch of fresh cilantro (about 1/2 cup roughly chopped)
2-3 teaspoons nutritional yeast
Pinch of sea salt
Instructions
Preheat your oven to 450 degrees F. Place the seeded jalapenos cut-side up on a small baking sheet and drizzle with avocado oil. (Leave the seeds in if you want the dressing to be spicy.) Roast the peppers for 12 minutes or until they're soft and charred on the back.
Put the peppers in your blender or food processor along with the juice from 1/2 of the lime and the rest of the ingredients. Pulse or blend until thoroughly combined. Taste, and add more lime juice and salt, if needed.
Pour the dressing into a lidded jar and store chilled for up to 7 days.
Notes
Nat's Notes:
If you'd like it spicier, leave the seeds in some of the jalapeno halves. Or shake some hot sauce into it before it's blended.
I used coconut milk in the carton (for drinking) for this. The thicker canned coconut may give this a coconut flavor.
The nutritional yeast gives it a deeper, "cheesy", umami flavor, but you can leave it out if you like.