Chicken Parmesan Dippers and Easy Marinara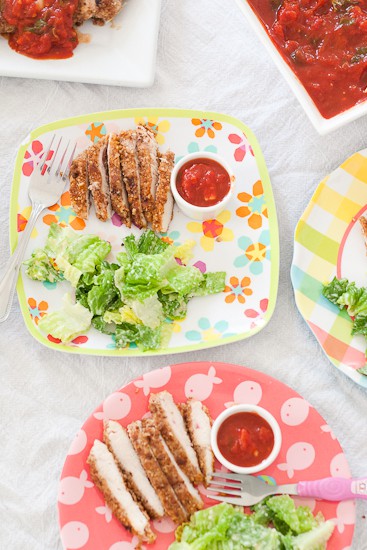 Feeding children can either make you feel like a superhero. Or it can frustrate you to the point of shoving a frozen pizza in the oven. And it's even harder when you're desperately trying to teach them to like things that are good for them.
Despite the picky phases my kids go through, I think they're generally pretty good eaters. I've noticed that when I put a little effort into presentation they are more likely to try new or unfamiliar foods. I try to prepare dinners that I know they'll eat, but if there's something I'm dying to try or if I have a recipe to prepare for a photo assignment and I know they'll turn up their noses I really turn up the presentation.
I tell them we're having "fancy dinner" and I'll get out the floral glass plates that they love to use, I'll wrap their forks in a napkin, and light a candle. Sometimes I'll use a tablecloth if I need to crank up the fancy. I make the food look as pretty as I can and then pretend to be their server when we sit down to eat. They LOVE it. Most of the time they'll at least try whatever is on their plate without too much negotiation.
They also love to dip things. I found these tiny little IKEA condiment cups at the thrift store a while back and I use them to put sauces and dips in. Works like a charm. I made these Chicken Parmesan Dippers a couple of times and their favorite part was having that little condiment cup on their plate. Kids are so funny.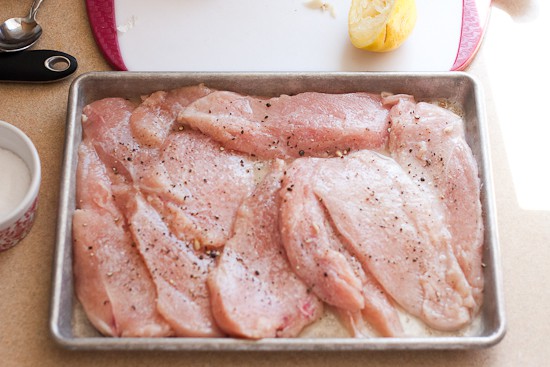 I adapted this recipe from one I saw in Food Network Magazine, making the preparation simpler and more kid-friendly. I love it because it's a cleaner alternative to the classic ooey-gooey chicken parmesan. I added Parmesan to the breading and in the Homemade Caesar Salad to give it a familiar flavor and found that the pound of mozzarella on top was unnecessary. If you have issues with dairy, then leave the cheese out.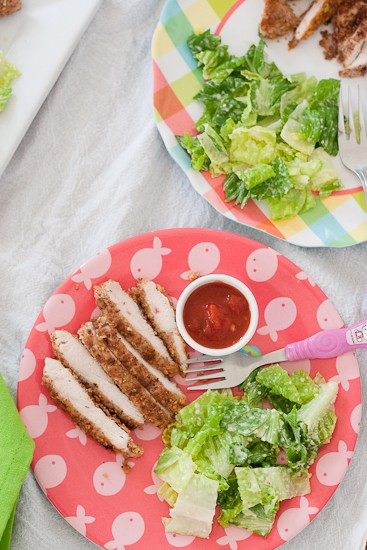 If you want to go the fishy route, try this Parmesan Crusted Tilapia from Dishing Delish. (I'd use another firm white fish such as wild-caught rockfish, cod, or halibut!)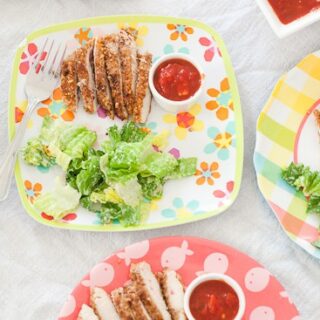 Chicken Parmesan Dippers and Easy Marinara
Yield: Serves 6
Additional Time: 30 minutes
Total Time: 30 minutes
This is a lighter, kid-friendly version of Chicken Parmesan. Breaded chicken cutlets are lightly pan-fried and cut into strips for easy dipping!
Ingredients
For the sauce:
2 cups chicken or vegetable broth
4 cloves garlic, thinly sliced
1 28-ounce can of crushed tomatoes (San Marzano or fire-roasted are best)
10-12 fresh basil leaves, torn into small pieces
For the chicken:
4 large boneless, skinless chicken breasts
1 lemon
Kosher salt and pepper
1 1/2 cups pecan halves
2 Tablespoons coconut flour
1/3 cup grated or shredded Parmesan cheese (optional)
2 eggs
Coconut oil, for frying
Instructions
Combine the broth, garlic, tomatoes, and basil in a large skillet over medium-high heat. Cook, stirring occasionally, until thickened into marinara consistency. This should take about 15 minutes. Season with salt and pepper, to taste and cover to keep warm.
Slice the chicken breasts in half lengthwise so you have two thinner breasts. Lay them on a rimmed baking sheet and squirt the juice from the lemon over top and sprinkle them generously with salt and pepper. Flip them a couple of times to coat. Set aside while you prepare the breading ingredients.
Grind the pecans in a food processor. Add the coconut flour, grated Parmesan cheese, and a generous pinch of salt. Pulse a few times to combine. Transfer mixture to a shallow bowl or plate.
Crack the eggs into another shallow bowl and beat them lightly with a fork.
Put about 3-4 Tablespoons of coconut oil in a large non-stick skillet (see note) and bring to medium-high heat.
Working in batches, coat the chicken in the egg mixture, letting the excess drip off. Then coat it in the nut mixture, pressing to help the nuts adhere. Place chicken in the skillet and bring the heat down to medium. The pan needs to be hot enough that the chicken sizzles, but not too hot that the nuts burn. Cook chicken for 10-12 minutes, flipping once, until cooked through. Transfer to a plate with a few paper towels to drain. Keep warm while you cook the rest of the chicken.
Slice the chicken into strips and serve with marinara.
Notes
Nat's Notes:

1. I'm not a huge fan of using non-stick skillets, but I do use them when the risk of sticking is high. I cooked this chicken three different ways - in a stainless skillet, in a nonstick skillet, and in the oven on parchment. The nonstick skillet was the best way to cook the chicken while keeping the breading in tact. Just make sure you don't fiddle around with the chicken too much while it's cooking. Just flip once and leave it alone and the breading should be OK.

2. You can use whole San Marzano tomatoes if you can't find crushed. I squished them with my hands (carefully because they squirt) as I added them to the pan. My kids still found the sauce too chunky so I ended up blending it for a smoother consistency.

3. Feel free to leave the cheese out if dairy is an issue.
SaveSave