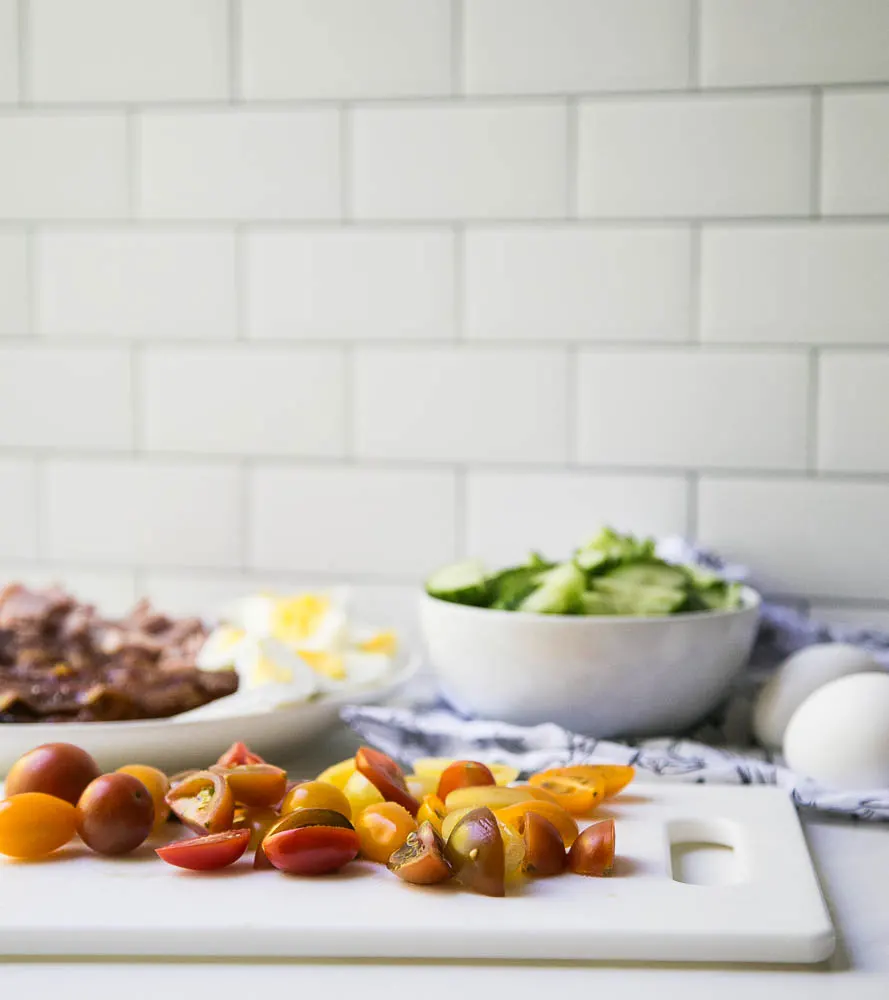 *I've partnered with Walmart for this post. Any comments or opinions shared are my own.*
My favorite kinds of meals are the ones that require the least amount of brain power.
They're ones that I can make from things I have on hand or grab a couple of things from the store without consulting a recipe.
(Don't get me wrong, you know I love good recipes, but some busy weeknights I just don't have the headspace for following instructions. I know you know what I mean.)
Lately, with the unpredictable food shortages, it's frustrating to go to the store with a list of ingredients for a recipe only to leave the store with your list partially checked off and your recipe missing key ingredients.
And if you're not comfortable swapping out ingredients in a recipe it might freak you out a bit. I get it.
I've got three recipes (if you can call them that) that work well for this time of grocery store uncertainty. And the rest of your life as well.
There are THREE versatile meals that I make the most often — Cobb Salad Bar, Taco/Burrito Bowls, and Sausage Sheet Pan Dinner.
Why do I like these recipes?
All of these meals can be tweaked and adapted to so many variations that the people you feed won't even know they're eating the same "recipe" over and over. And you don't have to think that hard. Great, right?
They're all assembly meals. I find our dinnertimes to be the least dramatic when my kids can pick what goes on their plate.
These meals can easily be made gluten-free, dairy-free, paleo, keto, vegetarian, Whole30, or whatever your current eating situation looks like.
Also, these meals are intended to be pretty quickly prepped. Take advantage of prepped vegetables at the grocery store when you can! And batch cooking protein on other days creates great protein leftovers for nights like these.
I'll show you what this looks like…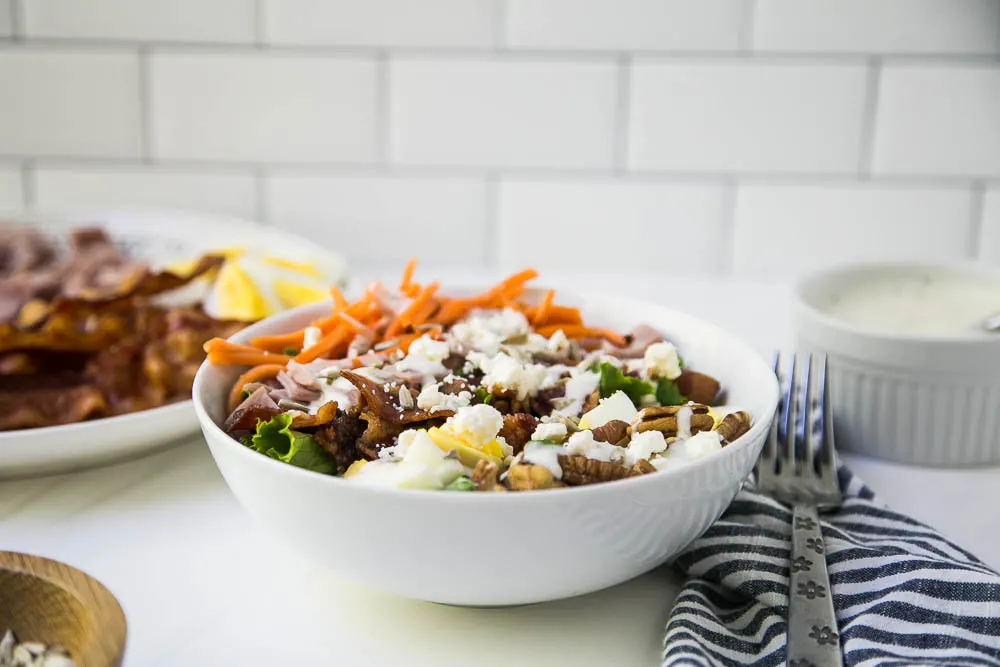 Cobb Salad Bar
First, the salad bar. Salad bar nights are a great way to use bits of leftover produce and mostly empty packages of nuts and seeds and crunchy bits.
Even my kids who aren't typically salad lovers enjoy salad bar night because they can customize their bowls. I make sure to include things I know they'll eat, too.

Cobb Salad Bar Formula:
1 Base: Any kind of lettuce (Tip: if your kids are still warming up to eating lettuce, chop it up small so it's easier to eat.)
2-3 Protein: Bacon, hard-cooked eggs, chopped deli ham, canned tuna/salmon, leftover shredded chicken
3-4 Toppings: chopped veggies, fresh/dried fruit, chopped nuts, seeds, crumbled/shredded cheese
Dressing: Ranch, blue cheese, fruity vinaigrette, honey mustard, green goddess (any dressing you like, really)
Traditional cobb-style salads have bacon & eggs, but you don't always have to do it like that.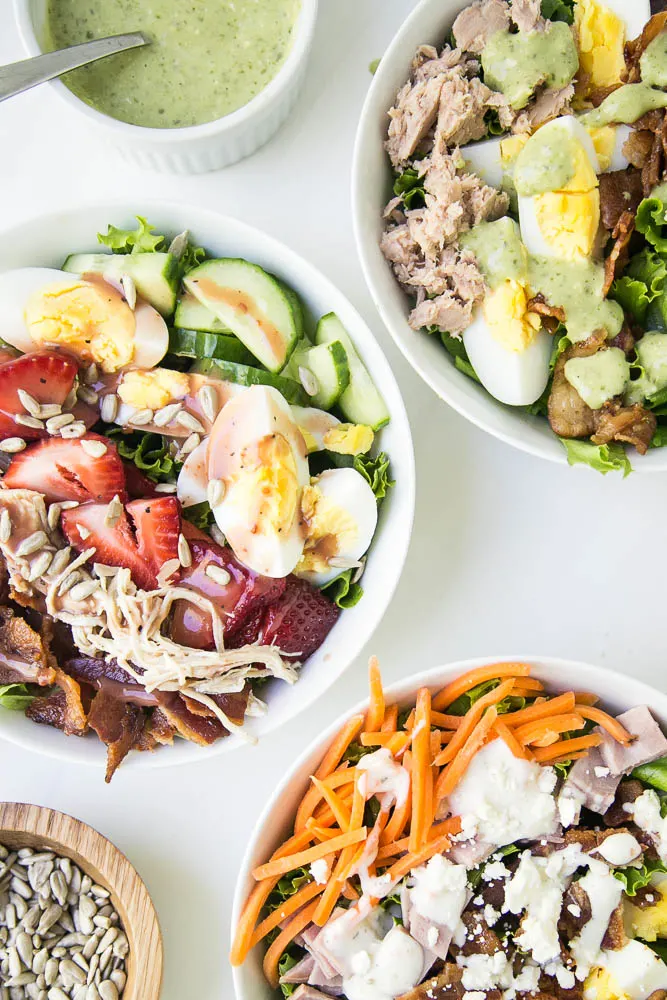 Here are three ideas to help inspire you…
Bacon + eggs + tuna + avocado + green goddess
Bacon + eggs + shredded chicken + strawberries + cucumbers + raspberry vinaigrette
Bacon + eggs + chopped ham + shredded carrots + chopped pecans + feta + ranch
My Strawberry Cobb Salad with Strawberry Balsamic Dressing is a great example of how you can tweak a cobb salad. And my Bacon Cobb Lettuce Wraps are a fun twist, too.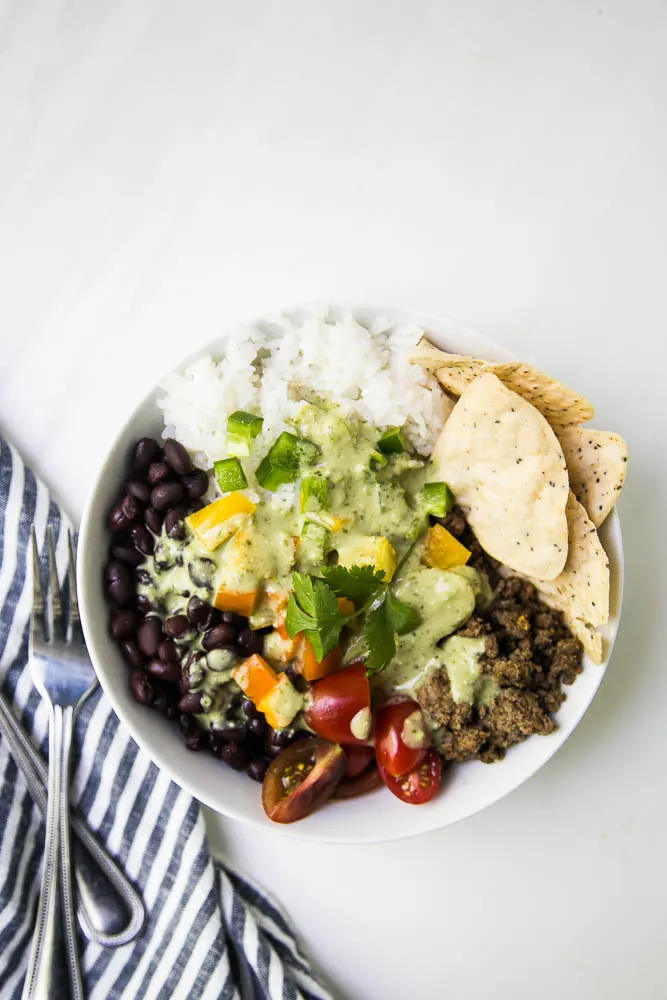 Taco/Burrito Bowls
If I had to choose one of these to eat forever, this would be it. (Steve agrees!)
I LOVE Mexican/Southwest inspired flavors and I ALWAYS have avocados, limes, and cilantro on hand. For mealtime emergencies.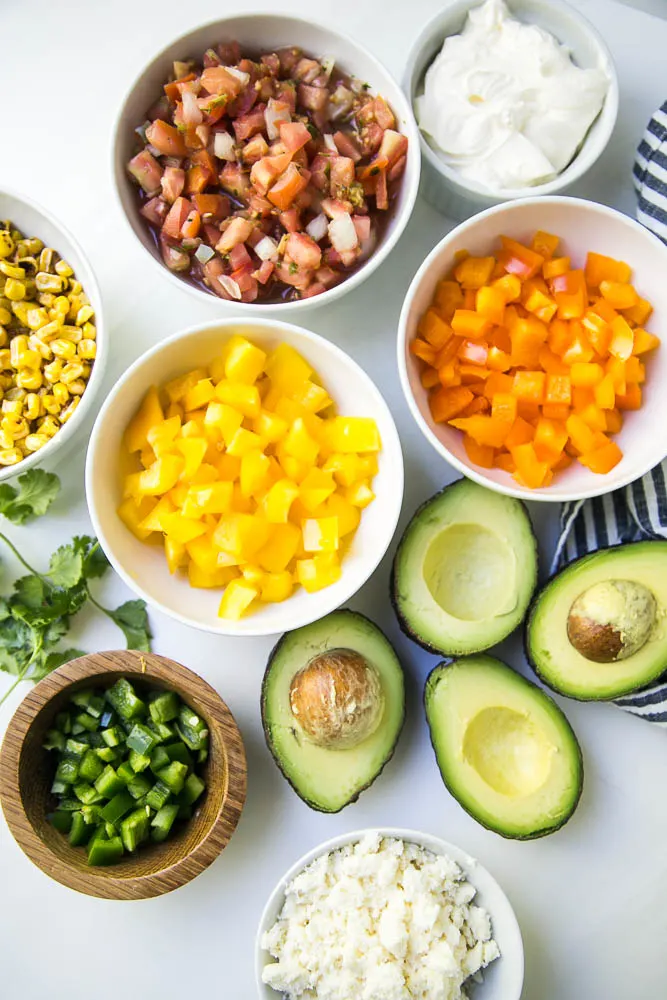 Taco/Burrito Bowl Formula:
1-2 bases: Rice, beans, lettuce, or cabbage slaw
1 quick protein: grilled chicken/steak, sauteed fish/shrimp, ground taco meat, leftover shredded meat
3-4 toppings: chopped vegetables, pepitas, cheese, grilled pineapple, tortilla/plantain chips
1-2 sauces: salsa/pico de gallo, fresh lime juice, sour cream/crema, Mexican-style ranch, cilantro vinaigrette, hot sauce
Basically anything you'd put in a taco, burrito, or a taco salad would be wonderful here.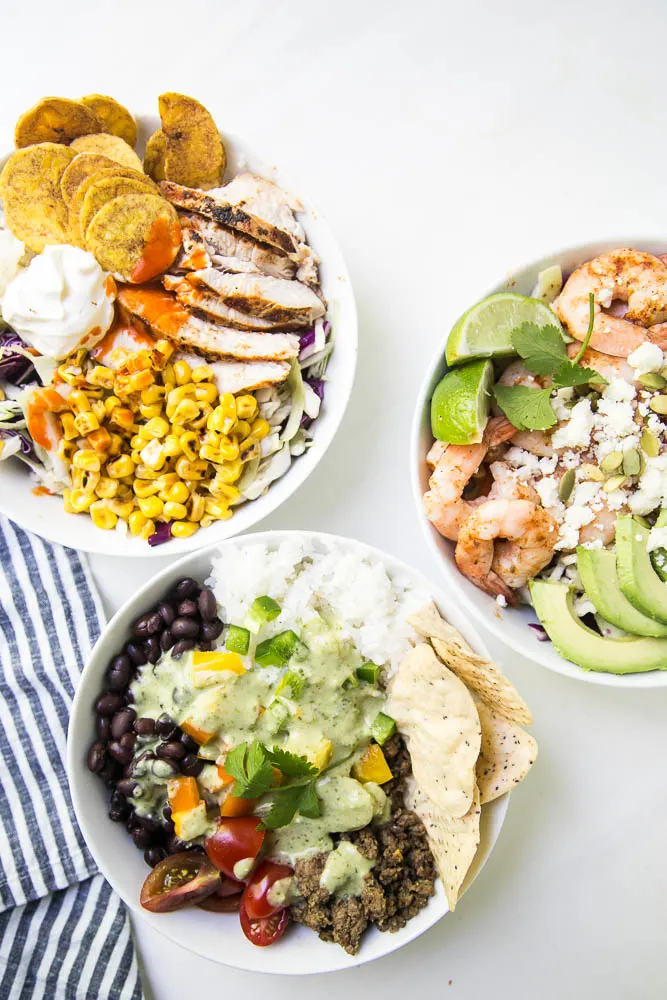 Here are some ideas for you!
Lime-dressed cabbage + rice + grilled chicken + roasted corn + pepita chips + sour cream + hot sauce.
Lime-dressed cabbage + shrimp + avocado + queso fresca + pepitas + limes.
Rice + black beans + ground taco beef + tomatoes + peppers + chips + creamy cilantro dressing
My all-time favorite taco bowl has to be my Chile-Lime Fish Taco Bowl. It rarely gets made the same way more than once because I improvise with what I have on hand.
Any ground meat would be great with my Homemade Taco Seasoning, Chorizo Seasoning, or my Sweet Potato Fry Seasoning.
If you're going to rice and beans route, my Instant Pot Cilantro Lime Rice and Instant Pot Black Beans (Mexican Style) are amazing together.
Making them both on the same night might be a little much if you're wanting a quick dinner. The black beans freeze beautifully, so make a double batch and stick them in the freezer to pull out on busy nights.
Prefer a lighter cabbage base? This Southwest Cabbage Slaw is one of my staples for taco salad nights!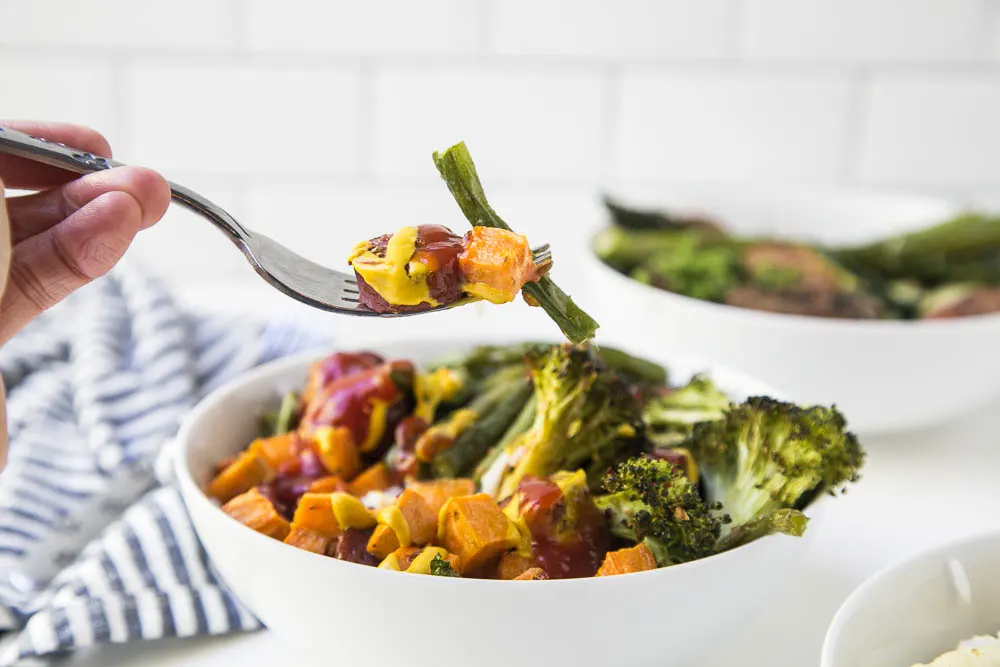 Sausage-Veggie Sheet Pan Dinner
I actually posted this Sausage-Veggie Sheet Pan Dinner a while ago, but I have made variations of this meal SO OFTEN — at least 2-3 times a month— that I feel like it needs another shout out.
Here are a few tips:
Don't overcomplicate the protein. Using pre-cooked sausages or high quality hot dogs makes this incredibly easy. You could do a vegetarian take on this by roasting a drained can of chickpeas along with the vegetables instead of sausage. Have you ever had roasted chickpeas? They're DELIGHTFUL.
Another reminder to find pre-prepped vegetables at the grocery store. Shredded Brussels sprouts, mushrooms, and green beans are great picks.
Don't crowd your roasting pans. Use two pans if you can and rotate them halfway through roasting.
Don't forget a dip! The chances of my kids eating dinner well increases exponentially if there's some kind of dipping action involved.
(And another reminder to take advantage of pre-chopped veggies they sell at the grocery store when you can.)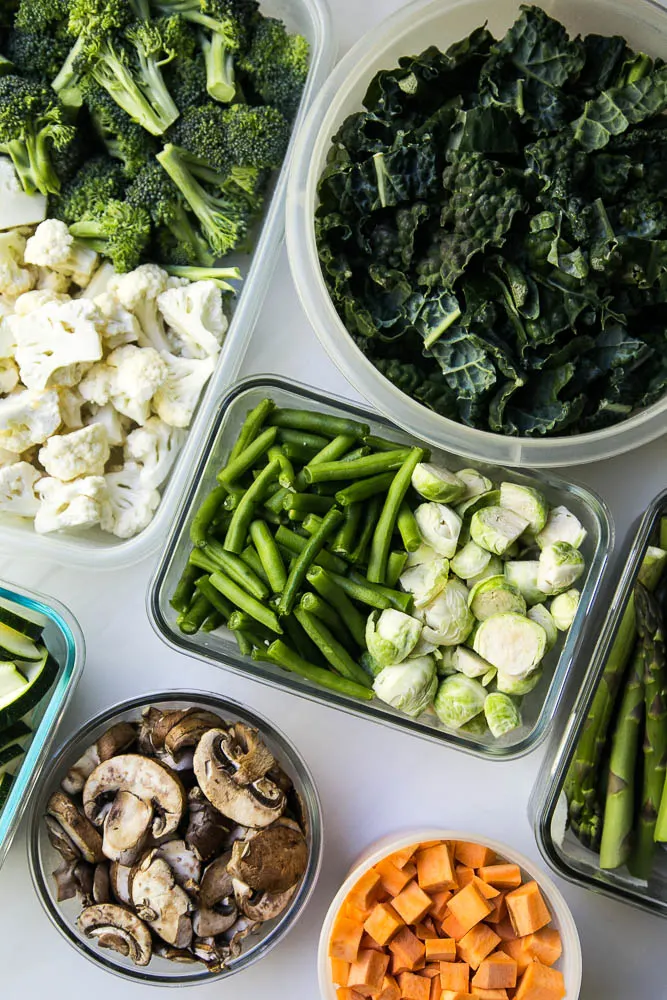 This photo might look daunting, but you really only need 2 kinds of vegetables.
Sausage-Veggie Sheet Pan Formula:
1 protein: pre-cooked sausage, brats, grass-fed hot dogs, frozen meatballs, or a drained can of chickpeas.
2-3 quick-roasting vegetables: asparagus, small cut sweet potatoes/broccoli/cauliflower, green beans, quartered or shredded Brussels sprouts, sliced onions/peppers/zucchini/mushrooms, chopped kale.
seasoning for roasting: simple salt/pepper, a seasoning blend you like
(optional) base: rice, salad greens, other grain/pasta
1-2 dips/Sauces: Ketchup/mustard, BBQ sauce, salad dressing, hummus, pesto
This is the only formula that needs a little cooking instruction:
Toss vegetables and sliced sausage in avocado oil and sprinkle with seasoning. Roast on a rimmed baking sheet at 450 for 15-20 minutes or until the vegetables have caramelized spots, flipping them around a couple of times during cooking.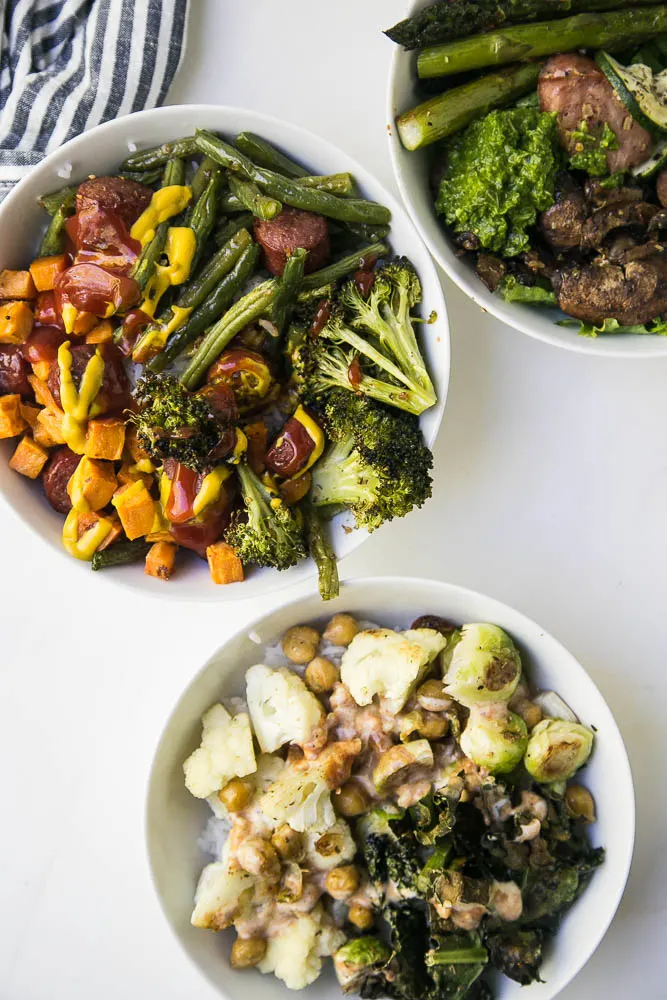 Here are a few ideas to get you started:
Chicken apple sausage + asparagus + mushrooms + zucchini + Italian seasoning + basil pesto
Grass-fed hot dogs + broccoli + sweet potatoes + green beans + all-purpose seasoning + ketchup & mustard (super kid friendly!)
Chickpeas + cauilflower + Brussels + kale + chili powder + cumin + BBQ Ranch
You could eat these as-is, but a base would stretch the meat & veggies farther. I usually heat up some leftover rice or pull out some salad greens. Or if I'm feeling like a fun mom, I'll make some gluten-free pasta.
I'm a huge fan of meals like these because they take very little thought, are super versatile, and my kids are usually happy when I make them.
Do you have go-to meals that your family loves?