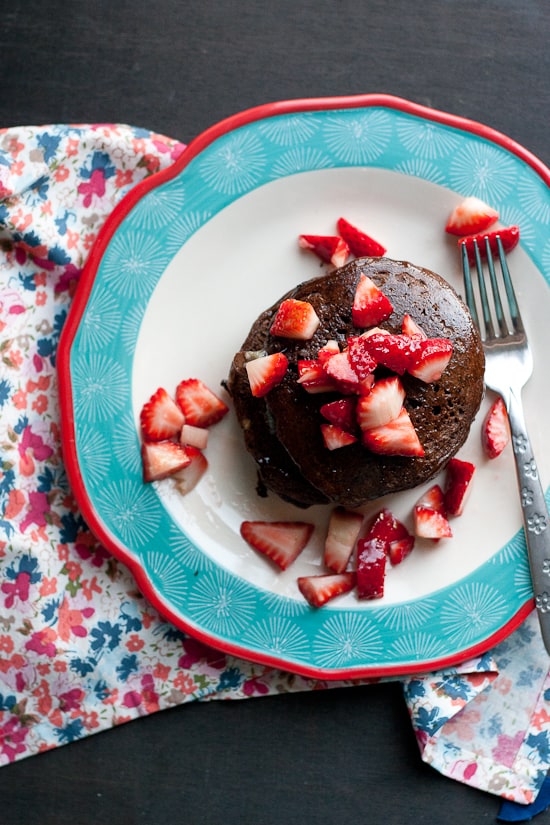 I really love Valentine's Day and all of the sweet, heart-shaped decor that goes with it.
I also love eating things that taste like chocolate cake for breakfast, and Valentine's Day is the perfect excuse for that. Bonus points if said breakfast happens to be grain-free, dairy-free and naturally sweetened.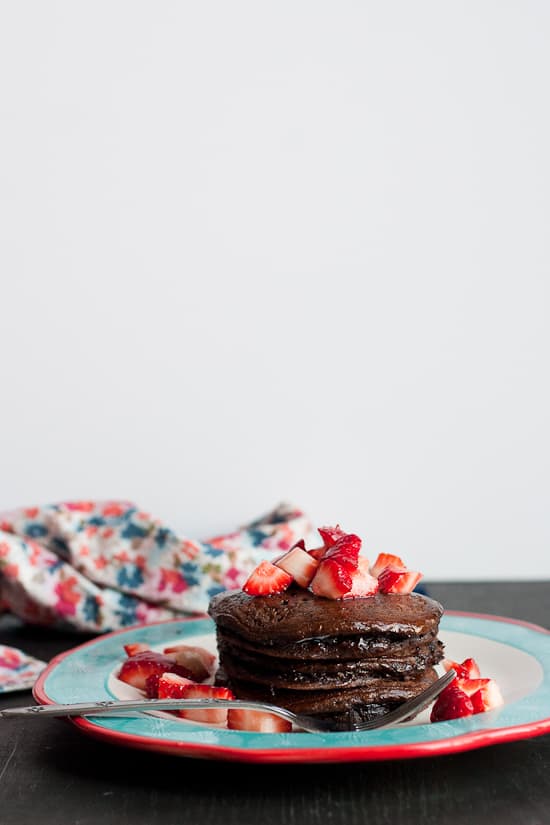 I really don't like using the word "paleo" to describe things that are more dessert-like, even if they're made from paleo-approved ingredients, but it's a lot easier than saying "grain-free, dairy-free, and naturally-sweetened" all the time. So, paleo, it is.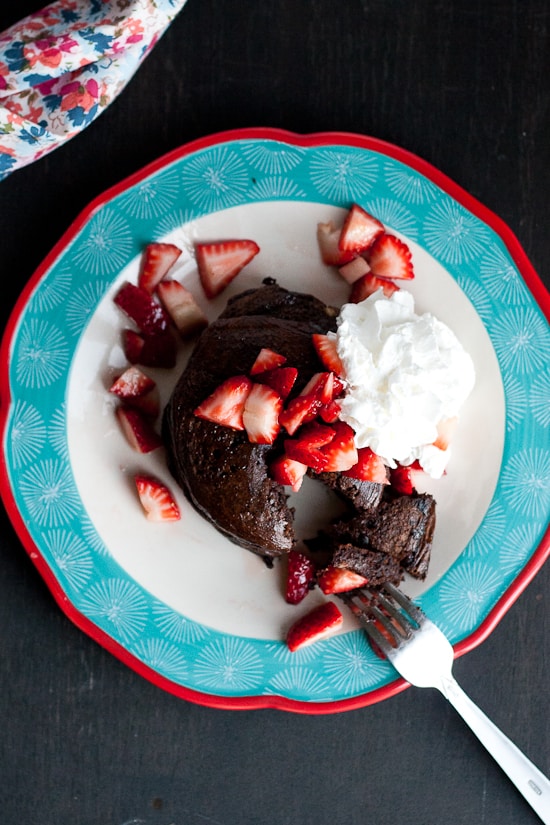 Do you have any Valentine's Day traditions? We keep it pretty low key, but we like to have fun. Besides the obligatory school valentines (we're up to almost 70 this year), we have a "fancy" dinner together as a family. This year we're doing a cheese and chocolate fondue night, and I'm excited to try the Family-Friendly Fondue Recipe from Mel's Kitchen Cafe!
With some Paleo Chocolate Cupcakes from Texanerin Baking for dessert. (Erin has the best paleo baking recipes!) Because you should always start and end Valentine's Day with chocolate.
Annnd I might have to make these pancakes again for breakfast. Did I mention these taste like chocolate cake? They totally reminded me of my grandma's chocolate cake recipe. Or maybe I was just really in the mood for chocolate cake.
Sometimes I'm in the mood for brownies or cookies in the morning (love how I'm just confessing all here?) and I think Taylor's Oatmeal Breakfast Bars over on Food Faith Fitness would be amazing, too — chock full of chocolate & peanut butter, but refined sugar and gluten-free!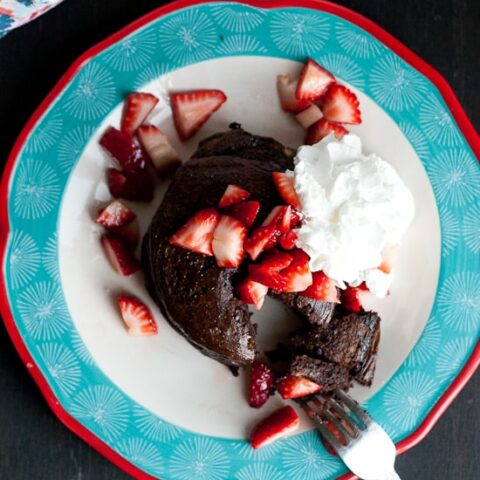 Dark Chocolate Paleo Pancakes
These decadent pancakes are so close to being chocolate cake it isn't even funny. But isn't that how must decadent breakfasts are? Just a dessert -- minus the frosting -- with fruit on top? You won't even know these are paleo and grain-free!
Ingredients
1 cup blanched almond flour
2/3 cup tapioca flour
1/3 cup unsweetened cocoa powder
1 teaspoon baking soda
Generous pinch of salt
4 eggs
1/4 cup unsweetened applesauce
1/4 cup honey or pure maple syrup, plus more for serving
3 Tablespoons ghee or melted coconut oil, plus more for cooking
1 teaspoon vanilla
1/8 teaspoon liquid vanilla stevia (optional)
Fresh berries and whipped cream (or coconut cream), for serving
Instructions
Whisk together the first five ingredients in a large mixing bowl.
In a separate, smaller bowl, whisk together the remaining ingredients (except the berries and cream). Pour the wet ingredients into the dry mixture. Stir together gently, scraping down the sides, until no large dry pockets remain. It's OK if there are a few small lumps -- don't over mix the batter.
Heat a nonstick skillet to medium-high heat. Brush some ghee on the surface of the skillet, and using a 1/4 measuring cup, drop dollops of batter onto the hot skillet. Turn the skillet down to medium heat. Cook the pancakes for 3-4 minutes on each side until they're toasted and the centers are cooked through. Transfer to a large plate or platter and keep warm.
Serve with berries, whipped cream, and a drizzle of honey or maple syrup.

SaveSave