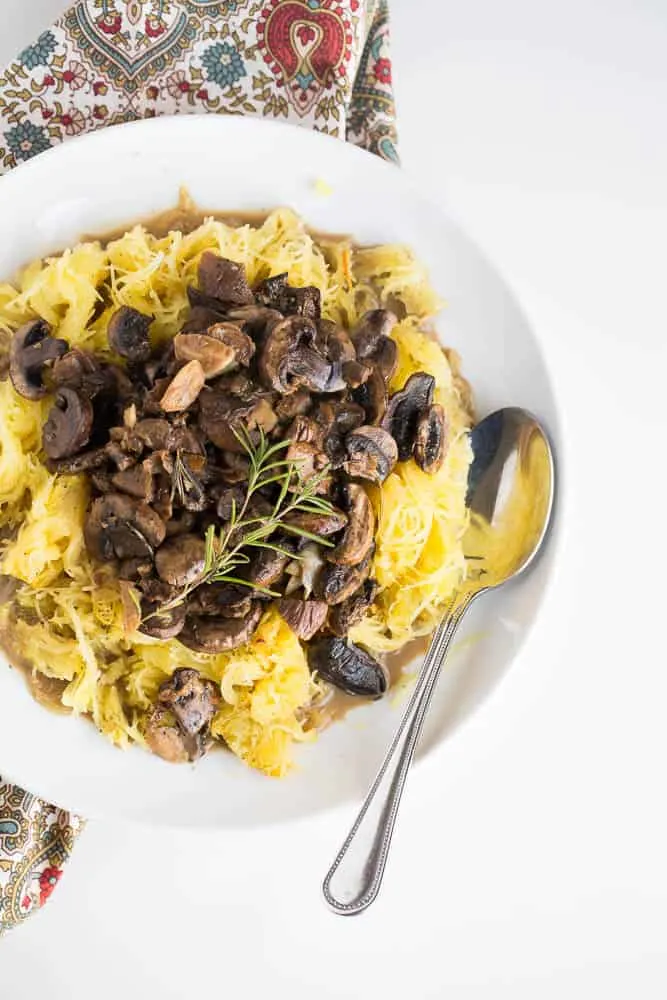 Mushrooms are weird.
I don't consider myself a super picky eater, but mushrooms were on my no-no list for a long time, somewhere between peaches and raw tomatoes. Over the years I've been on a mission to convince myself that some of the things on my list weren't as gross as I thought they were. I thought it would be a nice way to "adult" myself.
Raw tomatoes eventually made their way on to my burgers, and I could probably eat my weight in fresh pico de gallo. I still can't toss a cherry tomato into my mouth, but hey…. progress!
(Don't even ask me about peaches. I. Just. Can't. Not even perfectly ripe farmer's market ones. I've tried! *gag*)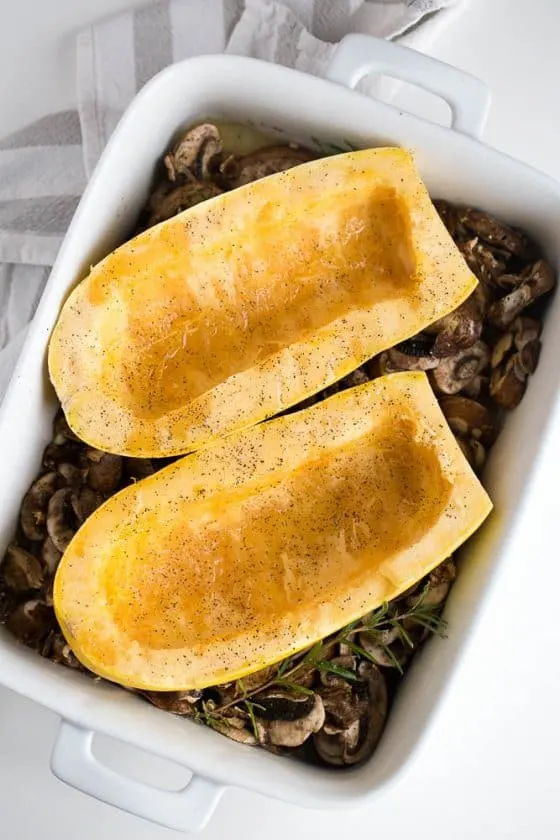 Mushrooms were next on my list. I learned to love them blended up in Creamy Paleo Mushroom Soup with Bacon and sauteed in Chipotle Caramelized Onions in Mushroom. And, no surprise, I also love them roasted. Raw? Um… not so much.
Did I mention I'm also a reformed squash hater? OK, maybe I was picky. I've come a long way though! Ten years ago I never would have eaten this dish, much less created it and encouraged other people to eat it.
So, this recipe. It's inspired by a to-die-for pizza I had at a local restaurant recently — in-house made Napoletana-style crust, wood-burning oven baked, roasted garlic and mushrooms and a creamy porcini-pecorino cream sauce.
TOTALLY worth looking like I was 4 months pregnant an hour or so later.
*sigh*
Gluten, you fiend.
I was so in love with these flavors and wanted to create something that was a little easier on my gut, so I used spaghetti squash as the base and a little coconut cream for some creaminess. It's paleo and Whole30 compliant as is, but if you wanted to add some grated fresh pecorino or Parmesan over the top, it would not be a bad idea.
And did I mention this is a one-pan dish? Super easy to prep and clean up. You don't even have to transfer the squash and mushrooms to a serving dish. I just did so I'd have a pretty photo to show you. :)
I love easy meals like this, especially around the holidays! It's nice that it's meatless, too. It's rather hard to find hearty, protein-rich meals that are also paleo/keto/Whole30 friendly.
More Healthy Spaghetti Squash Recipes
Have you tried the other spaghetti squash recipes on my site?
Chicken Enchilada & Spaghetti Squash Bake
Green Chile Chicken & Spaghetti Squash Bake
Buffalo Ranch Chicken & Spaghetti Squash Bake
---
If you make one of my recipes, be sure to post it on social media and tag me at @perrysplate or #perrysplate so I can send you some love!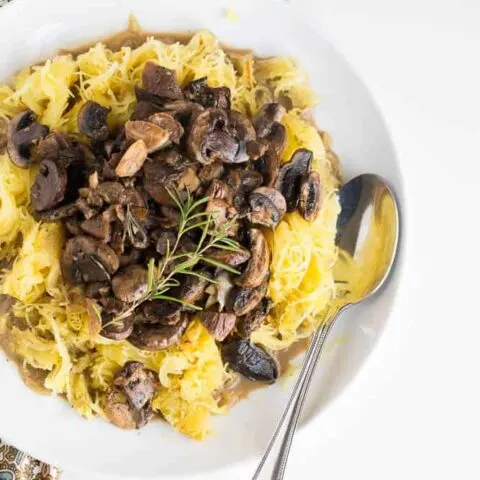 Spaghetti Squash with Roasted Mushroom and Garlic Sauce
Ingredients
8 ounces sliced baby bella mushrooms
1/3 cup chopped dried porcini mushrooms (about 1 1/2 ounces)
6 garlic cloves, peeled
1/2 cup beef broth
1/2 cup coconut aminos
2 Tablespoons red wine vinegar
2 1/2 pound spaghetti squash
1 Tablespoon avocado oil
Sea salt and black pepper
2 sprigs of fresh rosemary
2 Tablespoon coconut cream
Instructions
Preheat the oven to 400 degrees F.
Place all of the mushrooms and garlic in a 9x13 baking dish. Whisk together the beef broth, aminos, and vinegar and pour it into the pan.
Cut the squash in half lengthwise and remove the seeds and membranes from the center. Lay the squash halves cut-side up on top of the mushroom mixture. Drizzle the insides of the squash with avocado oil and sprinkle with a few pinches of salt and pepper. Place the rosemary springs in the pan on top of the squash on either side.
Bake for 45-60 minutes, until mushrooms are tender and the squash strands tear away easily with a fork.
Remove the squash from the pan and return the pan to the oven for 10 more minutes if the mushrooms need further roasting.
Scrape the squash strands out with a fork and transfer to a serving dish.
Remove the rosemary stems from the pan. Add the coconut cream and stir it around until it forms a creamy, brown sauce. Pour the mushrooms and sauce over the spaghetti squash and serve.
This post may contain affiliate links. Any purchases made by using these links won't cost you any extra and helps keep my content free. These links may be Amazon links as I am part of the Amazon Associate Program.