If you're on the buffalo ranch train, you'll love this Buffalo Ranch Chicken & Spaghetti Squash Bake. It's paleo and Whole30 compliant, too!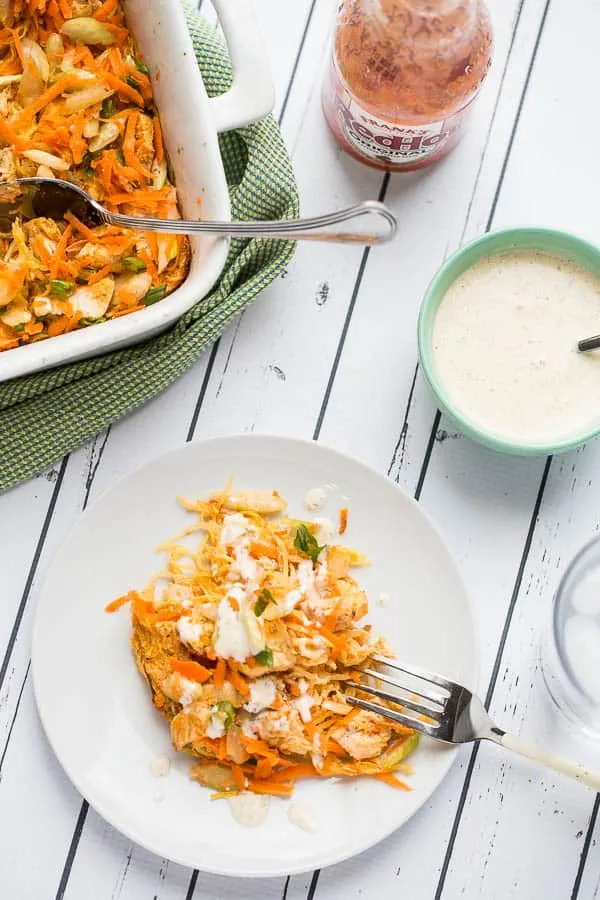 I think I jumped on the "buffalo all the things" train too late, but I'm here now with a buffalo-ed spaghetti squash bake!
I blame my dislike for wings and the fact that I shunned hot sauce for WAY too long. It wasn't until I was pregnant with my third that I started shaking it all over my food. I craved spicy food with that one, and I find it amusing that she's the biggest fireball out of the bunch.
I still don't like wings, though, but luckily you can use wing sauce for all kinds of things!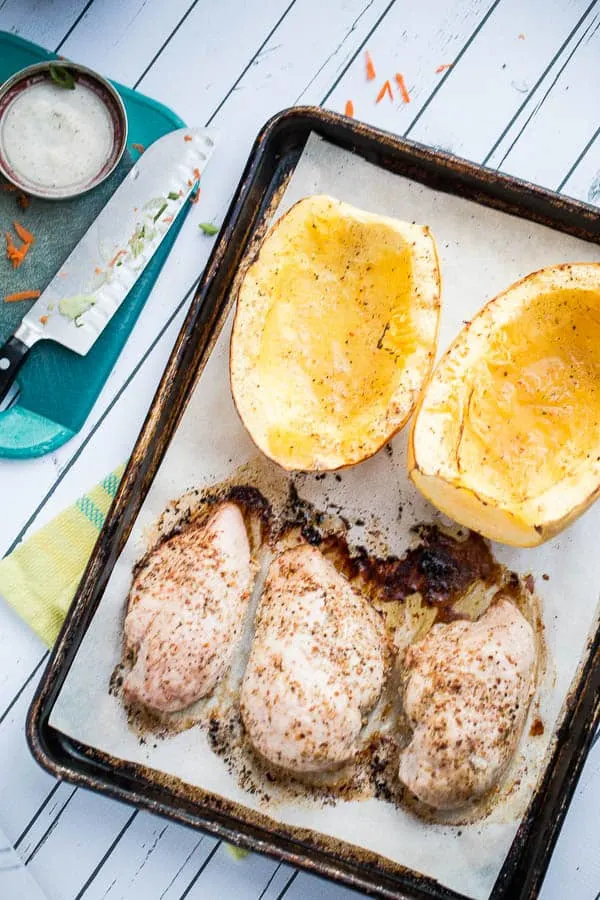 Oh wait, I lied. I HAVE buffalo'd something. I made a buffalo chickpea salad during my chickpea phase of 2010.
Also, wing sauce is REALLY good with ranch. (If I admit I don't like bleu cheese either are you going to throw things at me?)
Buffalo ranch chicken is a popular combo for recipes, and I wanted to take it for a paleo/Whole30 spin. I also had spaghetti squash that was begging to be used.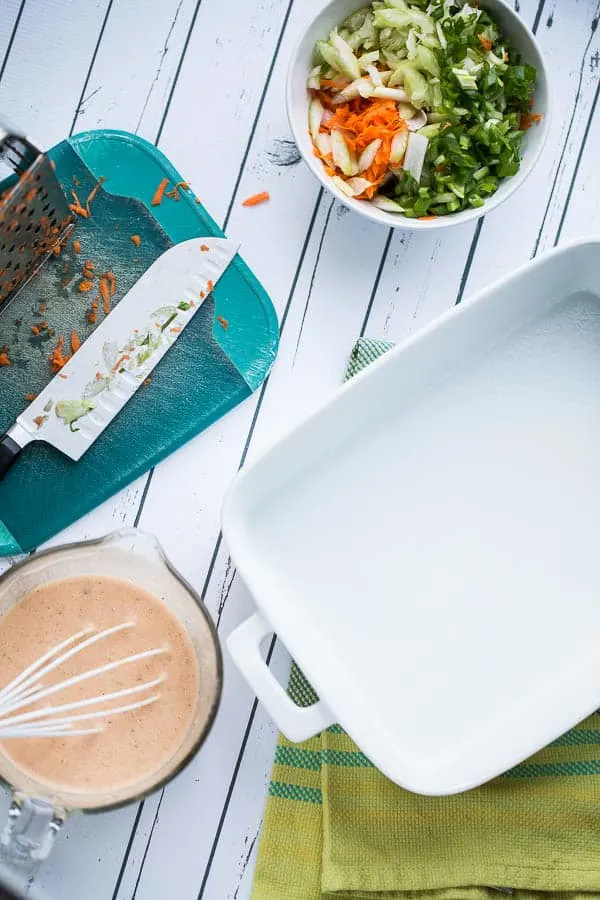 This is one of those recipes with components that can be made ahead of time. Go ahead and roast the squash and chicken in the morning. And make the topping and sauce, too.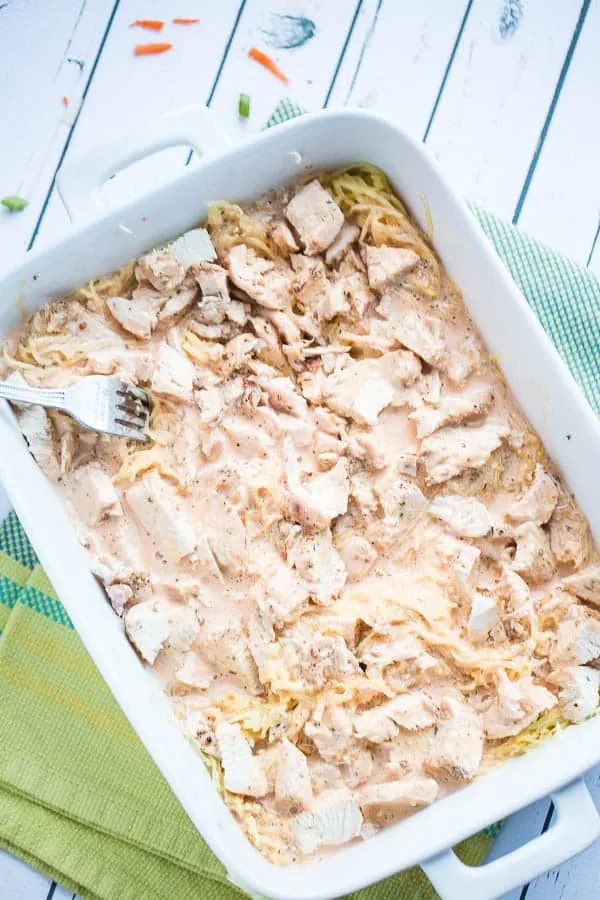 Heck, you could even assemble it to be oven-ready, and just pop it in when the hungry hounds start pawing your legs. And begging for snacks, TV, for you to hold them and the expect you to make dinner one-handed. You know, like those hounds do.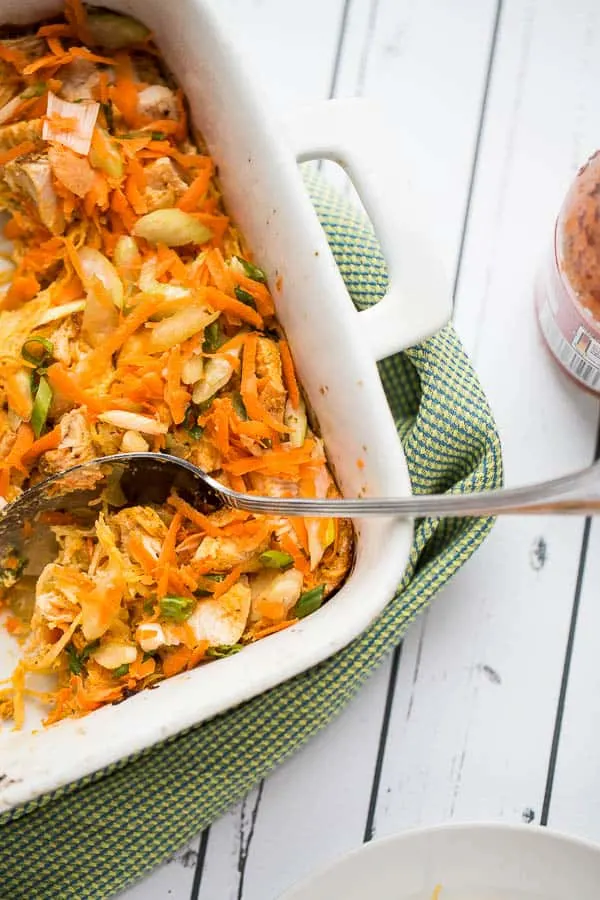 I'm not entirely clueless when it comes to wings, though. I know there are usually celery and sometimes carrot sticks in that little basket the server brings out. For good reason too — you'll need something cool and crisp to balance out all that heat.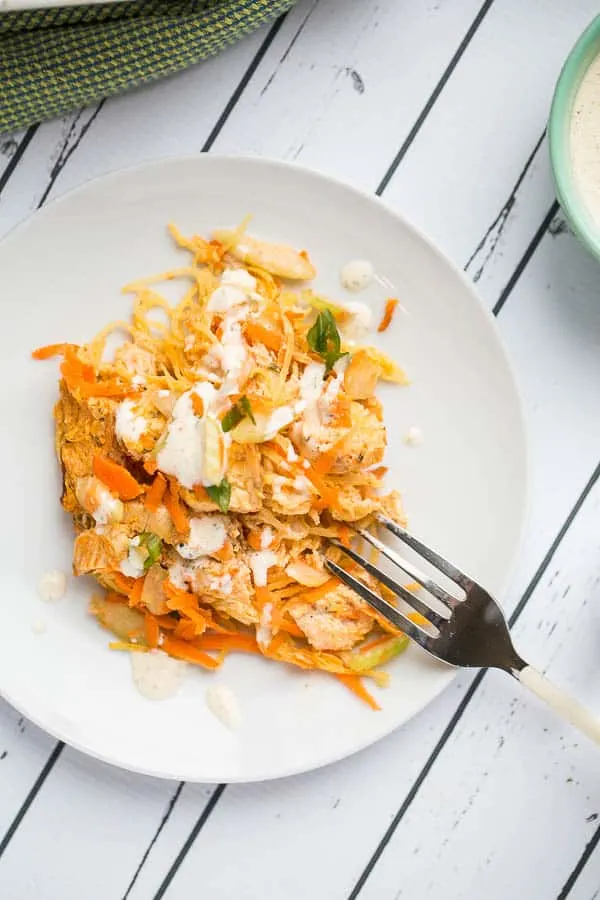 This recipe was, like, so much better than I expected. I mean, I expected it to be pretty good, but I couldn't stop eating this. And while my kids were whining about how spicy it was (see recipe notes to adapt for pansy sensitive palates) I was in heaven. And I ate it for two more days after that, and didn't save any leftovers for Steve. It has the perfect amount of heat and that creamy, comforting taste that you crave during the winter. And when you're not eating dairy. #imissyoucheese
Extra paleo ranch is always a nice touch, though. I'm heading toward day 30 of my Whole30 round (which is actually a Whole60 round — did I tell you I've lost my mind?) and big mason jar of paleo ranch is so nice to have around. Also bottles of Chalula and Franks. And lots of avocados.
If you need a paleo ranch recipe, I linked to one in the recipe. It's my Paleo Dry Ranch Seasoning mix. And instructions on making the dressing are in that post.
By the way, if you'd rather use your Instant Pot to cook the spaghetti squash, see my post on How to Cook Squash in an Instant Pot! (If it's small enough you don't even have to cut the squash in half.)
More Spaghetti Squash Bakes
Have you tried the other spaghetti squash recipes on my site?
Enchilada Chicken & Spaghetti Squash Bake
Green Chile Chicken & Spaghetti Squash Bake
Spaghetti Squash with Roasted Mushroom & Garlic Sauce
---
If you make one of my recipes, be sure to post it on social media and tag me at @perrysplate or #perrysplate so I can send you some love!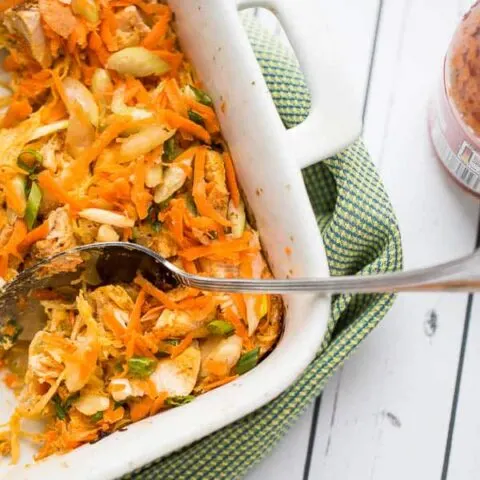 Buffalo Ranch Chicken & Spaghetti Squash Bake
Additional Time:
55 minutes
Total Time:
1 hour
15 minutes
If you're on the buffalo ranch train, you'll love this Buffalo Ranch Chicken & Spaghetti Squash Bake. It's paleo and Whole30 compliant, too! I love roasting the squash and the chicken at the same time -- it makes me feel like a multi-tasking ninja.
Ingredients
1 large spaghetti squash
1 1/2-2 pounds of chicken breasts or thighs (boneless/skinless or bone-in/skin-on)
2 Tablespoons avocado oil
1/4 teaspoon sea salt
1/4 teaspoon black pepper
1 teaspoon no-salt all-purpose seasoning
2 stalks celery, diced
2 large carrots, shredded
2 green onions, thinly sliced
2 eggs
1 cup paleo-friendly ranch dressing, plus more for serving
1/2 cup cayenne pepper sauce (or wing sauce, like Frank's Original), plus more for serving
3 garlic cloves, minced
1 Tablespoon nutritional yeast
1 teaspoon onion powder
Instructions
Preheat the oven to 425 degrees F and line a rimmed baking sheet with parchment paper or aluminum foil.
Half the squash lengthwise and scrape out the seeds. Lay cut-side up on one side of the baking sheet.
Lay the chicken breasts on the other side of the baking sheet. Drizzle 1 Tablespoon of the avocado oil inside the squash halves and the other Tablespoon over the chicken. Sprinkle the salt, pepper, and no-salt seasoning in the squash halves and on both sides of the chicken.
Roast for 30-40 minutes until the chicken is just barely cooked through and the spaghetti squash is fork tender and pulls away easily from the skin.
Meanwhile, combine the celery, carrots, and green onion in a small bowl. Cover and chill until ready to use.
Whisk together the eggs, paleo ranch, cayenne pepper sauce, garlic, nutritional yeast, and onion powder.
When the squash and chicken have cooled enough to handle, scrape out the squash strands into a greased 9x13 inch baking dish. Chop the chicken and scatter it evenly over the squash. Pour the egg-ranch mixture over the whole thing, and push the squash and chicken around gently with a fork to coat everything evenly.
Place the baking dish in the oven (still heated to 425 degrees F) and bake for about 20 minutes until the edges have turned golden brown and everything is bubbly and hot.
Remove the dish from the oven. Sprinkle half of the celery salad over the casserole and serve the casserole with additional celery salad and a drizzle of paleo ranch and cayenne pepper sauce.
Notes
Nat's Notes:

1. For the no-salt seasoning I use the Kirkland 21 seasoning blend found at Costco.
2. If you use bone-in chicken, you may want to add an additional 10-15 minutes of baking time to ensure the chicken is cooked thoroughly. Keep a close eye on the squash, and remove it when it's done or else it'll get mushy if it bakes too long.
3. My kids found this to be spicy for their liking. It does have a kick to it, but I thought it was fantastic. You can replace some of the cayenne pepper sauce with more paleo ranch. To avoid the "it's too spicy" drama altogether, replace all of the cayenne pepper sauce with ranch and just drizzle some of it on individual servings.
This post may contain affiliate links. Any purchases made by using these links won't cost you any extra and helps keep my content free. These links may be Amazon links as I am part of the Amazon Associate Program.