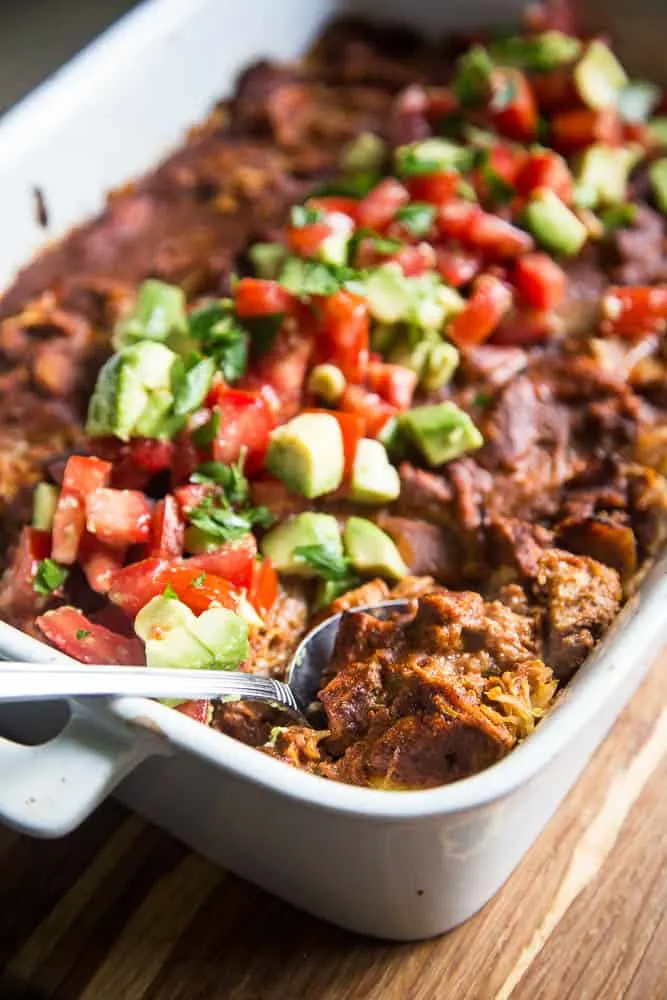 Hey, it's been a while, hasn't it? Between moving out of state, the holidays, and setting up Steve's new chiro office (We're still not done yet. Ugh.) I'm just about burned to the ground.
I've been in a weird place lately — a little restless, somewhat in a SAD funk (Boise, why are your skies so gray?!), and, more recently, recovering from pneumonia. While I was sick I got hopelessly addicted to Cooking Craze and Design Home. I'm not usually a phone game kind of girl, but dang.
So, instead of prepping stuff for Perry's Plate, I've been assembling diner food for cartoon people that walk across my tiny counter. (Seriously, Cooking Craze is fun.) And not Instagramming.
And I'm not even sorry. I needed a break, guys, and I love that you still stick around even when my updates become sporadic.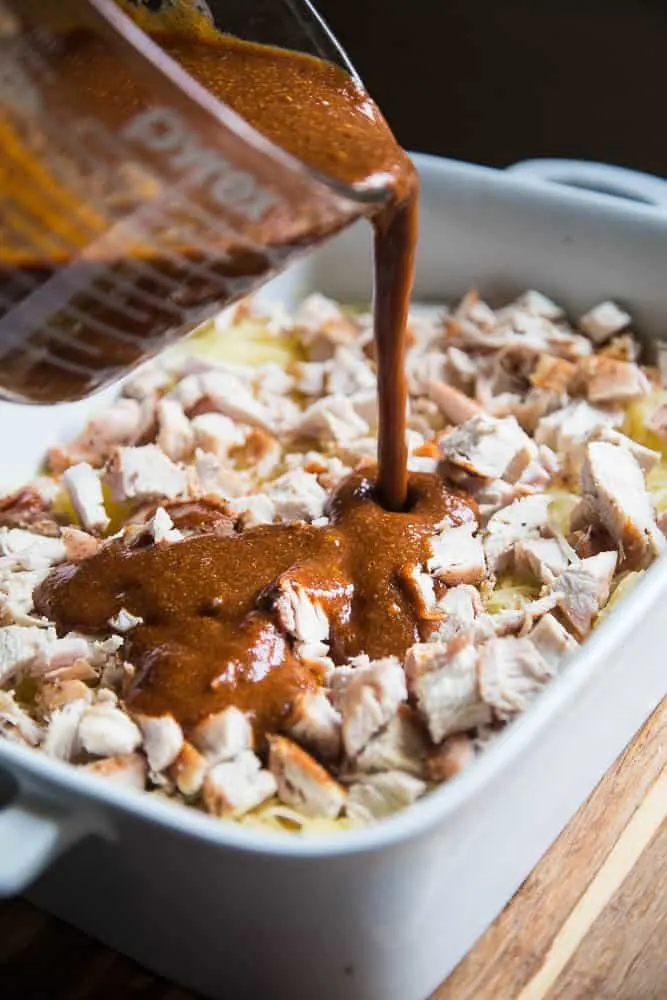 Lately, I've been cooking just for the sake of cooking. And making a lot of things out of my cookbooks and from my blog, which makes sense because all of my favorite recipes are in those place.
It's been really nice not having to worry about testing recipes during the day or using my family as guinea pigs. Or getting photos set up.
By the way, I have an awesome space in our new house with a dedicated prop shelf and space to take photos. You'd think I'd be antsy to get in there and do stuff, but . . . nope. My mojo will return. I just need to give her some space.
Two months is far too long to go without posting a recipe, though. This spaghetti squash bake might look familiar to some of you. It was an exclusive recipe in my newsletter a couple years ago, and I decided that I wanted it to have a home here on my site because it's so dang good.
Have you tried my Whole30 Enchilada Sauce recipe? It's the star of the show here. And this bake is Whole30 compliant!
If you're low-carb/keto and are eating dairy. . . . I highly recommend a few handfuls of shredded pepper jack cheese on this. If not, then cheese-less is still super tasty. And you'll need to use a low-carb sweetener in the enchilada sauce.
If you're paleo . . . you're good to go.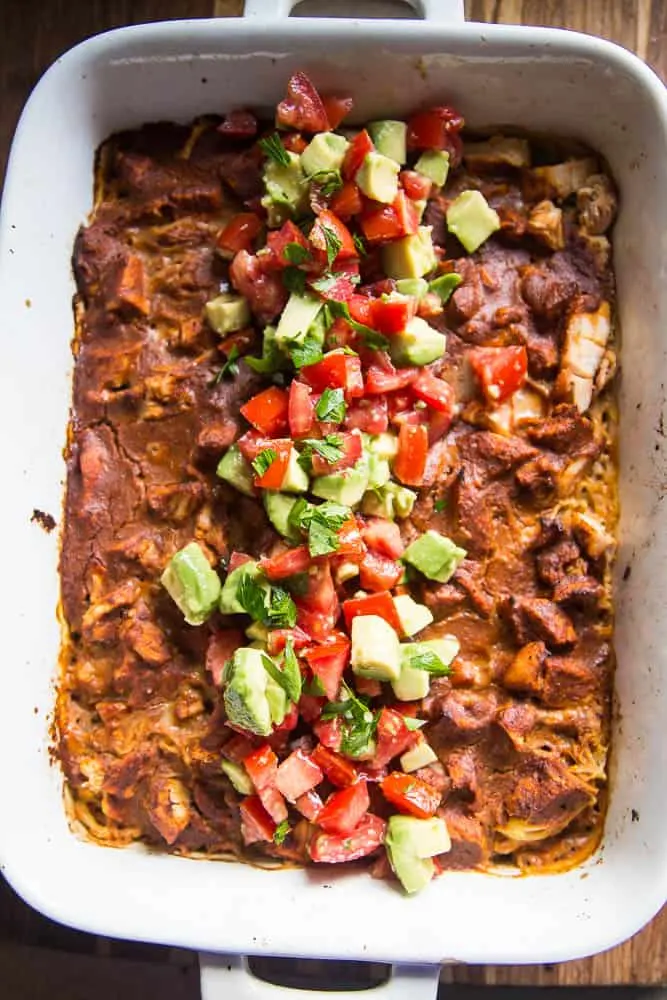 It's also easy to whisk together really quickly. Just let it simmer while you roast the chicken and squash and It'll be ready when it's time to assemble the spaghetti squash bake.
There are a lot of make-ahead options here. You could prep the sauce, chicken, and squash, and then assemble them a day or two later. You could also assemble the whole thing and bake it later.
That tomato-avocado salsa stuff on top? That needs to be there. Truly. Or some kind of salsa or pico de gallo that you like. Mango salsa would be good here, too. It's such a nice, fresh addition to the warm, spicy bake.
By the way, if you'd rather use your Instant Pot to cook the spaghetti squash, see my post on How to Cook Squash in an Instant Pot! (If it's small enough you don't even have to cut the squash in half.)
More Spaghetti Squash Bakes
Have you checked out the other spaghetti squash recipes on my site?
Buffalo Ranch Chicken & Spaghetti Squash Bake
Green Chile Chicken & Spaghetti Squash Bake
Spaghetti Squash with Roasted Mushroom & Garlic Sauce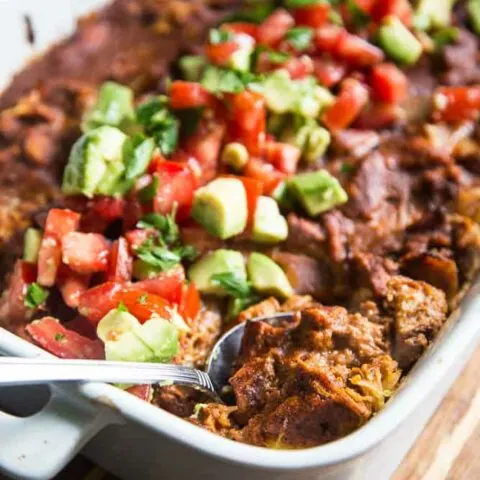 Paleo Chicken Enchilada & Spaghetti Squash Bake
Additional Time:
1 hour
10 minutes
Total Time:
1 hour
30 minutes
Spaghetti squash bakes are one of my favorite things to make and eat. I'm still trying to convince my kids to like spaghetti squash, and this enchilada-style bake made some progress in that direction! It's also super easy to make the components ahead of time.
Ingredients
1 medium spaghetti squash, cut in half and seeds scraped out
1 1/2 pounds boneless, skinless chicken breasts or thighs
2 Tablespoons avocado oil
Black pepper
1/2 teaspoon ground cumin
1 1/2 cups paleo-friendly enchilada sauce (Try my Whole30 Enchilada Sauce)
1/4 cup nutritional yeast
2 eggs
1/2 teaspoon sea salt
Juice from 1 lime
For the Topping:
3 Roma tomatoes
1 or 2 avocados
1 lime pinch of salt
1/3 cup chopped fresh cilantro
Instructions
Preheat the oven to 425 degrees F.
Lay the squash, cut-sides up on a large rimmed sheet pan. Lay the chicken next to it. Drizzlethe oil over the squash and chicken and sprinkle a few pinches of sea salt, black pepper, andthe cumin on top, too.
Roast for 30-40 minutes until the chicken is just cooked through and the spaghetti squashpulls away from the peel easily with a fork. Remove the pan from the oven and let it cool fora few minutes so it's easier to handle.
Prepare a 9x13 baking dish with nonstick spray. Scrape out the spaghetti squash and put itinto the baking dish. Cut the chicken into bite-sized pieces and scatter it over the squash.
Whisk together the enchilada sauce, nutritional yeast, eggs, 1/2 teaspoon salt, and the limejuice. Pour it over the chicken and squash, and then use a fork to swirl it around a bit so thesquash is mostly coated in sauce.
Return the pan to the oven and bake for another 20 minutes until cooked through and bubbly.
Meanwhile, chop the tomatoes and avocados and put them in a medium bowl. Add the juicefrom 1/2 the lime, a pinch of salt, and the cilantro. Taste, and add more lime juice ifnecessary.
When you're ready to eat, add the topping to the spaghetti squash bake and serve.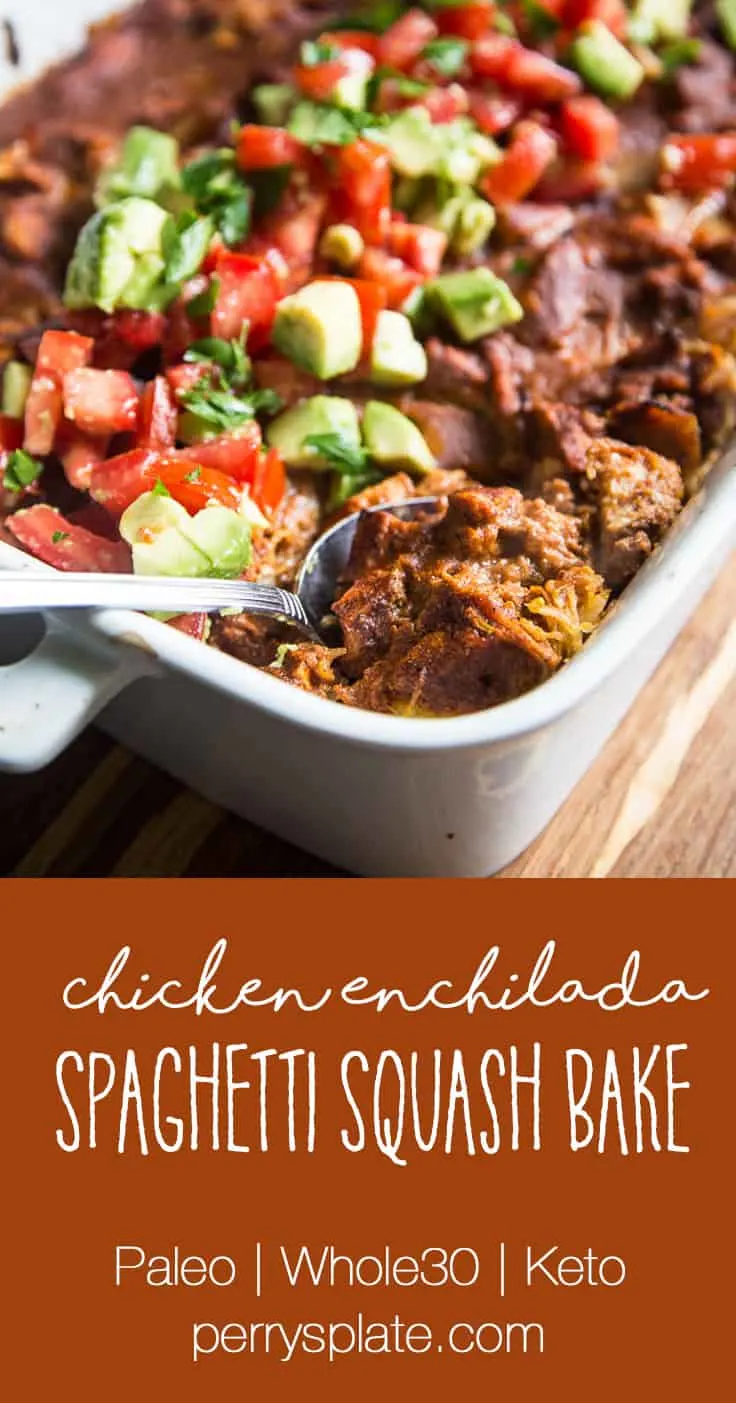 Disclosure: This post contains an Amazon affiliate link. Purchases made by using these links don't cost you any extra and helps to keep my content free.