Here's how to make a dry brine turkey — along with a flavorful herb butter for good measure! It's so much easier than using a wet brine.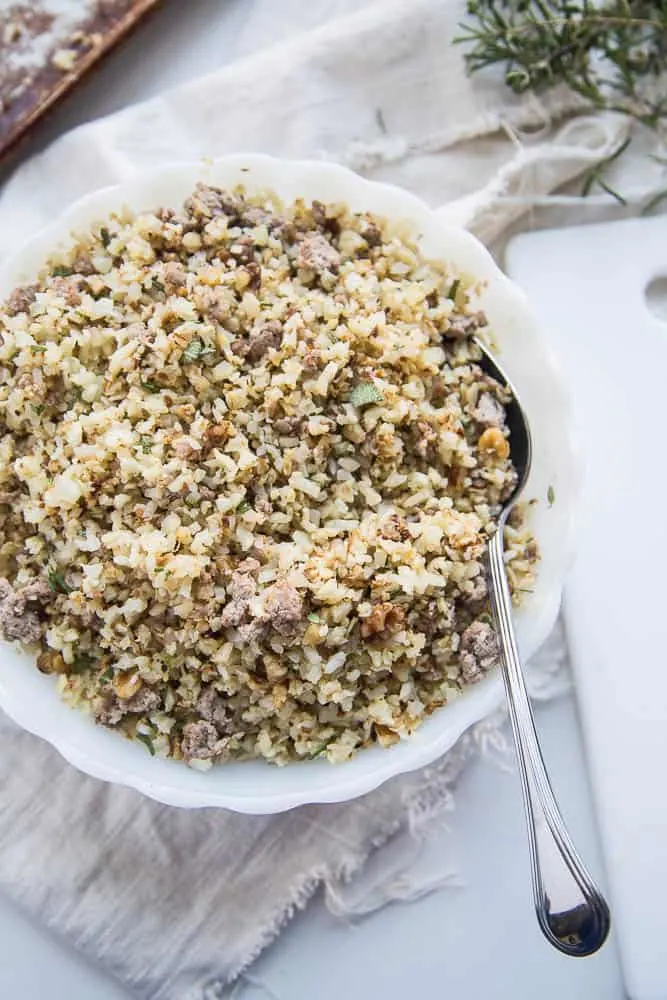 Every Thanksgiving I encounter a dressing vs. stuffing debate, or in the case with this roasted cauliflower stuffing recipe you may argue that it is neither. Well… you're probably right.
But, hear me out.
One of the reasons I love stuffing so much is because of the fresh herbs mixed in. (Yes, bread cubes are high on the list, too, but I'm trying to focus on things that don't inflate my midsection.) The fresh herbs mixed with the peppery flavor of the sausage, the chewy nuts, and the caramelized flavor from the cauliflower rice might convince you that you're eating stuffing. MIGHT.
What's your stance on that? How do you define dressing and stuffing? One goes in the turkey and one is cooked separately?
Do you even care what it's called as long as you get to eat some? (That's my stance.)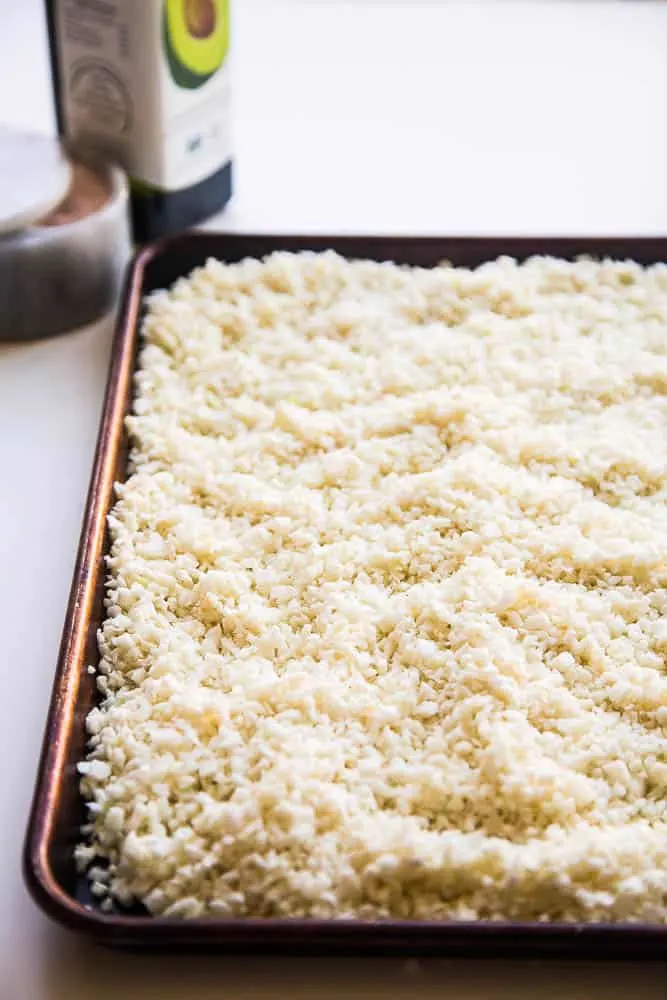 This recipe starts out with a batch of Roasted Cauliflower Rice. If you've never tried cauliflower rice this way, DO IT, PLEASE. It's a total game changer and 99% of the time I make it this way.
I bought pre-riced cauliflower for this. It's not hard to buzz up a head of cauliflower in my food processor, but having a bag of it on hand saves me that extra step.
And heaven knows we don't need extra steps during Thanksgiving prep.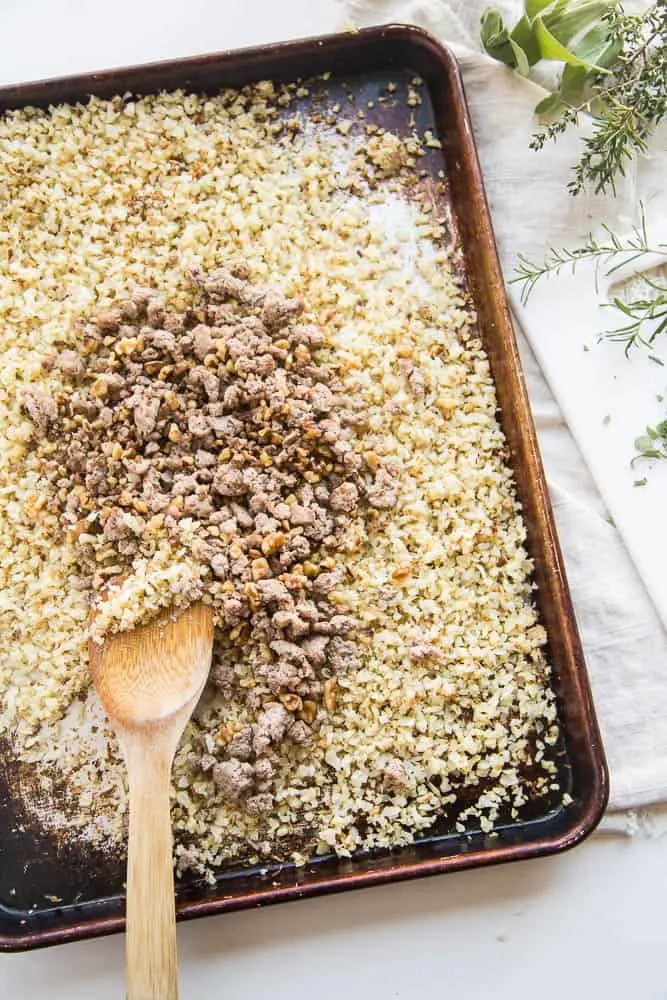 While the cauliflower is roasting away, cook the sausage and throw the walnuts in at the end so they can get some toasty action. Then all you do is combine it with the roasted cauliflower rice.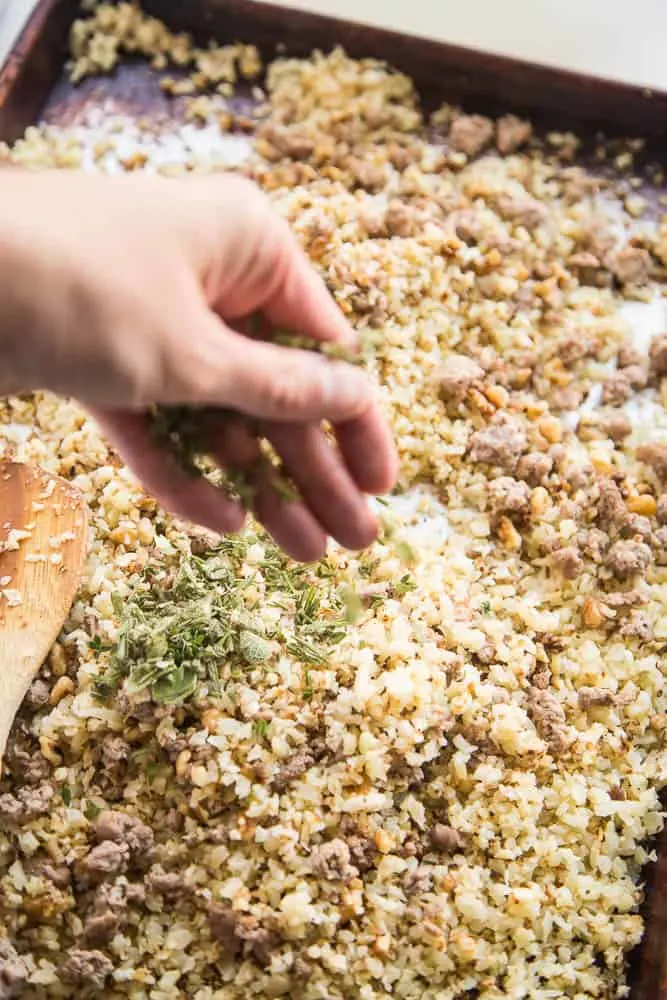 And add some fresh herbs — sage, rosemary, and thyme. Those are the Thanksgiving trio! They even come packaged together at the grocery store.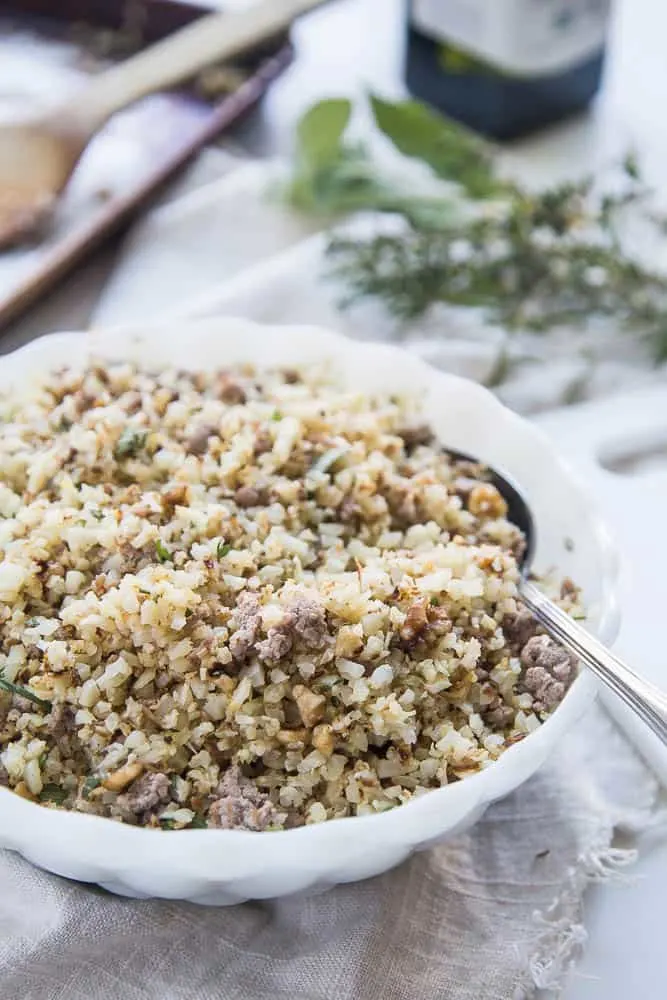 We really, really loved this. I would totally make this year round as a side dish or make a big batch over the weekend and use it in breakfast hashes during the week! I actually did that with the leftovers and…wow. SO, so good.
If you have a hard time giving up bread in your stuffing, maybe try this Gluten-Free Stuffing over at Gluten-Free Palate!
I'd love to hear if you add some roasted cauliflower stuffing to your Thanksgiving dinner! Keep your eyes peeled for more Thanksgiving recipes this week…
Dry Brine Turkey with Orange-Rosemary Herb Butter
Instant Pot Cauliflower Puree with Rosemary & Garlic
Chai Maple Roasted Butternut Squash
Paleo Spiralized Apple Crumble
---
If you make one of my recipes, be sure to post it on social media and tag me at @perrysplate or #perrysplate so I can send you some love!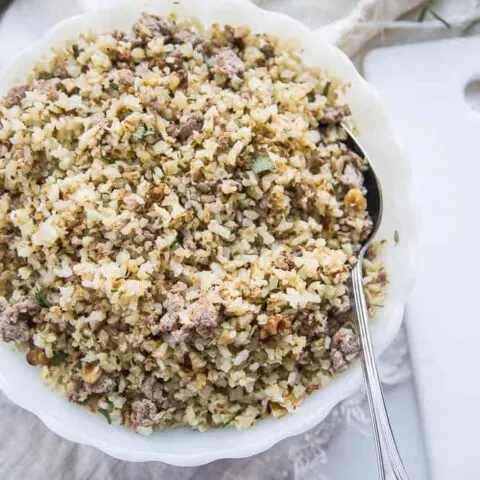 Paleo Roasted Cauliflower Stuffing with Sausage and Walnuts
Yield:
Serves 6-8 as a side
This roasted cauliflower stuffing is filled with bits of sausage, crunchy walnuts, and fresh herbs. You won't even miss the bread!
Ingredients
32 ounces riced cauliflower (a 2-pound bag)
3 Tablespoons avocado oil
1 teaspoon minced fresh garlic (1-2 cloves)
1/2 teaspoon sea salt
8 ounces bulk breakfast sausage (see note)
2 heaping Tablespoons chopped fresh herbs (rosemary, thyme, sage)
1/2 cup chopped pecans
Instructions
Preheat the oven to 425 degrees F.
Dump the cauliflower on a large rimmed baking sheet. Drizzle with the avocado oil and add the garlic and salt. Use your hands to mix thoroughly, then spread the cauliflower evenly on the pan.
Roast on a lower oven rack for 30-35 minutes, stirring occasionally, until there are dark, golden bits throughout the cauliflower.
Bring a medium skillet to medium-high heat and cook the sausage, breaking it into small bits. Cook until the sausage is cooked through and starts to form crispy brown spots. During the last 2-3 minutes of cooking, add the pecans to the skillet. Stir and cook for another couple of minutes until the nuts are toasted.
Transfer the sausage mixture to the pan with the cauliflower. Add the fresh herbs. Stir it around until combined and then transfer it to a serving bowl to serve.
Notes
Nat's Notes:

1. Sometimes it's hard to find clean bulk sausage -- I get it. You can also use my Homemade Chicken Breakfast Sausage recipe!

2. These leftovers are great in a breakfast hash!
Disclosure: This post contains Amazon affiliate links. Purchases made by using these links doesn't cost you any extra and helps to keep my content free.SaveSaveSaveSaveSaveSaveSaveSaveSaveSaveSaveSaveSaveSaveSaveSaveSaveSave