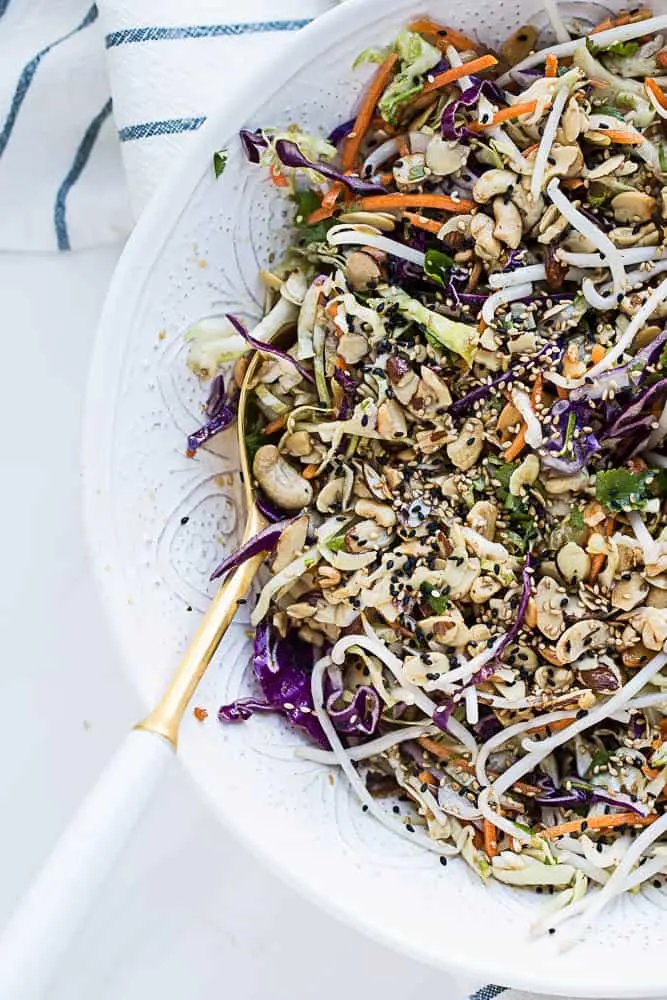 I got such a great response from my Sweet Kale Salad recipe, I decided to do another knock off of the Taylor Farms salad kits found at Costco with this Paleo Asian Chopped Salad. This one is quick to prep and is Whole30 friendly, too.
I realize that posts have been a little sparse lately. Photos for The Big Book of Paleo Pressure Cooking are almost finished, and then things will be back to normal around here! I've got recipe notes jotted in my phone and I'm dying to start grilling.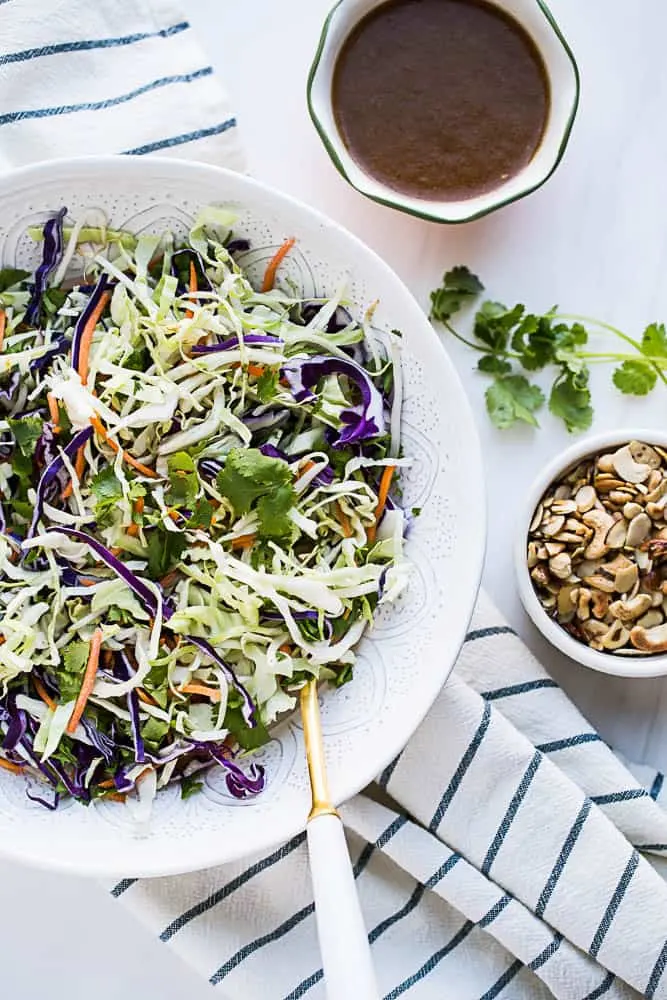 Don't get me wrong, I love my Instant Pot, but I'm growing weary of throwing things into a pot. Two hundred recipes for my slow cooker cookbook and 150 recipes for the new book = a lot of throwing things into a pot. If there was an olympic event for throwing food into an electric-type of pot, I think I'd probably make it to the podium.
But.
I want to grill stuff. And roast stuff. And make giant, pretty salads like this.
I made this dressing during my January Whole30 and liked it so much I wrote it down. It's my go-to Asian sesame vinaigrette and worked beautifully with some coleslaw mix I had in the fridge. I threw in some shredded carrots and mung bean sprouts to bulk it up a bit, too.
Can we talk about mung bean sprouts for a second? Is it just me or do those get slimy, like, four hours after you bring them home from the grocery store? Impatient little buggers they are.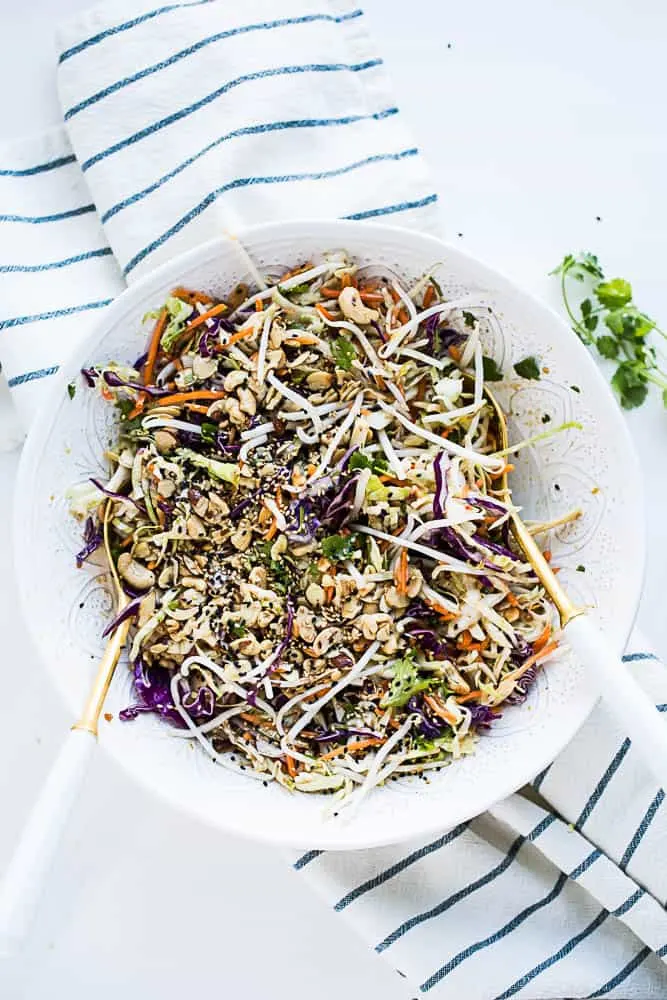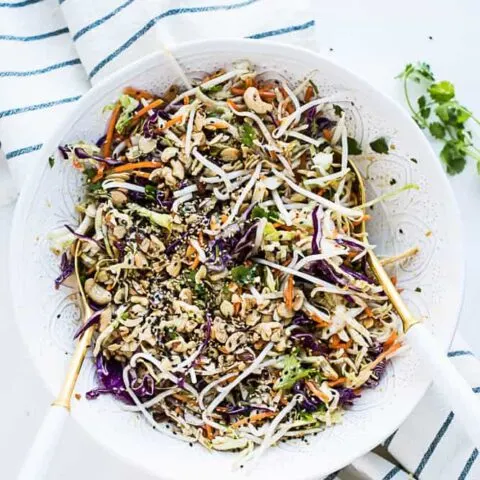 Paleo Asian Chopped Salad
Yield:
Serves 6 as a side
Whip up a fresh, healthy version of the salad kit found at Costco and other grocery stores. This Paleo Asian Chopped Salad is a cinch to make and makes a light lunch or a welcomed potluck offering.
Ingredients
For the dressing:
1/4 cup coconut aminos
1/4 cup avocado oil
3 Tablespoons rice vinegar
1 Tablespoon sesame oil
1 Tablespoon Date Paste or honey
1-inch knob of ginger, finely grated
1-2 teaspoons Asian chili paste or sambal oelek, to taste
1/2 teaspoon minced fresh garlic
Generous pinch of salt
For the salad:
8 ounce package of shredded cabbage or coleslaw mix
2 cups (or handfuls) of vegetable add-ins, like shredded carrots, mung bean sprouts, or shredded Brussels Sprouts
1/2 cup chopped fresh cilantro
1 cup chopped toasted mixed nuts (like cashew pieces and sliced almonds)
1 - 2 Tablespoons toasted sesame seeds
Instructions
Put all of the dressing ingredients in a lidded glass jar and shake it really hard to combine it well.
Put the cabbage/coleslaw mix in a large salad bowl with the vegetable add-ins and cilantro. Pour the dressing over the top and toss to combine. Add the nuts and sesame seeds and gently mix them in. If you toss it too much they'll end up at the bottom of the bowl.
Serve.
Notes
Nat's Note: If you have trouble finding or would rather not use coconut aminos, you can substitute 2 tablespoons of tamari (wheat free soy sauce).

SaveSave
SaveSave
SaveSave
SaveSave
SaveSave