Smoked chicken breasts are so easy to make on a pellet grill or smoker! Pull out your Traeger or Camp Chef and make some of this delicious on any weeknight. It also makes a great meal prep option, too!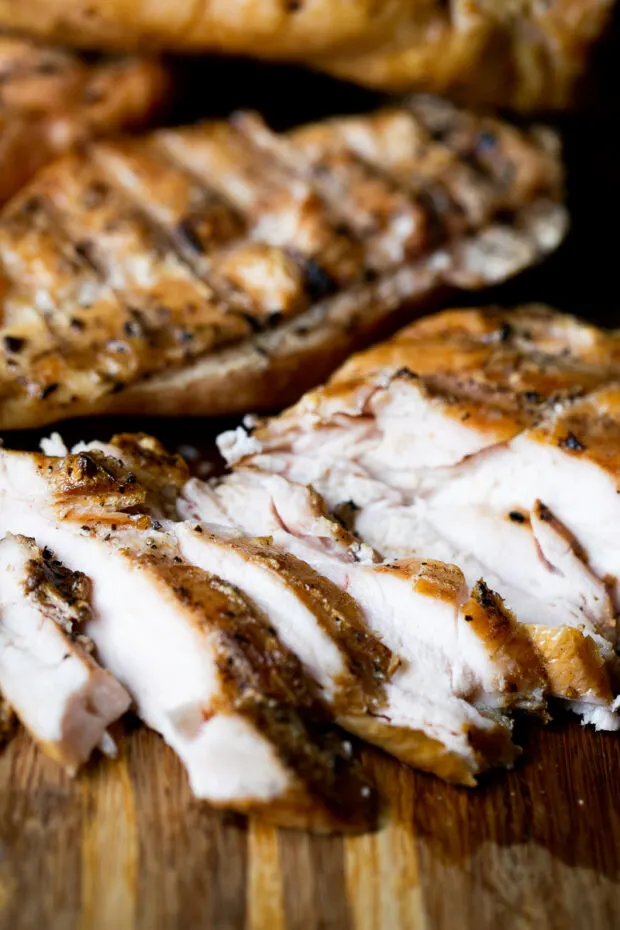 Yes. Another chicken breast recipe.
(It's been a little chicken-heavy here lately, but I'm not sorry about that. Chicken is delightful)
This time I took some boneless chicken breasts and smoked them on my pellet grill!
Do you have a pellet grill/smoker? Like a Traeger or a Camp Chef?
I love our Camp Chef SO much. It's been super fun to play with. I'm working on creating more smoker recipes for you, too!
After mastering Smoked Whole Chicken, I figured it was time to figure out a good way to smoke chicken breasts.
And, honestly, chicken breasts are such an easy smoker recipe to begin with.
I've noticed when I keep the recipe simple and let the wood pellets do the heavy work of adding that smoky flavor, I get the best results. The best smoked chicken breast recipe is really most minimal and has so much flavor!
How to season smoked chicken
Honestly, I didn't think a spice rub was necessary, but if you have a favorite dry rub you like to use, go for it. Or if you'd like to add a little sweet flavor, try adding some brown sugar to your spice rub
For this chicken recipe, I sprinkled them with some black pepper and kosher salt (I like kosher salt better for smoking things. It tastes better. I don't have a great reason why — it just does.)
Then I drizzle them with oil (olive oil would be OK since the smoker is on a lower heat setting)
Then I smoke them.
That's it. Literally.
What type of wood pellets are best for smoking chicken?
My favorite is apple wood, but chicken takes to smoking so well — you can use whatever pellets or wood chips you like, depending on your type of smoker.
I always use Camp Chef pellets because they're 100% hardwood without fillers. Their competition blend and cherry wood are also good.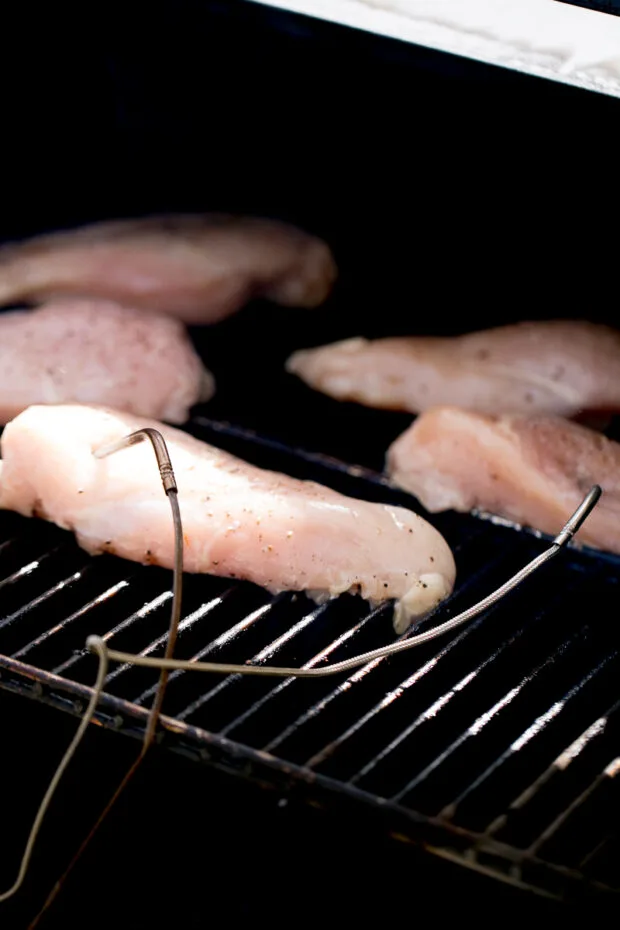 How long do I smoke chicken breasts?
That depends on how much smoke flavor you want.
I like to smoke them on high smoke at 220 degrees. Cook time depends on how thick your chicken pieces are, but it's usually 60-90 minutes. Obviously large chicken breasts will need longer cooking time.
TIP: When your smoker is on a lower temperature like this, treat it like a slow cooker when you check the temperature of your food. Every time you raise that lid you lose a LOT of heat and it takes a little while for that heat to return. If you're checking on the meat every 5 minutes, it'll take a lot of extra time for it to finish. Aim for checking every 15-20 min. It's even better if you use a temperature probe with a read out on your grill (or phone!) so you don't have to raise the lid so much.
If you don't have an electric smoker that offers probes like this, use an instant read thermometer. Shoot for about 160 degrees F. for the internal temperature of the meat.
If you're in a rush, you can smoke them for 20-30 min at 220 and then crank it up to 400 to finish them off. You don't get as much smoky flavor that way, but it'll still be delicious.
After they come off the smoker, let them rest for a few minutes so you don't lose any of those juices!
Why does my smoked chicken still look pink?
The smoking process can often form a layer of pink inside of the meat. It happens with beef, too. So if you cut into your freshly smoked chicken and notice it's a little pink around the outside, don't freak out. As long as the center is cooked fully (and shouldn't be pink) you're good go go.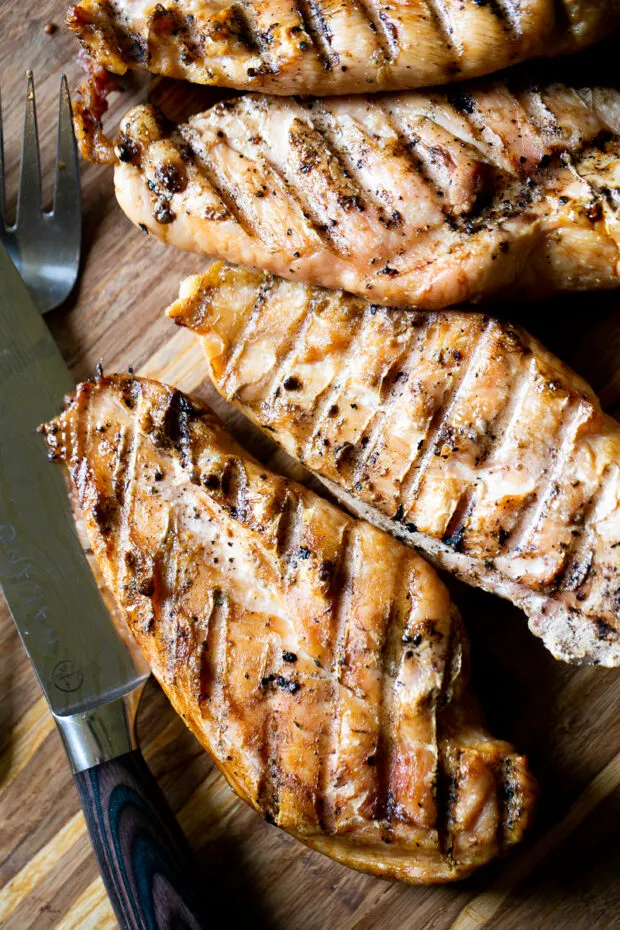 What to Serve with Smoked Chicken
Honestly, if these smoked chicken breasts are fresh off the grill, I don't try to turn it into anything else. Pairing them with a salad or some grilled/roasted veggies are my favorite way of serving it. You could also brush them with BBQ sauce, too.
Here are a few of my favorite side dishes that would go well with smoked chicken breasts:
Santa Fe Grilled Caesar — use smoked chicken in place of the shrimp here
Wild Rice Salad with Cucumber and Pesto
Instant Pot Cilantro Lime Rice or Lemon Herb Rice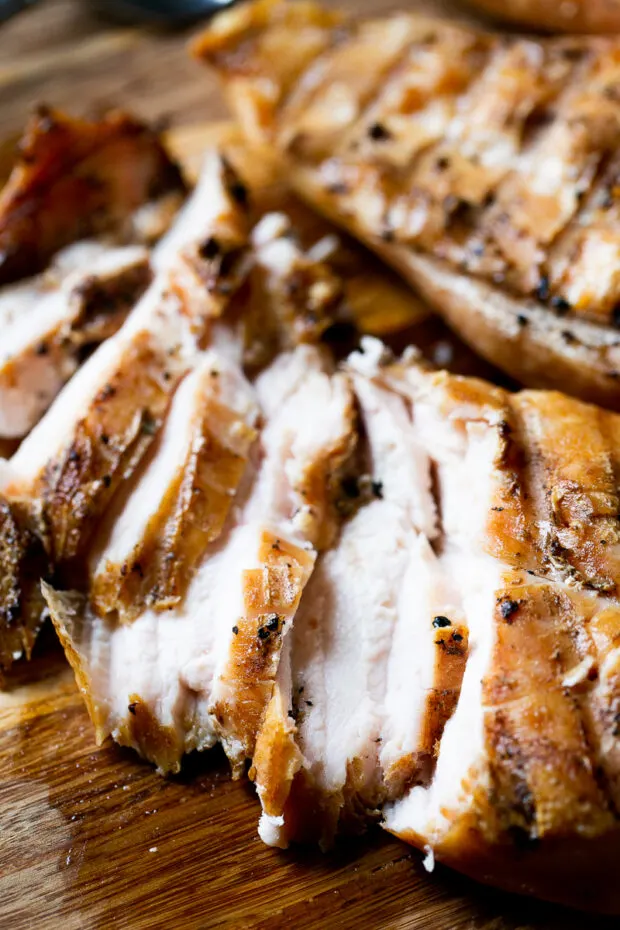 Ways to use Leftover Smoked Chicken
If you have leftover smoked chicken, that's a different story, my friend. Smoked chicken is good at room temperature and straight out of the fridge, too.
By the way, smoked chicken makes a FABULOUS meal prep protein! Here are a few ways we've used this chicken a few days later:
Smoked Chicken Tacos
Slice them up and stick some chicken in your favorite tortillas with your favorite taco toppings. A favorite combo of ours was cooking the chicken in the tortilla with some pepperjack cheese, then topping it with some cabbage slaw (Like my Southwest Cabbage Slaw) and some guac or Chipotle Bitchin' Sauce. If you haven't had this stuff — it's an almond-based dip we found at Costco. And we're pretty obsessed with it.
Smoked Chicken Sandwich Wraps
Wrap them up in your favorite flatbread with some sandwich toppings! If you're grain-free, try using my Paleo Zucchini Flatbread for this.
Smoked Chicken Avocado Toast
When I'm needing some extra protein, adding a few thin slices of smoked chicken to my avocado toast is DELICIOUS. Always topped with a sprinkle of Everything Bagel Seasoning.
Smoked Chicken Nachos
Smoked chicken nachos with an assortment of cheese (add some smoked gouda to this!) was a pretty fantastic Sunday lunch.
Leftover Rice Skillet
One of my favorite meals to make with leftovers is to chop up some smoked chicken and any leftover roasted vegetables or some baby spinach and cook it in a skillet with some butter. Then add any leftover rice you have on hand along with some seasoning and some shredded Parmesan cheese. Any seasoning blend that would complement the chicken will do. I like the salt-free all-purpose seasoning at Costco.
Like this recipe? Try some other easy smoker recipes on Perry's Plate!
Smoked Salmon — use this to make your own Smoked Salmon Board!
---
If you make one of my recipes, be sure to post it on social media and tag me at @perrysplate or #perrysplate so I can send you some love!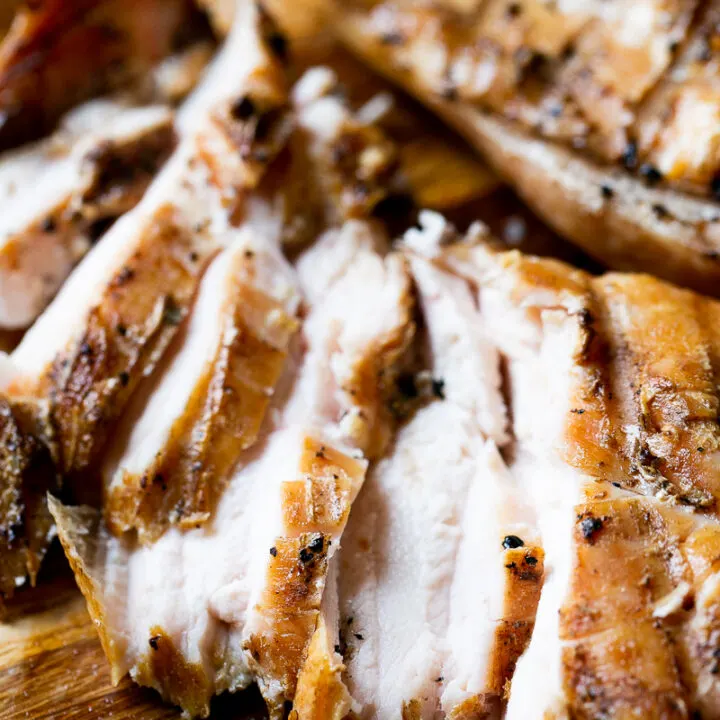 Easy Smoked Chicken Breasts
Total Time:
1 hour
5 minutes
This smoked chicken recipe can easily be expanded or scaled down to however much chicken you need! It makes a fabulous meal prep protein as well.
Ingredients
6 chicken breasts
Kosher Salt
Freshly ground black pepper
2 Tablespoons heat-safe cooking oil, like avocado oil or coconut oil
Instructions
Preheat your pellet grill or smoker to 220 degrees F and high smoke (if you have that option).
Lay the chicken on a sheet pan or a large plate and pat it dry with some paper towels.
Sprinkle the chicken generously on both sides with Kosher salt and black pepper. Drizzle with oil.
When your smoker is ready, put the chicken directly on the grates and insert any temperature probes if you have any. Insert them into the thickest piece of chicken.
Close the lid and smoke them for roughly 60-90 minutes, depending on the thickness of your chicken. The internal temperature should be 160 degrees.
Remove the chicken from the smoker and let it rest, covered for 5-10 min before slicing.
Nutrition Information
Yield

6
Serving Size

1 breast
Amount Per Serving
Calories

260
Total Fat

11g
Saturated Fat

4g
Trans Fat

0g
Unsaturated Fat

7g
Cholesterol

102mg
Sodium

141mg
Carbohydrates

0g
Fiber

0g
Sugar

0g
Protein

37g
The information shown is an estimate provided by an online nutrition calculator. It should not be considered a substitute for a professional nutritionist's advice.
This post may contain affiliate links. Any purchases made by using these links won't cost you any extra and helps keep my content free. These links may be Amazon links as I am part of the Amazon Associate Program.