Eggplant "Bacon"
Oh, eggplant. If tomatoes are the diva musical theater kids, I believe the eggplants are the yearbook nerds of the vegetable kingdom. Often odd looking and mysterious, get them in the right situation, and they can be an absolute delight to be around.
Hmm. Clearly I need more sleep. Or less congested sinuses.
*Trying to avoid discussing why I know so much about yearbook nerds.*
Got a few sitting on the counter? (Eggplants, I mean.) I've got a recipe for you. This one's kind of quirky, so stay with me for a second.
Remember that mandoline slicer I told you to buy when I made zucchini "spaghetti"? Go get it out. It's OK, I'll wait.
Run a few eggplants over the "thin" slicing blade, then put them in a plastic bag with some wicked marinade.
Dry them out in the oven for several hours and what do you have?
Eggplant bacon, that's what.
Now don't start munching on this stuff expecting a perfect match.
(There is no perfect replacement for bacon. Ever.)
It has a smoky, spicy flavor that reminds me of bacon. It's fun to eat alone (like bacon) or put on a salad (like bacon) or on a sandwich (like bacon). See the uses for this?
And if I were a vegetarian, I would make this every week.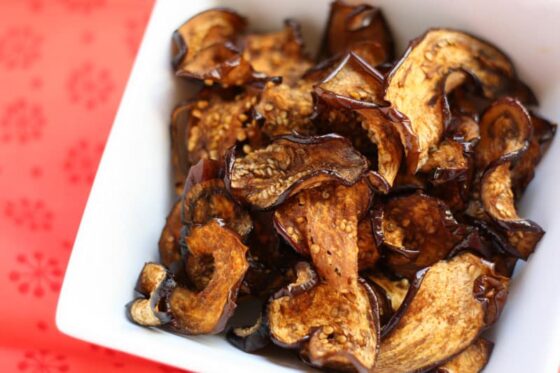 A big thanks goes to Cara for this awesome recipe. Her blog,
Cara's Cravings
is one of my favorite healthy-living recipe blogs. And she's super nice. Go tell her hi for me.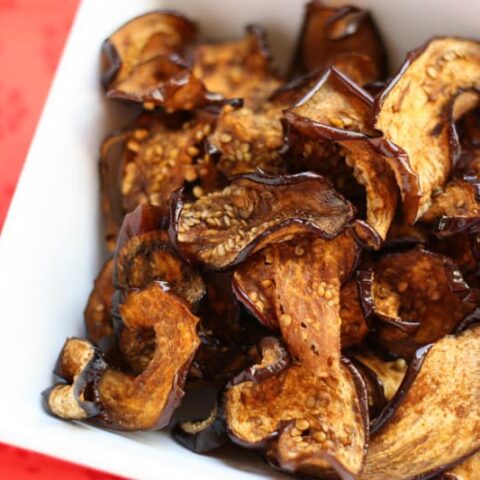 Crispy Eggplant "Bacon"
Yield: Serves 6
Prep Time: 15 minutes
Additional Time: 8 hours
Total Time: 8 hours 15 minutes
I know it's a stretch, but this vegan version of "bacon" is actually quite tasty! And it's another great way to use extra eggplant from your garden.
Ingredients
1 large eggplant
1/2 cup water
1/4 cup coconut aminos
2 tablespoons maple syrup
2 tablespoons olive oil
2 tablespoons apple cider vinegar
1 teaspoon liquid smoke
1 teaspoon chili powder
1/2 teaspoon paprika
1/2 teaspoon cumin
1/2 teaspoon kosher salt
pinch black pepper
pinch cayenne
Instructions
Slice the eggplant to about 1/8-1/4" thickness. A mandoline slicer is recommended for this to create even slices.
Whisk together remaining ingredients. You can layer the eggplant slices in a baking dish, pouring the marinade over each layer to ensure complete coating or if you're lazy (like me) throw the eggplant into a zip-top bag and pour the marinade in it.
Let sit for 30 minutes.
Turn on oven to the lowest possible setting. Most ovens only go down to 170 degrees F. This worked just fine.
Line baking sheets with parchment paper. Remove eggplant slices from the marinade and arrange on the baking sheets. Place them in the oven, and "cook" for several hours, or overnight, until crispy. Actual time will vary according to oven temperature.
SaveSave