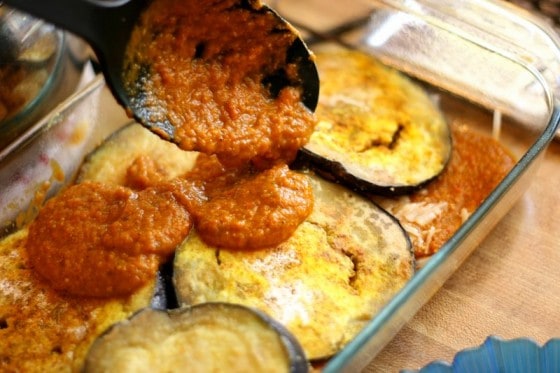 I feel like I've been holding out on you with this one. I've made this three times in the past year and somehow never got decent photos until now. Every time I make it I'm surprised by the same three things:
1. How weird eggplant looks when it's pan-fried.
2. How long it takes to bake. (I keep forgetting it's almost an hour and don't plan for it.)
3. How amazing it tastes, despite my doubts when I taste the sauce (before it bakes) and the weird resistance I feel using Parmesan cheese in an Indian dish.
I like to think of this as the Indian version of Eggplant Parmesan, which I love. You must, must serve this with the yogurt sauce, which compliments the curry amazingly well. We also served this with additional cucumber slices and some pita bread. I don't think I would put it over rice because it would dilute the flavors too much.
Go grab a nice eggplant before they go out of season and give this a whirl. You can even make it a few days ahead of time and reheat it. (I've tried it, and it was just as great.)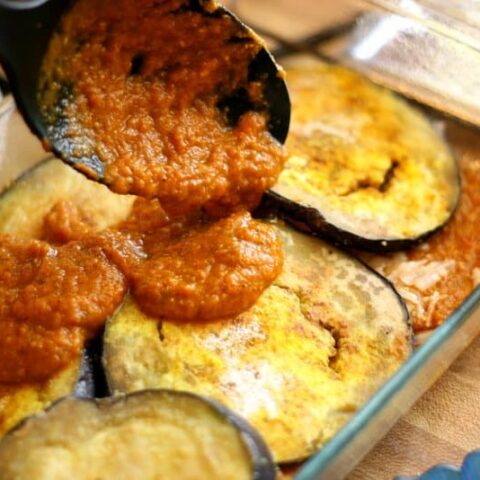 Eggplant Curry with Cucumber-Yogurt Sauce
Eggplant Curry with Cucumber Yogurt Sauce is my favorite vegetarian curry! It's a bit of work to put together, but completely worth the effort.
Ingredients
for the cucumber-yogurt sauce:
3/4 cup whole-milk plain yogurt
1/4 cup chopped fresh cilantro
1 Tablespoon fresh lemon juice
1/2 a cucumber, peeled and grated (about 2/3 cup)
for the curry:
2 medium eggplants (about 1 1/2 lbs total), cut crosswise into 1/3-inch slices
About 1/2 cup avocado or coconut oil for sauteing and frying
1 cup gluten-free flour blend, almond flour, or tapioca starch
1 medium onion, chopped
1 large carrot, peeled and chopped
5 medium plum/Roma tomatoes, chopped
2 Tablespoon good quality curry powder (or homemade, even), divided
2 teaspoons ground coriander
2 teaspoons ground cumin
2 teasopons ground cardamom
pinch of saffron (optional, it's good with and without)
1/2 cup dry white wine or chicken/vegetable broth
1/2 cup grated Parmesan cheese
Instructions
For the yogurt sauce, mix all ingredients in a small bowl. Season to taste with salt and pepper. Cover and chill until ready to use. TIP: can be made a day ahead.
Sprinkle eggplant slices lightly with salt. Let them stand for 30 minutes. (Important, don't skip this!)
Meanwhile, heat 1 Tablespoon of oil in a large saucepan over medium heat. Add onion, carrot, tomatoes, 1 1/2 Tablespoon curry powder and remaining spices. Sprinkle with salt and pepper. Cook vegetables until soft, about 6 minutes. Add wine/broth; let some of the liquid cook off, another 3-5 minutes. (The original recipe said it would take two minutes until the mixture was "almost dry". Um, not the times I made it. Mine wasn't even "almost dry", but it wasn't as soupy as before.) Cool slightly.
Puree with a stick/immersion blender or transfer to a blender and process until smooth. Strain. (If you want. I never strained it. I didn't want to dirty more dishes, and I think it turned out great.)
Preheat oven to 350 degrees F. Place flour in a shallow bowl.
Pat eggplant slices dry and sprinkle with remaining 1/2 tablespoon of curry powder. Coat both sides with flour.
Heat 2-3 Tablespoon of oil in a large skillet over medium heat. Working in batches and adding more oil as needed, fry eggplant for about 2-3 minutes per side, until golden brown. Transfer to a baking sheet.
Lightly oil an 11x7x2 baking dish. Place about 1/3 of eggplant on the bottom of the dish. Spread 1/3 of curry sauce over the eggplant, then sprinkle with 1/3 of the cheese. Repeat the layering two more times.
Bake until bubbling around the edges and cheese is golden, 45-50 minutes. TIP: Can be made a day ahead. Simply cool, cover, and chill. To rewarm, uncover and cook it for about 30 minutes at 300 degrees F.
Spread a little cucumber yogurt sauce on each plate and place a square of the eggplant curry on top of the sauce. Serve with sliced cucumber and pita bread, if desired.
Save
Save
SaveSave
SaveSave